Valley International Airport
Looking for opportunities
Business View Magazine interviews Marv Esterly, Director of Aviation at the Valley International Airport as part of our focus on regional American airports.
Valley International Airport is a public use, commercial service airport located in the City of Harlingen, in Cameron County, Texas, in the center of the Rio Grande Valley. The Airport started out in 1941 as military air base used for pilot training, and after World War II, it morphed into Harlingen Air Force Base. In 1964, it became surplus property and was picked up by the City of Harlingen, which assumed control of the Airport in 1967. In 1989, there was a groundbreaking for the new terminal building, which was completed in 1991.
Operated by a nine-member board made up of local businessmen and women appointed by the mayor, Valley International Airport is self-sustaining, operating in the black, and without the support of any tax dollars from the city. In fact, rather than spending the city's money, the Airport's economic impact on the Rio Grande Valley is considerable. According to a recent study conducted by the Aviation Division of the Texas Department of Transportation, the Valley International's direct impact to the region consists of 518 jobs and an annual output of $96.2 million. With the addition of capital improvement and visitor impacts, the Airport provides a total of 4,540 jobs with a payroll of $148.1 million, and a $432.7 million impact on the local economy.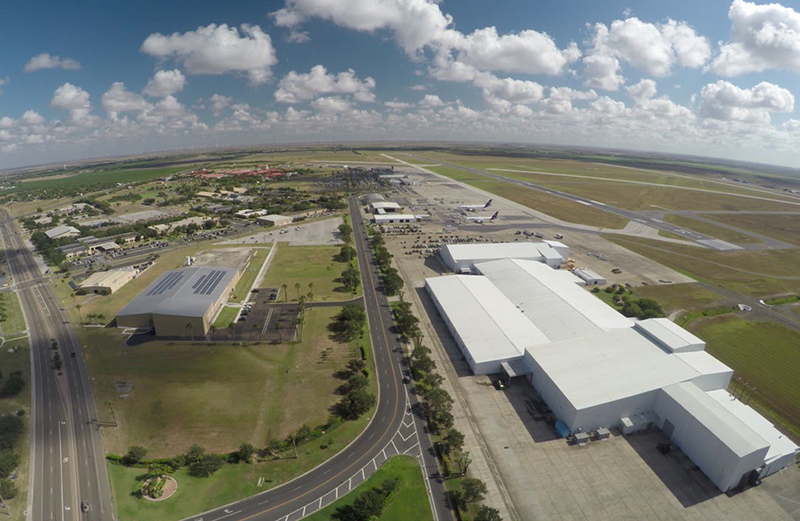 Known as the Gateway to the Rio Grande Valley and South Padre Island, a popular resort location off the southern coast of Texas, the Airport is located on 2,600 acres and has three asphalt runways: 17R/35L is 8,301 by 150 feet; 13/31 is 7,257 by 150 feet; and 17L/35R is 5,949 by 150 feet. Valley International Airport hosts six commercial carriers: Southwest, United, American, and Frontier, with seasonal service from Delta and Sun Country, offering non-stop service to Houston, Austin, Dallas/Ft. Worth, Denver, Chicago, and Minneapolis. In 2018, Valley International had a total of 41,291 airfield operations and serviced 615,000 passengers. In addition, Valley International is a major cargo hub, currently ranked 71st in the U.S., with approximately 60,000 tons transported annually by DHL Aviation and FedEx Express. Valley International is also a general aviation airport serviced by two professional FBOs – Sun Valley Aviation and Gulf Aviation.
Up until the COVID-19 pandemic hit, the Airport was "rocking and rolling," according to Director of Aviation, Marv Esterly. "We were actually doing better than expected as enplanements went from 302,000 to 345,000 in 2019," he notes. "And we were looking at approaching that 700,000-passenger mark, until the pandemic came along. As you can imagine, that has devastated us as much as it has devastated airports, nationwide. So, it was a huge hit and we took a few moments to be depressed and to sob a little bit. But when things get tough, the tough get going. We knew that we had to protect the passengers and our employees here in the terminal building, so we implemented steps, immediately, to do all the safety precautions that you've heard of: disinfecting high-touch surface areas in the terminal building, which could be anything from elevator buttons, to escalator railings, to ticket counters, to chair seating in the concourse. We also went into our restaurants and made sure that we had proper distances between tables."
"Then we started thinking outside the box," Esterly continues. "We installed plexiglass barriers on all our ticket counters and podiums to protect our employees from our passengers, and the passengers from any employee that may be infected. Then we took it another step and we put social distancing markings on the floor in queue lines and then we tackled our checkpoints. We went to the checkpoint areas and we teamed up with a company that provides all of our stanchions that you see in airports and we purchased large plexiglass barriers to separate queue lines. If you're standing in a checkpoint line, you can distance yourself fairly easily from the person in front of you, but the person aside of you on that snaky line – it's very difficult to position yourself six feet apart from them. So, we added these barriers in checkpoint lines, which were well-received by all our carriers, as well. And we continued on. We went to all our air handler units and equipped them with UV light that kills bacteria and virus. So, anything that goes into our system goes out the other end much cleaner because of the UV lights."
It's clear by the numbers that Esterly reports that Valley International went quickly from a bustling air hub to a Texas ghost town. "In January, February, and the beginning of March, we were running 12-15 percent up a month. When COVID hit us at the end of March, we saw numbers drop drastically as the local city fathers and the county judge put in place the stay-at-home orders, and everything shut down at that point. So, we were seeing as high as 92-93 percent less passengers in April than we saw the year before. At that time of year, we would see anywhere between 1,000-1,500 passengers; the worst day had 18 passengers. So, it was hugely devastating on us and the whole aviation community. As May progressed, numbers stayed less than 100 passengers a day – mostly emergency and essential travel folks."
"In June," Esterly continues, "the State of Texas opened up, and we saw a significant bump in passengers; we were anywhere from 150-250, and by July, we were seeing the numbers moving up continuously, to where we are in August, up to 400-450 passengers. So, we went from 93 percent down, compared to the year before, to probably around 60 percent down at our best. As September rolls around, we're seeing a slight decline, but September is typically a slower part of the year for us. The recovery that we saw in June and July seemed to plateau pretty quickly with the additional surge in the number of cases throughout the country. So, the recovery stalled at that point."
With business being down as much as it has been, Esterly reports that the Airport took measures to assist all of its business partners and tenants. "We implemented a new program that very few airports nationwide did," he explains, "because we thought it was very important to support these businesses and to make sure that they make it through this downturn. That program is still up and running; every three months we monitor it. We're looking at the recovery rate and we'll make adjustments along the way. Hopefully, as the recovery comes, the rental income will come back, as well."
"Valley International Airport is also a little different than a lot of other airports out there in that we have the means to do it," he adds. "We pride ourselves on being debt-free and we also had operating reserves – we always keep at least six months of capital on hand in case something like this ever happens. No one really imagined something like this, but it was a good thing that we stuck to our guns and always did this so we could weather the storm. It just depends on how long it goes. We were very happy when the CARES Act came out. Because of the way the Airport is run, we got the maximum amount of money from that particular formula – $20.5 million for operating expenses and maintenance to get us through this pandemic. So, we're extremely lucky in the way this Airport has been managed over the years."
Meanwhile, Esterly notes that the Airport didn't put any of its current projects on hold. "We didn't have to," he states. "Having those reserves was instrumental. We continue to move on with different projects in the terminal building that we are going to be utilizing once this thing is over, including new food eatery venues. We now have nine venues for food and beverage, and news and gifts. We've also done some improvements to our air security checkpoint that are increasing the queue line space. That's going to help us out with social distancing while the pandemic's going on and, afterwards, with additional queue space to get passengers through the checkpoint. The Pelican Bar and Grill continues on the north concourse – that will open up in October, and we're doing upgrades to the FIS – the Federal Inspection Station.
"Our runway extension project (an additional 1,100 to 8,300-ft. runway 17R/35L) is being designed, now. We're going through some land acquisition in order to have the land that we need for the obstacle-free area and those areas at the end of the runway for the ILS equipment. That project continues along and we're hoping to start construction within a year. We're really excited about it and so are our air cargo carriers. We have FedEx that flies wide-body aircraft here – 767s; and DHL that flies wide-body aircraft also. They were in desperate need of that runway extension so that they can operate at capacity, where now, they can't."
The Airport is also continuing to establish the Harlingen Aerotropolis – 480 acres of shovel-ready land for both aeronautical and non-aeronautical development. The objective of the Aerotropolis is to attract international corporations, logistics companies, and others that would benefit from its strategic location, minutes from the U.S./Mexico border. Once completed, the Harlingen Aerotropolis will consist of several development districts that are intended to be compatible with one another. "We continue to try and find our cornerstone business for the Aerotropolis," Esterly relates. "Of course, that's going to be difficult during this pandemic, but we continue to market that, working with our partner, the Harlingen Economic Development Corporation, to get the word out to find that perfect business for that area. It's exciting to have that extra property in order to diversity revenue streams in the future."
Through it all, Esterly remains upbeat and focused. "We were doing 90 miles an hour in the fast lane and the next thing you know, we're nearly sitting still," he opines. "That was really difficult for us, at first. But you've got to think about how you're going to protect the passengers, how you're going to get word out about all the things you're doing to protect passengers and employees, and to try to get this thing moving again. At the same time, you're looking for opportunities to get things done and improve your facility. You're always looking for those windows for opportunity that you can crawl through to make the place better."
AT A GLANCE
Valley International Airport
WHAT: A public use, commercial service airport
WHERE: In the City of Harlingen, in Cameron County, Texas
WEBSITE: www.flythevalley.com
IMS, inc. – www.imsinc.com
Founded in 1986, IMS has become a nationally recognized leader in the transactional communications industry. Focused on delivering relevant, secure, and timely solutions to the financial services industry, with a primary focus on the Credit Union market, our continual investment in technology demonstrates our commitment to efficiently serve customers across the United States and in Canada.
We have helped hundreds of businesses leverage the power of data by building scalable, interactive, and targeted multi-channel communications for their customers. From print and ePresentment to hyperautomation and AI-based conversational experiences we help organizations transform their customer experience through digital and mobile-optimized touchpoints.
IMS specializes in delivering enhanced customer service, building successful engagements, and reducing costs. Our ability to understand our client's business and deliver innovative solutions makes us the right choice for your digital transformation journey.

PWCampbell – www.pwcampbell.com
PWCampbell is regarded as the premiere design-build firm with a high reputation for outstanding quality and personalized service. With four generations of leadership, PWCampbell has been delivering proven innovative solutions to the financial industry for over 110 years. As true experts in the industry, they specialize in providing a comprehensive end-to-end experience which encompasses strategic facility planning, demographic research, creative retail branding and merchandising, interior design, design and furniture coordination, and architectural and construction services all on time and within budget. With their award-winning Technology Solutions team, they've quickly established themselves as the fastest growing provider for in-branch technology. A design-build firm like no other, PWCampbell has renovated hundreds of branches and transformed millions of square feet of retail space into unique, state-of-the-art experience centers.
Our extensive history of providing effective solutions has enabled us to form longstanding successful partnerships with many financial institutions across the Mid Atlantic, Midwest, and New England regions – just like our partnership with SeaComm Federal Credit Union.
JBT AeroTech Corporation – www.jbtc.com/aerotech | John.Thompson@JBTC.COM
FOR THE PERFECT AIRCRAFT TURN. JBT® is a global leader in the design and manufacture of ground support equipment, such as loaders and deicers; and airport gate equipment, featuring Jetway® passenger boarding bridges, JetAire® preconditioned air units, and JetPower® 400Hz ground power units. JBT also supplies airport asset management, consulting, parts, and maintenance services.
RS&H, Inc. – www.rsandh.com
RS&H provides fully integrated architecture, engineering, environmental and planning services to help
clients realize their most complex facility and infrastructure projects for land and air. RS&H has helped our
clients create global airports that connect communities, shape progressive highway systems across the
country, and provide facilities for Fortune 1000 companies.