USA Insulation
Where Comfort Meets Innovation
Business View Magazine interviews Ron Bender, the chief growth officer for Threshold Brands about one of their growing number of brands, USA Insulation, as part of our continuing coverage of successful franchises throughout the US.
USA Insulation, the #1 ranked franchise in the home insulation industry, consistently leads the way in innovation and excellence. As a prominent member of the Threshold Brands portfolio of home services brands, USA Insulation proudly celebrates more than three decades of service. With an extensive network of 107 franchise locations and 39 committed owners spanning the nation, the company has proven itself resilient in the face of economic challenges, including the recent COVID-19 pandemic.
Ron Bender, the Vice President of Franchise Development for Threshold Brands, takes us on a journey through the world of USA Insulation and its associated family of franchises.
USA Insulation's core focus lies in re-insulating older homes, a service that significantly enhances comfort and delivers substantial utility savings. Older homes, built before the early '90s when federal insulation requirements were absent, tend to leak energy through walls, making them uncomfortable living spaces. Notably, about 85% of a home's energy loss occurs through its walls, highlighting the importance of proper insulation.
The company's proprietary USA Premium Injection Foam® reaches deep into walls, filling every cavity, and acts as a fire retardant, noise reducer, and pest deterrent.  "It all serves to create a high level of satisfaction, for both customers and the franchise owners alike," Bender points out.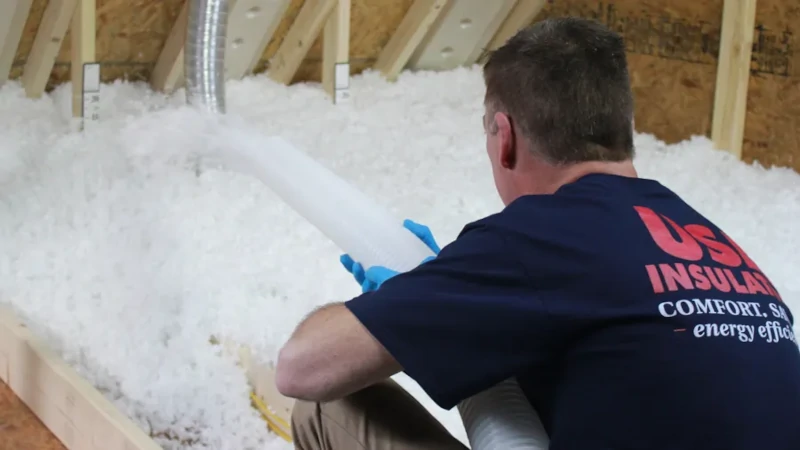 Daily Operations
Daily operations for USA Insulation encompass two primary facets: sales and installation. Sales personnel engage directly with homeowners, while installation teams, typically comprised of three individuals operating from fully-equipped trucks, execute the insulation work, often in a single day.
"Depending on the size of the franchise," says Bender "it is sometimes just one person doing the sales. It can even be the franchise owner."
However, he adds, in many cases as franchisees scale, they employ several salespeople who are out in the community working directly with homeowners.
Franchisees also spend their time building their businesses by networking with various audiences, including real estate professionals and home inspectors, and engaging in community events and home shows to build local awareness and generate referrals.
Opportunities on the Horizon
While USA Insulation predominantly serves residential clients, its benefits extend to commercial buildings as well. The company aims to expand its presence in the commercial sector while maintaining its strong foothold in insulating older homes.
Looking ahead, USA Insulation plans to continue its unwavering commitment to excellence and customer education. "Educating the potential customer is a huge opportunity." Bender says. "Marketing and advertising are a big part of this brand. We advertise on the radio and television, print media and direct-mail advertising. This is such a visual product. People need to see and understand exactly what the product does, and then they are sold."
Additional Home Services Franchise Opportunities
USA Insulation owners also recognize the value of synergy within the Threshold Brands family of services. Existing franchise owners often explore opportunities to diversify their portfolio by adding complementary brands. This strategy allows them to leverage existing client relationships and offer additional services and products to enhance their business.
Bender says, "The Threshold Brands portfolio includes an array of remarkable franchises, each excelling in its niche in the home services space." Granite Garage Floors, for instance, specializes in stunning coatings for concrete floors, creating a granite-like finish. Heating and Air Paramedics and Plumbing Paramedics focus on providing consumer-centric HVAC and Plumbing services, while Men in Kilts offers exterior home cleaning services such as pressure washing and window cleaning, all delivered by employees clad in kilts.
Mold Medics, the latest addition to the family, concentrates on mold and radon testing and remediation. MaidPro offers professional house cleaning services, transforming homes from top to bottom, while Patio Patrol tackles outdoor pests like mosquitos, ticks, and fleas. Complementing this lineup, Pestmaster covers a wide spectrum of pest remediation and control, including residential, commercial, and government properties. Sir Grout specializes in grout, tile, and other hard surface restoration, catering to improving homes without the high price tag of a full remodel.
USA Insulation, along with its sister brands in the Threshold Brands family, focus on doing the right thing for customers, every single time. Their dedication to customer satisfaction, commitment to quality, and forward-thinking approach to the future make them a standout leader in the home improvement sector.
IDI Distributors – www.idi-insulation.com
Since 1979, IDI Distributors has supplied the market with a wide selection of quality insulation and has acted as a true, professional resource for insulation contractors, such as USA Insulation. When you need more than an insulation distributor, you choose IDI. We can offer the service, support, products, and professionalism you need to succeed. Let us work for you!

Primoprint – www.primoprint.com
Primoprint's partnership provides a custom Business Automated Platform. The platform promotes collaboration, resulting in standardized integrated printing for businesses and franchisees. "It's difficult for franchisors to maintain their brand identity, especially with multiple locations. Our platform removes the challenges of ordering printed materials completely," Xhenis Levack, CEO and co-founder.