Town of Wickenburg, Arizona
Lovin' that hometown western feel
Business View Magazine interviews representatives of Wickenburg, Arizona for our focus on Economic Development in U.S. Towns & Cities
In the midst of the hills above Phoenix, Arizona on the northern edge of the Sonoran Desert, sits the charming Town of Wickenburg. Established in 1863, it was named after prospector Henry Wickenburg who discovered the Vulture Mine, Arizona's largest gold source. Now the oldest town north of Tucson, Wickenburg once gained a reputation as the 'Dude Ranch Capital of the World' after local ranchers hosted tourists yearning to experience authentic cowboy life. Some guest ranches still operate, like the beloved Flying E Ranch, but Wickenburg has now transitioned into the 'Team Roping Capital of the World.'
So, whether it's participating in the popular rodeo event, exploring the great outdoors at Hassayampa River Preserve, or watching a performance at the Del E. Webb Center for the Performing Arts, Wickenburg has something for everyone.
Community Development Director Steve Boyle, who moved to Wickenburg 16 years ago from northern Utah, shares, "We're a small town, but we're growing. Not tremendously, but our population has increased from 6,400 in 2010 to 8,000 in 2020. We're a great community to raise kids, only 35 minutes away from the valley shopping areas but, really, everything I need is right here." Tim Suan, Deputy Town Manager and Economic Development Director, has a newer perspective, having moved to the area in the last year. "It's a genuine western hometown with a neighborly feel – the best of both worlds. We're rural, but also urban. We're modern cowboys. Phoenix Sky Harbor International Airport, a major hub for international travel is only an hour away. We're in that fringe area where you can live a rural lifestyle but have access to whatever you'd like."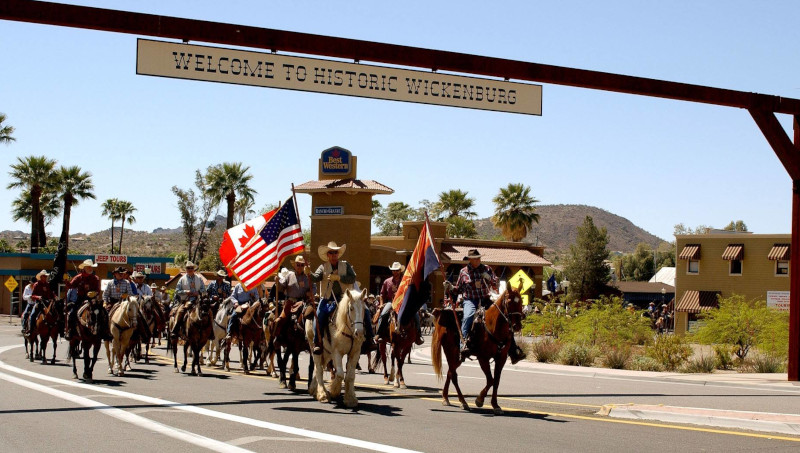 Wickenburg residents benefit from a variety of available housing options. Most community developments are already built out, but an exception is Wickenburg Ranch, a master-planned project halfway through completion. Developed by Van Tuyl Companies, it features resort-style living for active adults. "Van Tuyl is our largest home developer with over 140 homes in the pipeline," reports Suan. "They can't build fast enough; a good problem to have."
Even though housing inventory isn't a concern right now, there is only so much land available. Then there's affordability. As of 2020, the average Wickenburg home sold for approximately $289,750. A price that may not be feasible for everyone. "The cost of housing is one of our hardest issues," adds Suan. "People want to live and retire here; it's just finding available and affordable property for them. We only have so much land from the Bureau of Land Management (BLM) and the Arizona State Land Department. Our topography with rolling hills makes it difficult too. Building on that terrain is expensive." Only a few years ago, the historic downtown mining homes were affordable, but now their values are increasing, as well.
Downtown Wickenburg has always been a focus for Town Council, whether it's revitalizing the historic houses or supporting local businesses. "As a tourism destination, our downtown retailers are the bread and butter of our community," asserts Suan. "We offer resources like the U.S. Small Business Administration (SBA) or the nonprofit SCORE, which helps small businesses get off the ground. We're trying to expand our offerings." Recently, workforce attraction and retention has increasingly become more of an issue, but ARIZONA@WORK, the statewide workforce network, has devoted a full-time workforce development employee to Wickenburg. This is a first for the Phoenix Metropolitan Area, and now career and college fairs are being held to introduce high school and post-secondary students to the area's industries and employers.
Currently, Wickenburg's largest industry is the rodeo, and the town is considered a mecca for the lifestyle. "Being a cowboy myself, I can say there are real cowboys walking down the street here. They own ranches or their families own cattle. They're real ranchers; not just people wearing expensive cowboy hats," maintains Suan. It's fitting this small town holds the impressive title of 'Team Roping Capital of the World.' It's a reputation that Wickenburg has built up over the last few years.
From November to April teams on horseback compete to see who can rope the horns and legs of a steer the fastest. The event is held as part of a rodeo or as a separate event. According to Boyle, "We've got a big roping facility, Rancho Rio, just outside downtown that attracts thousands of visitors from all over. They travel in their RVs or purchase a second home here. Many participate going between events and earning money. At last year's National Team Roping Finals, there was a teenager who won a Dodge Ram truck. The parking lot at these events look like Disneyland, just with horse trailers and RVs. People are everywhere. It's crazy." There are always team roping activities happening and some have 800 teams competing. Large events are even broadcasted live from Wickenburg on national television.
"It's not just the rodeo industry driving our local economy and employment," explains Boyle. "We have various engines. Another big one is behavioral health services." The town has many in and outpatient rehabilitation clinics specializing in addictions and disorders. The Meadows of Wickenburg and the Rosewood Center for Eating Disorders are just two of the largest employers in the sector with well over 200 workers each. Suan notes, "Wickenburg is the ideal environment for a healthy recovery because, during the rehabilitation process, it helps to be immersed in a hometown atmosphere, especially one that isn't your own. It's important not to be in the middle of nowhere either, so we're the perfect middle ground."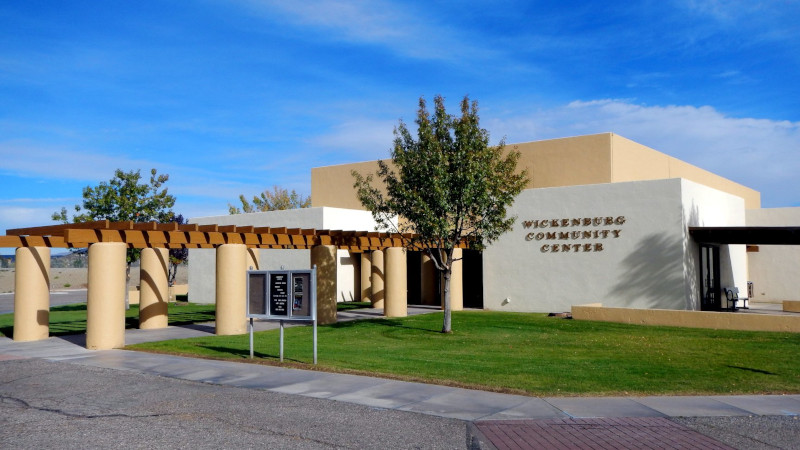 Behavioural health is a relatively new industry for the community, especially compared to mining, the very foundation for the town. Today, Freeport-McMoRan Inc. (FCX), the leading producer of copper, owns the Bagdad Copper Mine just 90 minutes outside Wickenburg. As the company's market share continues to grow, so too does Wickenburg.
With such a booming economy and tourism sector, it's essential the town's technology and transportation infrastructure is well planned and managed. Wickenburg may be rural, but it's certainly not dated, especially when it comes to technology. There's currently a Tesla electric vehicle (EV) charging station with eight superchargers outside Town Hall. Last December, five more charging stations were approved for the EV company Rivian. "We're one of the only communities with one type of charging station, but soon we'll have both," says Suan. "Even though there haven't been any studies, it's common sense that while an electric vehicle is charging, you're going to explore the town. The stations are strategically located downtown, which earns more dollar per square foot in terms of revenue."
Wickenburg has extensive broadband internet throughout the town thanks to Cox Communications, which has been a good partner for the community providing state-of-the-art connectivity. This will be beneficial too, once the Interstate 11 (1-11) corridor is installed. Right now, the proposed I-11 route would connect Phoenix with Las Vegas and, if approved, would run from Wickenburg to the valley between Goodyear and Buckeye before going southwest. This new freeway would open significant new commercial and industrial opportunities for the small town.
Expanding this industrial zone is just one goal Suan has for Wickenburg over the next three to five years. He shares, "We have a BNSF Railway line that runs through the heart of town. There's a lot of opportunity there because we do have an industrial area, but it doesn't have access to rail. I'd be excited about expanding that service too." He would also like to see the rodeo industry grow even further to create more job opportunities, and there could be an emphasis on secondary industries like panel manufacturing, lighting, and equipment testing in real time.
Boyle is focused on ensuring the town keeps its world capital title for team roping instead of becoming the 'Roundabout Capital of the World.' The Arizona Department of Transportation (ADOT) has proposed installing five roundabouts on U.S. Route 93 (US 93). He states, "We're trying to figure out how to combat that, because that's what people are going to know us by. When they drive from Phoenix to Las Vegas, they're going to go pass through all these roundabouts and many people don't know how to drive them. So, we want to be careful how we market it. I'm excited about updating our General Plan and zoning code, that's very important to me. This is a great community, and it has everything you need, especially when raising a family. I've enjoyed all my years here and hope to enjoy many more here in Wickenburg."
AT A GLANCE
Town of Wickenburg, Arizona
What: 'Team Roping Capital of the World'; population 8,000
Where: In Maricopa and Yavapai counties, Arizona
Website: www.wickenburgaz.org
BEARCAT Manufacturing, an Etnyre International Company – www.bearcatmfg.com
BearCat Manufacturing has been building highway maintenance equipment since the late 1970's in Wickenburg, Arizona.  Since its inception, its technical innovations have spurred higher performance levels throughout the industry. BearCat is a subsidiary of Etnyre International, a growing, family-owned manufacturer of road maintenance, repair and rehabilitation equipment.
BearCat Manufacturing was established in Wickenburg, Arizona in 1977 by Ken Hill and in May 2015 was acquired by Etnyre International. Etnyre International is composed of four different entities Etnyre, BearCat, Rayner Equipment Systems, and SMF. Currently BearCat has four production lines of road maintenance equipment with plans of expanding to eleven production lines in the near future. A few of the products they make at BearCat are Distributors, Chipspreaders, and Cracksealers. At BearCat they specialize a granulated rubber asphalt spreader which is essential for moving large amounts of viscous material. The Distributor has extra-large inlet pipes, high-performance diesel burners and an internal auger, so that viscous materials are easy to transport. With all this growth BearCat is providing excellent employment opportunities for the Wickenburg community. The Etnyre family is proud to be a creator or jobs and equipment in the USA.  We succeed based on the care and value we provide to our Customers, Members, Communities and the World. Customer loyalty means everything. BearCat products and services deliver superior value through meaningful investments in our members and capabilities.