Taunton, Massachusetts
We're open for business
Business View Magazine interviews Shaunna O'Connell, Mayor of Taunton, Massachusetts, for our focus on Economic Development in U.S. Cities
Centrally located in southeastern Massachusetts, just a 45-minute drive from Boston and Cape Cod, the City of Taunton is a true New England gem.
The Wampanoag Tribe originally inhabited this area on the banks of the Taunton River, calling it 'Titicut,' or "the place of the great river." One of America's oldest towns, Taunton was founded by Plymouth Colony pilgrims in 1637. Incorporated as a city in 1864, it earned its nickname "Silver City" from the burgeoning silver industry. About 50 years later in December 1914, it also became known as the "Christmas City" after hosting the first dazzling light display on Taunton Green; a tradition still proudly held today.
These days, the City of Taunton has nine designated historic districts and nineteen distinctly vibrant neighborhoods. Currently, both the Whittenton area and Weir Village are undergoing revitalization to recapture their original splendor and help usher in exciting new business opportunities.
"I am a lifelong Tauntonian and honored to be Mayor of my hometown," shares Mayor Shaunna O'Connell, who came into office in January 2020 and is the City's first woman Mayor. "We have a proud history here in Taunton, but we also have bold plans for the future. We are a diverse, close-knit community. Taunton is a wonderful place to live, work, and play. We offer a lot of quality services to our residents and we have worked hard to improve government operations and streamline our processes. We want to roll out that red carpet and let people know we're open for business!"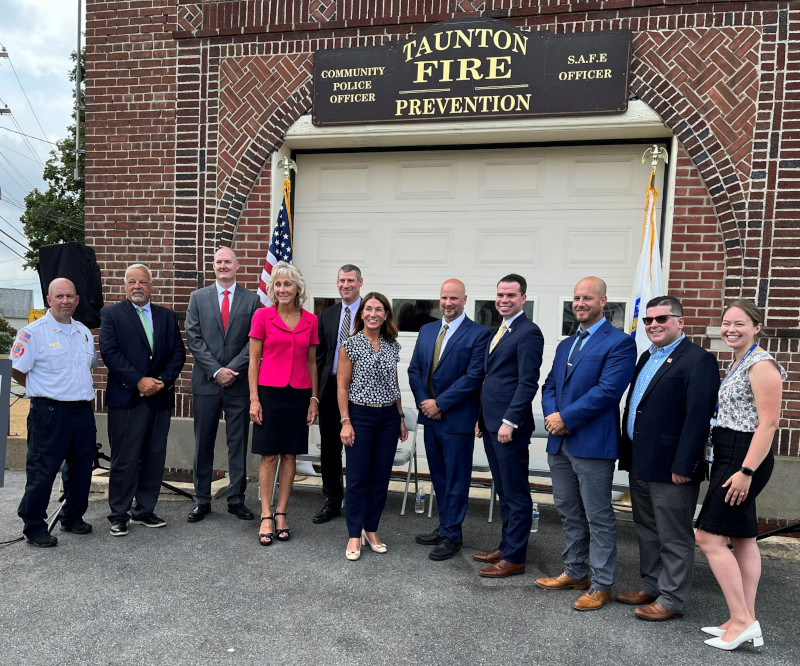 Taunton's Executive Director of Economic & Community Development, Bill Roth, has been with the City for two years and loves it. He is intrigued by Taunton's many varied neighborhoods like Whittenton in the north with its pre-World War II factories and homes. Travelling further south, past the downtown area, is Weir Village or The Weir. On the banks of the Taunton River, this section is especially interesting with its beautiful 19th century mills, factories, and warehouses. Prior to 1949, the Old Weir Stove Company building had hundreds of Glenwood Stoves manufactured within its walls. The former F.B. Rogers Silver Company building was also located there until 2009, when it was safely and sustainably demolished. The Weir Village Riverfront Park now takes its place, complete with a 16-foot-wide boat ramp.
"Our economic development strategy has been to revive Downtown Taunton, turning it into a Business Improvement District. But now we are focusing our energies on Whittenton and Weir Village to bring those neighborhoods back to their historic dominance," explains Roth. "It has been a great joy working on reviving these village centers."
Whittenton has received funding for its Neighborhood Urban Renewal Plan through the Taunton Redevelopment Authority (TRA) – an independent public authority facilitating urban redevelopment to promote investment in underutilized areas. The area has also been awarded a Transformative Development Initiative (TDI) from MassDevelopment, the Massachusetts development finance agency. The program is designed to accelerate economic growth within focused districts of state 'Gateway Cities,' including Taunton.
"The TDI will directly help us with economic development specifically in Whittenton," emphasizes Roth. "There is great potential there including the 40-acre site that was formerly the Whittenton Mills Complex, a historic textile mill site. There is also the famous 120,000-square-foot Reed & Barton facility. It has been purchased, but the owners are maintaining the well-kept space and leasing it out for mixed-use opportunities. There are some great opportunities available in this area of our City."
Mayor O'Connell asserts that meeting face-to-face with developers and owners is essential, especially when working on historic buildings that hold a lot of meaning for the community. "It helps to share our ideas for housing, retail, and recreation with them. It allows us to work together to develop a harmonious vision for our City. We really want to make these neighborhoods into a destination for residents where they can visit, enjoy, and learn about their history."
Many of The Weir's buildings contain even more of this history, but until recently have been mostly underutilized. Roth hopes it will be "like a domino effect" once some of these old factories and mills are redeveloped and new businesses move in. He cites the example of the Riverhouse restaurant, which opened in 2020. Popular throughout the region for its steak and seafood, it occupies a formerly derelict building overlooking beautiful Weir Riverwalk Park. Another exciting nearby project is the Weir Municipal Parking Lot, which when completed will provide a new bus shelter and the first direct current fast charging (DCFC) electric vehicle (EV) station in Taunton. The Community Development Block Grant (CDBG) program, which supports community development, provided funding for these highly sought-after chargers that recharge a battery in approximately 30 minutes.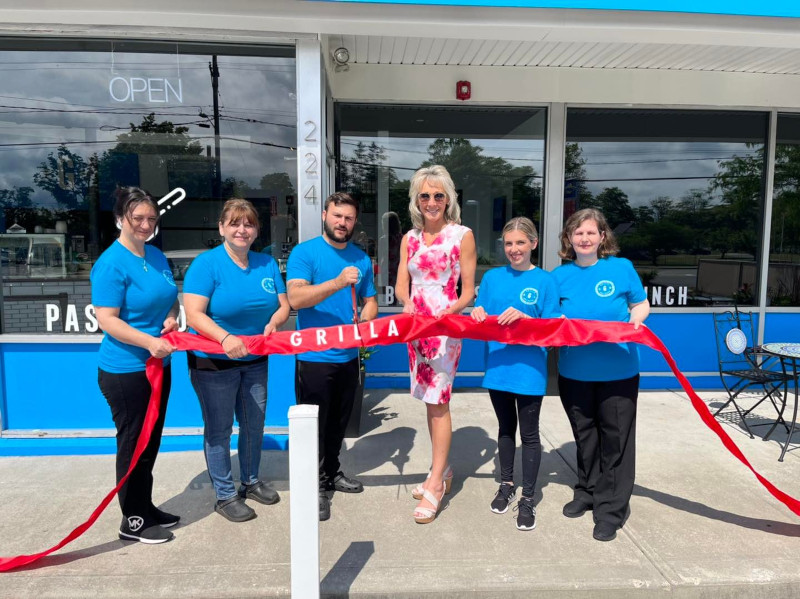 Across town, near the suburban neighborhood of East Taunton, sits the former site of the Silver City Galleria Mall. The once bustling 1,000,000 square-foot retail space closed in 2019 and was demolished two years later. The now vacant property is ready for economic redevelopment. Thankfully, there have been many companies considering Taunton for their new center of operations. "It's like there is a billboard over the City proclaiming, 'Open for business'," says Ed Correira, Chief of Staff. "Every week, we receive multiple calls from interested businesses wanting to develop properties in Taunton. It's exciting."
One such company is FedEx Corporation, which recently finalized a deal to build a 600,000 square-foot warehouse and distribution facility on a portion of the former Silver City Galleria site. Located just off Route 140, it is the perfect place for the new facility because of its proximity to the greater New England area. The site plan has been approved and includes another building of flex space for additional tenants.
Redevelopment of underutilized spaces and buildings has also been a resourceful way to create additional housing. For instance, the non-profit Neighborhood of Affordable Housing, Inc. (NOAH) is developing the downtown Taunton Union Block Project. Approximately 38-mixed income apartments ranging from one- to three-bedroom units will be built on the vacant second and third floors of three conjoined brick buildings. "Affordable housing projects usually have half a dozen different federal, state, and local funding sources," clarifies Roth. "We have almost everything secured and hopefully renovations will begin this fall. The buildings will be restored according to Historic District requirements. The more people we have living downtown, the more active and dynamic it will be."
Other unique housing projects involve repurposing two former Catholic schools. The Coyle & Cassidy High School and Middle School building was constructed in the early 1930s. "We are pleased the redevelopment into housing units will preserve the character of the building and continue its tradition of being a warm and welcoming place," explains Mayor O'Connell. "We have another former Catholic school, St. Mary's Primary School, built in 1907. That is going to be market rate condos and is currently in development." There is also the 12 Porter Street project, formerly the M.M. Rhodes and Sons Company building, which was a button factory. It will be a mixed-use development promoting luxury affordable living.
Housing is also being planned near the Massachusetts Bay Transportation Authority's (MBTA) South Coast Rail project, close to where the new FedEx facility will be off Route 140. Once completed, this will be the City's first commuter rail and will enable passengers to travel easily and affordably between Taunton, Boston, Fall River, and New Bedford. According to Mayor O'Connell, it is scheduled to become a reality in late 2023. That is not the only transportation-related project underway, because the Taunton Municipal Airport is also undergoing expansion. One of the oldest continuous running airports in the U.S., renovations include a new Airport Administration Building and a brand-new public restaurant. Jet fuel is now available and a planned 500-foot runway extension is in the works. "I can tell you, things are really happening in Taunton," says Correira.
Looking ahead, Mayor O'Connell wants to continue investing in areas important to residents like infrastructure, housing, recreation, and vibrant neighborhoods. She notes, "We are putting in place the first Capital Investment Improvement Plan Taunton has had in over a decade. We are being strategic about how we maintain our government buildings, schools, and community spaces. That is in addition to focusing on our neighborhoods for development and economic opportunities." She also details how the vision for the City's future involves bringing government operations into the 21st century. "We have a responsibility to offer residents the services they deserve in a modernized and efficient manner. We want our City to be affordable with a high quality of living offered through a variety of active neighborhoods and prospering businesses. As we continuously make strides in implementing this vision, we prove every day that Taunton really is the place to be."
AT A GLANCE
Taunton, Massachusetts
What: One of the oldest cities in the U.S.; population 58,000
Where: Bristol County, Massachusetts
Website: www.taunton-ma.gov
Bay State College – www.baystate.edu – admissions@baystate.edu
Bay State College is a private college with campuses in Boston and Taunton. For more than 75 years old, the college has provided a career focused education with associate and bachelor degrees in business, management, criminal justice, entertainment management, fashion merchandising, information technology, nursing, physical therapy assistant and health sciences.
G. Lopes Construction Inc. – www.glopes.com
G. Lopes Construction has been a family owned business for close to 60 years. We provide multiple services to the City including snow plowing & snow removal, emergency utility work, demolition and supply construction materials such as gravel, sand & stone.  We are proud to serve as a preferred vendor to the City.