Sunland Park, New Mexico
At the heart of it all
Business View Magazine interviews Javier Perea, Mayor of Sunland Park, New Mexico, for our focus on Infrastructure & Economic Development in American Cities
Established in 1983, Sunland Park is a youthful, enterprising border city, situated at the heart of the nation from a logistics perspective, where the southeastern part of New Mexico meets El Paso, Texas and Anapra/Ciudad Juarez, Chihuahua, Mexico. Nestled in the shadow of magnificent Mt. Cristo Rey, next to the Rio Grande, the City of Sunland Park is a picture-perfect place to call home. The 17,000 residents of this tri-state, bi-national community enjoy the best of diverse cultures and opportunities, while taking pride in having their own identity and goals as a growing community.
Only slightly younger than the community, itself, the city's Mayor for the last eight years, Javier Perea, has pretty much grown up with Sunland Park. "Yes, we're aging at the same time," he quips. "I started at the age of 24 and I'm 33 now, and I do make that parallel sometimes that we're growing together. It's been good for both of us. I've gained a lot of experience from this particular job – more than any education would have given me.  It was trial by fire when I came in and now we're at a place where I'm more comfortable in this role. And the city is also in a position where it can really launch itself."
For any growing community, investing in infrastructure is critical. Through the Camino Real Regional Utility Authority, Sunland Park is replacing water lines across the city and improving the wastewater facilities. Evidence of the growth spurt is obvious. Between two and three thousand new homes are planned for construction, and the development of an entertainment corridor in the downtown area is in the planning phase. Even bigger news is the proposed development of a new Port of Entry. "The Mayor of the City of Juarez, Mexico has asked to be lead for the project on the Mexican side," Perea reports, "so that's developing now. He sent a letter endorsing the project to the Mexican federal agencies and we're looking for that to be a catalyst for further economic development. We're in the process of changing the zoning of a 124-acre parcel within the city to be zoned commercial and this will help with the traffic coming over from Mexico, as a lot of Mexican nationals cross the border to shop here in America."
The environmental studies necessary for the Presidential Permit application, covering topics such as archeological, biological, water, hazardous materials and land resources reviews for the new Port of Entry facility are now being finalized. The draft Environmental Assessment is anticipated to be submitted for review to state agencies by Fall 2020.  Financial analyses are also being completed at this time. When the agency reviews are complete, the Presidential Permit application will be ready for submission by Sunland Park to the federal government by Spring to Summer 2021. A decision on the Presidential Permit will be made thereafter. The Port of Entry will consist of a facility on the U.S. side utilizing state-of-the-art inspection technology to expedite traffic mobility.  Once the submission from Juarez is on the list of the federal registry in Mexico, the project may be authorized using federal funds. A bridge is planned to be constructed over the railroad tracks to cross and tie-in into the border, where the Mexico POE facilities will be constructed. Sunland Park will connect to the Port of Entry with two roads – Sunland Park Drive and Anapra Road, and further connect the region. "That's what's unique about this area," says Perea. "Many people, including a member of our staff, live in Juarez and work here. It's a multicultural area that is hard to explain to other people outside the region."
The biggest revenue generators to the city coffers right now relate to construction. Tourism has potential as a significant economic driver – the problem is that Sunland Park is not fully developed, yet. According to Perea, "We have a part of the city where the Rio Grande is no longer the boundary between the U.S. and Mexico. It goes in and out of the states of New Mexico and Texas, and in our section there is about a two-mile segment that we're looking at potentially developing into a River Walk. We'll be pursuing funding to do a feasibility study and determine whether it's viable in our community." Already a favorite destination in Sunland Park, Western Playland is a small amusement park that attracts a lot of young families to the community. And Sunland Park Racetrack & Casino draws a large number of people from throughout the region.
Perea notes, "The efforts we're doing today will allow those individuals who visit these facilities to stay in Sunland Park and then patronize our businesses within the city. We just got our first hotel a couple of years ago; the only one within the municipal limits. Many visitors to the racetrack and casino go directly there and then stay in hotels on the El Paso side. But our goal is to become a destination. We do have a funky boutique hotel project on the drawing board. This proposed development will be a unique attraction in our region, next to the racetrack and casino. It has been vetted by staff and will be going to our planning and zoning commission in the near future."
Louise Marquez, Community & Economic Development Director for City of Sunland Park, explains, "Our downtown core can be described as 'fledgling.' And the idea for the future is to create a downtown area that identifies the community. We do have a main road but it's still where people just drive through, not necessarily where they come to visit. That's the concept of this entertainment corridor – several years back, the city established a metropolitan redevelopment area, so now we have a district that we can focus on and create a commercial opportunity that was non-existent before."
The city's demographics are changing with the newer housing developments coming into play. More professionals with young families are moving in and buying new homes; retirees are moving in from the higher tax rates in El Paso and Mexico. People are also choosing the new housing areas to be closer to the industrial developments in Santa Teresa. Those incoming residents tend to have a higher education and jobs in high-earning professions.
Sunland Park touts the fact that it's a tri-state area which provides many opportunities. But because there are different jurisdictions, in situations where you need a unified response, for example with the Covid-19 pandemic, it's very challenging. Perea admits, "You have New Mexico doing one thing, the state of Chihuahua doing another, and then Texas is doing another. And one plan that works across each of those states is not necessarily going to work for our community. We have people who live in Sunland Park and work in El Paso and vice versa; and even across the Mexican border. With different restrictions in different states, it's problematic. We have to monitor what every state is doing and adapt accordingly. But despite it all, there are still a lot of positive things happening in Sunland Park."
Marquez adds, "New Mexico has been conservative in their approach to the issue and Texas has been less conservative. The Mayor is correct. There are three very different perspectives and treatments of this issue and it shows in our area."
Within the last two years, the city established an Environmental Specialist position in its Public Works Department, through a contract with South Central Solid Waste Authority. Creating the role is part of an ongoing sustainability effort that includes bringing recycling into the community where it was non-existent before. Several community cleanups have been held and the city has also adopted a once-a-month curbside pickup of bulk items. The overall idea is to beautify the community and reduce the amount of illegal dumping that occurs, given its location at the edge of a desert. Perea acknowledges that the initiatives have helped but there is still a lot to be done, especially with the recycling program, as the community grows.
Sunland Park continues to work with the Economic Development Department for the State of New Mexico, which helps the city by facilitating the use of financing mechanisms, such as industrial revenue bonds, local economic development act funding. In addition, the Mesilla Valley Economic Development Alliance has been instrumental in recruiting companies to the area, in particular, with Stampede Meat that opened last year, bringing hundreds of new jobs to the community. And the Border Industrial Association has been working tirelessly to further develop the industrial parks just outside the City of Sunland Park. Having already run out of space, they're expanding their parks to fit in more companies. Among other large entities, Union Pacific just invested $500 million in an intermodal facility in nearby Santa Teresa.
"I like to think of Sunland Park as a diamond in the rough," Perea reflects. "A growing community that's been through a lot in the past, but with the right leadership and the right attitude going forward, the city is going to transform over the next 10, 15, 20 years. I'm happy to be representing Sunland Park, today, and I hope when people come to visit us, they can see true potential in being a part of our community."
Marquez chimes in with her own thoughts, "I believe there are limitless, unrealized opportunities in Sunland Park. It's a blank slate poised for explosive, controlled growth. We are in the perfect location; we're just waiting for the right mix of groups, companies, and residents to find us, and join us, and grow with us. Because the city really is special."
AT A GLANCE
Sunland Park, New Mexico
What: Tri-state, binational community; population approx. 17,000
Where: On the border where New Mexico meets Texas and Chihuahua, Mexico.
Website: www.sunlandpark-nm.gov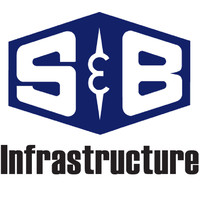 S&B Infrastructure – www.sbinfra.com
Managing with Certainty 
​One of the largest privately-owned engineering firms in the State of Texas, S & B Infrastructure, Ltd. has a well-earned reputation for providing quality professional design services and innovative, cost-effective solutions that meet and exceed expectations. Public and private sector clients in the transportation, federal, public works, pipeline, and facilities sectors trust S & B to design and build their most important projects. 
With a strong focus on innovation and technical expertise S & B has taken the lead in planning, multi-discipline engineering design, and construction phase services for over $7 billion in infrastructure projects over the last two decades. Market sectors include: Program, Project & Construction Management; Transportation / Rail; Water / Wastewater / Drainage; Facilities & Infrastructure; Port, Airports & Terminals; Applied Technology; and Environmental. 
S & B has been in existence since 1994, as part of S & B Holdings, Ltd., and operates today from a corporate office in Houston, Texas, with regional offices in McAllen, Austin, San Antonio, Fort Worth, and El Paso. S & B is proud of its capabilities for executing projects that are key to America's energy and manufacturing independence, while providing an ethical environment that empowers employees to grow and contribute to the quality of life of the communities they serve. 
S & B's commitment to Performance Excellence, Quality Delivery, and Customer Satisfaction has resulted in a successful history of repeat clients. And national recognition. In its recently released 2020 list of Top 500 Design Firms, the Engineering News-Record ranked S & B Engineers and Constructors, Ltd. and affiliates in 24th place!  
Designing and constructing America's energy infrastructure is what the S & B team love to do, and they look forward to working with you on your next project.