Southside, Alabama
southern charm meets growth on the Alabama horizon
Welcoming residential and commercial development, Southside, Alabama keeps its hometown feel at heart
Balancing economic development with its cherished past while marching confidently ahead towards commercial and residential growth, Southside, Alabama has not lost its southern hospitality.
A charming and longtime bedroom community of Gadsden in the northeastern part of the Yellowhammer State. Situated on the Coosa River, Southside is home to some 9,465 residents, according to Mayor Dana Snyder, who was elected in 2020.
We recently spoke with Snyder and Southside City Councilman Joseph Hutchins, and they told us why Southside is on the right side of growth. Indeed, it's one of the fastest-growing communities in all of Alabama.
Hutchins said that the City of Southside is currently engaged in a variety of significant ongoing projects. A riverfront development has improved things along the banks of the Coosa. Boat ramps and a boardwalk now make the area even more attractive for the city's many enthusiasts of aquatic activities. Also added to this area were a playground and Blackstone Pizza & Bait Shack. "This is the gateway to our city", Snyder says.
Also nearby is Buck's Island Boats, a boat dealership that is a major local employer, as the mayor points out.
"That's a big boost to the economy," she observes, citing the pontoons, kayaks, and other recreational styles of boats sold at Buck's, as well as rescue boats.
Hutchins says this entire riverfront area is most attractive. The City of Southside has hosted many fishing tournaments in this area during the past year and a half.
"We're also working on several different drainage projects," the councilman says, "and we just underwent our largest paving project for roads. We have obtained a design through working with Goodwyn, Mills & Cawood (GMC), for a future park area at the city center, which will consist of a walking trail, pickleball courts, disc golf and more. By doing so, it will enable us to create a Park Space while actually solving a huge drainage issue.
We're also working with GMC on obtaining a design expanding on a current park area. There's already a softball complex there, but we'd like to expand on that."
As well, as Hutchins points out, there's a mile-long sidewalk project in the works. When completed, it's planned to connect Southside High School to its football stadium, the community center, the Southside Public Library, Southside City Hall and several surrounding residential neighborhoods. Hutchins adds that the sidewalk's design is yet to be finished, but when it is, it's sure to be a beauty.
Snyder says the construction of a new standalone fire station is currently underway. It will comprise some 10,000 square feet, and it will feature three bays. It's slated to come online in January of next year.
"We do think our public safety here is of great importance," Snyder adds. "That attracts a lot of businesses, too, when they know you have those things in place."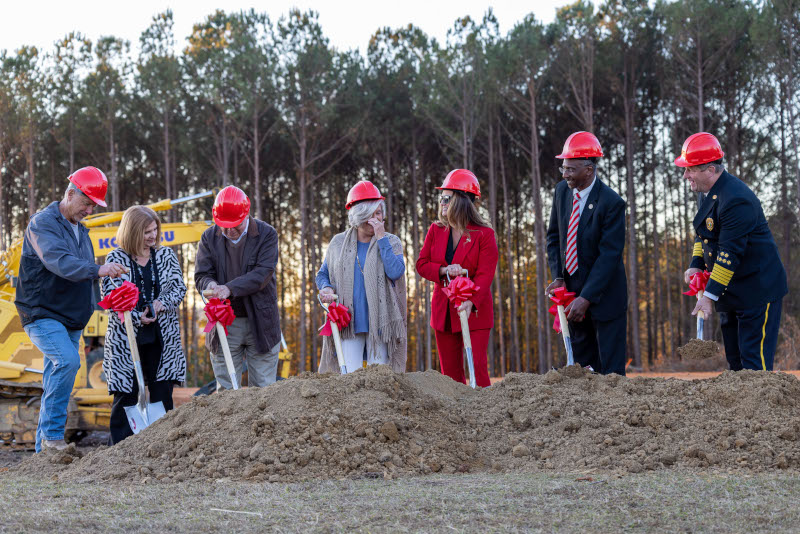 More about Southside
Snyder continues that what would one day become Southside, situated in Etowah County and these days about 15 minutes out of Gadsden, was one of several communities (including the small townships of Green Valley, Cedar Bend, and Pilgrims' Rest) that were founded circa 1850. These communities would go on to eventually merge into the single entity of Southside, which was incorporated back in 1957.
"Since that time," Snyder adds, "it has provided residents with a beautiful, friendly, and safe community. It is truly a wonderful place to call home and a great place to visit. We have just completed our Master Plan, a growth and strategic plan for Southside that covers the next five, 10, and 20 years. This will help to ensure strategic growth and progress for our city."
The Mayor highlights that Southside remains unindustrialized. She reveals that even today, some 30 percent of the local land is still devoted to agriculture (including growing corn, beans, cotton, and soybeans).
"They do very well here," Snyder says of local farmers.
However, these days, the biggest employer is now the Etowah County School System. It has 137 employees in Southside's schools. Southside High was awarded the prestigious "School of Distinction" honor for 2023 and the elementary school has the highest reading scores, as Hutchins reveals.
"We have the best schools in the county, right here in our city," Snyder agrees.
Then there's the City of Southside. It employs 60 people. As well, some 16 percent of Southsiders work for local, state, or federal government agencies. There are two medical clinics, a pharmacy, a gym, two therapeutic-massage facilities, a grocery store, a hardware store and other commercial and retail establishments.
It's a comfortable place. At an average of $73,594 a year, Southside has one of the highest median incomes in the state.
Hutchins also points out that Southside is going green. It's working in partnership with Rainbow City for recycling collected cardboard, using the latter's in-house system. He added Southside hopes to eventually add plastics and other recyclables into this mix with its sister city's program. Plus, for the past three years, Southside has engaged in several roadside clean-up efforts in the springtime.
"That's been a very big success," says Hutchins, "as far as getting areas cleaned a whole lot better than what they were."
Snyder, Hutchins, and the Southside City Council are all quite keen on their community's future economic development.
"We'd like to recruit some more retail," says Snyder, "and maybe some light industry. We know that our infrastructure, quality of life, recreation, and things of that nature will help with that. That's a lot of our plan. It's ultimately for economic growth and for recruiting businesses to come here and just trying to get those things in order: somewhere that people want to live, work, play, and stay."
The mayor also returned to the topic of the sidewalk project Hutchins discussed.
"We would like to have a walkable, bikeable community, especially through the town center",
she says, adding she hopes to see Southside's downtown become more developed. "I think that we have a lot of untapped market potential."
Parks and rec
Southside boasts 47 acres of Park land and 31.8 miles of shoreline on the Coosa River.
Hutchins cites the Southside Parks and Recreation Department. The Southside Sports Complex, Southside Landing, and Southside City Park are all hidden gems.
A recent successful project at Southside Landing has been movie night, with such family films as Finding Nemo being shown outdoors. This is the work of parks and rec director Michael Weldon, and Hutchins extols Weldon for his efforts.
"He does a very good job picking out movies," says Hutchins, also citing food trucks and craft vendors at these and other such local events, "It's a place for the community to come together."
Snyder cites the hoped-for replacement of a one-lane bridge over the Coosa River. The City has applied for grant funds, she reveals, and it's working closely with the Alabama Department of Transportation. Within the next three to five years, she adds, she hopes to see a two-lane bridge over this particular stretch of the Coosa, thus solving a bottleneck problem going out of Southside toward Rainbow City.
"I believe that's going to open up the city for a lot more economic development," she adds. "We're seeing a lot of economic development: small, but we are seeing it."
As well, with improvements to Southside's police and fire departments, the city will be ready when that economic ship comes in, sailing up the Coosa.
Hutchins reveals that he is a transplant. He didn't grow up in Southside, but he got there as fast as he could.
"It doesn't feel like a community of 9,500 people," he observes. "When you're out in the community, you feel like you know everybody. You forget how many people live here. Even though we are the fastest-growing community in Etowah County, I would like to keep that small-town feel."
Hutchins is confident Southside can simultaneously grow in a positive way yet retain that Southern coziness and folksiness that its residents love so much.
Snyder shares his assessment.
"Everybody waves at everybody," she notes, "and to me it's a beautiful, diverse landscape and a river-oriented community. We just need that active town center to go with these recreational opportunities. I believe it's one of the loveliest places on the banks of the Coosa River.
"We're changing the face of Southside," she adds. "We want that small-town feel. But we feel as if we have moved into the 21st century."
AT A GLANCE
Southside, Alabama
What: One of the fastest growing communities in the state
Where: just outside of Gadsden in the northeastern section of the Yellowhammer State
Website: www.cityofsouthside.com