River Front Chrysler Jeep Dodge Ram
Evolving in automotive excellence
Business View Magazine interviews Bill McSkimming, President of River Front Chrysler Jeep Dodge Ram, for our focus on Illinois Automotive Dealers
"What's in a name?" For Bill McSkimming, Owner and President of River Front Chrysler Jeep Dodge Ram in North Aurora, Illinois, the answer is simple. A lot.
When McSkimming purchased the River Front dealership in 1989 it was actually located along a river and sold Chryslers and Plymouths. Even though they no longer sit on that riverfront property, after building an updated 36,000 square foot facility on a new five-acre parcel of land in 1996, it was worth it to retain the name River Front due to the quality relationships formed with generations of customers at the original North Aurora location.
Over time, Plymouth has been replaced in the showroom and Jeep, Dodge, and Ram have been added to McSkimming's stable of vehicles. Throughout all of those departures and additions, the River Front name has remained. And while some people are satisfied just sitting back and waiting for customers to walk in, that isn't McSkimming's style. In fact, he just purchased a piece of land and they are developing the plans now to build a commercial truck center for Ram Trucks just down the road from the River Front store.
"It is just going to be Ram Trucks," explains McSkimming. "That's the only type we can sell out of there. We won't be able to sell Chryslers, Dodges, or Jeeps from that location. We'll move all our Ram trucks there and we'll take the RAM sign off this building and put it on the new building because you can't have two locations in the same area for the same product."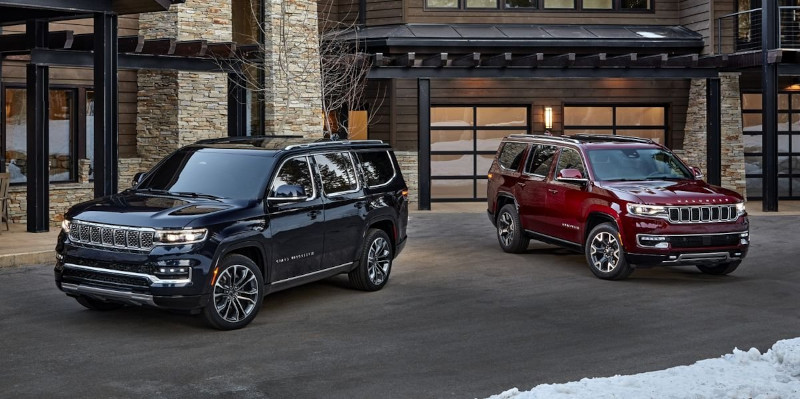 It has been said that the top three things that matter in a land purchase are location, location, and location. McSkimming knows that their current location is an asset. He notes, "When I first came here there was nothing but farmland around us. Now we have seven automobile dealers in a mall. And I was one of the two that started this back in 1995."
Seeing firsthand the success of his vision over the past two decades, gives McSkimming the confidence to expand. He admits, "The new Ram Trucks showroom won't be huge, but we will be able to get four to five trucks in there. The biggest portion is going to be for service work. We're going to deal with all the contractors. We're going to sell the smaller Ram Trucks that everybody loves to drive, but we're also going to get heavily involved in selling the big commercial trucks. We sell them now, but not like we will when we move to the new building."
Not only will the move allow River Front to expand their Ram Truck footprint, doing so will also free up space on their current lot to handle the unknowns of the future. McSkimming has learned that being able to pivot quickly is an integral characteristic of success. There are a number of external influences applying pressure to the auto sales industry today. The rise of internet sales and COVID with its supply chain issues are just two.
Most parents and teachers have a love-hate relationship with the internet for their children and students and it turns out that McSkimming has a similar relationship with it for his customers. "It's a good thing and a bad thing," confesses McSkimming about the impact the internet has had on the car industry. "People used to come to our lot every weekend to just look at and buy cars. Now we don't get the same level of foot traffic. On the other hand, people on the internet can look up your inventory and contact the dealer that has the most vehicles in inventory for the particular model that they are trying to buy. I have six people in our business development center that are on the internet all day, every day. I've never had that before. They do a great job dealing with the customers online and they get them in the door." It is apparent that McSkimming personally knows and values the 81 people working for him. That's 81 people who rely on McSkimming and River Front and he relies on all of them.
COVID-19 wreaked havoc in a number of ways. Aside from the tragic life and death impact experienced by so many, the world is also dealing with supply chain issues. McSkimming identifies that "supply chain is the biggest issue we have now. The chip shortage to build the vehicles has been an issue. It is getting somewhat better, but now we have a problem getting the parts we need. It's a big issue and I don't foresee the supply chain issues easing up until somewhere between 2024 and 2025."
He adds, "We have a lot less vehicles than we did in 2019 and I could use more because we could sell more vehicles. But what we're doing now is writing a lot of factory orders. We order from the factory. The car comes in. And within two days, people come pick it up and it's gone." River Front Chrysler Jeep Dodge Ram also sells used vehicles. Most of their pre-owned offerings are pretty new – three to six years old. There are a few older cars, but those aren't the focus. If someone trades in an older model, the River Front sales team will make the deal and then sell the vehicle off to a wholesaler because they don't have a lot of foot traffic looking for older cars.
In addition to supply chain issues, almost every industry has experienced professional staffing shifts. McSkimming says they've been "okay" as it relates to some positions. "We have no problem with the sales people we have and the technicians. We've had technicians here for a long, long time – 20, 25, 28 years. One guy has been with me for 30 years, so we don't have a problem there. It's the entry level positions in the service department that we have trouble filling."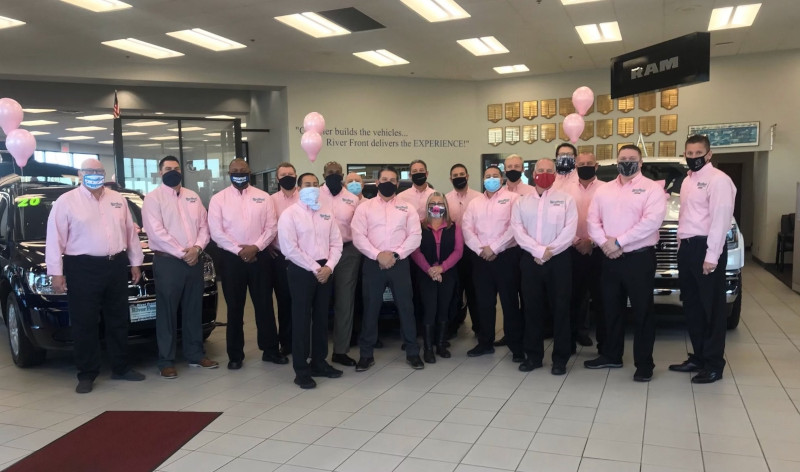 Rather than just sitting back and complaining though, McSkimming gets excited as he describes the way that they partner with the local community college. His service manager at River Front works closely with Waubonsee Community College. "My service manager has a relationship with the teachers in the trade school. He goes out there and talks to the teachers and students at the college, and we hire them right out of college. They start out part time and end up going full time when they graduate."
River Front has two dedicated finance people that work there full-time assisting customers in completing their purchases. The company partners with Ally Financial for many of their financing deals. McSkimming also uses them to borrow money when he needs assistance for expansion. He shares, "They're the ones that'll loan me the money for our new building. It's great to have a close relationship with them." Another key partner is Custom Facilities – the premier automotive facility design and construction authority. "They built our current building," explains McSkimming, "and they're doing an extensive renovation of it right now. They will also be doing the new truck building, as well."
As McSkimming looks into the future, he is excited at the potential for further growth. Located 40 miles west of Chicago, they are the last dealer going west in the Chicago Metro area for the corporation. He recalls, "There was nothing but cornfields out here, but now there are a lot of new buildings going up. People are moving out here."
The entire team at River Front Chrysler Jeep Dodge Ram is in touch with the growing North Aurora community. They sponsor a number of golf outings each year, they sponsor a minor league hockey team in the area, and they help collect canned goods for the local food pantry for Thanksgiving and Christmas.
McSkimming says that it is rewarding to support the community and it means a lot to him to see the community supporting his dealership.
He shares, "We've assisted multiple generations – grandparents and parents, and now they are bringing their children and grandchildren to us so we can assist them as they purchase cars. My favorite part of the job is dealing with the people here. My employees and the good customers that I have."
So, what's in a name? For Bill McSkimming and River Front Chrysler Jeep Dodge Ram, "It is all about relationships."
AT A GLANCE
River Front Chrysler Jeep Dodge Ram
What: A premier automotive dealer of new and used vehicles
Where: North Aurora, Illinois
Website: www.riverfrontchryslerjeep.net
Ally Financial – www.ally.com
Ally Financial Inc. (NYSE: ALLY) is a leading digital financial services company. With over 100 years of industry experience and a relentless focus to "Do It Right," we're a trusted industry leader with one of the largest full service automotive finance companies in the country. Visit www.ally.com/dealer.
Custom Facilities – www.BUILDMYDEALERSHIP.com
Custom Facilities provides dealership design and construction management services to automotive dealers throughout the US. CFI not only understands how your dealership should look, but more importantly, how it should work. The relationships we have built over five decades will ensure your project is on time, on-budget, and will meet all compliance requirements. www.BuildMyDealership.com