Retech Systems
R&D at its best
Business View Magazine interviews Earl Good, President & Managing Director of Retech Systems LLC, for our focus on U.S. Manufacturing
Retech Systems is a global leader in the supply of vacuum metallurgical equipment. Based in Buffalo, New York, this innovative firm provides a wide range of services, including melting, refining, casting, and atomizing reactive and refractory metals, superalloys, and rare earth metals.
The company is part of the heat treatment and metallurgical processing equipment giant SECO/WARWICK, headquartered in Świebodzin, Poland, and with subsidiaries in the United States, India, Germany, Russia, and China. Backed by a global network of companies, Retech Systems has the capacity and technical capabilities to deliver on even the most complex projects in its primary industries.
"We supply a lot of furnaces to the aerospace and medical industries – anywhere there's a need to melt, refine, cast, or atomize titanium and nickel alloys, or any other metals," says Earl Good, President and Managing Director at Retech Systems. "Although our customers buy somewhat similar furnaces, where we truly excel is in our ability to supply bespoke furnaces, made possible by our strong R&D department, an area we continue to invest in to support our customer's evolving needs."
Retech Systems was founded in 1963 in Marin County, California, by Max Schlienger. At the time, the company developed its first Vacuum Arc Remelt (VAR) system, which improves the quality of metals for high-value applications like aerospace, aviation, and healthcare.
Over the years, the company introduced additional products, including Plasma Arc Melting (PAM), Electron Beam Melting (EB), Vacuum Induction Melting (VIM), and Metal Powder Production. In 2011, Retech Systems joined the SECO/WARWICK group of companies, becoming a subsidiary and gaining a global footprint that has helped accelerate growth.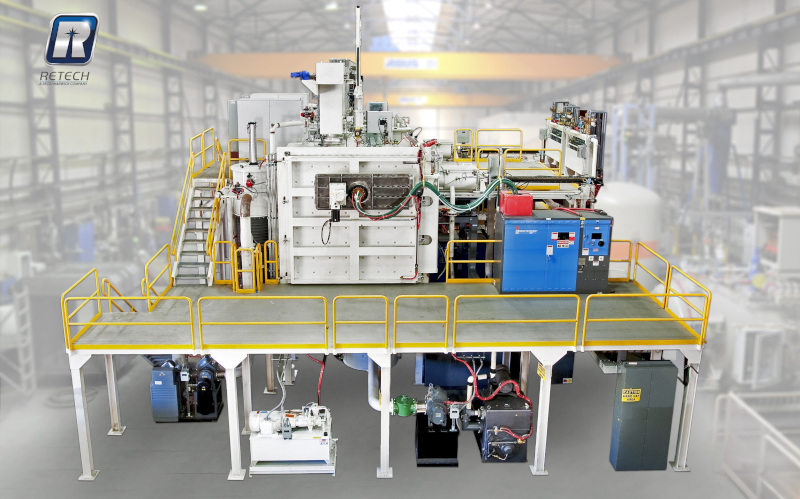 In October 2020, Retech Systems moved from its long-time facility in Ukiah, California, to a new and larger facility in Buffalo, New York. Although well-planned, the move was delayed due to the Covid-19 pandemic. "Our new facility gives us more space for our rapidly expanding R&D department plus shop space for all the furnaces we are building," says Good.
However, moving to New York was quite a challenge due to delays caused by the pandemic. First, the facility was not deemed essential, so all workers had to stay home. Next, because the move was across state lines, it presented a new problem because each state was enforcing quarantine measures, a considerable deterrent to truckers. But despite these challenges and a six-month delay, the company had finished moving to the new facility by the end of October and set up all equipment and hired staff.
Coming out of the pandemic, one of the things Good feels has become a defining characteristic of the company is resilience. He explains, "Resilient is a fully accurate way to describe our business situation over the last two and a half years. We have been able to find other work, adapt to the situation at hand, find a way to move forward, and continue generating profit."
This ability to adapt helped the company keep all its staff throughout the pandemic, something many companies struggled to do. "We were fortunate that we did not have to lay off anybody, because we had work," Good says. "We could not go to the office because we were in two more restrictive states – New York and California – so we worked from home. We were also able to get new people like engineering and sales to staff our new facility, although not without difficulty."
Like most companies that require skilled labor and the trades, Retech Systems has struggled to find skilled workers like machinists and electrical technicians. "Everybody says they are struggling to find these people," confirms Good. "Even the people you already have frequently get calls about opportunities and potentially leaving. However, we understand they are the key element of our business and that it is their knowledge and skills that define the company, and we make every effort to keep the team intact."
Retech Systems has had to adjust its operations because of the pandemic, something that most companies have had to do to adapt, evolve, and survive. One adaptation the company has implemented is to start manufacturing furnaces at its new facility, a process previously done in Poland. "We have 9,900 square feet of office space and around 40,000 square feet of shop space," says Good. "We have one of our R&D furnaces up and running at the facility and working on starting manufacturing and assembly here too to support our local customers, especially in the wake of logistical challenges like shipping delays and supply chain bottlenecks."
Further supporting this effort to evolve, the company is making significant investments in R&D, its core service. "We are upgrading all our R&D furnaces and investing in technology to support our customers," Good reports. "For instance, our typical customers understand our equipment and how it works and operates. A newer breed is emerging with concepts or ideas, yet they do not know much about the furnaces and how they operate. This customer class is looking for more from us, which is a benefit because we have always provided customized furnaces for our customers to meet their needs and develop the products they want. Because of this, we are well suited to take those ideas and find a path forward for them to develop materials. A culture of innovation and a willingness to try new things keeps us at the forefront of the market, cementing our leadership position and opening up more opportunities to expand."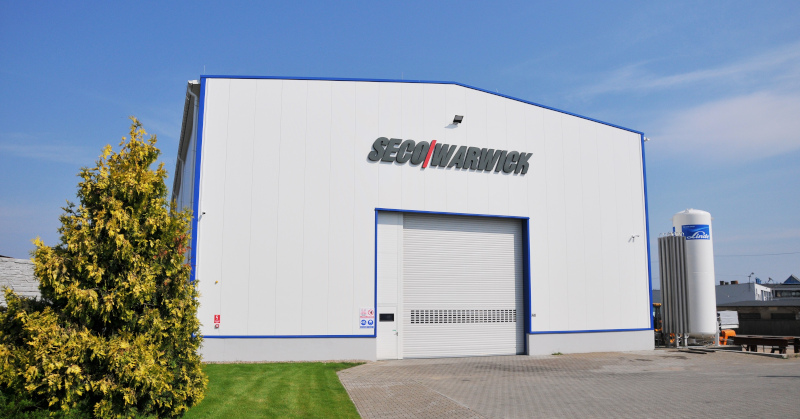 The U.S. is currently working towards mainstreaming the green economy, and many industries are gradually adjusting to a new world built on sustainability. However, for Retech Systems, going green is not as simple as switching the facility to solar power. As Good explains, "Furnaces are high electric, so there's not a lot we can do from a green perspective. Our focus is instead on how we can collaborate with our customers to help transition other parts of the economy to the green economy."
The company is achieving this by collaborating with customers in the solar, battery, and energy storage sectors to create new products to support the transition to a green economy. They also have customers who want to reduce their carbon footprint by working with more sustainable metals, another way of going green.
Besides supporting the green economy, Retech Systems also works with local universities and polytechnics to promote skilled trades and support students pursuing these careers. "We have reserved internship slots for students from some schools we partner with," says Good. "They come and get first-hand experience working in our industry and, if we like them and they like us, they can join the company full-time when they graduate."
This approach has worked out well for Retech because it allows for continued knowledge transfer from seasoned workers to new ones. It takes up to two years to bring a new worker up to speed because of the complexity of the company's technologies.
As the global economy recovers from the effects of the pandemic, Good is taking a more conservative approach to the company's future. "With everything that is happening, all we can do is focus on the next two quarters – that's how far into the future we can realistically plan for," he says. "We have to continually focus and adapt to what's happening in the market because so many changes are taking place."
Despite this short-term focus, the company is pursuing long-term opportunities like moving into new business verticals like recycling and metal powder production to sustain long-term growth. "Some fascinating things are going on in our target industries," Good shares, "and we're looking at how they fit with Retech and how we can use them to grow."
AT A GLANCE
Retech Systems
What: A custom melting furnace manufacturer
Where: Headquartered in Buffalo, New York
Website: www.retechsystemsllc.com
Weldall – https://www.weldallmfg.com/
Weldall proudly supports our partner, Retech, by providing some of the most difficult large components needed for their overall systems to succeed. The quality and skill required to attain the "leak free" deep vacuum tight welding that is critical to these components is something that very few can build successfully. Like most of Weldall's clients, they come to us when no one else can do it!
Weldall is a manufacturer of medium to large (up to 200 Tons) welded metal components, including machining and numerous additional secondary operations. For over four decades, Weldall has leveraged a unique set of skills and capabilities to continuously differentiate ourselves from the competition.
Weldall is capable of manufacturing prototype to production quantities of the highest quality and variety of parts and assemblies imaginable. These items can be made from a wide variety of alloys including, but not limited to: carbon steel, stainless steel, aluminum, monel, and manganese. Weldall can create weldments in excess of 400,000 pounds and successfully welds the heaviest requirements in the world.
We look forward to hearing about how we can help you with a weldment that "no one" (else) can do!