Astro Machine Works
Astro Machine Works excels with the ESOP model
Specializing in precision parts machining, Astro Machine Works builds the winning solutions
Specializing in custom machine building, precision parts machining, and the reverse engineering of components for decades, Astro Machine Works is one step ahead of the competition and is passionate about the work that it undertakes every day.
Founded 39 years ago, the mission of this small but highly effective company, about 115 employees strong, is to serve the custom machinery and precision parts needs of the area's top regional and national companies—all done to the most exacting standards possible.
We recently spoke with Astro Machine Works President and Chief Executive Officer Eric Blow (one of its four original owners from 1984), Commercial Sales Team Manager Brian Hess, and Human Resources Manager Charissa Gift.
Speaking from the company's 72,000-square-foot headquarters in the eastern reaches of the Keystone State, they told us more about the company. Blow, along with Astro's Private Equity Partners, was also instrumental in spearheading the company into the ESOP (or employee stock ownership plan) model it successfully enjoys today. ESOP's are increasingly popular with many companies these days.
It was a natural transition to an ESOP model for the CEO of an already successful operation and a reflection of his passion for the business.
"I love what I do," he says. "I love the people I work with, but nonetheless, we're all going to retire at some point. Basically, I wanted to start a (personal) succession plan, which I did do, officially back in 2016, knowing that gave me approximately 10 years."
In the machine shop/fabrication shop industry, Blow adds, owners are notorious for selling their businesses behind the scenes and giving their employees a short-shrift wish for good luck and a quick goodbye. He didn't want to do that.
"I wanted everybody to be part of it," says Blow, adding that he also wanted "the people who got us to where we are today to have a bite of the apple, if you will."
"We began researching ESOP's, what they were, and how they worked, and we arrived at an altruistic conclusion: We wanted this beneficial plan for the entire Astro Machine Works company. It would mean not only looking out for Astro's people but also the long-term well-being of the company itself."
"It set up everybody for a very stellar future," he continues, "for many, many years to come."
Blow reveals that in 2006, Astro joined up with a local private equity group. All options were put on the table and thoroughly checked out and discussed, and the one everyone kept coming back to was the ESOP model. Going with an ESOP would give all of Astro's employees a piece of the action.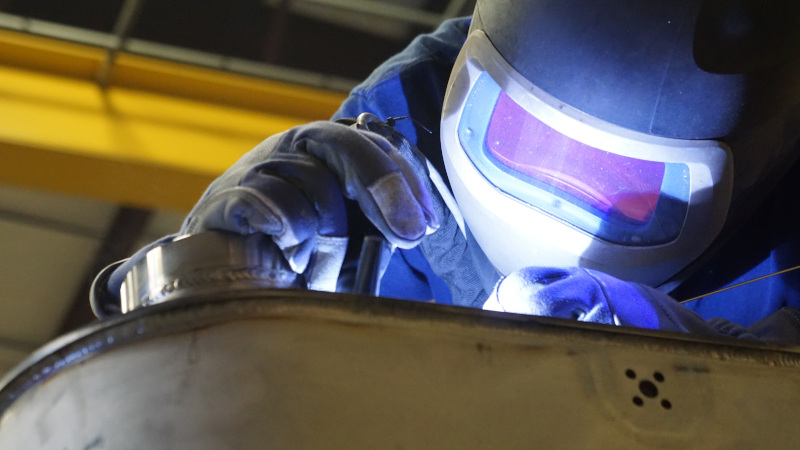 A variety of services
Astro Machine Works does a lot, says Blow. It performs CNC (or computer numerical control) machining. This is the automated control of machining tools—such as drills, lathes, mills, grinders, routers, and three-dimensional printers—via computerized means. A CNC machine processes a piece of material—which may be as varied as metal, plastic or a composite—to meet specifications by following coded programmed instructions and without a manual operator directly controlling this operation. Astro also does welding, fabrication, and mechanical assembly.
"We are a custom machine builder," says Blow, "so we actually build full-blown automation equipment that people would use to up the efficiency and productivity within their plants. Therefore, we can do all the welding and fabricating of any framework or base. We can do all the machining of component parts that might go on that machine. We can do all the mechanical assembly of that machine. We can do all the plumbing of any pneumatic or hydraulic systems."
With several electricians on staff, Astro can also wire the main control cabinets, as well as do all the on-board wiring. This includes wiring PLCs (or programmable logic controllers, as Blow points out): basically, the computer that makes the machine do what it should be doing. Further, Astro also conducts its own in-house testing.
"Our claim to fame is having all those many services under one roof," says Blow, as well as citing the company's ability to sell each and every one of its services individually.
It's that overall quality—being a kind of machine shop jack-of-all-trades, with all these services available under one roof and all at expert levels, to boot—that sets Astro Machine Works apart from its competition.
"Our diversity of service has really been a key cog in our operation for some time," Blow points out, adding that this is a luxury many such companies simply do not have.
Hess shares that assessment.
"Once we get in and get to know a customer, and they get to know us, and what we can do," says Hess, they see that "we really take more of a personal approach to how we handle our customers. We do things in how we service our customers that most other companies don't do."
That leaves customers in a very unique situation, says Hess, adding that they really don't need to go anywhere else.
"Other than to come to Astro," he continues, "because of the service—how we service them."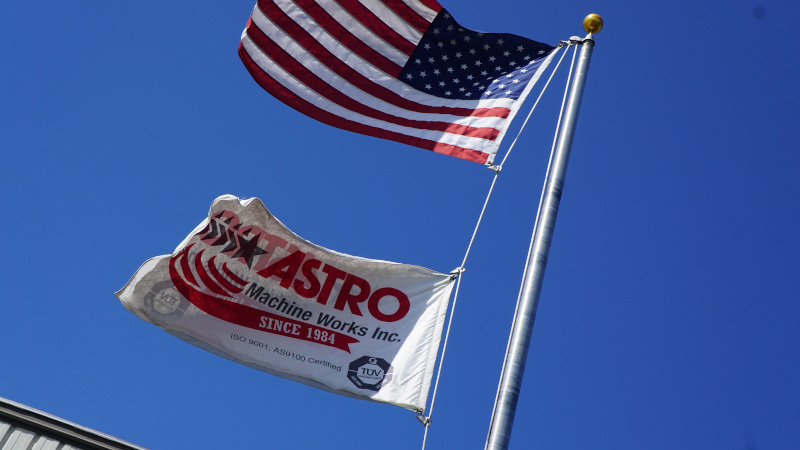 Special relationships with customers and workers alike
Talking of that special relationship with customers, Hess notes that when they learn Astro has a highly successful ESOP model in place and is 100 percent employee-owned, they realize they're dealing with a very winning and highly reputable company.
Gift concurs.
"It's definitely having a positive impact," she says of the ESOP.
When employees come to work and know they're part of the actual business, says Gift, with shares and thus a stake in the company, too, they work harder and take greater pride in their work.
"Not that they didn't before," she adds. "It just gives a different element, a different level, to why you're coming to work and what you're doing each day."
Using the ESOP has also been very beneficial to Astro's rate of employee retention, especially during the days of COVID, as Gift points out. She adds that the company thus boasts a very low turnover rate.
"People want to stay here," she says, "and they want Astro to be successful."
Employee engagement—taking ownership over their careers and what they're doing—is the name of the game when you make use of an ESOP model, as Gift emphasizes. Being an open-book management company, Astro shares all of its financial information, says Gift, and all of its employees are up to date and informed about all such facets.
"We have a great culture here," she says, "and people are just very engaged. They ask a lot of questions. Those are the main impacts (the ESOP) has had."
Sharing Gift's point of view, Blow adds that the company brings in new, entry-level people every year, whether they're technically needed or not. That ties in with Astro's eye to the future of its workforce.
"In my opinion," says Blow, "you can always tell how good somebody's culture is by how they treat the new people."
He adds that Astro's seasoned veterans will trip over themselves to help new employees. Plus, this ties in with the ESOP way of doing things. They have a vested interest in getting new workers on board and up to speed as quickly and efficiently as possible.
In countless other companies, government-mandated COVID restrictions made people simply not want to work—the phenomenon known as "quiet quitting," as Blow notes. But at Astro Machine Works, that fortunately did not happen.
Looking to the future
When looking at what's ahead for Astro Machine Works, Blow points out that in his considered estimation, continued growth and even greater prosperity are the watchwords for the next decade or so.
"It's the bottom line," he emphasizes, citing a years-long process of putting in place all the missing pieces of the puzzle, adding that, "As a small company, you tend to start out small and wear many, many hats. We were no exception."
Over the years, Blow continues, Astro added a company controller (Brian Martin) in order to better address the financial aspects. In 2010, human resources was added, and Gift came on board. At the same time, a quality manager (Henry Robinson) was added. Since then, a safety manager (Brian Brown) has been added. Further, new positions have been created for managing information technology (or IT) and other areas.
Concluding with the topic of the ESOP, Blow emphasizes that for Astro's people, it's all about openness, trust, sharing.
"Rewarding them for their success," he concludes.
AT A GLANCE
Astro Machine Works
What: a nationally-known company that specializes in custom machine building, precision parts machining, and the reverse engineering of components
Where: Ephrata, Pa.
Website: www.astromachineworks.com