Groupe Savoie Inc. Westville Division
Excellence from mill to market
Business View Magazine interviews representatives of Groupe Savoie Inc. Westville Division for our focus on the Growth in the Wood Products Industry
Located off the North Atlantic, Canada's Maritime provinces – New Brunswick, Prince Edward Island, and Nova Scotia – are popular destinations for living, recreating, and doing business. They are also blessed beyond words with outstanding natural resources.
Acadian forests cover 75 percent of the region – young mixed forests populated by maple, spruce, and balsam and stretching from the northern hardwood forests of Quebec to the southern boreal forests of New England. These extensive forest resources make the Maritimes one of the largest global suppliers of wood products, from raw lumber to kitchen cabinets and furniture components.
Groupe Savoie Inc.'s Westville Division is located towards the northern shores of Nova Scotia, a few miles from Pictou Harbor. The mill exclusively processes hardwood lumber destined for Groupe Savoie's hardwood processing facilities in Saint-Quentin, New Brunswick, including Pallets Plus, a pallet manufacturing subsidiary.
The Westville mill sources timber from private sellers in Nova Scotia, Rhode Island, and southern New Brunswick. Its Crown Land allotment, although small, does add a fair amount of feedstock to the mill's capacity. Since the mill exclusively processes hardwood timber, its capacity and price matrices are influenced by the hardwood market, both locally and regionally.
As Andrew Watters, Plant Manager & GM of the Westville Division of Groupe Savoie, Inc., explains, "There's been a lot of construction going on in the wake of the pandemic, and what we've seen is a significant increase in demand for kitchen cabinet components. Although hardwood prices have traditionally lagged behind softwood, prices have risen sharply due to this increased demand." Other sectors that have seen a spike in demand are wooden musical instruments (the Westville site manufactures tonal wood products) and architectural trimming components, riding on heightened construction.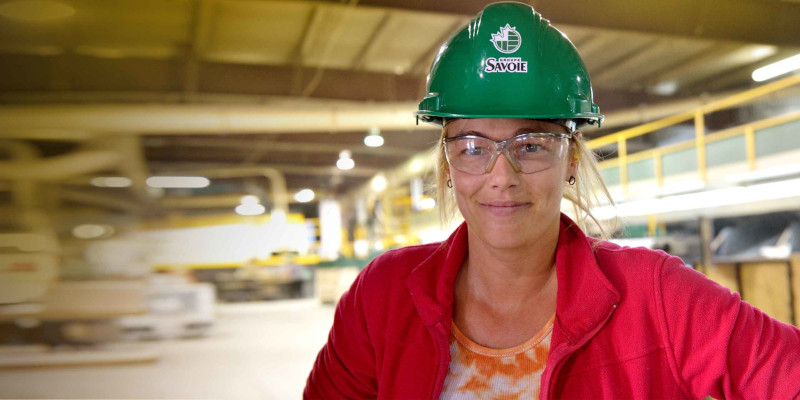 Groupe Savoie constructed the Westville Sawmill in 1997 to feed the increasing demands of its central processing plant in New Brunswick. It is one of two major hardwood sawmills in a province dominated by softwood timber sawmills, which is both an advantage and a disadvantage, especially when it comes to acquiring hardwood timber from private sellers.
"Private sellers have traditionally favored cash sales to firewood buyers and chip wood exporters," says Jody Hamper, Division Supervisor at the Westville Mill. "Over the years, a significant hurdle has been educating private sellers on the benefits of working with a sawmill, even though they may not provide immediate cash payments." While this process of sensitizing private landowners is still ongoing, the mill's expansive sourcing area does offer at least enough timber to keep the mill running throughout the year.
The Westville Sawmill currently has around 48 employees, a slight change from 45 last year, indicating modest growth. Over the last 12 months, the Westville mill has invested in marketing efforts to expand its local reach to both suppliers and other local stakeholders like private landowners. "Although we get a significant amount of timber from our Crown Land allotment, our marketing efforts, including Facebook advertising, are helping bring in more timber from suppliers who harvest wood from private land," Watters says.
While these efforts are paying off, he notes that there is still a mismatch in demand for hardwoods and supply, with the mill currently operating at 50 percent capacity. Therefore, the mill is working towards sourcing more timber stocks to meet the demand, especially as the various divisions and subsidiaries at the Groupe Savoie Inc. HQ grow. "The pallet business is growing tremendously, which means we have to supply more lumber that meets the specific needs of the pallets business," Watters states. "We've recently added some machinery to address this issue, so we are shipping out lumber that meets the pallet business's specifications."
Other additional investments the Westville Division is making are a rooftop-mounted solar array to feed into the mill's power needs and an integrated ERP system to run the mill. "The software system we are currently implementing is an upgrade of what we have been using," says Watters. "We have been using just a small slice of its features, mostly regarding tracking time and worker output. This upgrade will unlock features that cover lumber production, equipment maintenance, and everything that goes into running the mill."
The new system is slated for a pre-Christmas launch, with the company currently taking workers through training on how to use the system. "All these systems work for some time, and then you have to upgrade them or try something new, which is where we are with our current system," adds Watters. "Everyone will get trained on this new system so we can have a more tech-enabled work environment."
The last two years have not brought notable change to the mill due to the pandemic's timber supply constraints and its economic aftershocks. For Watters, an increase in supply is the only factor standing between where the Westville mill is now and what he sees as an opportunity to make significant investments in modernizing and expanding the mill's operations.
However, as Hamper explains, part of the supply challenges have to do with more organic reasons. "Landowners, mostly old-timers, have a cash-first mindset, which makes it difficult for millers like us to compete with cash sellers," he says. "So, we actively engage and educate them on our way of doing business, so they can understand what we do and how working with us can offer more benefits." Nevertheless, Watters and Hamper are optimistic that supplies will increase as various economic factors normalize and harvesting crews resume full-scale operations.
The timber industry in the province has been a mixed bag of indicators, influenced by rises in fuel costs, a resurgence in firewood buyers, and a general wait-and-see stance by harvesters; most hoping things will return to normalcy soon. For the Westville mill team, these critical factors are part of a broader shift in the forestry industry. As Hamper reports, "An unseen change that is creeping into the forestry industry is a lack of young people to take over the previous generation's contracts, businesses, and machinery. Few of the younger generation want to get into forestry, which will create a big challenge down the road. We need more of them to accept positions in the forestry industry to ensure a smooth transition and sustained growth for everyone in the forestry ecosystem."
One bright light in this uncertain future is a forestry college student – Rebecca – who is currently interning at the Westville mill. "I decided to take the course because my dad, uncle, and grandfather work in forestry," she shares. "I like being outdoors, learning various aspects of nature. So far in my first year, we've learned about tree identification, plantation surveys, management plans, different tree types, and their diameters and classifications."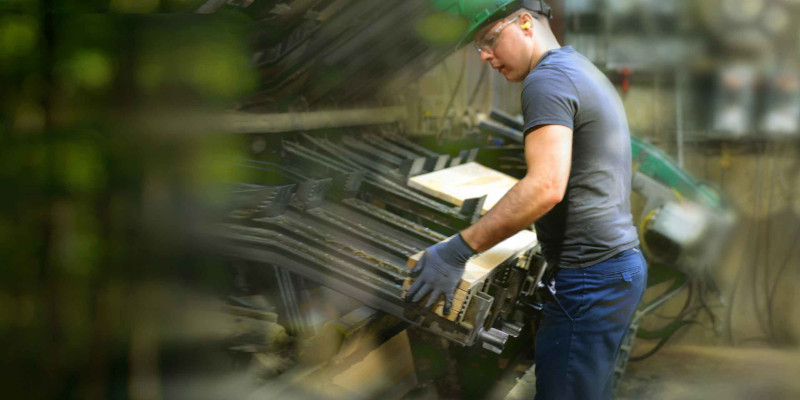 Students like Rebecca might be few and far between but, still, they offer hope to an industry contending with a surge in technological advances and an evolving workforce and marketplace that may not fit the mold of the previous generation.
Looking ahead, Watters and Hamper are hoping to secure more timber sources to feed the mill, which is currently working at 50 percent capacity, something they both agree will change with more wood supplies.
"As with all mills, more wood means more uptime, which we are striving towards as we pursue more Crown Land allotments and a bigger share of hardwood timber coming from private lands," says Watters. "Our goal is to operate for 50 weeks in a year, which will help unlock major investments in technology and automation, ramping up our production levels while lowering our workforce costs."
In this optimal future, the mill would draw wood stock from all three Maritime provinces, work more efficiently, lower labor costs, and increase revenues, ensuring Groupe Savoie Inc. and its Westville Division long-term success and meeting both Watter and Hamper's expectations.
AT A GLANCE
Groupe Savoie Inc. Westville Division
What: An innovative supplier and manufacturer of hardwood products
Where: Saint-Quentin, New Brunswick
Website: www.groupesavoie.com