Rancho Cucamonga, California
A Connected Community
Business View interviews Matt Burris, Ranch Cucamonga, CA Deputy City Manager for Community Development, for our focus on Economic Growth in U.S. Cities
In the heart of Southern California's Inland Empire region, the City of Rancho Cucamonga offers a complement of urban and rural living. With majestic views of the San Gabriel Mountains and the Angeles National Forest, Rancho Cucamonga is connected to three major highways (Route 210, I-15, and I-10) and the Ontario International Airport, providing the perfect combination for those looking for a very accessible community with the serenity of a natural landscape.
Matt Burris, Deputy City Manager for Community Development shares, "We are about 45 minutes from the beach, the mountains, and the desert, and around an hour from downtown Los Angeles. All the different entertainment and recreational opportunities that come from that geography make it a really great place to live."
The City of Rancho Cucamonga was incorporated in 1977 when the historic communities of Alta Loma, Etiwanda, and Cucamonga joined together to manage the rapid growth each was experiencing. Explaining how these three communities shaped the diverse nature of the city, Burris relays, "We've got some historic development patterns from those communities that really gave the city a lot of its character. Alta Loma started as a semi-rural, equestrian-oriented series of neighborhoods. Cucamonga started as a railroad town, around the Pacific Electric train stop, and so it has a little bit more of a traditional development pattern, and Etiwanda was one of the Chaffey Brothers colonies – it was somewhere in between, with a traditional large lot neighborhood design."
As the city continues to evolve, Burris shares that the 1980s to the early 2000s primarily brought suburban single-family housing to the community, although this is changing. Right now, the ratio of single-family to multi-family is somewhere around three to one. Extensive trail and park networks keep the city connected, something Burris believes attracts individuals and families to Rancho Cucamonga. He notes, "Having a well-established equestrian community when we incorporated meant that there was a strong interest to connect neighborhoods for horses, and those multipurpose trails serve everybody else just as well as they serve equestrians. The trails helped drive some of the connectivity throughout the city."
With many residents commuting out of Rancho Cucamonga to go to work, Burris admits, "We are still trying to figure out where we're going to land post-COVID, in terms of how things shift. A lot of our understanding and data on community patterns rests on our historic travel patterns before COVID." Today, roughly 60% of residents are commuting, heading to Los Angeles or Orange County, where there is a high concentration of professional jobs. "Our mix of residents tends to skew towards educated and those who are working in white collar professional jobs. So, a good number of our residents get up every day, get into their car, and leave the city or even the county to go to work," Burris adds.
Working with Brightline West, and the San Bernadino County Transportation Authority, the city is excited about a project that will make Rancho Cucamonga the southwestern terminus of a high-speed rail line connecting Las Vegas and Southern California. Burris exclaims, "That is probably one of the coolest things that we are working on. We will be one of very few cities on the west coast that have high-speed rail, and the fact that we'll have a station that connects the city to Las Vegas, another city, in another state, is really exciting. They are expecting 11 million passengers per year to use the high-speed train, which will take a lot of cars off the road, and help with some of our sustainability initiatives as a region."
Additionally, the city is involved in the design phase of a project to connect the Ontario International Airport and the Rancho Cucamonga Metrolink station through a six-mile tunnel. "Theoretically, you could get to an international airport from many places throughout the region, even Las Vegas when it's all said and done, without having to get into a car," maintains Burris.
In other sustainability efforts, a new climate action plan puts the city on a path towards a 47% reduction in greenhouse gas emissions. "We are quite excited about that," says Burris. "If we can deliver these new transportation projects, it'll help us a lot in reducing our emissions." He suggests that an increase in active transportation would also play a role, noting, "On the commuting front, only around 5% of our trips are made by walking and biking. And that's because we developed primarily as a suburban community."
The development of a new General Plan for the city was completed in 2021, outlining transportation improvements in key corridors. Burris explains, "If we develop some of these corridors in a more urban, more walkable pattern, it gives us the opportunity to reduce our reliance on automobiles, and it helps us meet the community's needs for a greater variety of places to live."
To bring more development into the community, updates to the Development Code were enacted – a necessary step. As developers were looking at the city, it was felt that the expectations weren't clear enough and there was quite a bit more risk associated with potential development, just in navigating the entitlement process. According to Burris, "We focused all of our efforts on laying out clear expectations, more objective standards, and a clear path towards entitlements. We've had a lot of success with that."
Currently, Rancho Cucamonga has close to 1,200 multi-family units under construction, many of them mixed-use developments that include approximately 37,200 square feet of commercial space. So far in 2022, another 5,000 multi-family units have been entitled, or are going through the process.
In terms of valued partnerships, Burris explains, "Probably just by virtue of when we incorporated, we learned that we can't go it alone. Working with regional partners is really critical." Sharing that the city contracts police services through the San Bernadino County Sherriff's Department, he says, "They have been an excellent partner for us. Public Safety is one of the longest standing and highest priorities of our community, and it's something that we work really hard to deliver on with that partnership."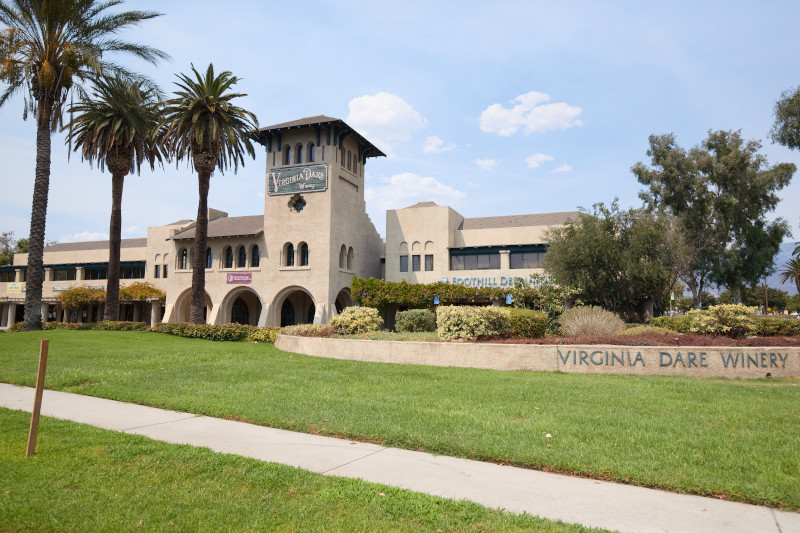 A strong relationship with the San Bernardino County Transportation Authority is also important, especially while Rancho Cucamonga is in the midst of several infrastructure projects. "Not only are we working with them on the tunnel to the airport, and the high-speed rail, but we're also working with them to bring bus rapid transit to Rancho Cucamonga and the West Valley. So, they've been an excellent partner," Burris says. He adds that the water and sewer service for the city are provided through the Cucamonga Valley Water District, maintaining that they are, "another excellent partner, really helping to work hand-in-hand to deliver on the community's vision for what Rancho Cucamonga could be."
Mentioning the school districts as another important relationship, Burris emphasizes, "One of the reasons that people choose to plant roots in Rancho Cucamonga is because we have award-winning schools. And none of that could be possible without all the great leadership within our school districts. We partner with them regularly on all kinds of different programs. We all recognize that when we work together, we can create a better community."
Working closely with the Greater Ontario Tourism Marketing District and the area hotels, Rancho Cucamonga is committed to understanding the needs of the tourism market, while encouraging the change that is required as the city evolves. Burris explains, "Over the last couple of years we've been working to diversify the hospitality offerings in the community. We have a new Hilton boutique hotel under construction that we're very excited about. We're right up against the San Gabriel Mountains with peaks that are almost 10,000 feet high, and this hotel is going to have a rooftop bar. So new patrons can take advantage of the region, take in the beautiful mountain and the valley views beyond us."
With a few other hotels in the initial planning phases, there is also an effort to expand the food and drink options in the city. Although COVID saw a peak in fast food purchases, there is now an uptick in demand for higher-end restaurants. On the menu for the near future is Shake Shack, which Burris says "residents are really excited about," along with two steak restaurants and a concept that involves pickleball, food, and entertainment.
With so much to look forward to, it could be hard to pinpoint what comes next for this dynamic city. On the subject of the future, Burris says, "We are working really hard to become the cultural and economic hub of the Inland Empire. We want to deliver great places for new businesses, and for our existing businesses to expand. I am confident that over the next few years, Rancho Cucamonga will continue building on this foundation."
AT A GLANCE
Rancho Cucamonga, California
What: A city of 175,000
Where:  San Bernardino County, California
Website: www.cityofrc.us

Greater Ontario Convention & Visitors Bureau – www.gocvb.org
YOUR SOUTHERN CALIFORNIA ADVENTURE STARTS HERE!
Greater Ontario, California is where it's happening. Not only have these cities become the ultimate destination for business planners who prioritize an incredible value, but Ontario and Rancho Cucamonga offer access to a myriad of amenities for lodging, dining and exploration capped with enviable sunshine 300 days out of the year.
Fly into Ontario International Airport where over 6,000 hotel rooms await with complementary shuttle service.  The rugged San Gabriel Mountains are your backdrop to this beautiful location.  Rich in culture with historic roots in agriculture and wine, the craft beer industry is thriving along with the diversity of restaurants to please any palate.
Enjoy our awe-inspiring weather, breathtaking mountain and desert resorts, Indian gaming casinos, and world-class wineries.  Our area hosts some of the very best in extreme sports, quiet retreats and spas, and its home to some of California's ultimate shopping and dining experiences.
We are centrally located in Southern California, just a short drive from downtown Los Angeles, California's world-famous coastline, Disneyland Resort, Las Vegas and Palm Springs. Within one-hour drive time you can discover Big Bear Mountain Resorts, the vast Mohave Desert, or cruise along the famous Mother Road – Route 66.
Make us your home base to explore all that Southern California has to offer.
We look forward to your visit!  GOcvb.org