The Probst Group
Adapting for opportunities
Business View Magazine interviews representatives from The Probst Group, for our focus on Best Practices in the Wastewater Engineering sector
Based out of Brookfield, Wisconsin, The Probst Group has developed a well-earned reputation as the solutions provider for industrial wastewater in the food and beverage industry. Over its 12 years of operations, the company has undertaken projects throughout the country including from Wisconsin to Pennsylvania, to New York and Texas and New Mexico, and everything in between. Throughout the nation, The Probst Group is committed to providing technology-driven wastewater solutions for every client, for every project, whether large or small.
Like most companies, 2020 has been a testing time for the company. "This year has been a very strange year across all marketplaces and certainly no different for us," says Henry Probst, Owner of The Probst Group. "The combination of the pandemic and a contentious election cycle introduced a lot of uncertainty across the economy and our target markets." While the Probst Group has been fortunate to escape the worst of the pandemic's economic fallout, the company has had to adapt, something Probst believes is helping them transition into their next level of growth.
The Probst Group was founded in 2008 by the father and son team of Thomas and Henry Probst. Built upon the experience of three generations of water and wastewater engineers, the company's deep roots in the industry are the foundation of its growth. "I'm a 3rd generation wastewater engineer," says Probst. "My grandfather traveled the U.S. installing some of the first secondary water treatment systems related to the Clean Water Act." In 2014, the firm passed on to the junior Probst, whose focus has been countrywide growth.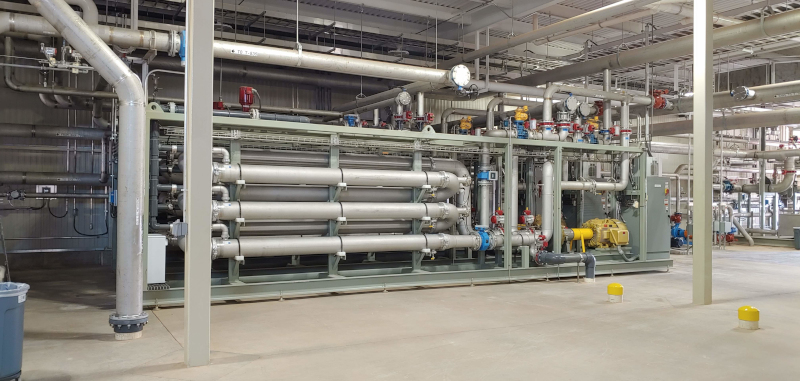 Today, The Probst Group comprises a well-rounded team of engineers, scientists, designers, operators and business development team members stationed in various parts of the country. Probst elaborates, "We're nationwide, coast to coast, handling permitting, design, and consulting, including design builds. We offer a menu of services depending on what the client needs and what is warranted." This needs-based approach has seen the company grow aggressively over the last three years, a trend that Probst hopes to resume once the post-pandemic economy rebounds.
He notes, "We were very fortunate to have had a good amount of engineering work in-house when the pandemic hit. We haven't had to cut staff, and we've been working at being more efficient and targeting other types of work that can benefit from our expertise." While the company saw some larger projects put on hold, a realignment of internal resources and a focus on other service lines within the industry has helped buoy the company's prospects. "We are not abandoning what we have historically done," Probst explains, "but branching out and letting the market know that our expertise can serve other needs too."
To tap into these new opportunities, the company has been touching base with past and potential clients to discuss what other challenges they may face concerning their wastewater systems. They discovered one surprising need that was common among most of the companies they spoke to. "A lot of the discussions revolved around contingency planning," shares Probst. "The companies we spoke to were concerned about what would happen if they lost some or all of the staff running their wastewater management plants." This concern stems from the fact that most wastewater operations are run by a handful of highly skilled engineers and wastewater operators, making it a significant challenge to replace even one team member who becomes indisposed.
The Probst Group sees this as an opportunity. "We are reaching out to some potential clients and sharing the offerings of our operations team; the team can step in to operate and manage the plant," says Probst. "We can also establish a training protocol to assist in recruiting new operators." The company is also seeing potential growth around troubleshooting and optimization of current treatment processes; helping companies address concerns regarding production mix changes and subsequent changes in industrial discharges and CIP cycles. Including some difficult to clean process wastewaters that contain strong sanitizers, which can impact the overall treatment process.
"What makes us stand out from other consulting firms is that we provide a customized solution with a  hands-on approach," affirms Probst. "We don't buy a solution off the shelf. Our process designs are our own and utilize our broad experience and expertise to provide solutions tailored to the unique needs of every facility." This approach is paying off as it has given the company the ability to pivot to these additional service lines.
Another potential growth area the company sees is in-plant automation. "We are seeing more emphasis in automation, especially as the pandemic has impacted the people working at these facilities," chimes in Garry Gibson, Business Development Manager at the Probst Group. "Businesses are starting to plan for more remote monitoring and data analytics, while transitioning away from the manual processes that they might have had before."
"Some of our clients don't have a lot of automation or instrumentation compared to newer plants," adds Probst, "so we are providing guidance on how they can make the transition to automation." Some of the capabilities that The Probst Group is helping clients adopt include incorporating advanced data collection systems and integrating data analytics to extract insights and drive automation. In the field of automation, the company is seeing tremendous opportunity in two areas. "We are seeing a lot of interest in advanced analytics and machine learning," says Probst. "From the data we collect, we can apply advanced analytics and machine learning to unlock the automated controls functionality of wastewater treatment plants." By applying these technologies, The Probst Group sees an opportunity to enable plant owners to operate with a leaner staff and respond better to scenarios like the one the pandemic has presented.
One recent project that demonstrates this focus on innovative wastewater management is the Associated Milk Producers Inc. wastewater treatment plant in Jim Falls, WI. "The facility initially utilized a land treatment system, which was not meeting the company's capacity requirements," recounts Probst. "They brought us in to provide a full mechanical upgrade and a mechanical treatment plant with tertiary treatments. The completed plant has enabled the facility to operate without some of the operational concerns and constraints they operated under with the land treatment system." In addition to building the plant, the Probst Group also secured an agreement with the facility to provide onsite operations to fully manage the wastewater treatment plant.
Although initially focused on the dairy industry, today, the company has expanded to encompass the entire food and beverage industry with an emphasis on the subsectors that have high organic loading. "We are taking the technology we have developed to handle a very complicated waste stream in the dairy industry and applying it to other industries like soft drinks and protein appetizers," says Gibson.
He sees these adjacent industries as significant growth markets for the company, especially in applying advanced technologies to already established plants. "That's an important benefit we can supply to our clients," he says. "We've done it in the past with large manufacturers and food processors who invest in these new technologies. Now we're seeing more medium to small size companies wanting to invest in the same technologies to support the two to three people running their facilities."
Another exciting area the company has seen growth in is cost reduction for clients. "Our compliance and permitting group analyzed some of our sites that produce sludge as a byproduct of the biological treatment process to see how we could reduce this cost," says Gibson. "Sludge is a biological material left from the treatment processes and can quickly become a significant operating expense for facilities. From our analysis, we've been able to have several of them have their sludge approved as a fertilizer designation, as opposed to waste destined for a landfill." The change in designation revises these facilities' reporting requirements, shifting their sludge output away from being a significant cost center.
As the economy recovers from the pandemic's effects, The Probst Group is relying on internal growth to fuel its forays into new markets and service lines. "We've added a few staff and we're looking at adding more engineering roles this year," says Probst. "With the slowdown, we're focusing on internal improvements like developing and optimizing our internal processes, design standards, and protocols while targeting efficiency, accuracy, and adherence to standards." The company has also added an equipment component to its service offering, supplying equipment solutions directly to clients instead of through partners.
Looking ahead, Probst acknowledges the company wants to continue growing nationwide through an expanded menu of services that include engineering, procurement, construction, operations, consulting, regulatory assistance,  and equipment. "We plan to continue going out and exploring where we can add value while building on existing partnerships in the marketplace and expanding our contact area."
AT A GLANCE
The Probst Group
What: Technology-driven wastewater solutions provider, focused on food and beverage
Where: Brookfield, WI
Website: www.probstgroup.com