Chemserve Terminal
Efficient, agile, and growing
Business View Magazine interviews Matt Law, Vice President of Chemserve Terminal, for our focus on the Liquid Terminal Industry
Chemserve Terminal is a privately-owned, 3rd party terminaling service company providing liquid bulk storage and handling of chemicals, vegetable and tropical oils, renewable fuels, and petroleum products. Since its inception in 2014, Chemserve has seen steady growth thanks to its dedication to exceptional customer service and commitment to employees, the community, and the environment.
Chemserve Terminal has a total storage capacity of 965,000 barrels across two facilities in North Carolina. Those sites, one in Wilmington and one in Fayetteville, have 25 tanks between them and sit on a combined 54 acres. Despite its size, the company only has a dozen employees and is able to operate so efficiently because of the technology incorporated into its facilities. Everything is automated, running off proprietary computer systems. Operators are not required to be there for loading and unloading. Employees just check systems and make sure everything is running properly.
"It's really provided us with the opportunity, the options of running an extremely efficient and safe operation but also having what would be considered a lean team. But most of those people are available at all times because, I don't want to say that the facility runs itself, but it is very automated," explains Chemserve Terminal Vice President, Matt Law.
Although Chemserve was founded in 2014, its roots can be traced back through three generations. Its predecessor was Allied Terminals, a company started by Law's grandfather. There was also a sister company, Allied Transportation. Law's father had three brothers. They, along with a partner, eventually took over the two companies. When most of them got close to retirement age, a decision was made to sell. "At the time, my father and I were running Allied Terminals and, with the sale triggered, we had decided we did not want to be out of the industry," Law recalls. "We had a large group of customers who had asked us to stay in or get back into the industry, so we could continue to provide services for them."
Law and his father knew of a company that was shutting down operations at a large chemical plant and there was a support facility nearby that was no longer operational. So they purchased that facility in Wilmington, North Carolina and started Chemserve Terminal. The Wilmington facility is Chemserve Terminal's largest. It spans 45 acres and has 21 tanks, four of which were built for new products this year. The Fayetteville facility sits on nine acres and has five tanks. Both are accessible via interstate highway, rail, and water via the Cape Fear River, which empties into the Atlantic Ocean.
The facilities didn't consist of much more than tanks when they were purchased. This allowed Chemserve Terminal's leaders to use knowledge and relationships gained from previous endeavors to build an efficient, safe operation from the ground up. New Kent Coatings did all the specialty linings for the interior of Chemserve's tanks. The company had also done tank linings for Allied Terminals in the past. "Due to the various chemicals we handle, we have to put special protective coatings inside the tank to protect the quality of the products, and protect the integrity of the tanks, so it's a very specialized process," Law reports. "We use New Kent because they provide an exceptional quality job for us and they always have."
Chemserve Terminal handles a wide variety of products. In addition to liquid fertilizer that's used for crops such as corn, cotton, wheat, and tobacco, the company also handles animal fats and greases. Specialty chemicals include sodium hydroxide, sulfuric acid, methanol, hydrogen peroxide, and peracetic acid. Demand for many of the chemicals stored at Chemserve increased during the COVID-19 pandemic. This led to the construction of the new tanks at the Wilmington facility – built by Texas-based Baker Tank to Chemserve Terminal's customized specifications.
The pandemic has created some challenges, operation-wise, for Chemserve. An already small number of employees was divided into teams as a way to limit exposure. And some restrictions have been put in place to limit who can come in and out of the company's offices. Fortunately, the company's systems help with social distancing. As Law relates, "One good thing is that, because of the automation, we don't have a lot of interaction with drivers of the chemical transport trailers – those drivers go load themselves through our automated equipment, which has really reduced the potential exposure to the employees."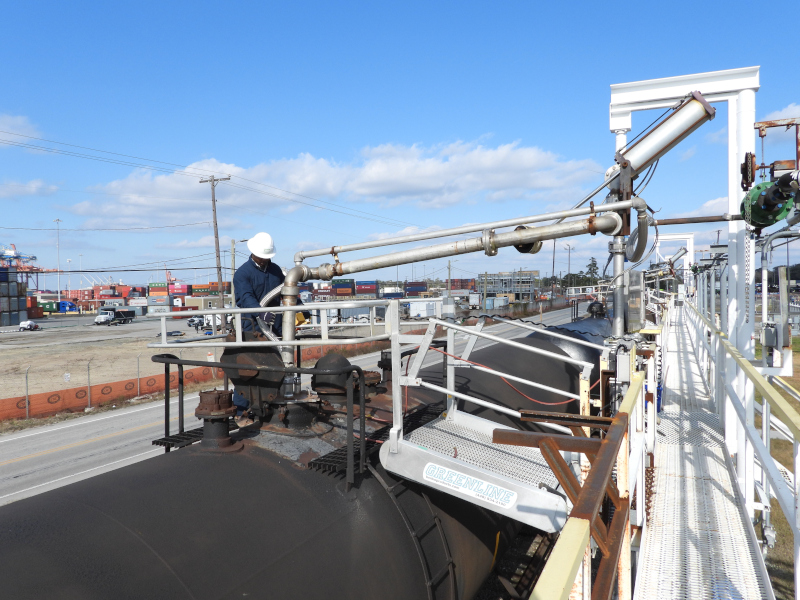 While COVID restrictions have led to canceled trade shows and other in-person gatherings that provide networking opportunities, Chemserve Terminal has relied on its reputation to continue reaching new customers. Though the company is new, the Law family's history in the industry dates back to the 1960s. "We don't have to do a lot of traditional marketing in that sense," says Law. "A lot of customers come to us just by word of mouth. Because we've developed good relationships, our customers will also promote us to other chemical producers that are maybe having issues. Or are maybe looking for storage opportunities, and our customers will help us in that as well." Customer service is a point of pride for Chemserve Terminal. It's also how the company sets itself apart.
The industry has changed dramatically over the last 30 years. Until the 1990s, family-run businesses with two or three terminals were common. Then multinational corporations and master limited partnerships started purchasing facilities. Those larger entities made it tough for family-owned businesses to compete. But Chemserve Terminal has found a niche by turning its small size into an asset. According to Law, "We have, between the people that are running it, over 70 years of experience in this industry. And we're nimble, yet extremely efficient, and can provide an outstanding level of customer service that a lot of larger corporations have a more difficult time doing, simply by fact of the size of this corporation."
That strategy seems to be working well. Chemserve Terminal is eyeing expansion into two other markets outside of North Carolina within the next six months. There is also plenty of space to expand at the existing Fayetteville and Wilmington facilities. In North Carolina, and wherever Chemserve Terminal expands, the company remains environmentally conscious, following all local, state, and federal environmental laws. All facilities go through Chemical Distribution Institute inspections and the company has its own robust health, safety, security, and environmental management system.
Industrial lighting in all Chemserve Terminal facilities has also been updated to reduce energy consumption. "You can imagine all the facilities of that size, how much industrial lighting we have," Law reports. "We've gone to great expense to change that lighting and reduce our electrical consumption considerably by about 30 percent overall and to reduce our carbon footprint, which has been helpful from an economic standpoint but, more importantly, we do want to be good stewards of the environment."
Health, safety, and environmental initiatives provide a financial benefit for Chemserve Terminal. But they also ensure a good working environment for employees. And that's important to management. "It is a family-style atmosphere from the top to the bottom," Law reflects. "So we look at every employee as a family member, and we want them to be just as safe as a husband, or a wife, or a son, or a daughter and go home every night to their loved ones." So far, that mission has been accomplished. Chemserve Terminal has never had a reportable injury at either of its facilities and has won two safety awards.
Law credits the success of Chemserve Terminal's initiatives with how the company utilizes its employees. Each employee is evaluated to determine strengths and weaknesses. That information is used to put the person in a position where they're likely to succeed. This has resulted in a happier and safer workplace. "And I think really the most important part of this is being a small company and having the type of employees we have," Law acknowledges. "The employees are, quite frankly, who make our company. So they keep our customers happy. Everybody does their job but I will say that everybody does it exceptionally."
AT A GLANCE
Chemserve Terminal
What: Third-party, liquid bulk storage and handling service company
Where: Wilmington, North Carolina
Website: www.chemserveterminal.com

J2 Resources – j2resources.com
At J2 Resources, our focus, expertise and passion are in and around the liquid terminal storage and pipeline facilities. Partner with J2 Resources to advance your PVF supply chain and leverage industry best practices, all while receiving the high-quality engineered products you need, when you need them, hassle-free.
Baker Tank Company/Alech – www.bakeraltech.com

Baker Tank Company/Altech was honored to be a part of the Chem-Serve Team in the Wilmington, NC. project. Baker Tank Company/Altech engineered, designed, and erected over 250,000 barrels of new tankage and existing tank modification storage at the Wilmington facility. The Chem-Serve team is in the forefront of the product storage industry and Baker Tank Company/Altech looks forward to the opportunity of providing any future tank storage needs.