Oshkosh, Wisconsin
history with momentum
Known for its iconic children's brand, Oshkosh has a lot more than meets the eye
For many of us, 'Oshkosh' conjures up nostalgia for pint-sized hickory-stripe denim bib overalls, but this tourism gem in the heart of Wisconsin is swimming in inviting lakes and rivers and is truly picturesque, with a historic downtown offering the perfect location for business or leisure in Winnebago County.
A charming city with a charming Ojibwe name, Oshkosh takes pride in its identity as a waterfront community with deep roots along the Fox River. It's also home to a diversified economy assisting the growth of leading industry sectors including aviation, manufacturing, and information technology.
"For the last decade, our brand was 'Wisconsin's Events City'," shares Amy Albright, Executive Director of the Oshkosh Convention and Visitors Bureau.
"There were lots of reasons for that. We're home to one of the largest aviation events in the world, which is AirVenture. Every July, we welcome about 600,000 people to Oshkosh, so we've definitely proven that we can host and handle large-scale events. What we've realized since Covid-19 is that our natural resources are not only pandemic-proof, but they're also a dominant force in the regional tourism industry. That's sort of how we got into our rebrand 'Discover Oshkosh', which is all about taking Oshkosh from a major event and summertime destination to a year-round tourism attraction."
Unveiled last November, the new brand identity evolved from the desire to pique our curiosity about Oshkosh. Nestled between Lake Winnebago (the largest in Wisconsin) and Lake Butte des Morts, which is fed by the Fox and Wolf rivers, the possibilities are endless in Oshkosh for water-sport enthusiasts in what's considered the Midwest's premier fishing and boating destination.
"We realize we have some pretty amazing assets here," offers Albright. "Whether that's world-class regattas, or getting out in your fishing boat, paddle boarding, kayaking, speed boating. You name it, you can do it on our lakes and rivers."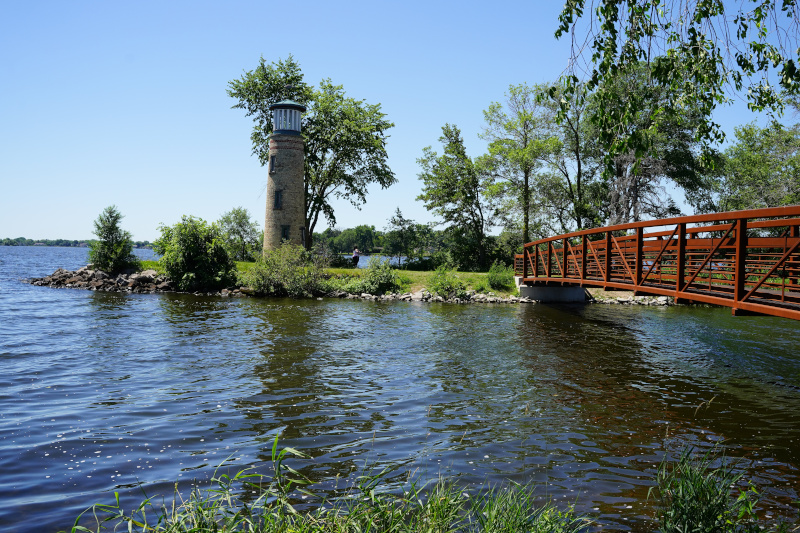 Championing the area's waterways while bringing the local community together has been at the heart of Oshkosh's downtown redevelopment strategy. Some of that has come in the way of building attractions—like riverfront dining and a waterfront hotel—and some the way of paying homage to its 'Sawdust City' heritage as a woodworking town.
"Plans are moving forward for Mill on Main, which is a really exciting development that's going up in our historic Sawdust District," adds Tricia Rathermel, President and CEO of the Greater Oshkosh Development Corporation. "Oshkosh has a history in pulp, paper, and wood  manufacturing. We had a lot of sawmills that were located right along our riverways. But that was a hundred years ago. Now, we're at this point where that's just not the best use of our space, and we want to try to redevelop that with mixed-use projects like the future Mill on Main."
Oshkosh has already moved much of its industrial base to the south- and northwestern parts of the city and is now focusing on backland and infill development to support neighborhood needs and add housing opportunities.
"We have about 800 different housing units in development right now within our city, which is pretty incredible," Rathermel reports. "We feel like that's a really good move forward to try to combat the housing crisis that a lot of people face. We're also seeing this great mix of existing developers who've been working in the Oshkosh area for a long time taking on projects, and new developers coming in from other markets, like Milwaukee and Madison."
The city also hosts a large collegiate population, with the University of Wisconsin Oshkosh offering higher education degree programs to nearly 14,000 students each year. The school recently received a $548,000 grant from Freshwater Collaborative of Wisconsin to enhance its water-related academic program, expanding training opportunities to meet the needs of Wisconsin's workforce and address some of the state's biggest water challenges.
"We do have this really interesting mix in our population of college students, professionals, and blue-collar workers," says Rathermel. "And then we've seen this incredible inrush of people who've come back to retire in Oshkosh because this is where their families have relocated for work. It's created this wonderful spread of kind of everybody and now we have this really vibrant community that includes all the different demographics. It's made for a really safe place to live, very family-centric, and we do owe a lot of the fantastic amenities that we have, as compared to a bigger city, to the students and faculty at UW Oshkosh."
On the commercial side, due to the labor force challenges linking back to the pandemic, Oshkosh has implemented a targeted industry approach to business recruiting, focusing on healthcare, additive manufacturing, and supply chains supporting existing businesses.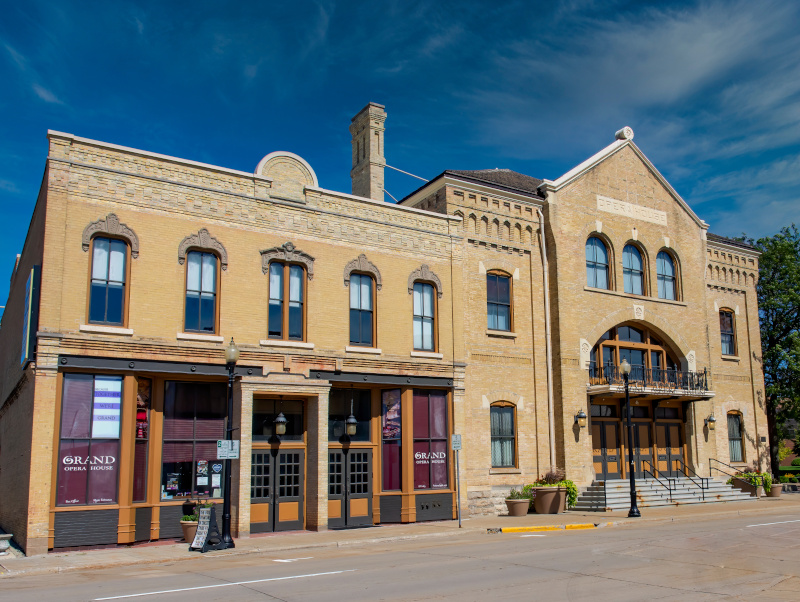 "What's important to us is that these businesses that have been here for years remain viable employers," Rathermel explains. "A major initiative was the Oshkosh Corporation headquarters. They purchased a municipal piece of land that had been a golf course, not making any money, and ended up placing their headquarters on that site, near the lake. We're so happy that they chose to stay here, in Oshkosh. What's really great about that development is that it's attracted nearly $30M in subsequent development to come along that corridor on Oshkosh Ave. where their headquarters are."
Formerly known as Oshkosh Trucks, Oshkosh Corp. is recognized as one of the world's largest manufacturers of heavy-duty, fire, and emergency vehicles. The defense division, which operates in Oshkosh, mainly produces joint light tactical vehicles to serve the U.S. military's ever-changing needs.
Another key employer for the area is Amcor, a consumer packaging company, which has a huge converter film plant in Oshkosh. "These long-standing businesses have built a really nice economy for the area," says Rathermel. "They've helped create office space, they've attracted quick-serve restaurants and banks. It just makes for a nice entry point coming into our city. Post-Covid labor crunch, we're looking at how we can continue to help these key employers, and support their supply chain that exists here. I think modernization is going to be a factor in that expansion."
One of the city's biggest infrastructure assets is an 11-acre, $2M transload terminal, which is served by Wisconsin and Southern Railroad and operated by Watco Terminal and Port Services. "That was built around five years ago," shares Rathermel. "It was an initiative to offer more of our businesses access to rail." The terminal is the first of its kind in northeast Wisconsin and the first publicly-owned terminal in the state. "Anyone within the industrial park, and even from outside the area, can utilize that transload system," she confirms. "The highways and rail are all accessible from our industrial parks."
As part of its sustainability plan, Oshkosh is innovating in areas like stormwater and solar energy infrastructure. "We're surrounded by water," Albright declares. "We've got to be cautious with what we're doing when it comes to stormwater pieces. The city is always investing in protecting our waterways and keeping them looking attractive to our visitors. When we built our industrial parks in the 2000s, we did put in additional stormwater retention, so that's already in place for a new business or a new business that wants to expand there. We've done a lot of the groundwork already, which is great."
"We work closely with the Department of Natural Resources—not just here, in Oshkosh, but also with our townships in the surrounding area—to ensure that everyone's adhering to MS4 permitting, and adopting new initiatives to keep our waterways clean and clear," Rathermel says. "We know we can tackle future developments because we've done the pre-work of preventing contaminants and creating safe filtration systems. Those are really key ways that we're trying to protect our environment here."
Piggybacking on the traction of green growth policies and the interconnectedness of climate issues with economic ones, Oshkosh has also made solar power energy systems a permitted use in all of their zoning. "No matter where you are in the city, solar is allowed," Rathermel confirms. "4imprint, a promotional products supply company, did it. They took a portion of their unused property and converted it into a 20-acre solar farm to be able to further power their distribution center. I think they're powering the majority of their buildings with solar now. I think it's really forward-thinking of the city to say, 'Solar isn't something you have to come and get special.' You just need your regular permits, regardless of what type of infrastructure you're talking about."
With the launch of its new ad campaign 'Everything but Ordinary', Oshkosh is further leaning into its reputation as a natural, outdoor haven and an agreeable place to live, play, and work. "We're trying to showcase some of the cool, crazy things you can do on the lake, from ice fishing to sturgeon spearing, to floating on a tiki boat," says Albright. "Our lakefront dining, our riverwalk—just so many ways to access the water, even if you're not a 'water' person."
"I think the campaign will really help us with recruiting and attracting people to live here in Oshkosh," Rathermel says. "This is the culmination of years and years of careful planning—of putting things right into place. 2023 is when we start to see those dominoes fall and really build from that momentum."
AT A GLANCE
Oshkosh, Wisconsin
What: Growing residential and business hub and home to the Oshkosh headquarters
Where: Winnebago County, Wisconsin
Website: www.ci.oshkosh.wi.us