Oconee State Bank
Keeping it local
Business View Magazine interviews representatives from Oconee State Bank, as part of our focus on best practices in the banking sector.
In the early 1900s, there were banks in all the small towns of Oconee County, Georgia – Bishop, Bogart, Eastville, Farmington, and Watkinsville. When the Great Depression came along in 1929, all of those banks failed and Oconee County was without a bank for the next 30 years. Farmers and small merchants had to travel to Athens for their banking needs. In 1958, a group of community leaders recognized the need for a bank in Oconee County and started the process of getting the necessary approval for a state-chartered community bank. In 1959, they announced that the FDIC had approved their application and Oconee State Bank opened its doors for business on February 1, 1960, with three employees and a small corner office on Main Street in downtown Watkinsville.
Because the local people had lost money in banks that went broke, it was important for the founders to promote the bank as a "locally-owned bank" that would be owned by local citizens who purchased original shares of stock. Thus, it would be a true community bank. One of the strengths of the bank was that it knew its customers and focused on serving the community, as well as taking care of its employees and customers. Oconee State Bank's stated vision: "To be essential to the lives, businesses, and communities we serve." Its mission: "To create remarkable experiences that significantly mark the lives of others."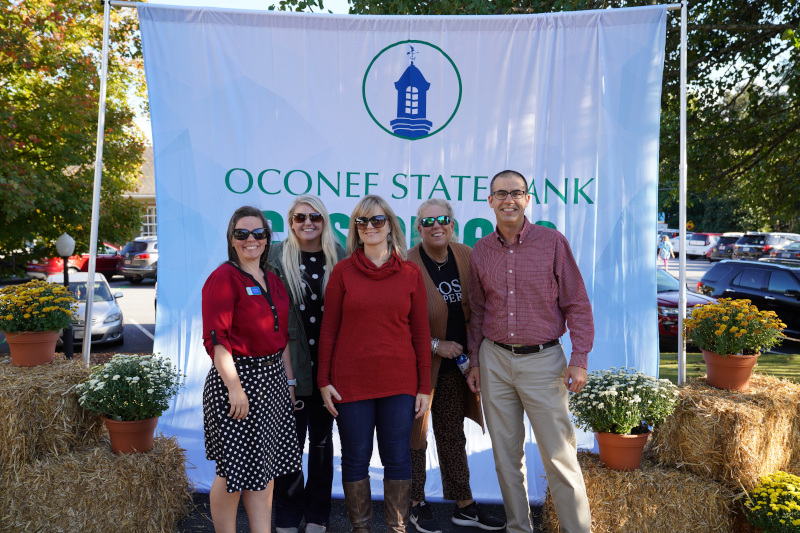 Today, the locally-owned and operated Oconee State Bank offers a competitive line of products and services, including consumer and commercial deposit accounts and loans; digital and mobile banking; mortgages; and non-FDIC insured investment services through LPL Financial. It has approximately $450 million in assets, four full-service financial centers, one loan production office, and 100 employees.
Oconee State Bank has no institutional investors – its 700 shareholders are, for the most part all from the communities they serve. Chief Financial Officer, Jim McLemore, stresses the importance of local ownership, and how the bank's operators reflect the needs and desires of the local community: "From a financial standpoint, the thing that stands out to me is we've got a public company, with shares of the bank traded on the public market, and we have a Board of Directors with a pretty high ownership. So, the Board's interests are aligned with the shareholders."
According to CEO, Neil Stevens, the bank's growth strategy is providing loans and services to small and medium-size companies in its geographical area. "We are proud of our retail presence and strive to meet the consumer lending needs of these customers while, at the same time, diligently working to grow our commercial loan portfolio.  Our portfolio composition is primarily commercial-based and composed of owner-occupied and owner-managed companies and industries such as manufacturing, service, dental, and medical," he states. "Selectively, we offer commercial real estate, and we specialize in the following business lines:  SBA Mortgage Lending and wealth management; however, the core of our banking is composed of small and medium sized companies.
While the bank is the only one headquartered in Oconee County, Stevens admits that it still has a great deal of competition, both from within and around its geographic footprint. "It's a great place to live," he explains, "and a lot to do here. Athens is a college town – the University of Georgia with 30,000-plus students is eight miles away; the school system in Oconee County is among the best in the country; there are great hospital systems; it's not as fast-paced here and there's not as much traffic as the metro Atlanta area, but you're only an hour away. So, it's a vibrant part of the state, which creates a great deal of competition."
Stevens adds that beating the competition means relying on its ability to create remarkable experiences for its customers. "Banks are banks," he admits, "but we try to find that five or ten percent that we can do radically different than our competitors. Everybody will tell you that their people are their differentiators – that's a standard line, but I think it's what we do to create and nurture a strong culture that distinguishes us amongst our competition."
"I would agree with everything Neil just said," remarks Cristi Donahue, EVP & Chief Retail Officer. "We're an evolving community and being able to continue to serve the growing needs of our community as it changes has been a key differentiating factor for us. I believe our history, stability, and reputation help us to stand out amongst the competition. We take the customer experience to a different level; we hold the customer's hand through major phases in their lives. This current time is just another phase when we can continue to be that essential partner to them. So, the competition is tough, but our history has allowed us to leverage our relationships to our community, to our customers, and to our businesses during this time."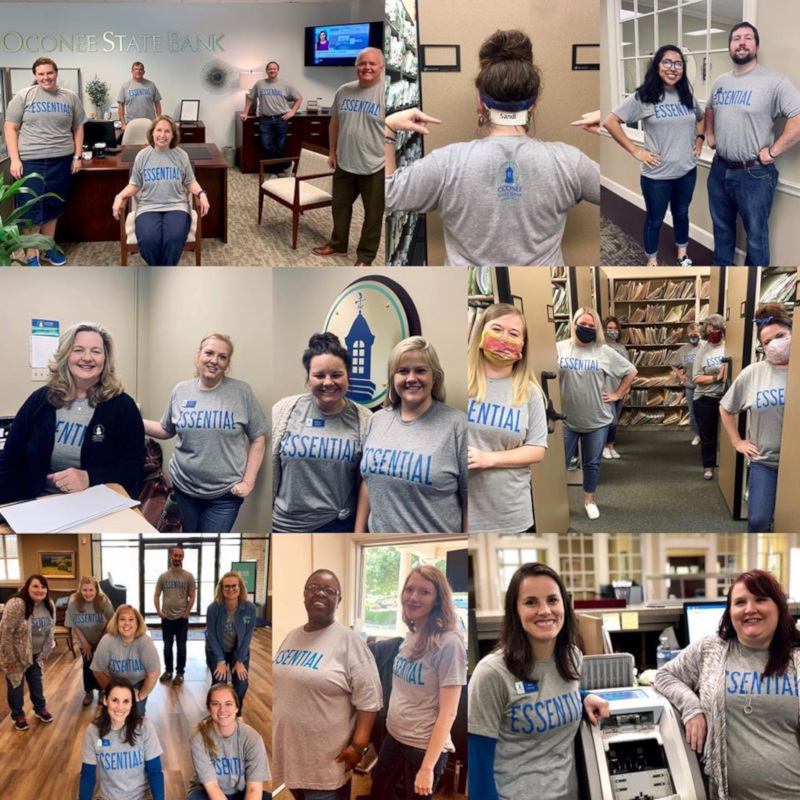 Philip Bernardi, EVP & Chief Lending Officer, believes that the bank's customers appreciate a community bank that is responsive to their needs – something that has taken on increased importance during the current coronavirus pandemic. "You really saw it in the Paycheck Protection Program (PPP) that the SBA (Small Business Administration) rolled out and our ability to navigate, be nimble, and be responsive to customer needs. I think that's something that shows you the value of a community bank," he asserts. Indeed, Athens and Oconee-area businesses have received over $50 million in PPP loans from Oconee State Bank – for some, a vital tool for remaining open and solvent.
While in the forefront of helping its community partners, Stevens maintains that the bank is always prudent about its loan portfolio. "I think the type of lending that we've done gives us a great deal of protection," he remarks. "We are intentional in not assuming undue risk in our loan portfolio and consider safety and soundness as one of our core pillars."
Going forward, Stevens maintains that unlike many smaller community banks that often get taken over by large, national chains, Oconee State Bank has no plans to market itself for sale. "We would like to grow profitably and continue to earn the right to remain independent by creating more value for our shareholders than they can gain by selling the institution," he states. "So, the plan is to add that type of value through strategic and profitable growth. Over time, we'd like to expand our geography. Our headquarters will always remain in Oconee, where we have three full service financial centers. We've also expanded into both Athens-Clarke and Gwinnett Counties with a Loan Production Office and full service financial center. We would like to continue to find opportunities to add to the local teams and, as time goes on, expand geographically into other strong markets."
"When I think about where to make investments in the future, it's really in three areas," he continues. "Number one is human capital. "We invest heavily in developing a strong culture through recruiting and retaining a team of talented bankers. Secondly: businesses are going to be a lot more reliant on technology than they are today. The Amazon effect has had a big impact on that; Covid has had a big impact, as well. As a result, we continue to invest in digital transformation. Finally, is to continue to invest in our brand. Branding is a big part of who we are; sharing that brand with the community so that, hopefully, we become a household name in many markets as time goes on."
Tom Wilson, EVP & Chief Credit Officer, agrees. "We pride ourselves as having a team all throughout our marketplace that's well-ingrained and well-engaged in our communities and, hopefully, is well-known by the communities we serve." Donahue adds, "We know and understand that the customer experience and the community experience is a direct result of the team member experience, which is why we are so very diligent and intentional in developing our culture. I think that is a differentiating factor for us – the emphasis we place on culture, because we know how that directly impacts our customers and community."
Donahue then discusses the need to stay technologically relevant: "One of our goals is to create a remarkable experience for our customers – not only one that's remarkable, but one that's frictionless. We understand the importance of meeting the customer where they're at – the time and the place where they want to do their banking. Technology is a huge driver of our ability to do that. We place a lot of emphasis on digital transformation and technology innovation in order keep us competitive with some of the larger institutions as well. The traditional way of doing banking is definitely not a thing of the past, but it's not what's going to help us grow; it's not what's going to help us meet the needs of our customers as they continue to evolve. So, technology is a tremendous driver of our future growth, but not only that, it affords us the ability to onboard, recruit, and retain our consumer and commercial customers, going forward."
Bernardi adds that the bank's focus on its culture also helps it to onboard, recruit, and retain the best employees. "The thing that I think that really sets us apart is our culture and the ability to attract talent from outside the marketplace who desire a place where they have the ability to chart their own course, create a path, and grow in their career.  Our team members are passionate about aligning with an organization that has a desire to remain independent and to continue to create shareholder value."
"Shareholder sustainability and being able to remain independent by creating value is just one element," Stevens responds. "It's a necessary element, but it's not the endgame for us. Our vision is the DNA of our institution; it's more than just words on a wall. It's truly something that we are infusing into the lifeblood of our company, so it's not just lip service; we're truly living out that vision. It's not just about shareholder returns – it's about total stakeholder returns. We have six stakeholders: our shareholders, our team members, our customers, the communities we serve, the regulators, as well as the vendors that do business with us. So we think that we're providing great value to them in order to live out the vision and mission of our institution, which is to create remarkable experiences that significantly mark the lives of others. That's what we're all about."
AT A GLANCE
WHO: Oconee State Bank
WHAT: A community bank
WHERE: Headquarters in Watkinsville, Georgia
WEBSITE: www.oconeestatebank.com