Northern Composites
Taking it further
Business View Magazine interviews Dick Hewett, President of Northern Composites, as part of our focus on best practices in the composites sector.
Northern Composites, a distributor of premium quality composite materials, began life somewhat modestly with a few employees acting as the sales force for Burlington Glass Fabrics (now BGF Industries), a fiberglass manufacturer based in Greensboro, NC . "We've been around since 1965," recounts Dick Hewett, President of Northern Composites since 2014. "We had some space in a plumber's yard in Southampton, New Hampshire. Back then, we were only selling fiberglass; we're now selling a variety of different products. We changed our name in 2011 to Northern Composites because it better reflected what we did; we weren't just a fiberglass sales agent, anymore."
In fact, today, with a complement of 26 full-time people, the company's products include: Process Materials, Adhesives, Prepegs ("pre-impregnated" composite fibers where a thermoset polymer matrix material, such as epoxy, or a thermoplastic resin is already present), Woven Reinforcements, Component Resins, Release Agents, Structural Reinforcements, Surface Treatments, Tooling Products, and Tools & Accessories.
Northern Composites operates out of a 12,000-sq.-ft. facility in Hampton, New Hampshire, and a 27,000-sq.-ft. location in Greensboro, North Carolina. "We selected our Greensboro location to better serve customers in the southeastern part of the U.S.," Hewett says. "The New Hampshire location is where all of our business services, IT, accounting, and some of our sales force reside. Our CEO is here, I'm here, and our distribution manager is here, as well. North Carolina is really more of a warehouse location and distribution point. Our sales manager is located down there, and a couple of other salespeople are down there, as well. We're a relatively modest company, but we're mixing it up with some big names in the marketplace, which keeps us on our toes, for sure."
According to Hewett, Northern Composites operates in three different ways: "We're a manufacturer's representative; that is to say we sell products and brands for our clients – they bill, they ship, and we earn a commission on the sales that we arrange and the technical service we provide. That, typically, is in an exclusive territory and, predominantly, that is the Mitsubishi Chemical Prepreg line. We've sold that since 1983, and it's a very important part of our business."
"We also distribute a number of other brands, and we do that out of the New Hampshire and North Carolina facilities. We're buying products, we're converting them, we're cutting them, we're perforating them, we're re-rolling them – whatever is required to put them into a package that's suitable for the market. Lastly, starting in 2016, we became a brand in our own right, so we became manufacturers, as well, and that's probably, the fastest growing part of our business."
"About 55 percent of our business is aerospace," Hewett adds. "It's been a growing sector and remains one of the most important markets that we serve. We also service industrial clients, medical, marine, and some sporting goods. And we have the ability to support all of the products we sell. Most of our salespeople are material engineers; we've also got a couple of chemists. So, we're able to help people solve their manufacturing problems. We hope, of course, that that's in the form of a material solution because we'd like to sell them something."
Although Northern Composites' market share is comparatively small – only about five percent of the U.S. marketplace – Hewett says that the company has several distinct advantages over its larger competitors. "We turn things around very quickly," he states. "Over 30 percent of our sales ship the same day that we receive the order. We also offer some other services – we'll stock inventory for customers to help their supply chain management. We're a small company, but we keep about $3.5 million worth of inventory. That's all part of being able to service a customer and give them a product when they need it. You've got to have it in stock; you can't rely on bringing it in on a 'just-in-time' basis.
"Then there's our ability, historically, to anticipate market trends and be ready when they happen. So, nimbleness is pretty key. We don't carry any debt, so we've always been able to weather the storms of recessions well and come out of them well. We are ISO9001, AS9120, and AS9100-registered. That puts us a little bit ahead of our competitors. A lot of people are ISO, but the AS registrations are pretty tough to get, especially the 9100, which refers to the manufacturing side of things. So, customers can buy from us with confidence."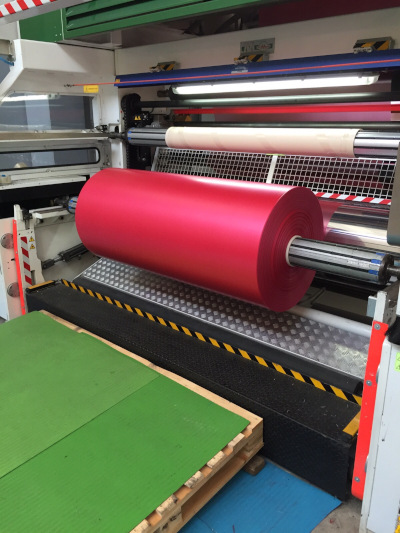 Another key to the company's competitiveness, as well as its growth, came about in 2016, when it parted ways with a brand that it had sold since 1977. "We officially said goodbye to Richmond Aircraft Products," Hewett explains. "They're now part of the Solvay Group, which is an enormous chemical company. We saw the opportunity to branch out and launch our own product line and source all those materials directly from manufacturers. We source some from historic manufacturers who are interested in working with us, and we found some new sources. Mostly, we try to buy domestic product, but we do source some materials from overseas. It's worked out very well and we've managed to maintain most of the business we had when we were selling somebody else's product – namely the Richmond product. We put a catalogue together and that's been growing very nicely, ever since. Dealing directly, we're able to buy more efficiently, faster and at a better price, and offer those savings to our customers."
"Also, being a distributor of somebody else's brand, we were contractually restricted to a territory, which was, basically, east of the Mississippi," Hewett adds. "That's no longer the case – we can sell wherever we want. So, we started to make sales west of the Mississippi. Just recently, we hired a salesman in California, and we've been working with a number of agents in different areas – most notably in Europe and Asia. So now, we're able to be more competitive because we're selling directly; there's no middle-man, no master distributor involved. But also, the gloves are off and the contracts are gone restricting us to just east of the Mississippi. So, there's an enormous, untapped marketplace; we're finding that new or potential customers in the western part of the U.S. are quite excited to see a potential new supplier and somebody else other than the one or two big players. And I would stack our product range up against anybody, now."
Long term, Hewett says it's all about expansion. "We have this area – two thirds of the United States – where, historically, we've been non-active. In fact, we've been contractually excluded from it. Now, we're able to sell into those areas. So, we're looking to expand our footprint and that would involve additional stocking locations in the central part of the U.S. In Texas, Oklahoma, and Kansas, there's a huge amount of aerospace business, so we'd like to have a location there, and, of course, the west coast, where there's an enormous marketplace for our materials. And that might be organic growth, or perhaps, more likely, a strategic partnership with other companies who are, perhaps, servicing the aerospace market, but not really heavily involved in composites, but perhaps would like to be; or somebody who's involved with composites but doesn't service the aerospace industry. It could work either way. We've been talking to some potential partners. The key thing is they have 'feet on the street' and perhaps, even more importantly, they have brick and mortar locations where we would like to put product on the shelf.
"The second area is expanding our manufacturing and kitting capabilities (Kitting is the gathering of components and parts needed for the manufacture of a particular assembly or product. Individual components are gathered together, as a kit, and issued to the point of use.) We have one CNC cutting table now, where we're able to cut materials to custom shapes, and we see that as an area that will grow dramatically in the future. It's a great opportunity for us to value-add, competing with any competitor head on, selling a roll of this or a box of that. When you start to add some value by custom kitting, or helping a customer design a custom product and then fabricating it for them, that's an opportunity to add some value and some margin."
"So, we're poised for some pretty explosive growth," Hewett says, in conclusion. "The last few years, we've been involved in launching our own product line and putting all the systems and processes in place. Now, we're ready to go mainstream and that's what's going to happen in the next few years. If the reception in the western part of the U.S., and other areas in the world, is as warm as it's been on the east coast, we're going to be very busy."
AT A GLANCE
WHO: Northern Composites
WHAT: A distributor of premium quality composite materials
WHERE: Hampton, New Hampshire
WEBSITE: www.northerncomposites.com