Newton, New Jersey
Flower of the Garden State!
If Newton doesn't have it, you don't need it
By THOMAS LARK
Associate Editor
NEWTON, N.J.––It's the city with something for everyone.
It's Newton, N.J., and according to Thomas Russo, Jr., it's definitely the place to be. Newton's municipal manager, Russo recently told Business View that his community is so hot, you might say it's positively on fire.
Development is coming up everywhere and truly putting the "new" in Newton, which is the county seat of Sussex County. Comprised of just three square miles, it's no wonder many folks still regard this growing city of nearly 9,000 residents as still being a mere town. Located some 60 miles and less than an hour and a half northwest of New York City, it's seeing a lot of growth these days, and much more is projected to come over the next decade or so.
One such example of growth is the new apartment complex, the Water Street Lofts, located on Route 206. The 100 apartments, roughly evenly split between one and two-bedroom units, are slated to open in September, as Russo informed.
"So that's exciting," he said, adding that the waiting list exceeds 100 people, indicating the desire for higher-end luxury apartments in the county.
Hicks and Patterson avenues are seeing redevelopment. Housing and retail possibilities abound in this area. As well, there are new electronic vehicle-charging stations located right across from the city hall. And there's also a nearby dog park, Russo noted, where everyone seems to be having a tail-wagging good time.
Another valuable partner is Sussex County Community College, also located in Newton. The county seat is looking to re-purpose some land, purchased by the college and formerly the site of a car dealership.
And the former site of the National Guard Armory is slated to become a ShopRite. Built in 1961, the armory closed in 2008. Situated on some five and a half acres of land, the site is very attractive to the ShopRite grocery store chain, according to The New Jersey Herald.
"There's definitely a lot of redevelopment activity in all parts of the town," said Russo.
Newton's community development director, Kimberly Ann Williams, and its city planner, Jessica Caldwell, also weighed in.
Caldwell said that Thorlabs, a major local employer with about 1,500 workers, just opened another facility on Diller Avenue. Thorlabs is a leading designer and manufacturer of photonics equipment for research and manufacturing. (Photonics is the physical science of light waves, dealing with the generation, detection and manipulation of light.)
"They're also working on a warehouse," Caldwell added, "so they're creating a whole Thorlabs complex."
The upshot, she added, is that it means bringing some 600 additional jobs to Newton.
"That's a good project," she said, "and it's almost completed."
And on the recreation front, Newton's municipal pool recently underwent renovations. It's open to all county residents, as Russo informed. Its concomitant kiddie pool was renovated as well. And the local roller hockey rink has likewise undergone renovations.
As well, the children's playground equipment at Pine Street Park was recently made handicapped-accessible. This is thanks to a $75,000 grant and, from Newton's municipal government, a $25,000 match, as Russo revealed. The park also features a small pond and a small playground, as well as a basketball court, a soccer field and a T-ball field.
"This was done for the toddlers and children at Pine Street Park," said Russo, "which is cool."
Williams noted that Newton is going green. She cited local trail improvements, thanks to grant funding from Sussex County. Among the beneficiaries is the Sussex Branch Trail, which is a rail trail that is 20 miles long. Rail trails are shared-use paths that are constructed over the places where once railroads ran.
"Right now," said Williams, citing the County grant, "we're connecting one of the last sections through the Thorlabs site."
She continued that Newton's municipal government recently collaborated in a project with Rutgers University (located in Middlesex County, N.J.). With a $2 billion budget and some 70,000 students stretched out across multiple campuses, Rutgers has an enormous economic impact upon the entire state of New Jersey.
And that project? As Williams explained, it was the creation of a rain garden on the campus of Sussex County Community College. According to the Environmental Protection Agency, a rain garden "is a depressed area in the landscape that collects rain water from a roof, driveway or street and allows it to soak into the ground. Planted with grasses and flowering perennials, rain gardens can be a cost-effective and beautiful way to reduce run-off from your property."
And according to The Township Journal, the new rain garden will manage some 197,103 gallons of run-off on an annual basis, keeping it from entering the headwaters of the Paulinskill River, a tributary of the Delaware River. Now with summer in full bloom, in more ways than one, the garden is very impressive with its many mature, blooming plants. It is an educational tool that benefit both students and guests alike.
Williams also informed that another such rain garden was constructed in Memory Park. This is Newton's largest park.
Becoming a hub of tech-related jobs
Elsewhere, said Russo, technology-related business is booming in Newton.
"Atlantic Health is one of the largest medical systems in the state of New Jersey," he said.
The local hospital, Newton Medical Center, has been around for 91 years now. It's part of the Atlantic Health System.
Along with the aforementioned Thorlabs, of course, Atlantic Health and Planet Networks (providing Internet, fiber-optic networks and other computer-related services) are turning Newton into a technological hub. It makes Newton a good high-tech investment opportunity and a center of high-end entrepreneurial activity.
Russo informed that Atlantic Health is investing tens of millions of dollars and bringing many high-paying jobs to the Newton community.
"It's definitely a game-changer," he remarked.
And on the residential front, Russo said many people are coming to Newton and Sussex County from Bergen and Essex counties and New York City, changing the demographics of the community a lot and causing the prices of real estate to go up very quickly.
Williams shared his assessment.
"All true," she said, adding, "People are willing and happy to pay the price to be a part of our community."
Williams noted that the Big Apple is just over a quick hour away by train.
Russo said Newton and its school system have become very ethnically diverse in recent years, and he applauded this. Newton's school district is the only one in Sussex County growing right now, and one-third of its student body is comprised of Spanish-speaking pupils.
"And we have more Mexican restaurants and Latino-owned businesses," Russo revealed. "It makes us more interesting and exciting. We think it's fun."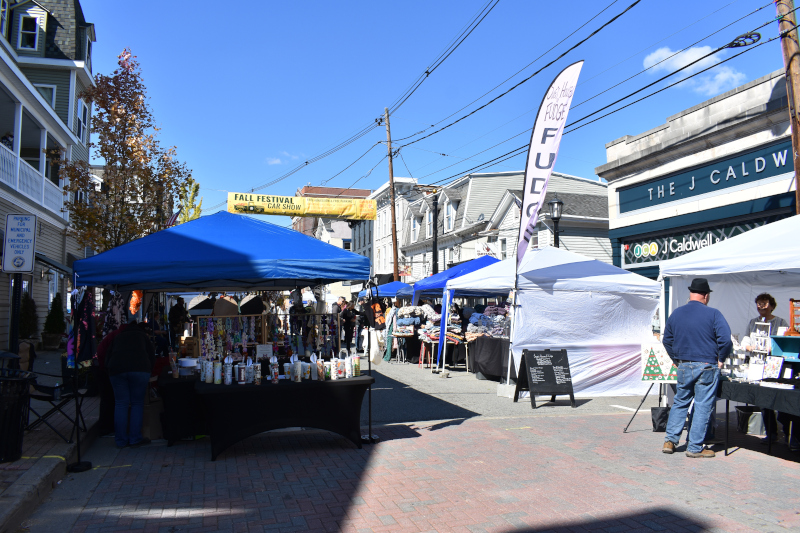 The future
Russo added that he has himself been a part of the local landscape for 16 years, and he's proud to be involved in such a wonderful community.
"We're growing, we're welcoming, we're diverse, and we're inclusive," he observed. "It's exciting to see the growth, both internally and externally. It's really evolved over the years. We always put the best interests of our taxpayers at heart. That's a big part of the culture we've created here. We do the best we can to help our people and guide them, whether they're starting a business or buying a new home. We have a nice mosaic within our three square miles, and there's a lot of character and integrity about the people here. They're the salt of the earth. We want them to take that Newton pride with them wherever they go."
Caldwell also cited Newton's size: small but charming.
"I'd add that it's a walkable community," she said. "You can walk or ride a bike, end to end. It's very historic. We have our local historic district. In addition to a lot of redevelopment, we have a drive for the preservation of our existing historic structures. When you come into town, you'll see this, from our courthouse and church steeples to the planters on Spring Street. It's a semi-urban environment, but yes––a very walkable community and a place where you can interact with your neighbors and then be able to head out and get into the country and our state forests. Newton is a pretty great place in a lot of ways. We have really good jobs and a high quality of life."
Jabari Oxley, a former high school football star and now an intern with Newton's community development department, agreed.
"It's a great community, where everybody cares about one another," said Oxley. "I really love it!"
Russo's administrative assistant, Katherine Alcock, concurred.
"I've lived here for 30 years," said Alcock. "I definitely appreciate our town. There's a lot of excitement here!"
Williams praised the partners Newton has in its economic supply chain, including Gravity Design Works, the local Staples and Minisink Press.
Russo said Newton's future is bright.
"We're doing things differently," he observed, "and putting Newton on the map."
AT A GLANCE
Newton, New Jersey
What: Dynamic city with anticipated economic growth
Where: in the heart of the Garden State, not far from the Big Apple
Website: www.newtontownhall.com

THORLABS, Inc. – www.thorlabs.com
Thorlabs: Building a Brighter Future
As a vertically integrated manufacturer of photonics equipment, Thorlabs, headquartered in Newton, New Jersey, designs and manufactures solutions that enable the forward momentum of science. Our broad portfolio encompasses components, instruments, and systems, all largely available for same-day shipment, and includes optomechanics, motion control, optics, fiber, light sources, instrumentation, quantum technologies, and more.
Thorlabs recognizes that its greatest asset is its people, and the company actively fosters a culture of growth and innovation to further scientific research and discovery. Whether you're an engineer, assembler, or machinist, Thorlabs offers an inclusive and supportive environment that encourages individuals to grow their careers. Through its training programs, employee success groups, and opportunities for professional development, the company invests in the success of its employees. By encouraging individuals to broaden their skill sets and pursue new areas of expertise, Thorlabs ensures that its workforce remains at the forefront of the photonics field.
With its global presence, Thorlabs provides an opportunity to make an impact on a global scale. By joining the company, individuals become part of a worldwide network dedicated to advancing the field of photonics. Whether it's designing systems for biological research, manufacturing the components to enable new communications technologies, or delivering the tools for novel physics research, Thorlabs employees have the chance to shape the future.
View all of our open positions and apply today at www.thorlabs.com/careers.