Newton City-County Airport
A true Kansas aviation gem
Business View Magazine interviews Brian Palmer, Aviation Director at Newton City-County Airport, for our focus on U.S. General Aviation Facilities
Newton, Kansas is a town of about 19,000 people. The county it sits in, Harvey County, has about 35,000 people. "All told, these are some of the hardest working people you'll ever meet," says Brian T. Palmer, Aviation Director for the Newton City-County Airport. "They help their neighbors, there is a sense that everybody is there for everyone."
While Newton is just 20 minutes north of downtown Wichita, it's not really a bedroom community. As Palmer explains, "It's just that some people live here and work there, while others live there and work here. The history is Mennonite – and that means wheat fields. The whole area grew up around wheat farms at the time of western migration. Agriculture is still a big part of who we are and what we do."
One of the biggest enterprises in Harvey County is AGCO, which is a farm implement manufacturing company. There is also a significant presence in the aerospace sector. The Newton City-County Airport, specifically, has almost 500 people employed throughout the businesses on the property.
Dating back to the mid-1940s, Newton City-County Airport was built as an auxiliary flight training facility for the U.S. Navy. After World War II it was converted into a municipal facility that is jointly owned by the City of Newton and Harvey County.  A nine-member Aviation Commission acts as an advisory group to the city and Harvey County Commissioners. Today, Newton City-County Airport has been designated by the FAA as a general aviation reliever airport for Wichita's Mid-Continent Airport.
In total, the airport sits on about 880 acres. The main runway 17-35 is 7002 feet long by 100 feet wide with grooved concrete. Palmer quips, "We also have a crosswind runway for the four days a year that the winds blow out of the east or the west. It is asphalt and measures 3500 feet long by 60 feet wide. All our surfaces have been rehabilitated or reconstructed since 2014 – which means it is all in great shape."
The original runway was put down by the U.S. Navy in 1943 and was originally 7002 feet long by 300 feet wide. It was one of the widest runways in the country at the time. Obviously, over the years, there have been some modifications made to it, and finally in 2014, there was a full reconstruction of that runway which narrowed it to 100 feet and changed it from asphalt to grooved concrete. Since then, a rehab was done on the east-west runway 08-26. Taxiway Charlie, the long taxiway that leads out to the departure end of runway 26, also underwent rehabilitation. And finally, in June 2022, the full reconstruction of Taxiway ECHO was completed. It was redone in concrete – as were all the other taxiways.
"So, we are in a great position when it comes to runways," Palmer reports, "and all of that was accomplished with 90% federal funding. Of course, the projects cost almost $17 million and the local share, $1.7 million, is not insignificant but the city and the county understand not just that they are co-owners, but that the airport is an important resource for us."
He goes on to say that Dondlinger Construction was instrumental in each of these projects. "They were the general contractor on the taxiway reconstruction project that we just completed. We've been working hand in hand with them for a long time and they make it so easy. I can't imagine it going any more seamlessly than it did. We were 60 days ahead of schedule and under budget. No surprises. They headed off problems with their subcontractors long before they ever became problems. If it ever got elevated to me at the director level in our weekly meetings, it was at DEFCON one because normally they took care of everything. So as far as construction programs go, Dondlinger were top-notch, you couldn't ask for a better partner."
Newton City-County Airport also features a modern 3,870 square foot terminal with a fully equipped pilot lounge and seating area, administrative offices, and conference room – as well as an enclosed observation vestibule. There are 85 T-hangars and 135 aircraft based onsite and over 14 businesses operating on the airport property that offer numerous functions, including flight instruction, airframe and power plant maintenance and repairs, award-winning aircraft restoration, as well as new and used aircraft sales, ferrying, and delivery.
"All of these are on the west side of the airport," Palmer states, "and we have a half dozen green sites left over there for construction, as well. Right now, there is Horizon Aviation which is a flight school. Then Hesston College has a four-year aviation program. And we have two aircraft service centers: Midwest Aircraft and Webco Aircraft. In addition, Wiebe Ag Inc. is based here, as well as Ballard Aviation which buys, refurbishes, and then resells airplanes. Park Electrochemical Corps, a composites manufacturer, is probably one of our largest employers on the field, with 200 employees."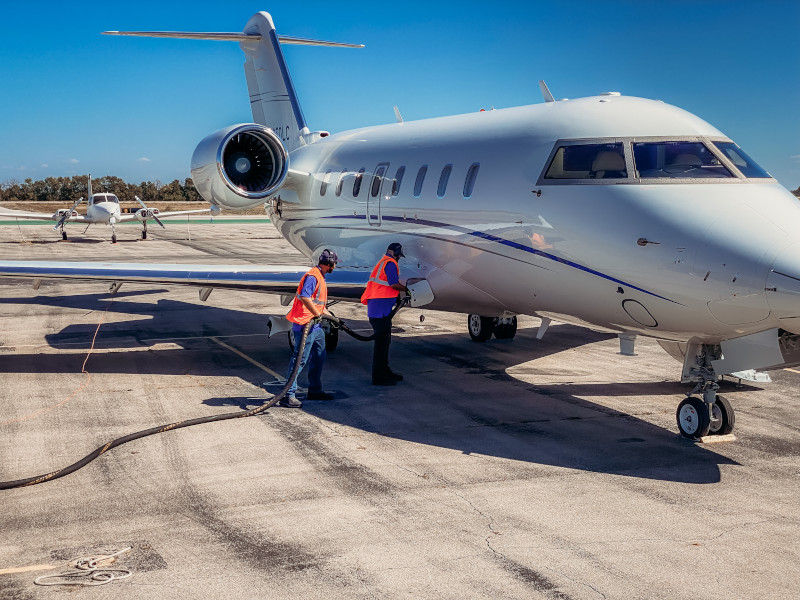 Palmer admits to really working hard over the last eight years that he's been with the airport organization to make sure that people know what a real gem they have in this airport. He recalls, "When I first got here in 2014, I could walk in downtown Newton and nine out of ten people didn't know that there was an airport three miles outside of town. We continue to grow and make ourselves known and continue to have an impact. The state of Kansas has determined that our airport generates about $120 million a year in economic impact for the community. And the way Wichita is growing north along the I-35 corridor, if you land in Newton, it's closer to get to a lot of the newer businesses on the north end of Wichita than it is to go into the two main airports in the city."
When it comes to outreach from an educational perspective, a lot is happening at Newton City-County Airport. Hesston college has been offering Aviation Education onsite since 1985. In 2016, they went from a two-year degree program to a four-year baccalaureate. Palmer points out that this is an agricultural area, with kids growing up around machines. "They come out of high school with a welder's certificate, so to get them to notice that aviation offers a specialization which will let them go further and earn more is a very needed tool. We're working hard to get out into our local high schools and even middle schools because what we're finding is that there is an aptitude and ability there. The FAA will even pay for a lot of the education to go further."
The airport hosts community gatherings on the property, as well. The local EAA previously held a fly-in at the airport each year – although this has been moved to Wichita during the last few years of construction – and will hopefully return to Newton soon. The Chamber of Commerce has an annual steak fry and the airport likes to host other community events, as well. For example, the Boy Scouts camp at the airport, taking tours and learning about the operations in order to earn their aviation badge.
"I think we're going to see a big upswing in the number of corporate aircraft that come in here," says Palmer when asked about the future. "I'm always optimistic that we'll see charter service because I still think, as a student of the industry for the last 30 years, that we are grossly underserved in regional charter aircraft services, whether it's on-demand or scheduled charter service. There's no way to fly from Wichita to Kansas City commercially, for example, so there seems to be a need. That's one of the things that I hope that we'll see addressed in the next three to five years.
"There's also a huge demand for education, especially pilot training. We need to ramp up our flight schools. There's probably room not only for the flight school that we do have to expand, but I think there's room for an additional flight school, as well. Then there are unmanned aircraft systems… so many different agricultural applications for unmanned aircraft systems, and those are being developed every day. At some point, we're going to have to stop thinking about what we can do with AG and unmanned aircraft systems and start building them. Well, where should we build them? Here at Newton City-County Airport because not only is the labor market here locally – but we've got lots of wide-open spaces to test it, so we can support it! I think that's where we're going to see the biggest shift."
AT A GLANCE
Newton City-County Airport
What: A public general aviation airport and reliever airport for Wichita's Mid-Continent Airport
Where: City of Newton, and Harvey County, Kansas
Website: www.flyewk.com
Dondlinger Construction
2656 South Sheridan St.
Wichita, KS 67217
316-945-0555
Visit us online at www.dondlinger.biz to learn all about the Dondlinger difference!
HNTB – www.hntb.com
At airports across the country you'll find HNTB's aviation professionals managing, designing, planning and delivering critical programs and projects. Leveraging our industry leading expertise, along with imaginative and innovative thinking, we are partnering with our clients to shape the future of air travel.