National Marine Representatives Association (NMRA)
Promoting the bliss of boating
Business View Magazine interviews Scott Kolodny, President of the National Marine Representatives Association, for our focus on the U.S. Boating Industry
The National Marine Representatives Association (NMRA) is a robust industry organization that serves marine industry independent sales representatives and the manufacturers who sell through reps. Founded in 1960, NMRA is an important industry voice promoting the benefits of utilizing independent marine reps for sales and is also a valuable source of networking tools and information for members. NMRA also assists manufacturers in finding the right marine sales reps for their product lines no matter how diverse, niche, or complex those lines may be.
The creators of high quality products in the marine industry are largely small family-owned businesses and multi-generational family businesses trying to pass on a love of outdoor recreation and just being on the water. It's an industry that is very inclusive for all abilities and budgets. Boating is not just for people wealthy enough to own yachts, speed boats, or tweaked-out sport fishing boats. The sector encompasses all price points and passions, including canoers, kayakers, and paddle boarders too. Boating opens the doors to a world of adventure and freedom, while putting a focus on comfort and style.
With their knowledge of the industry's sales structure, buying cycles, and processes to go to market, NMRA member reps help those devoted to creating high quality products. Whether a company is a longstanding marine business who needs a refresh or a new company that wants to be brought up to speed on marine marketing initiatives and other industry programs/opportunities, NMRA member reps help manufacturers and importers – including those small family businesses – gain access to a national market of "customers" that will bring their goods into industry for adoption at the boat building level and aftermarket too.
Scott Kolodny, president of the NMRA, believes the industry has to be more inclusive to the average family and that more people have taken an interest in boating in recent years. He reports, "Times are changing in many ways. Anyone can get into boating… there are all kinds of avenues for people to get involved. We're a very inclusive industry and that's important because we want to offer something for everyone, and we do provide something for just about everyone who wants to be on the water."
The NMRA is headquartered in Gurnee, Illinois and has 34 full member independent sales agencies as part of their body, inclusive of 150 reps that work out in the field. They also have 59 affiliate members who are suppliers and manufacturers. "Working together with a unified goal helps keep the industry going strong," says Kolodny. "We understand and appreciate what others do in the field and they want to be part of our organization as well, so we have an affiliate membership."
NMRA members also play a significant advocacy role, participating in initiatives that lobby the government for industry standards, rights, and even global issues that affect the American marine industry. The NMRA are also members of, or are affiliated with,  other associations like the National Marine Manufacturers Association, the National Marine Distributors Association, and Manufacturer Agents National Association. They hold voting seats with many groups, as well as some non-voting advisory seats. Kolodny notes, "We certainly have a voice and a seat at the table with what happens within our industry and how our industry is shaped. The association also works across the border and has partnerships with members in Canada."
NMRA publishes an annual membership directory, as well as an informational guide called the Marine Industry Supplier Information Manual. Its member communications  keep manufacturers and sales reps informed about upcoming events, and reports on the ever-evolving marine industry. The association holds annual meetings and works diligently to stay in touch with its members, manufacturers, and reps to update them on important issues.
Giving back to the community and the industry is a priority, which is why they sponsor the annual Mel Barr Award, named after one of the founding members of NMRA. The award is given to a person who has made significant contributions to the marine industry that year. NMRA also has an annual Marine Trades scholarship, which over the years has awarded thousands of dollars to a student pursuing a career in the marine industry.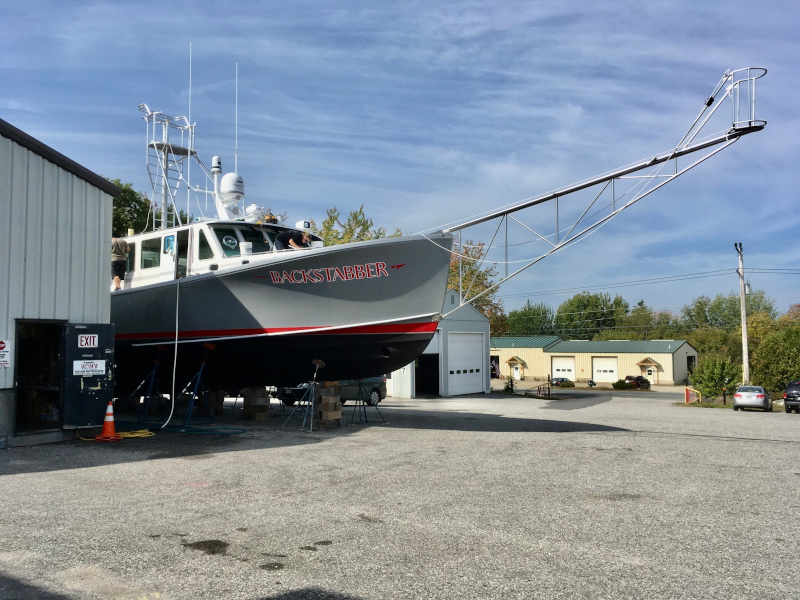 The rise of internet advertising, promotion, and sales has drastically shaped the way NMRA members and manufacturers bring a product to market. According to Kolodny, "In the past, a member rep would bring a product to a boat builder and would work to have it put on a boat, test it out to see if it was something the boat manufacturer would promote, and then work to get that product into aftermarket distribution channels, dealerships or sporting stores. Now, many foreign companies have entered the American market, making it more challenging for the small family-owned American businesses in the boating industry to compete. But, we as reps are up for the challenge and to help our clients get where they need to be in terms of market introduction and long term retention. The internet has also opened up so many new opportunities for the consumer to find different innovative products. That in itself is a challenge, to maintain and to educate, but it's a fun challenge."
The COVID-19 pandemic has helped alleviate a lot of these challenges because it triggered record setting sales and demand. "People weren't flying and taking vacations with their family," says Kolodny. "They determined they needed to find recreation and happiness in other areas, and boating and the RV industry, we both benefitted from that." For those in the marine industry who are building boats or products with all American-made materials, business is booming. At the beginning of the pandemic, many manufacturers were nervous about what might happen with sales, but now they are having trouble finding the skilled laborers. Raw materials and goods from international destinations aren't shipping fast enough to keep up with the soaring demand in the industry, right now.
Kolodny admits, "Initial nervousness may have caused some of the problem because some of these orders for goods, from the Far East and from Europe, had been cancelled and then reordered in May/June when we realized that the industry was not going to have a downturn and rather an up-tick in demand. We're now seeing a bubble in the demand for goods. Products are not making their way to the U.S. fast enough. Cargo ships are stacked up. Things just aren't getting in quick enough and our suppliers are being challenged right now with getting goods to the market."
There is also a fun challenge that Kolodny sees happening in the next few years. He notes, "It's about keeping all the people who purchased boats or canoes and kayaks interested and happy with their purchases after the pandemic. We want them to enjoy their experience, and continue the boating lifestyle for many years to come. That's probably our biggest challenge going forward – to support those folks who have come into our industry and keep them energized and enthused about boating."
AT A GLANCE
National Marine Representatives Association
What: Professional organization for marine industry independent sales representatives
Where: Gurnee, Illinois
Website: www.nmraonline.org