National Association of Federally
Insured Credit Unions
Business View Magazine interviews Dan Berger, President & CEO of the National Association of Federally-Insured Credit Unions (NAFCU).
Advocacy. Education. Compliance Assistance
The National Association of Federally-Insured Credit Unions (NAFCU) is dedicated to strengthening credit unions by providing the best federal advocacy, education, and compliance assistance in the industry. NAFCU takes pride in its ability as a direct membership association to represent, assist, educate and inform its member credit unions – helping them, and the credit union industry, to succeed and grow.
NAFCU was formed in 1967 following a late-night discussion among credit union members about specific federal interests of credit unions that just weren't being met. In the decades that followed, NAFCU has proven to be a highly effective advocate for credit unions at the federal level. The organization takes pride in being the first credit union trade association to "set up shop" in the Washington D.C. area and has been "storming the Hill" for and with its members ever since.
Teamwork is what truly makes NAFCU a successful and viable voice for members. Led by a dynamic leadership team, direct connections and lasting relationships are built with the end goal of making the credit union grow stronger. Business View Magazine recently spoke with Dan Berger, President & CEO of NAFCU, about the association's beginnings, current challenges, and his insights into the future landscape of the credit union industry. The following is an edited transcript of that conversation.
BVM: What spurred the creation of NAFCU and how has it evolved?
Berger: "When NAFCU was formed in 1967, banks had FDIC insurance and were backed by the full faith and credit of the U.S. government, as they still are today. But Credit Unions didn't have anything like that, so NAFCU was founded, back then, to create NCUA self-insurance funds. With deposit insurance, they can compete on equal footing with the banks around the country.
"Our association membership is made up of federally-chartered and state-chartered credit unions that are federally insured. We have a thousand members of all sizes, from $10 million in assets to the largest Credit Union – Navy Federal – which is $120 billion. We cover the full gamut, but all our members are credit unions, across the board. The dues formula is the same for everyone, based on asset size.
"When I started in the credit union industry 14 years ago, there were 23,000 credit unions. We're down to just over 5,000 now. Throughout the financial services space, there is a lot of consolidation in community banks, small insurance companies, and it's the same for credit unions. Consolidation is happening for several reasons: from a competitive landscape point of view, and there's also the cost of technology. It's expensive to have a robust technology platform. The third reason is compliance costs. Every time a regulator or Congress passes a law that promulgates a rule, that's a compliance cost – and it does nothing to add to the bottom line."
BVM: What is the primary focus of NAFCU?
Berger: "In Washington, DC, from a business perspective, associations have a tendency to try to be all things to all people. In an effort to narrow the focus, when I became CEO seven years ago, I flew out and sat down with CEOs across the country and asked them, 'What do you want from a trade association.' They all said three things: Advocacy, Education and Training, and Compliance Assistance. So that's all we do now. We're hyper-focused with all our efforts and resources on advocacy, education, and compliance assistance. And the CEOs love that."
BVM: What divisions make up NAFCU and how do they fulfill the mandate?
Berger: "We have 70 employees focused on our key objectives. We have a Regulatory Affairs Division for lobbying the White House, the NCUA (our provincial regulator), the SBA, Treasury, and others along those lines. Then we have a Legislative Affairs Division made up of Republicans, Democrats, Libertarians, Independents, and they lobby Congress at Capitol Hill. Our Research & Economics Division makes all of us look smart. Because when we're educating policy makers, we're very data-driven; focusing on the facts and the figures. Most lobbyists can open doors and get meetings, but it's the facts and the data that wins the arguments. Those metrics are crucial.
"We also have a Compliance Assistance Division made up of all attorneys that answer our members' complicated compliance questions; a Marketing Division; an Events Planning Division; an Education Division that creates all our educational content inhouse; a Finance Division, and HR. So we're very much like any other company with a plethora of divisions throughout the organization."
BVM: What is currently at the top of the agenda?
Berger: "Other than COVID-19, the election is a high priority right now. We are a non-partisan organization with friends on both sides of the aisle. But we're mostly playing defense. There are always attacks by the banking lobbyists against the credit unions' tax exemption, so we've taken a defensive posture at this time. But there are other items we want to get done. We want to serve underserved areas and low income areas. And the banking industry keeps trying to prevent us from doing that. Those are some of the battles we're working on.
"Our advantage, in the banks' eyes, is that credit unions are not-for-profit financial institutions, and responsible only to their members. It's a cooperative; one member, one vote. The members own the financial institution. Unlike the big banks or community banks – you don't have shareholders and Wall Street analysts looking at your quarterly stock prices. So the credit unions can plan better for the long-term. Everything is done through the filter of what's in the best interests of the membership."
BVM: What does the future look like for the credit union industry and what is NAFCU's offensive game plan?
Berger: "After the financial crisis of 2008/09, there was a flight to safety. We grew from about 85 million members of American credit unions to well over 100 million. People were tired of big banks being bailed out with taxpayer money. And, so now, we represent over 122 million American consumers. We're focused on a deregulatory agenda to reduce compliance costs – there is a litany of regulations that are either antiquated or redundant that the credit unions, and some other financial institutions, still have to do. It doesn't make sense and there's a huge cost associated with those compliance issues, so we're trying to eliminate as much of the regulatory burden as possible so they can continue to grow and thrive.
"No one wants to have just four or five big banks serving consumers, there needs to be choice because then the consumer wins. It's important to have credit unions in the mix, so that's our focus: to create a toolbox with as many tools as possible; whether it's regulatory relief or legislation that passes, all the tools that a credit union CEO can utilize to be able to grow and thrive."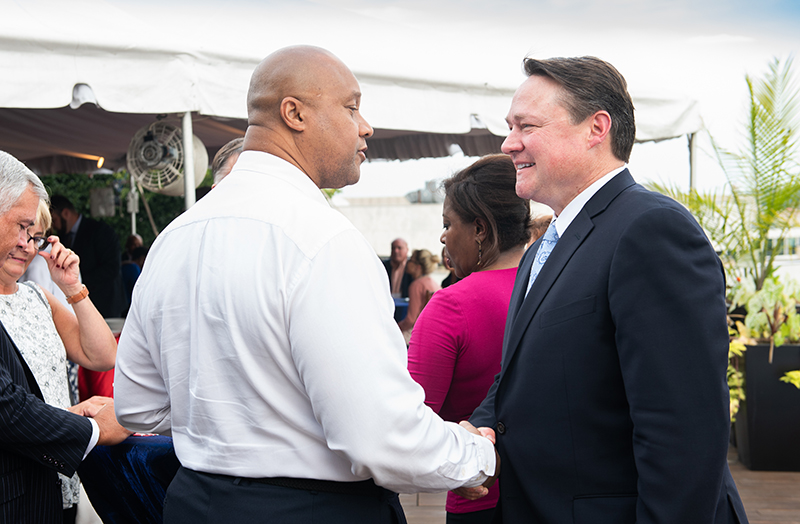 BVM: Has COVID-19 impacted the industry from a technology perspective?
Berger: "Definitely. The credit unions already had mobile banking. And they may have had strategic plans to implement a more robust technology program in the next two to three years. The pandemic accelerated those plans, so people are pivoting and investing faster and probably more than they anticipated. The consumer and their members want contactless credit cards, frictionless payment systems, and all that takes investment in new technology platforms.
"I typically communicate with members in person, flying about 100,000 miles per year, but of course that has come to a screeching halt. So now it's phone calls, emails, and video conferencing. When I became CEO, we invested heavily in technology so you can get your education and training and content and certifications in person at our education conferences. But you can also do it online. We have a very robust online training program and we also invested in a strong technology platform where we could all work remotely. We're 100-percent remote right now and member facing, we haven't missed a beat.
"We did it initially because when I first came here we had a winter storm with six feet of snow. Everything was shut down and we realized we had to be able to operate no matter what. So, when the pandemic hit, we completely pivoted within 24 hours to be completely virtual. I'm very proud of everything my team put in place. They did a great job."
BVM: What are the most important points you'd like to share about NAFCU?
Berger: "Even though we're operating in a consolidating industry, we've had tremendous growth for a multitude of reasons. We focus on the culture of an organization and really have a clear mission statement and vision and values. Our mission statement is to strengthen credit unions, and our values are passion, excellence, and being member-driven. Internally, we pride ourselves on being extremely responsive – what we call Extreme Member Service. And we do everything through that filter. So, if you got lost in our phone tree, the person in the mailroom can help you as much as I can, as CEO. Everybody is empowered to take care of the members.
"That culture permeates. It didn't happen overnight and we're still working on it. What I want people to realize is that at NAFCU, thanks to the strategic vision of my Board of Directors and my 70 incredible colleagues, they're providing a much-needed service – especially now. More than ever, we're focused on offering the tools and information necessary to succeed. And our membership is growing. For a trade association, we grew 41 new members in the middle of a pandemic. It's unheard of when 80 percent of Washington trade associations are laying off or losing money. We're not. We're solid. We'll make a profit this year, all because of being driven and focused on Advocacy, Education, and Compliance Assistance."
AT A GLANCE
National Association of Federally-Insured Credit Unions (NAFCU)
WHAT: Premier advocate for the credit union industry
WHERE: Washington, DC
WEBSITE: www.nafcu.org