Millennium
Innovating broadband networks
Business View interviews James Kyle, founder & CEO of Millennium, for our focus on Innovation in the U.S. Telecommunications sector
Fiber optic broadband networks may be a long-established sector but it still needs innovators to ensure it doesn't remain satisfied with the status quo. One of those innovators is James Kyle, founder and CEO of Millennium, and a recently announced finalist for Ernst & Young's Entrepreneur Of The Year 2022 Midwest Award. It's an honor that is certainly no flash in the pan.
"I started in 2004 as a manufacturer's rep in the telecom space and found myself in front of a lot of contractors just repeating what our manufacturers would say in terms of lead time and when they should expect the product," Kyle says. "I'd receive a lot of angry phone calls when the manufacturer wasn't able to deliver."
Deciding that his integrity and reputation was on the line, Kyle spoke with his father-in-law, who owned his own manufacturing rep business. "I went to him to ask about starting to stock and distribute our products directly," he adds. "I wanted to buy a truckload of pipe and put it in the ground myself so that when I told people it was going to be there, I could guarantee that I was able to deliver on that promise."
Initially, there were hurdles, however. Kyle's father-in-law explained that there were two potential issues. The first was that Kyle would be competing with his existing distribution channels. The second was the capital required to purchase the necessary conduit. "I had a decision to make," Kyle explains. "Did I want to continue being a manufacturer's rep and getting a steady paycheck or did I want to take a risk to better my clients and go in a different direction?"
The first thing Kyle did was take a loan out on his house before visiting a number of banks in an effort to secure a credit line in order to establish a formal business. However, as this was just after the dot-com bubble, it was challenging to find a financial institution that wanted to get involved with the telecommunications space. "In the end, my grandmother gave us our first business loan," Kyle admits. "It was a $17,000 certificate of deposit she had with a bank in Texas. I borrowed against that and started buying our first truckloads. And, thankfully, it worked out."
Kyle would put the products down in a yard and make the deliveries on his sales calls as he went. He'd then bill out the deliveries that night and, little by little, started to grow the inventory and the business.
"From 2004 to 2006, it was just me doing everything," Kyle notes. "I named the company Millennium, partly due to the new millennium, but also because it was ambiguous enough that if it failed, I could do something else with the name!"
Millennium's headquarters are in Delavan, Wisconsin and consist of 18 offices and warehouses, with three more in development. "The warehouse space was needed because of the nature of the business and the growth we started to experience," Kyle acknowledges. "The products that we sell can be large; up to 10-foot reels of conduit or 6,000 pounds worth of cable. So shipping from a distribution channel in a major city to rural areas was cost-prohibitive. Partly, we grew out of necessity."
As well as delivering equipment, Millennium also provides solutions for its customers. What started as just a material supplier, evolved into a series of great relationships with companies that needed to build fiber networks. Kyle explains, "It sounds simple, but somewhere along the way, we realized that our clients don't get paid to build fiber-optic networks. They get paid when people connect to them. So, we started looking at how we could speed up the process for clients to construct the network."
In 2012, Millennium started its rental leasing division so its clients could get their capital equipment faster. Then, in 2019, with the help of a long time client the company launched an engineering division to take legacy flat prints and translate them into shapefiles. This helps businesses to build networks faster and communicate with their contractors more easily – all in real-time with connections to any type of data.
"In 2020, we were sitting on a ton of material for people and wondering why they weren't taking it," Kyle says. "I personally ended up calling the top five clients that had material sitting with us that they had bought but were not taking and not paying for. All five of them were waiting for government funding. I learned that these companies get paid as projects reach certain milestones. Only then does a grant get issued."
Once again demonstrating his can-do attitude, Kyle reached out to a few people to see what could be done about this challenge. "Private equity is more than being willing to step in but, in exchange, they ask for a piece of your company, potentially diluting your ownership," Kyle says. "Banks, on the other hand, see construction as the riskiest stage of a fiber project. So, I started a fund that pulls money together from accredited investors and then uses that money for construction loans. This bridges the gap between when somebody gets awarded a grant and when they can actually receive it."
One of the benefits of Kyle's new funding mechanism was the way it mitigates some of the downsides of public grants. "When a business wins a grant, they get a target painted on their back," he explains. "The grant issuance is shared as public information, so bigger companies can see who receives the grant, what area the grant is in, and then they can effectively come in and build in an area that otherwise they weren't going to build in. We've now funded 11 projects in nine states and the fact is, the first to market will win. By funding these projects, helping with the grant writing, the feasibility studies, the engineering, and then, of course, supplying the material, our clients are able to build before the competition comes in."
Like every other company, Millennium has found the recent COVID-19 pandemic a challenge to navigate but had already established a preferred vendor program around four years ago that consolidated its spending and strengthened its relationship with manufacturers. That has paid off by giving the company a preferential position when it comes to securing materials. "Even though we've seen a slowdown and there have been some challenges to sourcing materials, we increased our inventory levels and were still able to support our clients," Kyle confirms. "By being a little more selective on who we service, it has allowed us to manage the crisis."
Millennium has just under 200 employees that not only help meet customer demand but also play a leading role in maintaining the firm's corporate culture. "We pride ourselves on having a fun culture," Kyle says. "We're in an exploding market and people here seem to like being part of the big picture. We try to remain curious and open and that's the part that I think most people have fun with. We can use that to generate some innovative ideas and that's where some of the new business units have come from."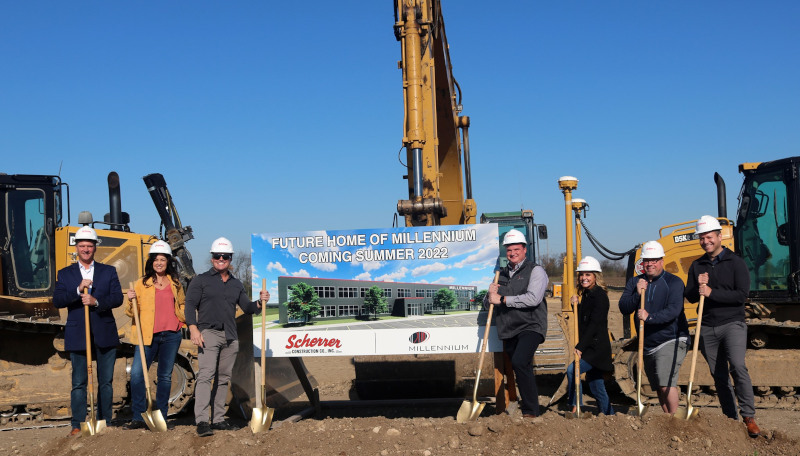 In the short term, new company developments include the addition of an extra 140,000 square feet of warehouse space to replace or add to existing structures. The company has prioritized being within a three-hour radius of each warehouse. Millennium's growth is, at least in part, the result of several fruitful collaborations, including being partnered with ADP TotalSource, the company's Professional Employer Organization, for the last five years. "We've continually progressed with them from just being a payroll company to handling almost every aspect of our HR," Kyle comments. "They do everything in a transparent way, which has resolved a lot of pain points.
Meanwhile, Lit Communities has played a pretty big part in helping Millennium to modify its business. Lit Communities operates a unique business model whereby they access a city and build an open architecture fiber network, which means any approved service provider can use its fiber network. It allows communities to avoid having to open up to a multitude of different providers. "Lit Communities has a great model," Kyle says. "They've absolutely exploded and I would attribute a lot of our success to being associated with companies like Lit."
To continue its success, Millennium has ambitions to expand further, eventually serving at least 90% of the U.S. within one day. "We're investing in technology improvement that makes it easier to work with Millennium," Kyle says. "In a high-tech world, this is still a pretty archaic industry. We want to become the provider that people think of when they want to build a local, original network by making it easier and faster to do business with us."
AT A GLANCE
Millennium
What: A national distributor of fiber optic network materials
Where: Delavan, Wisconsin
Website: www.mymillennium.us
ADP TotalSource® – www.adptotalsource.com
ADP TotalSource: Celebrating Millennium's Growth
ADP is honored to have been Millennium's HR partner, as they've grown from 66 employees to nearly 200, and we look forward to our continued strategic partnership in the years to come.
In 2018, Millennium selected ADP TotalSource® as their PEO (Professional Employer Organization) to help them manage their rapid growth. When the relationship began, Millennium had 66 employees and no HR staff. The company has grown to nearly 200 employees in 14 locations across 13 states and was recognized by Inc. magazine as one of the top 250 fastest-growing private companies in the U.S.  ADP has worked closely with management to understand their business challenges and develop solutions to meet their needs. Here are some of the ways ADP TotalSource supports Millennium:
Talent acquisition and retention: Millennium uses ADP's analytics to determine their cost to hire, track turnover, and develop customized dashboards to manage and meet their staffing goals. ADP also works one-on-one with its regional managers to improve their hiring success.
Compliance support: ADP's compliance experts help the company reduce the risks associated with changing state-specific regulations. In addition, ADP provides workers' comp and claim support, as well as guidance on topics such as disability and employee terminations.
Strategic initiatives: As Millennium expands, they've further leveraged ADP's data, insights and guidance from their dedicated ADP HR Business Partner. Millennium's strategic business decisions have helped the company build their culture during its rapid expansion, while achieving meaningful cost efficiencies.
ADP TotalSource is a proud partner of Millennium and we're honored to stand in their corner as a key strategic partner.
Esri – www.esri.com/telecom
Location intelligence is fundamental to effective network management for all telecommunications service providers. Esri's ArcGIS delivers location intelligence that supports comprehensive understanding and intelligent decision-making. By leveraging ArcGIS, teams are best prepared to meet today's demands and achieve the organization's next generation network initiatives.
To meet customer demand and ensure long term success, organizations need to modernize how they do business and deliver more support for the people, processes, and systems that maintain and manage telecom networks. Esri's ArcGIS technology can help communications service providers (CSPs) optimize their resources using location intelligence and GIS. ArcGIS unifies operations and business support systems (OSS/BSS) through a common understanding of location and maps while enhancing situational awareness through real-time network and field operations.
With ArcGIS, communications service providers (CSPs) can use new tools for planning, design, and engineering. Leaders can reduce time to market through remote engineering and maintain better project operational awareness as they invest in and build out 5G, DOCIS 4.0, software-defined networks (SDN), and expanded fiber to deliver next gen networks. ArcGIS technology provides the essential tools to identify mission-critical market opportunities and assess existing capacity, helping decision-makers invest where they can maximize their return on investment (ROI).
Lit Communities – www.LitCommunities.net
Lit Communities partners with municipalities to bridge the digital divide. Their unique approach makes otherwise prohibitively expensive fiber networks feasible to build in communities of all sizes. Lit Communities offers actionable community assessments, builds and funds fiber networks, and even launches local internet service provider brands in communities they serve. www.LitCommunities.net