Metro Regional Transit Authority – Metro RTA
transporting residents with speed and reliability
With rapid transit routes to cover the region, METRO RTA keeps the community moving
Metro Regional Transit Authority, (known in the community as METRO RTA or METRO) transports millions of passengers annually to work, school, medical appointments, and "hot spots" in and around the city of Akron and Summit County. It has a long history of service to the community, from its founding in 1882 with a few mule-drawn carts to a fleet of roughly 200 passenger vehicles today, largely buses.
In the century-plus in between, METRO used street cars and provided transportation using Goodyear Tire and Rubber Company's bus fleet, which should come as no surprise since Akron has been known as the "rubber capital of the world." In the 1070s, METRO became a forward-thinking leader in the regional transportation sector by providing service specifically for seniors and becoming the first transit group in the northern region of the U.S. to offer service designed to meet the needs of residents with disabilities, several years before the passing of the Americans with Disabilities Act (ADA).
"We were the first to have all of our vehicles be accessible to passengers," says METRO CEO Dawn Distler. "We've always tried to be a leader in our sector and consider all of the needs of our passengers."
Distler should know. In 1987, she started at METRO as a bus operator and over the years, became a union representative, and was promoted to management. In 2004, Distler left METRO to join the leadership team at transit systems in Nashville and Knoxville. In 2018, after working in Tennessee for 14 years, Distler returned to METRO as CEO. Perhaps you could say her heart was always in Akron, but Distler maintains that  she returned because she appreciated the opportunities that the transit group has always afforded its employees.
"Here at METRO we hire passionate individuals and really look to offer upward mobility to our team," Distler says. That includes a belief that bringing new blood into the organization and giving team members a say in their careers will lead to happier professionals. Distler and her management staff make a point to encourage employees to apply for higher positions that fit their career goals and to discuss a career path with managers that motivates team members to remain with METRO.
Says Distler, "if [a manager] feels that an employee may not yet be ready for a promotion, we will discuss, review experience they need, and map a plan for success."
Along with getting passengers where they need to go, safety is the number one goal for METRO. Drivers must follow three rules: be safe, be nice and show up for work, according to Distler. "If you can do all three of those things, you will be very successful here," she says.
Since assuming the role of CEO, Distler and her management team have been a part of several changes designed to further emphasize the importance of safety at METRO. One such change was to expand the role of the METRO Police Department, which previously included just one officer, in both numbers and responsibilities. METRO contracts much of its law enforcement needs to the Akron Police Department.
However safety is not just about preventing accidents, Distler says It also refers to the ability to provide an essential service for residents while keeping both passengers and employees healthy, something that METRO was able to do successfully during the COVID pandemic.
Around the same time, METRO cut its number of accidents in half over just five years and was declared the Gold Winner in both Bus Safety Excellence and Bus Security Excellence by APTA in 2021.
One of the reasons METRO achieved this was by developing and executing an updated safety plan. According to Distler, "we've made some positive changes that allowed us to get where we needed to go." That is important because one of METRO's missions is to enhance the quality of life for the Akron community by providing innovative transportation that is safe, dependable, cost-effective, and customer-focused.
There is little question that COVID had an adverse impact on METRO ridership, and that remains at levels that are 65 percent of where they were in 2019, with nearly 4 million estimated (3.4 million through November 2022) riders in 2022. That number was more than 5 million in 2019 but just 2.7 million in 2021, so Distler is encouraged by the upward trend.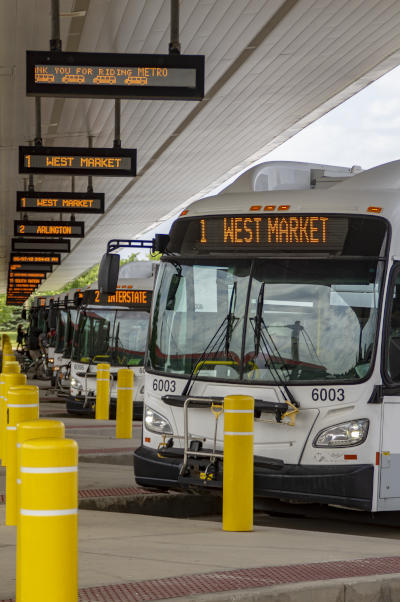 She is also excited about the building of a new maintenance and operations facility, which will have a particularly positive impact on the more than 450 METRO employees. This project breaks ground later this year, doubling the size of the existing facility, and offering more space and opportunities for employees. The new maintenance and operations facility will also include a fitness room for all employees, and indoor and outdoor lounges designed to give operators areas to relax in between shifts.
"Very often our operators don't have time to go home or do errands between their shifts, so this gives them a chance to work out, take a shower or just relax," Distler says.
The new facility will also make it easier to complete necessary maintenance of METRO's fleet, she adds. The ability to complete necessary maintenance on existing vehicles is difficult because of the limited space and lifts available. The current facility was constructed in the 1980s and only built for 100 buses, with the current fleet doubling that number.
The new maintenance and operations center will be a LEED platinum building, making it extremely sustainable. The goal of LEED is to create better buildings that reduce contribution to global climate change, enhance individual human health, protect and restore water resources, protect and enhance biodiversity and ecosystem services, promote sustainable and regenerative material cycles, and enhance a community's quality of life.
Completed in 2009, METRO's Transit Center serves as a hub for regular line service buses, offering an array of modern amenities for passengers. The center features a full-service METRO ticket counter, a cafe, year-round art displays, Wi-Fi access, and plenty of space to host community events and interact with its transit-loyal customers.
While there are many key partners that METRO relies on, Distler points out two critical ones. The first is the Akron Police Department, which helps to ensure the safety of transit passengers and employees. Akron Police provide consulting with law enforcement personnel, helping to ensure long-term safety through processes and policies.
A second key partner is GILLIG, an American-based designer and manufacturer of buses. Distler has worked with GILLIG for many years in both Tennessee and Ohio, praising the company for its convenient design and overall dependability. "What we need from our bus manufacturer is transparency and honesty and they have always provided that," she says. It's why nearly 100 percent of METRO's fleet is GILLIG buses.
Distler says it is important for local residents and business owners to remember that METRO is an important community organization even for those who rarely ride.. METRO takes employees to their jobs, and helps to ensure many workers in the retail and service industries can get where they need to go, an important consideration given the challenge many employers have with hiring staff.
A major initiative for 2023 is the development of a network redesign which will update the bus route system for the first time in more than two decades. This system will allow buses to run more frequently with more short-term bus routes. More than 90 percent of its routes will now run seven days per week, adding more flexibility for passengers.
"It's the first year we will be running service for all 365 days of the year as well," Distler says.
Additionally, METRO's board has approved a budget with a 5 percent service increase, requiring the need to hire more operators and market open positions at area job fairs and expos. "We're putting a number of new operators through training and will have other sessions later in the year as well," she says. "It's an exciting time for us."
AT A GLANCE
Metro Regional Transit Authority
What: Major transportation service with routes covering Akron and the surrounding area.
Where: Summit County, Ohio
Website: https://www.yourmetrobus.org/

Storm7 Labs – www.storm7labs.net
Storm7 Labs provides the very best in data security, infrastructure services, hardware acquisition, professional services, and vCIO support. With decades of experience, Storm7 Labs valued employees have been consulting on network and data tracing back to the early 1990's.
Storm7 data and security solutions, for nearly 30 years, have helped clients across the US.  Providing the framework of design, install, and post support Storm7 can provide unique services that protect your organization from a ransomware attack and on-going monitoring around the clock.
Post COVID our customer service, unlike many others, hasn't changed.  We have real people taking calls and texting with our clients each day.  Our goal is to provide conversation because during an incident, how much better do you feel when you have a trusted, highly skilled individual on the phone or on-site with you!
Beyond the company's expertise in providing top-tier security solutions, Storm7 Labs is also able to source hardware options, maintain and monitor data security, and provide management expertise on a range of ongoing technology projects. Focusing on edge, infrastructure, and endpoints, Storm7 is extremely proficient in providing services from internal networks, cloud, and other Internet connectivity.
Storm7 has a wide range of clients across numerous verticals that include major sports teams, manufacturing, finance, state and local governments, and more. For nearly 30 years we have acquired dozens of industry certifications and provided peace of mind to each client.