McKellar-Sipes Regional Airport
One of the best in Tennessee
Business View Magazine interviews Steve Smith, Director of McKellar-Sipes Regional Airport, as part of our series on regional American airports.
McKellar–Sipes Regional Airport is a commercial and general aviation airport located four miles west of the central business district of Jackson, a city in Madison County, Tennessee. The airport was established by, and originally named in memory of, Kenneth Douglas McKellar, a longtime U.S. senator from Tennessee, who helped to convince the Civil Works Administration to acquire the property and construct the initial runways and buildings during the winter of 1933–1934. Later in the 1930s, the Works Project Administration (WPA) expanded the Airport and constructed additional buildings and other facilities.
In April 1942, the Airport was leased by the United States Army Air Forces and became a wartime flight training school under the auspices of the Georgia Air Services, mainly utilizing PT-17 Stearman biplanes as the primary trainer. The facility was inactivated on October 16, 1944 with the drawdown of the Army Air Forces Training Command's pilot training program. It was declared surplus and turned over to the Army Corps of Engineers on September 30, 1945.
"The Airport stayed in operation till the end of WWII, after which it was abandoned," recounts Executive Director, Steve Smith. "Later, it became the site of a monthly airplane auction. A guy named Grady Montgomery would buy surplus WWII aircraft and fly them, or haul them into Jackson, build good airplanes out of them, and auction them off. Jackson, Tennessee became well-known after WWII, up until about 1950, because of all of the different airplanes that were sold at auction here at McKellar Field. The Airport was given to the city by the U.S. government around 1958, at which time an airport commission was formed and the City of Jackson and Madison County, Tennessee took over ownership."
In the early 1960s, the Airport's current terminal was built, runways were repaved, and air service by Ozark Airlines began. In the 1970s, the Airport's name was changed to McKellar–Sipes Regional Airport to honor Major Robert Ray "Buster" Sipes, a United States Air Force test pilot from Jackson, who was killed in 1969 when his RF-101 Voodoo jet fighter crashed after takeoff from RAF Upper Heyford, Oxfordshire, England.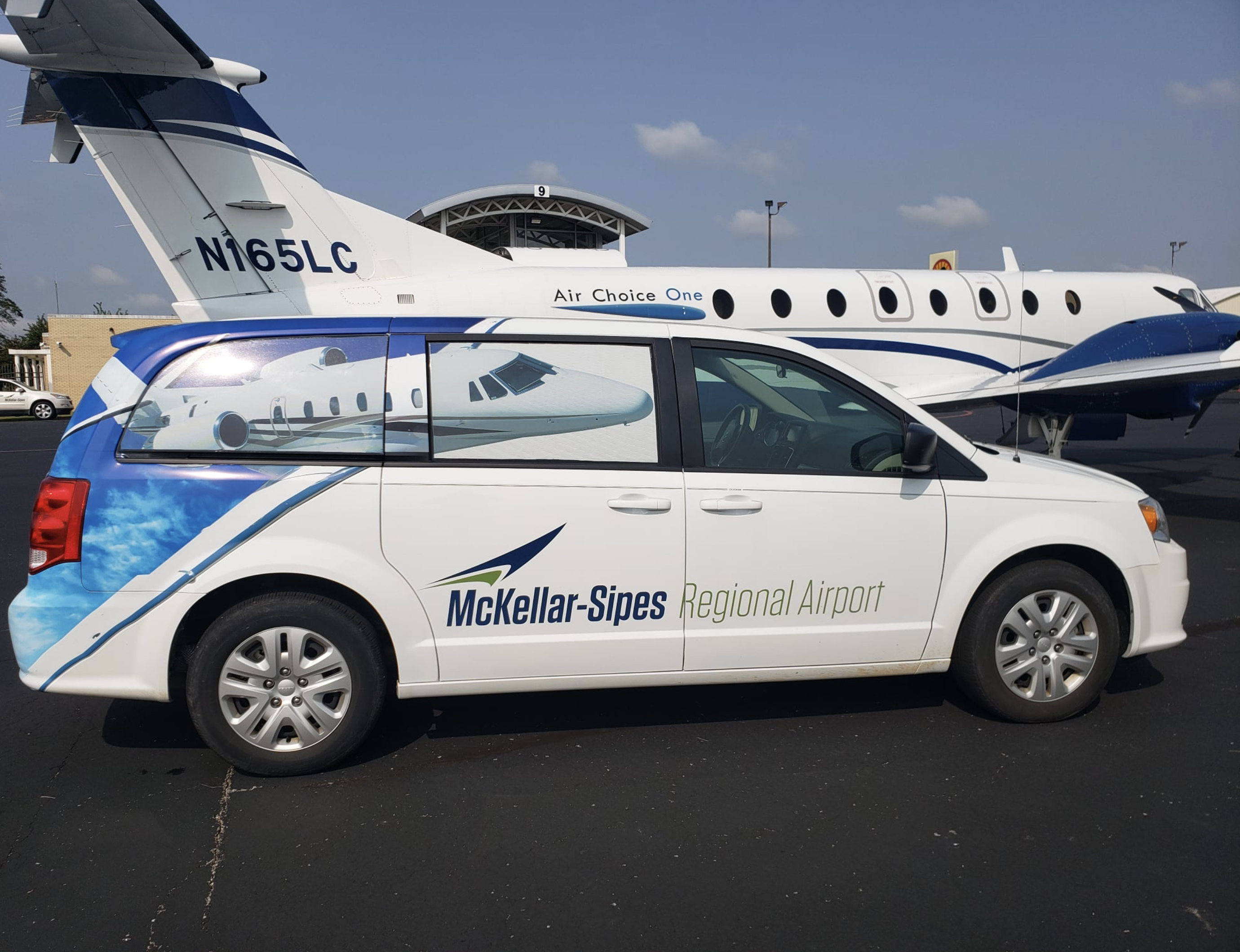 Today, McKellar-Sipes Regional Airport covers over 800 acres. It has two asphalt paved runways: 2/20 is 6,006 by 150 feet, and 11/29 is 3,538 by 100 feet. It is owned by the City of Jackson and Madison County and is administered by the Jackson-Madison County Airport Authority, whose five-member board is comprised of five members who are appointed by the city and county governments. It is served by Air Choice One, which offers two daily flights to St. Louis and one flight a day to Atlanta. A military presence remains at the Airport, with the Tennessee Army National Guard's 1/230th Cavalry Squadron having an extensive support facility there, equipped with UH-60 Blackhawk helicopters.
The Airport also leases space to several other government entities. "Because we are part of the Tennessee Response of the New Madrid Fault Zone, we felt that having the Madison County Emergency Management Agency here on the field was a good fit for us," says Smith. (The New Madrid Fault Zone is a major seismic zone and a prolific source of intraplate earthquakes in the Southern and Midwestern United States, stretching to the southwest from New Madrid, Missouri. Earthquakes that occur in the New Madrid Fault Zone potentially threaten parts of eight American states: Illinois, Indiana, Missouri, Arkansas, Kentucky, Tennessee, Oklahoma, and Mississippi. The zone had four of the largest North American earthquakes in recorded history, with moment magnitudes estimated to be as large as 7.0 or greater, all occurring within a 3-month period between December 1811 and February 1812.)
"About ten years ago, working with Madison County, we were able to lease the former FAA flight services station here to the Emergency Management Agency," Smith continues. "We also lease space to the Madison County Volunteer Fire Department – Station 17. We have sold property to the Tennessee Highway Patrol, which has a new post underway, and we've also sold property to the Tennessee Bureau of Investigation, with the FAA's blessing. They're building a new crime lab adjacent to the Airport."
According to Smith, who oversees a staff of 23, the Airport has been self-sufficient for the last seven years. "We were able to become self-sufficient by taking over the operation of the fixed-base operator when the lease ran out," he explains. "We still fund our capital outlays through the budgets of the city, the county, and the State of Tennessee, but as far as the daily operations, we are self-sufficient."
McKellar-Sipes is also home to approximately 60 general aviation aircraft, and Smith says there is waiting list for hangars. Formerly, the Airport would build its own hangars with a grant from the state's aviation trust fund, but that has recently changed. "Tennessee has been one of the better-funded states up until 2015, because our aviation program is still mainly funded by aviation fuel tax," he explains. "Because Federal Express is based in Memphis, we reap the benefits of their taxes. However, in 2015, the Governor capped the amount that any entity could pay, which cut $40 million a year out of Tennessee's aviation budget. So now, we're working on doing some site development and some grading work on an area that will contain approximately nine 100 X 100-ft. hangars, but they all will be privately developed, once the ramp area and the drainage are put in place."
Smith adds that the Airport is also in the final stages of a pavement rehab and remarking project. "This has been going on for a couple of months, now," he reports. "About 180,000 cubic feet of cracks have been sealed on the three taxiways, the short runway, the north ramp, and the west ramp. And we've done about 100,000 cubic feet of crack sealing on the primary runway. And we are awaiting funding from the FAA for a total rebuild of primary runway 2/20. The basic surface is over 30 years old, and so, we're trying, in 2023, to completely mill and overlay that runway. Everything else, this year, has been seal-coated and crack-repaired and totally remarked – numbers, bars, lines, stripes – the whole thing."
The Airport is also undergoing a Master Plan update and an Airport Layout Plan. "The district FAA office in Memphis suggested that we do that; it was funded in the fiscal year 2021, and work has begun on that," says Smith. "The major thing that we're looking at in the Master Plan is a 1,600-foot runway expansion. Currently it's 150 feet wide by 6,000 feet long. We look to go 7,600 feet by 150. We had originally planned to do that in the 2023 budget year, but because of everything else that's going on, we have pushed that back to 2025.
"Also in the Master Plan is that hangar development area. We're going to take some additional taxi lanes in and out of it. We're also looking at adding one, or two, or even three T-hangar units. Currently we have one, ten-unit T-hangar and it stays full, and there's a waiting list for that. It was built approximately 11 or 12 years ago. So, as we move forward, we're looking at identifying some places and adding some additional T-hangars.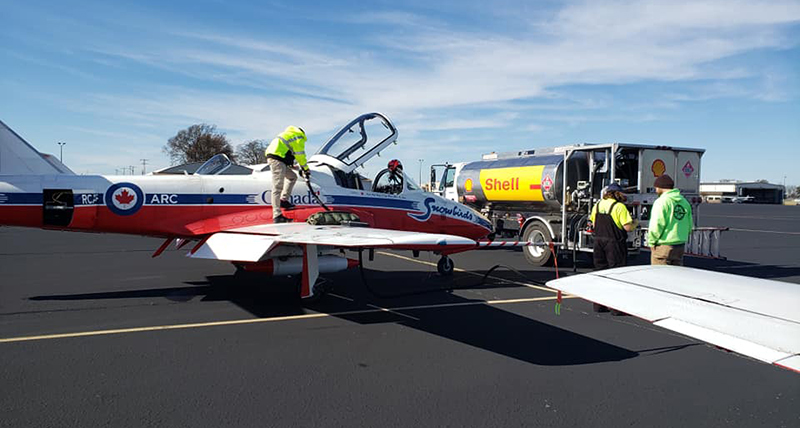 "We have recently purchased 17 acres off the end of Runway 2, and we have cleared that. We don't have any current plans for its use, but we had some trees that were encroaching on the approach slope, so we had the opportunity to purchase that property and clear it. We also had some approach issues to Runway 29; we purchased approximately 20 acres. I think, eventually, that 3,500-ft. runway will get another 1,500 feet on it. That runway will have to be built out to the east and so that property that we bought that's now outside the fence will play a huge factor in being able to add the 1,500 feet to Runway 11/29 at a later date."
A key focus at McKellar-Sipes is community outreach and Smith talks about how it has evolved: "A couple of years ago, I had the opportunity to hire the Airport Manager from Union City, Tennessee. Joann Speer had been Tennessee Airport Manager of the year in 2013; she had been President of the Memphis chapter of the 99s (the International Organization of Women Pilots, also known as The 99s, provides networking, mentoring, and flight scholarship opportunities to recreational and professional female pilots); and she was President of Aviation Adventures (a non-profit organization that teaches aviation to underprivileged children, especially girls). With bringing Ms. Speer to Jackson as the FBO Manager, we opened up an entire world. Aviation Adventures now has outreach to the Boys and Girls Club of Jackson; we also started an Explorer Post. And we are constantly working with area schools and home-school groups to bring them in to show them the different things that we do here at the Airport and the 100-plus careers in aviation that don't necessarily have to do with flying an airplane. So, there are a lot of things that we're doing to reach out to the community."
"A couple of years ago, we had a cuboree, here," Smith continues. "We had 100 Cub Scouts and their parents camping out for the weekend right outside our area. We brought them into the hangar at night for movies and pictures of airplanes. The next day, we had hayrides; we took them over to the National Guard and the Guardsmen showed them the Blackhawk helicopters. We had a really good time.
"In January of every year, we sponsor an aviation merit badge day with the West Tennessee chapter of the Boy Scouts and the Explorers. They learn about the control tower; they're able to learn about flight training; we take them to the ARFF department and our ARFF officers talk to them about aircraft firefighting and rescue; the helicopter pilots for the City of Jackson open their hangar so they can see everything that the aviation unit does here. So, outreach over the last three years has been our mission, here. Even though we are a commercial airport as defined by the FAA, and we are a Part 139-certificate airport, we still look at ourselves as a large general aviation facility.
"We want parents, teachers, and businesspeople to know that if they want to have an experience here at the Airport, we'll try to work with them. We've done a lot of things like weddings and retirement parties for county employees. It's important to make sure that the door is open, and that people know that this is a community airport and that we're here to be a part of the community.
"On the commercial side, we work hard to make sure that people who come here have a very positive experience, whether they're flying to Atlanta and going on to London, or whether they're flying to St. Louis and going on to Chicago or Dallas, or wherever. Their journey starts here, and we try to make that very pleasant for them. McKellar-Sipes also has a military contract. So, day in and day out, we see military aircraft from all over the United States, and we want to make sure that the military knows that we respect them and will do whatever we can to help them be a part of our Airport.
"On the corporate side, which is where our growth is, right now – we want businesses to know that we're a business-oriented business. We understand what it takes for them to make a go of what they're trying to do. And we also want to be a pilot's airport. So, if a pilot comes here and has to spend all day with us, we have courtesy cars to get them to town and we have a very comfortable pilot's lounge. These pilots spend can eight or ten hours with us, so how we treat the pilots is important and that's why they want to keep coming back to us. All of these things are what makes McKellar-Sipes one of the best airports in the State of Tennessee."
AT A GLANCE
McKellar–Sipes Regional Airport
WHAT: A commercial and general aviation airport
WHERE: Near Jackson, a city in Madison County, Tennessee
WEBSITE: www.mckellarsipes.com
West Tennessee Healthcare – www.wth.org
West Tennessee Healthcare is trusted with the health and well-being of more than half a million people living across 9.000 square miles of the region. It's a trust built over more than 70 years by thousands of compassionate physicians, nurses and caregivers.