Maibec
Specialists in exterior siding systems
Business View Magazine interviews representatives of Maibec for our focus on the Wood Products Industry in Canada
When nature meets innovation, magic happens. Regardless of architectural style, a building featuring Maibec genuine wood siding or engineered siding exudes authenticity, quality, and an eye-catching look that speaks volumes. With more than four decades of excellence in the exterior wood products industry and more recent success in the engineered materials sector, Maibec is recognized today as a North American benchmark for residential and commercial integrated siding systems.
The Maibec story began over 70 years ago when the Lagueux Brothers, a pulpwood brokerage company operating in Eastern Quebec, purchased a small custom sawmill in Saint-Pamphile for transforming spruce and fir logs into lumber. This was the first industrial division of that company. Saw logs were purchased in Maine, USA and transformed into lumber just across the border in the province of Quebec. That led to rebranding the company in 1969 as 'Maibec' – a nod to the company's two operational jurisdictions, keys to its development.
Charles Tardif, VP of Maibec, is proud of his own family's legacy in the business. He explains, "The Company went from a small lumber company to a diversified business. In 1964, a northern white cedar shingle mill has been added and the company has been really developed around these two production. In 1981, my father who was then Vice President of Maibec, acquired the first 50 percent of the company and in 1991 our family acquired the other part." Since then the Tardif family has driven the orientation of the company. In 2012, the family invited the Fonds de Solidarité FTQ, a development capital fund, to join and invest in Maibec as a minority shareholder.
The company developed in two core businesses. A pair of lumber sawmills – one in Quebec and one in Maine – was the lumber division. The second core business was exterior siding. In 2018, the company sold the lumber arm and now maintains a robust presence as a specialist in factory-stained exterior siding in both solid wood and wood-engineered substrates. Tardif acknowledges, "What's interesting is that in Quebec our brand name is recognized as the name of the product. So when consumers go to the store, they ask for 'Maibec' instead of wood siding; the way other people would ask for 'Kleenex' instead of tissues. We've worked really hard at developing the brand name, and it has been very successful with wood siding."
Northern white cedar shingles are a major component of the Maibec product line. The attractive shingles are used exclusively for wall siding and are sold natural, as well as factory-stained. Production takes place in three shingle mills – two in Québec, one in Saint-Pamphile and one in Saint-Théophile and one in Balmoral, New Brunswick. According to Tardif, "After divestiture of the lumber division in 2018, we wanted to expand the company across North America in different areas east to west. Therefore, in 2019, we acquired a small staining company in the neighborhood of Boston, where most of our stained shingles are now finished for the northeast market. It just made sense to be centrally located to that market for fast response and delivery of orders."
In June 2020, Maibec acquired CanExel, the most popular wood siding brand in Quebec. CanExel is a pre-finished composite wood siding company formerly owned by Louisiana Pacific and based near Halifax, Nova Scotia. Now branded as Maibec CanExel, the Maibec team is ramping up to expand that product's popularity across Canada and into the U.S.
For years, U.S. distributors were requesting that Maibec add western red cedar shingles to its offering. Along with its cousin, northern white cedar, western red cedar is the most naturally durable species in the country with an enviable palette of colors. Seeing an ideal growth opportunity, in early December 2020 Maibec acquired Stave Lake Cedar Mills Incorporated in Dewdney, British Columbia – a small finisher of western red cedar shingles. That will become the base of Maibec's expansion in western Canada. By producing solid wood siding from that area, with the different western species, they aim to cover the western U.S. market and eventually stretch to the northeast where the market already exists for these products..
"The western red cedar is coming from larger trees," says Tardif, "so we can produce larger shingles from that and a rich variety of reddish hues. It is used for a different pattern of homes than the northern white cedar – so those two shingles meet the requirement of different markets and do not compete against each other. However, having them in the same portfolio is giving us a strong market presence where we are selling, and expanded the size of our market. In the past, we were concentrated with the white cedar shingles in the northeast, mostly along the New England coast, now with the western red we're expanding all over the northeast down to the Mid-Atlantic and up to the Lake states."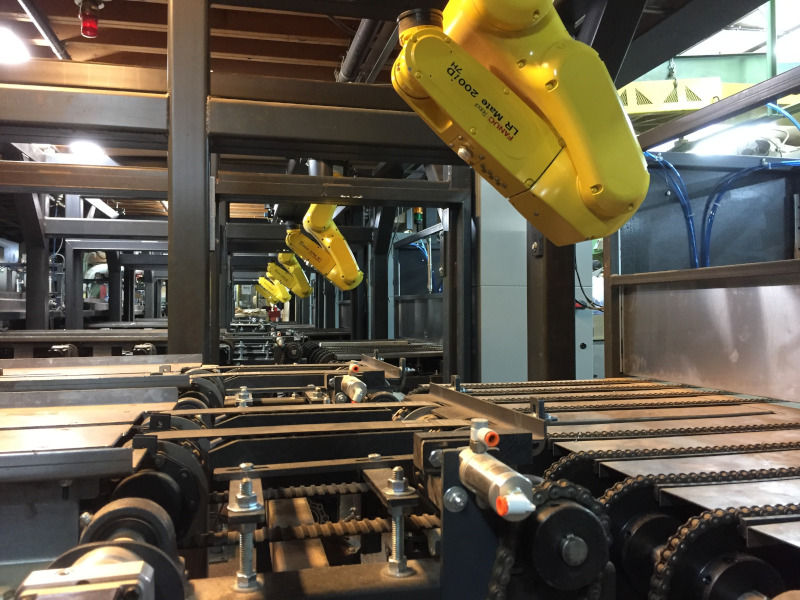 Maibec is committed to environmental responsibility, using 100 percent of the trees they transform. In that regard, they are now transforming the residue from cedar shingle production into cedar mulch for horticultural use. Tardif emphasizes, "Whatever product we're creating, everything is used – nothing goes to waste. My father, my brother, and I are all foresters and it has always been important to us to have log supply from well-managed forests and a long-term vision. This is the way we're developing the company."
The Maibec workforce numbers are impressive and vary depending on the season. From spring to fall production increases, so during that period over 800 employees will work in their operation; during winter, it is closer to 700. When it comes to corporate culture and what it's like to work at Maibec, company CEO, Patrick Labonte, shares, "Coming from the forest and wood product industry, most of our plants are located in small rural towns remote from larger cities. Therefore, it is very important that we maintain that friendly relationship with our employees and that we contribute to the life of the towns, themselves. Maibec faces two realities – the plants located in small towns, and the head-office, which is relatively small in a bigger city. Our ideology is: we are there to participate in our community and make the people happy. That's very important to us and our employees."
The Company hires local workers and trains them in-house on specialized Maibec machines and procedures. "Because we're in remote locations, people are apt to stay with us for 20 years or more," says Labonte, "so we believe in investing in their training so they can grow with us and take on more responsibilities if they wish. It is safety first. One incident is too many." Tardif adds, "Facing the labor shortage problem, we're also looking into more automation with the work we're doing. We're developing and acquiring equipment to make life for the workers easier and help them perform. That's another investment we're making."
Upgrading technology is a priority. Labonte reports, "We've invested heavily in the last 10 years to be at the forefront of what's best in technology. And it's difficult, because half of our businesses revolve around shingles and that world is relatively small. Therefore, we have to build and develop our own machines. We are among the largest shingle suppliers in the world and the largest wood-based siding producer in Canada, so nobody else will build machines for us. Charles is heading up a big automation process now in which we've invested a lot of money in the last four years, with technologies, vision, and help from the people. The other half of the company is more into regular painting equipment, but nonetheless we try to stay abreast of what's being done in the world with regard to calibration and behind the scenes technology and we're proud to be a leader in that respect."
The image of the company gained momentum when Maibec began factory staining their shingles and wood siding – and offering a 15-year maintenance-free guarantee. That raised the level of attraction for consumers to a new high. "Maibec realized a long time ago that we're much better to paint our products in the plant in an environment where we control all the variables, so we have a better quality and a long-lasting product," says Labonte. "The way we approach a market is always to try to seduce the consumer by explaining the beauty of the product, the longevity, the warranty and then we sell through the business. Our approach is B2C2B (business to consumer to business) where we market our product to the consumer but we only sell to dealers or large hardware/home improvement centers."
Maibec understands the fact that not all people prefer solid wood. Therefore, three years ago, they added a first product line using OSB boards and lately, the CanExel product, another engineered base product with the sense of fulfilling the wishes of all end-user customers. The people who want the best look and quality for their home. Looking to the future, Labonte attests, "We want to be recognized as a North American leader in exterior siding systems. We are developing more market share. Now with our acquisitions, we are coast to coast in Canada and into the U.S.. So we are proud of that. Five years from now, we would like Maibec to be one of the top four or five companies mentioned when someone says, "You're looking for a siding product? Call Maibec – they know siding!"
AT A GLANCE
Maibec
What: A producer and marketer of high-quality exterior siding systems
Where: Headquartered in Levis, Quebec
Website: www.maibec.com
Axalta Coating Systems – Axaltawoodcoatings.com
Axalta Coating Systems is a global leader in supplying coating solutions to the building products, kitchen cabinet, and furniture industries. Our legacy has been built upon field-tested and market-driven products that exceed the demands of an evolving marketplace, providing durability and rich color to exterior siding, doors, flooring, kitchen cabinets, tables, office furniture, and countless other products. Axalta's mission is to supply coating solutions that provide excellent value, ease of use, and superior performance to our customers.
Axalta has partnered with Maibec over the years, supplying them with our Unrivaled products for their exterior siding business. The success of our partnership has been achieved by staying on the forefront of innovative products that provide sustainability, value, and mutual investment in research and development. Our Unrivaled system's flexibility is used over various Maibec siding substrates, finishing lines, and applications. Axalta and Maibec share a strong commitment to serve the market through color, performance, and innovation. Axalta has helped promote the growth of Maibec through the collaboration of our long-term relationship, and we look forward to a successful future together.

CanWel Building Materials – www.canwel.com
Discover why CanWel is Canada's leading distributor of building materials
CanWel Building Materials trades on the Toronto Stock Exchange under the symbol CWX and is one of Canada's largest national distributors in the building materials and related products sector, operating distribution centres coast to coast in all major cities and strategic locations across Canada.
CanWel distributes a wide range of building materials, lumber and renovation products and is also one of the largest treated lumber manufacturer in Canada and also in Western US and Hawaii.
LRBG Chemicals Inc. – lrbgchemicals.com
Superior quality resins sold with exceptional service: LRBG Chemicals is a custom manufacturer of liquid phenolic resins, amino resins and amino spray-dried powdered resins used as adhesives in a wide variety of applications. Our adhesives add strength, durability, and superior performance to a diverse range of products in countries all around the world.
Please contact us or visit our web-site at www.lrbgchemicals.com for more information about our high quality products.