Kingston Process Metallurgy (KPM)
Global solutions for clean tech
Business View Magazine interviews Boyd Davis, Principal & co-owner of Kingston Process Metallurgy (KPM), for our focus on the Clean Tech Sector in Canada
Off the eastern shore of Lake Ontario and at the beginning of the St. Lawrence River is the idyllic city of Kingston, Ontario. Lying midway between Toronto, Ontario, and Montreal, the Limestone City, as residents fondly refer to it, is quickly becoming a hub for cleantech and chemtech in North America.
In the heart of this burgeoning Technopolis is a rapidly growing chemtech company called Kingston Process Metallurgy (KPM), an integrated chemical process development company with clients in France, Japan, South Africa, Brazil, England, Australia, Chile, Mexico, U.S., and others.
Boyd Davis is Principal, Project Development, and co-owner alongside Alain Roy, Principal, Operations. Davis believes some of the most significant economic challenges we face today, like climate change and resource scarcity, can be solved through chemistry when properly guided by economics and design. He reports, "KPM is not unique in terms of what we do, but we are rare in how we give direction to a project. Many companies operate labs and have their clients interpret the results. We combine economic projections with a strong technical base to work out the processes on paper and give guidance into what lab work needs to be done.  Then we can do targeted lab work that gives clarity to the process."
Although Davis readily sees the benefits of what KPM does, he quickly admits that not many people understand what they do at face value. "When most people hear chemical processes, they often think we make products like shampoo," he says. "That's not what we do. We develop and improve chemical processes that have a high level of complexity in chemistry, reactor design, and materials."
Since KPM is not selling a particular process and clients seek out the company, Davis says most of the work the company does can come from almost any industry that relies on chemical processes. "We work on a broad spectrum of challenges in any resource sector, including the metals industry, high-purity downstream materials, battery components, purification, you name it," says Davis. Working at such a breadth of industries and use cases also allows the company to cross-pollinate concepts. "An idea originating in one industry can be applied to other industries, giving us a high level of expertise when tackling client projects," he adds.
KPM was incorporated in 2002 as a two-person operation working out of borrowed lab space. Before the company started, Davis was doing some consulting work, and Roy moved to Kingston from an engineering position at a lead smelter. From the outset, a more interdisciplinary approach to solving problems helped to define what they offered clients.  This reputation has meant that the company needs to only rely on word of mouth for work.
By 2009, KPM had bought its own building for a main lab and has continued to buy, renovate, and put into service valuable infrastructure for chemical process commercialization.  Today, the company operates three facilities: its headquarters on Progress Avenue comprising a 12,000 square feet facility with five labs; a second facility housing its pilot plant and a third location at McKay Street housing its aluminum foundry sister company, Kingston Metals & Materials.  A fourth building currently being renovated will give it even more room to help scale up processes and support work coming from its start-up accelerator, KPM-Accelerate.
Operating out of these facilities is a 50-strong team of technical professionals who are interested in challenging and meaningful work that push the boundaries of innovation. Expanding from lab and piloting work, KPM now includes paper studies like scoping work  and commercialization pathways. "One of the things we look for when hiring is someone willing to take on a broad range of projects simultaneously," says Davis. "We seek skilled individuals with flexible and adaptable skillsets who can take on a number of projects in multiple industries."
One of the big recent successes has been the commercialization of Li-Cycle, which now has a processing plant in Kingston as well as in the US. KPM collaborated with GreenCentre Canada, a Kingston-based not-for-profit that supports the growth of chemical and materials start-ups. "In 2018, KPM worked with Li-Cycle to assess its flowsheet, helping to define the scope of the pilot project, which went from a process flow sheet to a full-sized pilot facility that processed tons of batteries per day," shares Davis. "In 2021, Li-Cycle went public and is today listed on the NYSE."
KPM's new accelerator, KPM-Accelerate, was set up in 2020 to help start-ups access the support they need to map out a commercialization plan and give more credibility to their approach. Without much advertising, they now have over a half dozen start-ups ranging from battery materials to fiberglass recycling to fire retardants and disinfectants. "I personally experienced the scale-up gap in the cleantech ecosystem as a founder from about 2015-2020," says Sebastian Alamillo-Falkenberg, who leads the accelerator, "and now, we have created the program I wish I had so that we can provide world-class technical support to founders as they bring the most impactful chemical solutions to market."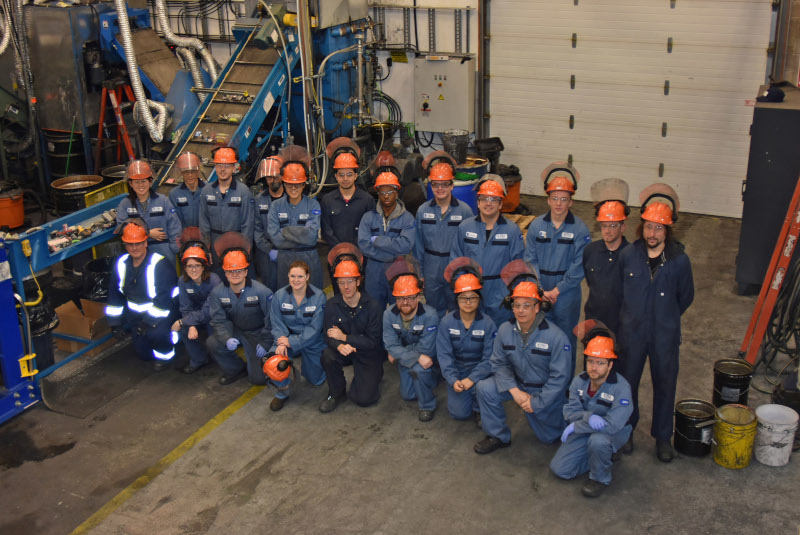 With such a breadth of capabilities, KPM is tackling some of the toughest challenges facing companies today. Tugging the rope beside them are critical partners who fill in the specialized skills gaps that KPM has not yet filled. One such company is BGM Metalworks – Kingston's premier fabrication shop. "BGM Metalworks is a smart custom machine shop, the type of which you don't always run into," says Davis. "One of their strengths is completing uncommon projects. Since all our work fits into this category of uncommon work, we work closely with BGM to develop custom machine works that our in-house machine shop cannot undertake."
The Covid-19 pandemic still has a chokehold on most industries' supply chain networks, and KPM's industry is no exception. It is continually hedging against possible supply chain problems and ordering equipment it might need on projects well in advance. Despite this, KPM has doubled in size in the last five years; a growth spurt that Davis attributes to many different reasons. He explains, "Greenhouse gases, electrification, lower mineral grades, advanced materials, recycling – all these issues are driving demand for our services. In addition, there's an ongoing debate on how to on-shore services previously outsourced to China, which requires extensive process engineering to match China's labor advantages and make it economically viable to set up similar processes in the West."
Since these issues often combine chemical and industrial processes with economic dynamics, KPM is well placed to provide integrated services that deliver verifiable and economically viable solutions. "We do scoping level paper studies upfront to understand the problem and simulate practical solutions," says Davis. "Most lab-based companies in our space are unwilling or unable to commit much time to a paper study. On the other hand, most companies we work with are very happy when we suggest we do a paper study first instead of launching into lab work."
KPM's applied approach to solving chemical process challenges for companies has placed them on a steep growth path, one Davis sees as an opportunity to impact multiple industries globally significantly. He notes, "KPM is one of the founding member of the Ontario Clean Technology Industry Association (OCTIA). We are collaborating with other members and stakeholders to establish Kingston and Ontario as a major chemtech hub globally. Our vision for KPM is to function as a catalyst to establish Kingston as a global destination for chemtech development. We have some major challenges to solve as a society, and we've got to start using smart chemistry to get ourselves out of these problems."
AT A GLANCE
Kingston Process Metallurgy (KPM)
What: An integrated chemical process development company
Where: Headquarters in Kingston, Ontario
Website: www.kpm.ca
BGM Metalworks – www.bgmmetalworks.com
BGM Metalworks Inc. is a proven leader in fabrication and machining, serving a wide range of industries for 30 years. We supply industrial manufacturers with the products to keep them moving and are proud to partner with leading companies to develop and manufacture innovative solutions in green technology markets including water purification, resource recovery and lithium battery recycling.