Kapuskasing, Ontario
At home in the Great Ontario North
Business View North America interviews Kapuskasing, Ontario Mayor Dave Plourde for our focus on Economic Development in Canadian Towns & Cities
In the heart of Canada's Boreal Forest, nestled amongst lakes, rivers, and dense black spruce trees, is the Town of Kapuskasing – a treasured rural Northern Ontario community that embraces four distinct seasons. The diverse landscape offers a wide variety of opportunities for outdoor recreation, especially appealing to hunting and fishing enthusiasts. An abundance of wildlife can be seen in the areas forests and bogs, including moose, black bears, and red foxes, while the rivers are plenteous with walleye, pike, and perch.
Named after the Kapuskasing River, on the banks of which the town was built, the word 'Kapuskasing' comes from the Cree language and means 'bend in the river'. Founded in the early 1900s, the town has an interesting early history as an internment camp, and an unsuccessful settler colony for returning World War 1 veterans. The addition of the Spruce Falls Company Ltd. pulp and paper mill in the 1920s created the opportunity for the development of the thriving community that exists today.
Kapuskasing Mayor, Dave Plourde explains, "We are celebrating our 100th anniversary this year. When the province wanted to develop lands to the north, settlers were brought in, and Kimberly-Clark and Company developed the community. We were a planned community with a civic center, which houses all our municipal facilities today, and the company also built the hospital and housing for the workers." Kimberly-Clark, who owned the Spruce Falls Company, imported people to settle in Kapuskasing and work in their paper and lumber operations.
With the Trans-Canada Highway, freight rail running through town, and an airport with a runway long enough to land a 747, Kapuskasing has a lot to offer. "For anybody wanting to set up in Kapuskasing, we have all the necessary transportation links for them," says Plourde. "We have land that is fairly priced. We are just the perfect community for anybody wanting to establish anything in Northern Ontario, who want to get out of the hustle and bustle of the big center and really benefit from being close to where you work and enjoy life."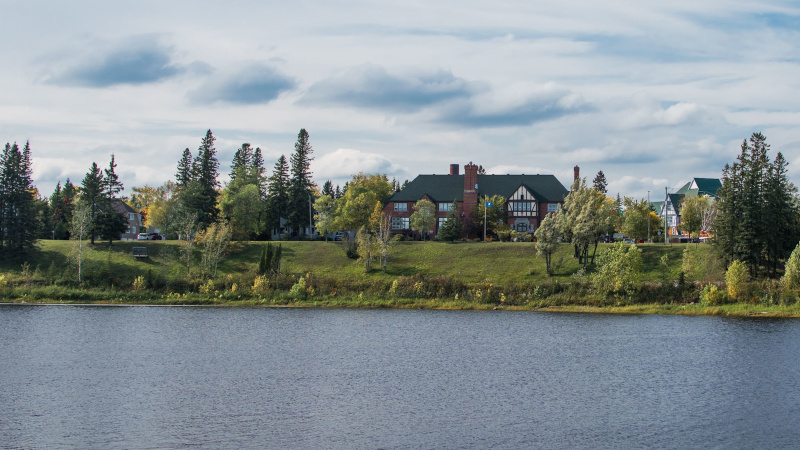 Green First Forest Products is Kapuskasing's main employer, with 600 employees in their newsprint mill, sawmill and wood chip operations, and forest resource management group. The company produces two-by-four lumber, wasting nothing during the process. Plourde explains, "The unique part is that they use every part of the log. They produce a two-by-four, then take whatever's left of that log and produce paper from it – the Toronto Star newspaper is produced on paper that comes from Kapuskasing. Whatever is left after that, they use to fuel the mill."
Another Kapuskasing employer, General Motors Cold Weather Development Center uses their 272-acre facility to test vehicles in harsh winter conditions before they are introduced to market. Agrium Mines was a major source of employment for the region, as one of the only phosphate producers in North America, until the mine reached its end of life in 2013. "When they exhausted the mineral deposits, a lot of people that worked at that mine went to work at the gold mine, just east of here, in the Cochrane area," says Plourde. "Many of them work at mines or at fly-in camps in different locations. There are a lot of different opportunities for them."
The recent completion of a hangar for NorthStar Air secured a long-term tenant for the Kapuskasing Airport and created another source of employment in the area. The airline has five flights a day, servicing the James Bay coast with food and supplies. Previously, this was done by train, a much longer process meaning poorer quality produce and longer wait times.
Plourde explains the new partnership with NorthStar Air: "We built the hangar, and we lease it back to them. It provides an opportunity for more employment in Kapuskasing. It's unique to be in a small community and still have the flexibility to do a lot of things that large centers can't always do. If I was pitching to an industry that wanted to set up here, I would say that we can be creative, and it can help just being small enough that things don't take as long as they may in a larger center. Everything that you can imagine is available here." With three post-secondary campuses in the town, Northern College, College Boreal, and Université de Hearst, there is plenty of collaboration to ensure a skilled workforce for local industry.
COVID-19 brought an unexpected advantage for the town of Kapuskasing, as people moved north to work remotely, while taking advantage of low housing costs and a more serene way of life. This growth is welcomed in the community which was built for a population of 14,000. Plourde recounts, "At the last census, we were at 8,600. So, there was a lot of available housing at our disposal. Fortunately for us, all of that has been bought up. We are seeing a boom in people wanting to build houses – all our lots along the Kapuskasing River have been bought up, and we're looking at expansion in the future."
With several developers showing interest in the area, the Mayor is confident they will be able to accommodate the sudden growth in population. "Everything is looking bright, and what COVID has done is speed everything up. We always knew that it would happen in time, but this was just overnight, really. If you had asked me two years ago if this was going to happen, I would have said, not likely. Not that fast. Being able to work from home certainly helped that out. A lot of people are looking for Wi-Fi and internet connection, and we are making sure that it's available to them so they can work from home. Kapuskasing is a great place to live and raise a family."
Arts and Culture are also embraced in the Kapuskasing community, with the Centre Regional de Loisirs offering a variety of art classes and exhibitions, along with theatre and music, representing the Francophone culture of the area. The Civic Centre is also a host to concerts and theatre, along with a fully renovated and updated library with many available services and amenities. For recreation, the Sports Palace also has a double ice pad, and a curling rink. "We really do have everything you need in the community. There's no reason why you wouldn't be able to find whatever it is that you want here. You're not spending two hours on the road to and from work every day, so you have a lot of time at your disposal," says Plourde.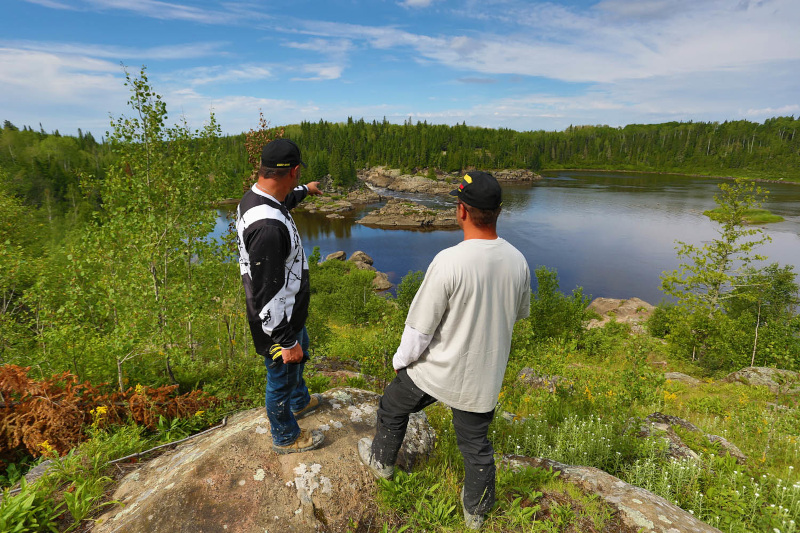 Infrastructure updates are ongoing, including sewer and water system overhauls in the last decade. Roadwork and sidewalk repairs are continuous, at an annual expense of $800,000. The town relies on road construction companies, Villeneuve Construction and Lachance Construction, for many large projects in the community. "We are really fortunate to be to have both those companies right in our community," says Mayor Plourde, adding, "In Northern Ontario, our season is short for construction. We have to take advantage of the nice weather to be able to do it. Our frost level is eight feet, so we have to go down deeper, and we sit on the clay belt, which comes with its own challenges." Currently, the town is rehabilitating two bridges that cross the Kapuskasing River, with assistance from both the federal and provincial governments.
At a cost of $4.5 million, the municipality is providing $800,00 for the bridge projects. According to Plourde, "It's a fair contribution. It's the Trans-Canada highway, so a portion of that is funded by the municipality. The town uses that as their everyday road, but we have 10,000 transports that go through our community every day. It is not money going towards our own street construction, it is going towards highway projects." Plourde goes on to share his satisfaction with the working relationship the municipality has with both levels of government, explaining that "anytime we ask for delegations, or for a seat at the table to talk to government about what we're looking for, we get it right away."
With more development and infrastructure upgrades in the future, Plourde hopes to implement cost savings and service improvements as the community grows. His future vision for Kapuskasing also includes maintaining affordable taxes and attracting young families. He emphasizes, "We need to be promoting the benefits of living in Kapuskasing. I think that's something we take for granted. We spend a lot of time looking out rather than really concentrating on what we have. We are a welcoming and open enough community that anybody who comes to Kapuskasing would certainly recognize what we have to offer and feel included as one of our own. We know that Northern Ontario is the future of Ontario. We need to keep working on what we do best."
AT A GLANCE
Kapuskasing, Ontario, Canada
What: A town on the Kapuskasing River with a growing population
Where: In the Cochrane District of Northern Ontario approximately 92 km east of Hearst
Website: www.kapuskasing.ca
Maurice Welding – www.mauricewelding.com
Our goal is to surpass our clients' expectations!
From its humble beginnings in 1959, Maurice Welding has forged a reputation in the industry as being an innovative and forward-thinking company ready to meet its clients needs.
Taking over the helm from his father Maurice in 2005, Dany understood that maintaining upgraded equipment, tools and vehicles was important to the company's success. Equally significant was Dany's ability to anticipate the changes in the surrounding industries and his vision to diversify the company's products and services.
By taking calculated risks, MW flourished under Dany's leadership
However, Dany quickly acknowledges that a healthy workplace is paramount to any success achieved and workers are treated like family at MW. The company continues to employ and retain certified and qualified welders, machinists, millwrights, mechanics, labourers, riggers, operators and parts men, as well as, a skilled and efficient administrative team.
With a project management team having over 100 years of combined job experience in the mining, forestry, hydro-electric, industrial and commercial sectors, it's no wonder that MW clients keep returning for the competent and friendly service.
Hence, whatever the project, the MW team is here to rise to the challenge and help you achieve you goal.