Kampgrounds of America
packing in fun!
Camping out with the family at the KOA
BILLINGS, MONTANA–– With summer in full swing, now is the time to plan your camping vacation.
And what better group to use than the Kampgrounds of America (KOA)? Your friendly-neighborhood KOA has the solutions to all your camping-related needs.
For 61 years, the KOA has been part of the American recreational landscape. It's as American as sleeping beneath the pines, under a blanket of stars. Family-owned, the KOA is the world's largest system of privately-owned campgrounds. The current president and chief executive officer of the KOA is Toby O'Rourke. According to The Billings Gazette, O'Rourke is the first woman in the top position in the KOA's history.
We recently spoke with Darin Uselman, the KOA's chief operations officer, and Larry Brownfield, assistant vice president of franchise development. They told us more about why you should choose the KOA for camping trips this summer.
"In 1962, along the banks of the Yellowstone River, our founder, Dave Drum, had a campground idea that became Kampgrounds of America," said Uselman. "Two years later, the KOA's first franchise opened just 100 miles away in Cody, Wy., which still operates as a KOA campground today."
Growth was quick after the company signed its first franchise to continue the expansion. Drum recruited Billings's chamber of commerce director, Darrell Booth, to serve as KOA's first president. Booth, who knew operations inside and out, propelled franchise expansion forward at breakneck speed over the next decade. Today, the KOA system covers more than 500 campgrounds across America and Canada.
"The KOA campgrounds you'll visit across North America are largely run by our franchise partners," Uselman said. "Our brand has really become synonymous with camping. You know, the logo is iconic. It's really a beacon along the road, within the great outdoors. In 2012, we introduced the KOA Family of Brands to help our customers understand the services and amenities of the individual locations. Today, we have KOA Holiday, KOA Journey and KOA Resort campgrounds. This diversification really resonates with campers and helps our owners maximize their campgrounds' potential.
"By asking our franchisees to take on this initiative of adopting one of these brand positions––KOA Journey, KOA Holiday or KOA Resort, we saw a massive shift in the modernization of the KOA system," he added. "And our net promoter score, because of that, went higher, which is really exciting. Prospective owners should feel assured that designation brings understanding to the camper, as well as revenue to the owner."
Uselman also spoke of the importance of branding.
"We believe a brand has meaning," he said. "It helps ensure each guest's satisfaction. Whenever Larry and I are in an airport, and we happen to have a piece of KOA logo apparel on, inevitably someone will stop us and say, 'I have so many great memories of KOA campgrounds as a kid!' It's really cool to see that continue to develop, and honestly, it's such a great industry in general."
Uselman revealed that the KOA system is built upon the four pillars of camper growth, revenue growth, operational excellence and the KOA family.
"The fact that we have so many wonderful franchisees in this network of peers––that is so powerful," he said. "There are unique aspects that make owning a campground––and specifically a KOA campground––a rich and rewarding experience. It doesn't matter if you are a single campground operator, or you're interested in a multi-unit operation; the KOA has a fit for you. We have a flexible franchise model that allows our owners to achieve their unique goals and deliver that unparalleled outdoor hospitality experience that guests expect when they stay at a KOA.
"I'd also like to mention that our KOA Rewards loyalty program is the single-largest brand loyalty program in camping," Uselman continued. "With over half a million KOA Rewards campers, the importance of honoring our best guests is important work that certainly pays off for us as a brand. Over half of all KOA camper nights are driven by that Rewards camper. Over 60 percent will drive over 25 miles out of the way to camp at a KOA. I think that is a great testimony to the loyalty that we have been able to earn. Last and most importantly, the KOA App and the www.koa.com Website really help with easy searching over the Internet. We drive over 70 percent of our short-term reservations through www.koa.com, which obviously eases the pressure at the front desk, from the operator's perspective, and it certainly makes that marketing very easy for our franchisees."
Are you a traditionalist? Do you still like to find things the old-fashioned way? Don't fret, says Uselman. The KOA still has physical maps and directories for the traditional camper.
"We still print 650,000 KOA Directories," he said, "where we put the physical documentation in the camper's hands. Still today, we do that!"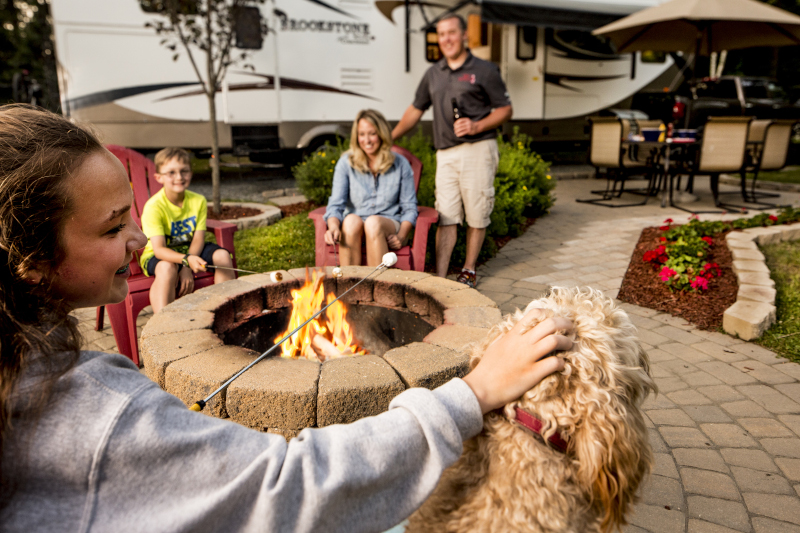 Franchising for the long (camper) haul
Franchising is a long-term partnership, says Uselman, in that the investment focuses on the campground.
"Our initial costs are $10,000 for a re-sale," he said, "so that would be buying an existing campground, an existing KOA. It's $11,250 for a conversion, which is taking an independent park and bringing it into the KOA system. And lastly, there is a $35,000 initial franchise fee for new construction, built from the ground up. Whether a single owner or a corporate entity, we take pride in franchising people, not properties. We seek franchisees who really reflect our mission: connecting people to the outdoors and each other and to really see that through the lens of our values, which means being family-focused, being passionate about outdoor hospitality, being entrepreneurial, being customer-focused and looking around the corners for what's next in the guest experience and obviously being progressive. We're not a 61-year-old company by accident. We didn't rest on our laurels to get where we are. We take pride in building a network of like-minded businesses, focused on the quality of guest experiences."
Uselman remarked that the company prides itself on taking great care of a new franchise owner before signing the agreement.
"Our in-house sales team, led by Larry, works alongside all of the departments within the KOA," he said. "We want to help them intricately understand our franchise offering and also the business experience we bring to the table for that franchisee. Once the agreement is signed, we have a business development consultant that is assigned from our commercial strategy team. It's really their personal KOA campground sherpa. That's the way we look at it. So they evaluate the current business through what we call the best park-in-market program. That is really focused on helping the franchisee integrate the KOA's best practices, such as revenue management, our guest-service philosophy and model and our best-in-class campground design. Those things are important to the success of the franchisee, and franchisees also get enrolled into our educational eco-system, which is called KOA University. We have both Internet-based and in-person training for our franchisees, to help them achieve success and train their employees, which is very important. We guarantee access to information for our franchisees. We have a 24-hour return call policy in our administrative office to make sure that we continue to deliver on that brand value."
More under the tent
At the KOA, the organization's mission is to connect people to the outdoors and to each other. That's why the group's more than 500 campgrounds across North America make it easy to enjoy the beauty of nature and share adventures with family and friends.
The KOA offers a wide variety of family-friendly campgrounds and amenities. They all serve to provide the perfect place to get away, unwind and enjoy camping in the great outdoors. Whether you need a perfect site to pull into on your next RV road trip,a spot where you and your kids can pitch your tent for the weekend or cozy lodging for a little extra comfort, the KOA is sure to have the ideal spot for you. Its dedicated staffers help people get outside, because they know that this will change them on the inside as well.
On a scale of one to 10, Americans rate their stress level on average at 4.9, meaning most experience at least moderate stress daily. Life is fast-paced and hectic. But camping offers a wonderful departure. Enjoying fresh air and sunshine is a splendid way to feel recharged and refreshed. Sixty-eight percent of all campers agree that camping is a fine way to escape the stress of everyday life.
AT A GLANCE
Kampgrounds of America
What: the love of camping with Kampgrounds of America
Where: Billings, Montana
Website: www.koa.com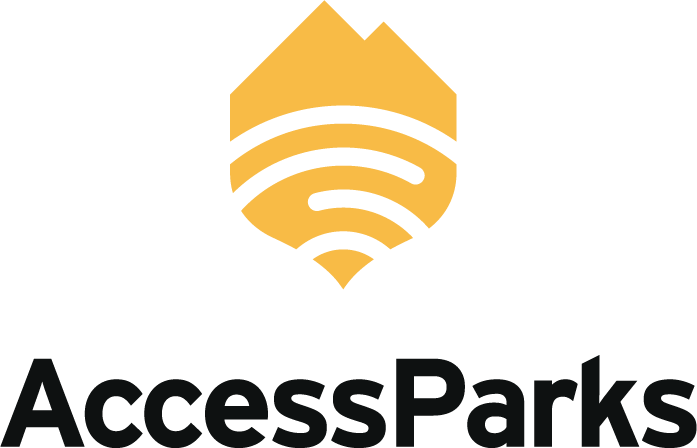 Acces Parks Broadband – www.accessparks.com/
The advent of the Internet over 25 years ago changed the way the world lives. It has been a net-positive in allowing for instant communication with family and friends, sharing of experiences in real-time and most importantly the ability to untether from an office and become mobile. The pioneers of this new way of living were van-lifers and digital nomads, becoming one with nature in a way that the Beat Generation did in the 1950s. In recent years, Covid accelerated this desire for mobility and travel to the outdoors, introducing millions of new campers to national, state and private parks. It is often said that visitors to the outdoors should be seeking a disconnect from technology and day-to- day connectivity. This is, of course, the goal, but few in our society have the title of Naturalist, as John Muir did in the 19 th century when he helped found the national parks concept. Prior to the availability of Broadband in parks most travelers who were employed could afford perhaps five days per year in nature. Many children therefore spent 360 days in the city, lucky to see green spaces in the local park and the occasional squirrel. Today, empowered by remote work policies and Broadband connectivity, parents can take their families to the outdoors and still maintain an income. They spend ten hours per day showing their children how to commune with nature and perhaps an hour in the evening on Zoom calls or sending emails. The result is an exponential increase in number of hours spent in the outdoors, marketing their experience in real-time to friends and family back home and inspiring millions more to travel (free marketing for parks). They spend 22 hours per day disconnecting while having the option to connect for one hour. It was technology, in the form of camera and typewriter, that allowed John Muir to market his vision of national parks to Americans over 100 years ago. The FCC definition of Broadband is a minimum of 25 Mbps of speed per device, especially during peak evening hours. Cellular or satellite with data caps do not count. As recently as five years ago there were almost no Broadband-connected parks in the US. Many parks offered a Wi-Fi connection in the lobby, with a $50 router from Best Buy fed from a DSL modem, or satellite. Or they bolt up a cheap DIY system in the park with no professional design or management. Speeds struggled to reach 1 Mbps; if one could load a web page during the peak usage in evening hours, it was marketed as "broadband". The RV-park guides checked the box for "has Wi-Fi" with no assurance it was usable. This meant most visitors to the outdoors were, at least temporarily, unemployed; usually retirees, or families on their five days of allotted vacation for the year. For over 17 years AccessParks has been guaranteeing FCC-defined Broadband to remote parks and communities. Its enterprise-grade, professionally managed Broadband systems enable younger generations and those who can work remotely to experience the outdoors in record numbers. In a recent study by KOA, Broadband connectivity increased the average stay in a park by two days. Today, it is the only Broadband Wi-Fi concessionaire to national parks, state parks and private RV parks, serving over 30 million annual guests and residents.

Independence Bank – ibyourbank.com
Providing Lending Expertise for 50 years
Independence Bank began as First Security Bank in 1973 with one branch in Havre, MT.  It was formed by a group of local businesspeople that saw a need for a community bank that could serve their area.  Over the past 50 years, Independence Bank has grown to 10 locations with 100+ full time employees serving the communities in North Central Montana while providing expertise in agriculture and commercial lending.
In 2002, a new niche was created when Independence Bank began its partnership with KOA. Through the financing of campground acquisitions, refinances and improvements, IB has expanded its KOA customer base to 42 states and Canada. Today, we have an entire staff that is solely dedicated to working with KOA owners and learning alongside them to stay at the top of the industry.
Independence Bank is committed to mutually beneficial outcomes with clients and offers full services to our customers with the latest technology and personal customer service.
For more information, visit www.ibyourbank.com/KOA-Campground-Loans.aspx
Jamestown Advanced Products, Corp. – www.jamestownadvanced.com/
For over 35 years, Jamestown Advanced Products has manufactured American-made campground and cityscape furnishings. We offer a product lineup that can furnish your campground with picnic tables, fire rings, RV power outlets, and more. Our cityscape amenities can transform urban areas with sleek benches, recycling solutions, and EV power stations.