Jefferson County Airpark
A best-kept secret ready to soar
Business View Magazine interviews Brian Thaxton, Airport Manager at Jefferson County Airpark, for our focus on U.S. Regional Airports
Steubenville, Ohio, the capital of Jefferson County, is a city born of industry in the midst of reinvention. From the world of coal mining and steel manufacturing, Steubenville has gone on to put a lot of effort into economic recovery – branding itself as a city of murals, with over 25 of them downtown. Of note, it was also the birthplace of famous Rat Pack singer and actor, Dean Martin.
The Steubenville-Jefferson County Visitors Centre has been leading the charge behind the push for redevelopment and Jefferson County Airport is a big asset when it comes to attracting business and residents to the area. "We are seeing a lot of growth in the industrial technology area," says Brian Thaxton, Airport Manager, "and the Franciscan University has been growing like crazy in the last few years. What we are seeing as an airport is an increased demand for service because of our proximity to Pittsburgh."
This is in part due to the new Findlay Connector which has been built in western Pennsylvania as a toll-access highway between Pittsburgh International Airport at Interstate 376 and U.S. Route 22 in northwestern Washington County. Travel time between the Pittsburgh International Airport and the City of Steubenville is now approximately 25 minutes.
"That makes it a real option for companies that can have their corporate travelers fly into Jefferson Airpark and make the short commute to the city without having to deal with the congestion of Pittsburgh International. In fact, during COVID, we saw a slow down for a couple of months and then we had an increase in corporate flights. One of the reasons, I suppose, is that by using our airport you could fly in, get in a car, and never have to enter the terminal or interact with too many other people. It was both a safer option and highlighted how easy it is to land here."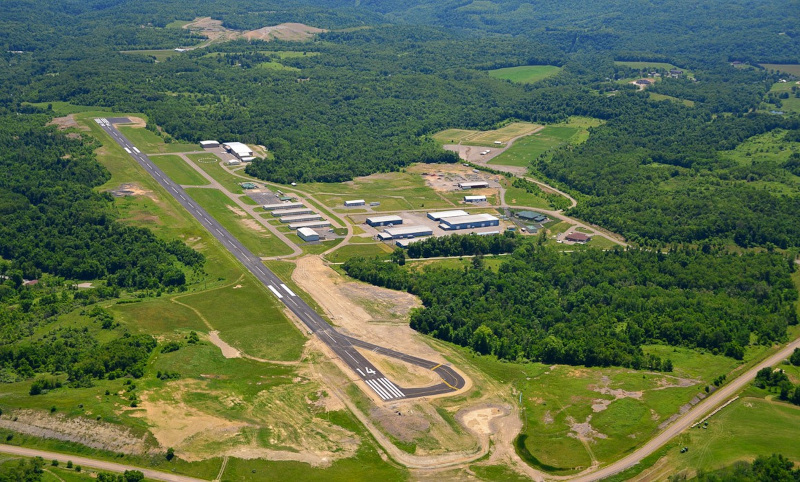 When it comes to the airport itself, Rene Pier first purchased the land on which the Jefferson County Airpark now sits in the early 1940s to conduct strip-mining operations. Around 1950, the coal began to run thin, and a slag-surfaced runway as well as two large hangars were built. This was the heyday of civil aviation in the area and there were around 50 planes based on the field. The airport was purchased privately by Dominic Teramana who owned it for five years in the early '80s before he sold it to the Board of Commissioners of Jefferson County, Ohio in 1985 for $225,000.
It was not until the early '90s that an Airport Board of Management was formed, and development plans ensued for a new terminal, new hangars, refurbishing the WW II surplus buildings, and more. Today Jefferson County Airpark has a 5000-foot runway, modern terminal amenities including a 24-hour pilot lounge, washrooms and showers, as well as self-serve aviation and jet fuel during the night, and tanker trucks during the day. The Airpark generates over $11 million worth of revenue for the county, and businesses related to the airport provide over 60 jobs.
Thaxton explains, "We have over 350 acres, which allows us room to expand, but also means we can lease land to tenants in our airpark. The largest of these is STAT MedEvac, a division of the Center for Emergency Medicine of Western Pennsylvania that became based at the Airpark and they operate from the field 24 hours a day. We also have a new 120×60 foot corporate hangar and we are looking for a tenant for that space. We would like to add more aviation-related businesses such as a flight school and maintenance, and avionics facilities. There are people actively trying to market the airport and they call us the best-kept secret around… and although it sounds good, we also don't want to be a secret anymore."
Some of the many current Airpark tenants include Bates Bros Amusement Company, A R M Manufacturing, American Superior Lighting, Anthony Mining Company, Pier Aviation, Jefferson County Soccer who have fields and facilities there, Jefferson County 911, Jefferson County Animal Shelter, R & L Construction, Todd Morelli Building Company, and the county-run FBO Jefferson Aviation Services.
"Aircraft maintenance and avionics are one of our highest goals right now," says Thaxton, "and we are also trying to grow our GA and Corporate market. We have a waiting list on T-Hangars, but we are looking to solve that problem as well. We are constantly improving and developing. We just finished the installation of a new LED PAPI runway lighting system and the AWAS weather system is nearing completion too. This will make a huge difference because pilots will be able to get real-time local weather. After that, it is a complete rehabilitation of our taxiway and then we will start construction on six new 48×40 box hangars, fully insulated, with electric bi-fold doors."
Thaxton clearly loves aviation. He took the helm just two years ago during a very tumultuous time, and so some of the progress that he had hoped to make has been thwarted by the pandemic. At the same time, he continues to work, through the airport, trying to promote aviation as a career and hobby. "We have a couple of preschools that come in and do tours for the younger children, which is kind of fun, and then Steubenville High School also has an aviation program that we are involved with. With that program, the students get a lot of information, spend time on the field, and come out of it much closer to being able to get their private pilot's licence. It is a great opportunity. In the past, we have also done other community events – but like a lot of places our volunteer base sort of aged out and the pandemic also slowed us down. We are sort of in a holding pattern trying to get it set up again, but we want to be doing more and more events to promote the Airpark."
As for what's on the horizon, Thaxton acknowledges, "We have about 10 acres that we are looking at building up all the infrastructure for, including new taxiways and structures. It is an aggressive plan, but it is where the future lies, and our board is willing to push in that direction as well. I think in the next three to five years we will continue to improve all the infrastructure while actively looking for a flight school, maintenance, and avionics facilities. With any luck, that will help to build our corporate operations and we will see more jets based on the field. There is still a lot of room for growth."
AT A GLANCE
Jefferson County Airpark
What: A full-service, general aviation public airport
Where: Near Steubenville, Ohio
Website: www.jeffersoncountyairpark.org