Innegra Technologies
High performance fiber
Business View Magazine interviews representatives from Innegra Technologies, as part of our focus on the composites industry.
Innegra Technologies, headquartered in Greenville, South Carolina, is an advanced materials company that delivers innovative high performance fibers which improve the performance of composite and textile applications. Innegra's initial product, Innegra S, an olefin-based, multifilament fiber, was first developed in 2004 by a company called Innegrity LCC, with commercial production beginning in 2009. "There was an innovator who had developed this yarn technology and had gotten to a pilot scale manufacturing, and was in the process of trying to raise a substantial amount of money in the economic downturn, and ran out of funds," recounts Elizabeth Cates, Vice President of Research and Development.
A local investment group, Circle Creek Holdings, purchased the assets of the previous company in 2011, and renamed it Innegra Technologies; production resumed in 2012. Cates continues, "When we restarted the company, we looked at the business justifications for this fiber technology, what it could do, and we recognized that there was a lot we needed to learn about the material, before we [could] take it to more technically demanding markets. So, we elected to focus, initially, on recreational sporting goods because that market has a very fast product development cycle time and can provide a lot of fast feedback. And while the individual opportunities, by themselves, may be relatively small in terms of material consumption, the market, itself, presented a reasonable opportunity.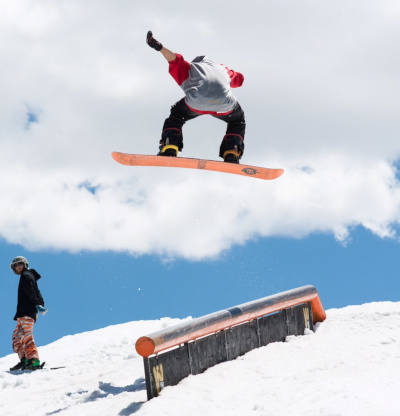 "When we decided to focus on the sporting goods market, we didn't have a lot of technical data to support this fiber in composites. There were end users who had developed that information for themselves, but we didn't provide it, internally. So, we took advantage, the first two years, to build a technical data set that we could share broadly across different markets to enable users. That meant having composites fabricated in various different laminate configurations and having a third-party lab complete the testing so that we could report unbiased test data to the market for use and development.
"Some of the feedback that we got from the sporting goods market has enabled us to embark on specific testing programs to better understand the product's attributes. One example of that is vibration damping. Some of our early adopters in the sporting goods market, Bauer Hockey, and Head Racquet Sports, had reported observing considerable vibration damping in composites where they had incorporated Innegra in combination with carbon fiber."
More research and development discovered many more attributes of Innegra's two flagship products – Innegra S, and Innegra H, hybridized, multifilament fibers containing Innegra S and high modulus fibers, including, but not limited to basalt, carbon, glass, and aramid (a class of heat-resistant and strong synthetic polymers, related to nylon), which are intermingled at the filament level in a variety of combinations.
Innegra Technologies fibers are the lowest density fiber, commercially available. They are durable and tough, but flexible; impact resistant; chemical resistant; and recyclable. Due to their low density, they are well-suited for lightweight composites, ropes, and netting. Innegra is also hydrophobic, meaning it doesn't absorb water, making Innegra particularly useful in marine applications. "We have a very strong presence in water sports," says Cates, "standup paddle boards, surfboards, kayaks, canoes – a lot of the whitewater applications where impact toughness is a significant consideration."
"Cycling is another market that's growing for us," adds Jen Hanna, Director of Business Development. "Carbon bicycles – there, the damping is also an added value, as is the prevention of fracture propagation in the carbon laminate." "Automotive racing is another area where there was some early interest," says Cates, "and now there is product in Formula One, NASCAR, Indy, and several smaller racing circuits. We are looking at how the product has been used in the automotive race circuit and asking is this something we can take to any of the consumer transportation sectors."
As Innegra Technologies continues to learn more about its products' attributes, educating its end users, as well as the weaving companies that fabricate its yarns into different reinforcement structures – woven, knit, braided – depending on need, is a main focus of the company. "We spend time with end users," Hanna explains, "even though they're not our direct customers. We will go to the product developers and help educate them on Innegra, since the fiber is still relatively new. We, as a company offer our support in the design and engineering work – any kind of support that they might need to be able to work with a new material, figure out what the benefits are, and how best to use it, so that we can reduce their time in trial and error. We also have relationships with the supply chain and educate and support them to get the word out about the material and what it can do.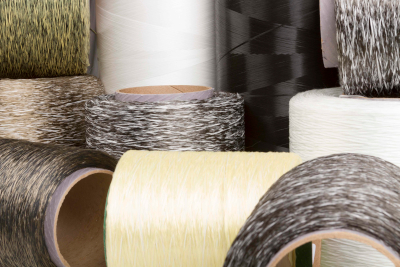 "We do some strategic trade shows; we do some conferences and forums; we look at different opportunities for areas where we can display, or speak, and take those opportunities to educate people. There's a learning curve involved in using any new material. Innegra has a lot of versatility and benefits, and can fit in a lot of different applications."
Even though Innegra Technologies is a small company, it manages to have a global footprint because of its worldwide network of weavers. "Let's say we have 20-40 weavers across the globe, and they have sales forces that are actually selling the woven goods. If we have a good rapport with their sales teams, it expands our reach," Hanna states.
Going forward, Hanna wants to continue exploring the possibilities of hybrid fiber technology. "Hybridizing is something that recently has become a more acceptable development," she says. "In the past, a product may be made with all glass or all carbon, instead of looking at hybridizing with a material that could provide different benefits. Innegra Technologies does not provide the same properties that carbon does, or glass. But combining them together, you get the best of both worlds. Innegra is something that we want companies to add to their toolbox when they're thinking about solving problems or improving their product – delivering a lighter weight, better performing, tougher product for their customers. It's a very unique fiber; Innegra brings a lot of value to different products, depending on what that product is and what you want its functions to be."
Cates says that Innegra Technologies will continue to explore new markets. "We're looking at what we can do with Innegra fiber in the thermoplastic manufacturing process. Another would be the textile world. We'll look to grow those types of markets, because we do believe there are opportunities there for strategic partnerships. We are well-funded and we continue to grow; we're going to spend the money that we need to in order to reach different corners of the world."
Check out this handpicked feature on Catalina Cylinders – Navigating the new paradigm.
AT A GLANCE
WHO: Innegra Technologies
WHAT:  A manufacturer of high performance fibers
WHERE: Greenville, South Carolina
WEBSITE: www.innegratech.com