Impact Power Solutions (IPS)
Committed to solar
Business View Magazine interviews Eric Pasi, Chief Development Officer at Impact Solar Solutions (IPS), for our focus on Renewable Energy Solutions
Impact Power Solutions (IPS) is an award-winning solar company with a simple yet profound purpose statement – to positively impact people, power, and the planet with solar energy. As the solar industry in the United States accelerates, IPS believes the potential gains can be multidimensional and not just profit-driven.
This corporate philosophy has led it to approach each project as an opportunity to bring solar-driven transformation at a community, utility, and environmental level. In the process, the company's efforts have been rewarded with stellar growth and multiple awards, like 2nd Fastest Growing Company in Minnesota and 13th Top Solar Contractor Nationally, besides a long list of customers and benefactors proud to be associated with it.
IPS is headquartered in Roseville, Minnesota, adjacent to the major commercial hubs of Saint Paul and Minneapolis. Its strategic location has served as a strong foundation for its rapid growth from its humble roots. As Eric Pasi, Chief Development Officer at IPS, recounts, "When Ralph Jacobsen founded IPS in 1991, it was a small residential and commercial contractor focusing on off-grid solar systems. Nothing much changed for the initial years, but everything changed when the country started shifting towards larger solar and community-based solar projects."
Pasi joined IPS in 2007 and has witnessed tremendous growth as the company has accelerated from a handful of employees to a little over 30 at the present time. He notes, "Today, our main work deals with interconnections with utilities, large community solar projects, and working with Fortune 500 companies and large public entities to provide low-cost clean energy solutions. But for IPS, growth is not just about dollars and cents. Ralph Jacobsen embedded in our organization's DNA that it's not just about making money and providing savings to our clients; it is about creating a more equitable future with solar at the core."
Two equity projects IPS has completed in keeping with this corporate culture are the Shiloh Temple Community Solar Project and the Edina Community Solar Project, both focused on providing solar energy benefits to low-to-moderate income disadvantaged communities.
IPS provides two core services – commercial solar and community solar. On the commercial front, it offers end-to-end solar solutions, from feasibility studies to construction. It also assists customers in securing tax incentives and available financing programs to maximize project ROI. "Our goal with any commercial project we undertake is to ensure the customer gets a solution tailormade to their needs," says Pasi. "For example, the needs of a church or temple will be very different from those of a freezer warehouse."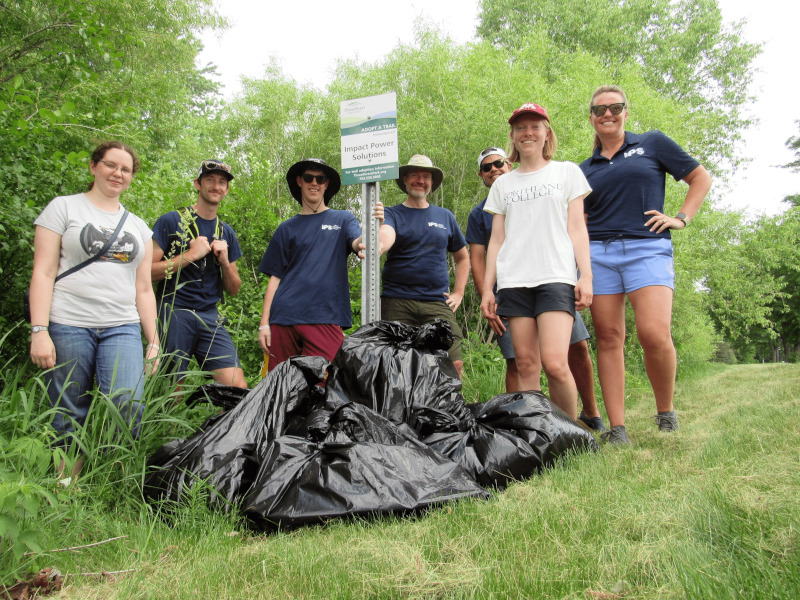 Community solar is the other service center IPS focuses on, a significant growth area in the state. "Minnesota is the national birthplace of community solar," says Pasi, "and we are fortunate to have been here when it all started." Community solar is a group purchase scheme where businesses, schools, and residential properties buy solar power from a community solar garden or CSG owned by IPS.
"Since most people don't have the space or resources to deploy solar arrays at their location, CSGs act as a nearby source of solar energy that multiple power consumers can buy into to offset their power needs," explains Pasi. "For instance, at the CSG, you may have 10 panels that contribute power to your home, and your neighbor 15, and the school district down the road 300. It builds this community aspect of solar and increases access for everybody." For landowners, especially those with farmland, CSGs provide a way of utilizing idle land by hosting a solar garden while offering an essential service to surrounding communities.
Currently, IPS' portfolio of CSGs generates 170MW of solar energy across the state and adjacent states. Although most of their projects are within the state, the company has recently started branching out nationally to places like Illinois, Virginia, and New Mexico.
Having a solid core internal team has helped the company sustain its growth over the years. "We are fortunate to be in an industry that pays its workers well based on national averages," says Pasi. "A recent study by Clean Energy Economy Minnesota (CEEM) found that clean energy workers earn $75,000 in Minnesota, 30 percent higher than the national median average."
Such higher-than-average wages combined with an essential industry status are factors that helped the company weather the worst economic effects of the pandemic from late 2019 through to early 2021. Supporting the internal team is a cohort of external subcontractors and partners like CED Green Tech and New Energy Equity.
To date, IPS has completed over 1500 installations, at one point (2016-2017), seeing its revenues jump 1000% in one year. Still, the stories it likes to share are those of equity projects that exemplify its commitment to people, power, and the planet. One such project is the Red Lake Solar Project. Red Lake, Minnesota, is home to the Red Lake Band of Chippewa Indians (Red Lake Nation) with over 14,000 tribal members and is one of the country's most unique and isolated reservations. IPS partnered with Solar Bear, a solar installation company owned by one of the tribal members, to create a tribal utility and secure energy sovereignty for the tribe.
Speaking on the sidelines of the project, this is what IPS founder Jacobsen had to say: "Everyone IPS has ever sold solar to has asked about the financial payback," he said. "But, right from the beginning of my involvement in Red Lake, payback was in terms of, are we going to be able to prevent the buildup of mercury in Red Lake so that people can continue eating the fish because that's the livelihood of many people in the community."
IPS has committed to two other projects: the Sol Star Project and a tree-planting project in partnership with the American Forest Association. "With the Sol Star Project, we've partnered with MN Renewable Now to bring community solar to black communities in Minnesota without requiring any upfront payment," shares Pasi. "The AFA project is a commitment to plant one tree for every kilowatt of solar power we install, an initiative that saw us plant 35,000 trees last year, with every indication that we will exceed that number this year."
At an industry level, advances in the solar industry, especially technologically and legislatively, are crucial tailwinds in the quest for growth for IPS. "As the price of energy storage comes down on a similar trajectory as that of solar, we are starting to evaluate upcoming projects to determine whether storage would make sense," says Pasi. On legislative advances, IPS has experienced a mixed bag of effects, although mostly positive, starting with the 2013 Solar Jobs Act. Pasi adds, "The Solar Jobs Act kicked off Community Solar. It created a billion-dollar industry virtually overnight."
Although the law took several years to get off the ground, it is responsible for over a Gigawatt of solar power in the state while, in the process, creating a blueprint for other community solar projects nationwide. Yet legislation hasn't always offered a straight path to growth, especially when politics muddies the waters. "It's been tricky to navigate these somewhat tumultuous legislative waters at times," Pasi admits. "However, after the pandemic and with the current administration, we are feeling the tailwind effects of the infrastructure package expected to pass and a general corporate shift to clean energy. These are pushing us forward."
While these twin factors continue to buoy the growth of the solar industry, it has faced several challenges, especially in the wake of the COVID-19 pandemic. "Supply chain issues have been the main challenge facing, not just solar companies like ours, but most companies," avers Pasi. "As industries globally rebound, supply and cost pressures have emerged especially for components like silicon chips used by multiple industries."
Facing the future, IPS has set an ambitious three-year target to install one Gigawatt of solar, a 5X increase from its current total installed capacity of 200MW. "Coupled to our internal goal, we hope to see solar achieve 10% national penetration by mid-decade and 30% by the end of the decade," says Pasi. "As the country moves towards solar, we hope to continue playing a meaningful role in the democratization of energy by increasing access to clean energy to people in places where it hasn't normally been available. I think we'd be more than happy with this achievement."
AT A GLANCE
Impact Solar Solutions (IPS)
What: A full-service clean energy development company
Where: Headquarters in Roseville, Minnesota
Website: www.ips-solar.com

Knobelsdorff Electric – keway.com
Knobelsdorff Energy is an EPC contractor performing turnkey engineering, procurement and construction services for the renewable energy market. We offer unique solutions to our customers' problems and provide not only EPC services but also startup, commissioning and O&M services, allowing us to be your partner for life.
With the tremendous growth of the Solar industry nationwide, Knobelsdorff continues to grow with this market segment providing our capabilities and expertise to both new and existing customers. Many benefits come with solar installation, especially when you work with an experienced provider.
Today, Knobelsdorff offers utility-scale and distributed generation solar EPC services, having successfully completed and commissioned more than 400 MWs of solar power, becoming one of the leading solar contractors in the industry.
As a renewable energy contractor, we partner with your team and deliver a full scope of solutions.
Now let's get to work. Visit KEway.com for more information.