Flow Management Devices
Developing Products Crucial For The Evolving Energy Market
Meeting the needs of the energy market with products that 'pour' into innovation
Pouring innovation into its designs, Flow Management Devices (FMD) leads the prover industry, manufacturing Small Volume Provers (SVPs), or compact provers, that are used to measure liquid hydrocarbons and calibrate meters. Founded in 2008, this year marks its 15th year of operations.
These provers are usually situated on pipelines, where even small differences in measurement can result in significant, costly inaccuracies due to the volumes involved. The American Petroleum Institute (API) requirements, as well as custody transfer contracts, require regular calibrations or proving of meters to ensure accurate measurement in custody transfers. The meter calibrations need to be accurately traced and verified back to a known volume, which is where FMD's provers are used.
FMD has seen significant growth over the years, starting with a handful of people selling a couple of provers a year to a global business with multiple office locations and selling over a hundred provers a year. In 2020, FMD became a part of IDEX Corporation (NYSE: IEX), a global leader in fluidics products, including pumps, valves and seals serving oil & gas and many other industries that require highly engineered solutions in mission-critical applications.
The pandemic downturn in the oil & gas industry hampered FMD's growth, but the company has since bounced back to its usual upward trajectory.
As a manufacturer of hyper-specialized industry equipment, FMD is always looking at new market applications for its provers. FMD has various patents on its SVPs and since its inception, has been continuing to evolve the product to benefit and adapt to our customer needs.
Joe Lantzy, Director of Business Strategy and Customer Experience at FMD, has worked at the company since 2016. With a keen interest in the oil and gas industry, Lantzy studied mechanical engineering for his undergraduate degree and interned in Houston, Texas, analyzing well data.  He then worked in the upstream or drilling side of the industry which cemented his love for the industry, and spending time in the field.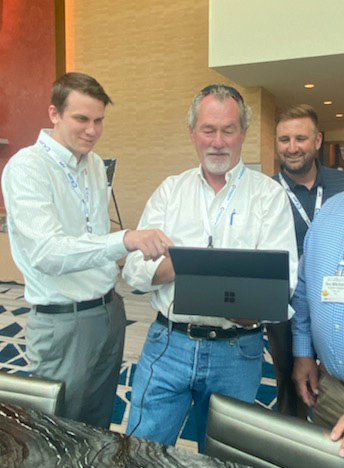 When given the opportunity to work at FMD, Lantzy returned to school and completed his MBA while working at FMD, which allowed him to diversify his qualifications and take a role in sales.
"My MBA was timed perfectly, I was able to come over to learn the sales, customer service, and business sides of FMD.  I still get involved in the technical side and love getting the technical phone calls, where I still use engineering background and field experiences.  I also have a great team at FMD working with me to help," Lantzy said.
With the energy sector undergoing significant advancements and developments, FMD has seen the changes in trends first-hand.
The company's main clientele are businesses that built significant crude oil pipelines across the country. While these businesses are still operating at their usual rate, there is also growth in newer alternative applications.
FMD's operations are still solidly tied to the traditional part of the energy sector, but there's been an increase in demand for provers at export terminals, where pipelines need to meet specific pressure and temperature requirements to load ships.
There has also been growth in Natural Gas Liquids (NGLs) and the petrochemical spaces. Another trend in the industry is the transformation of older or more traditional refineries into renewable diesel plants.
These non-traditional or new applications all still require meter calibrations with provers and FMD has the capability and experience to provide provers into these applications.
With the switch to renewable diesel plants in various areas, FMD's products must be altered to fit requirements on a site-by-site basis. High temperatures are the primary obstacle for the provers in some renewable diesel plants. In some cases, the fuel needs to be over 150 degrees Fahrenheit to keep the liquid fluid. Otherwise, it can become thick, solidifying to a bubblegum texture.
To perform under these conditions, the provers need to have an insulation jacket that can handle extreme temperatures as well as specific high-temperature cover sets and insulation for the electronics and transmitters.
FMD has also previously designed a cryogenic prover for extremely low temperatures. This unit was designed to withstand temperatures of negative 265 degrees Fahrenheit and FMD already has several in service.
FMD's cryogenic prover has equipment to monitor the low temperatures and prevent ice buildup.  In particular, the prover has shafts that reciprocate in and out of the process, which are required to be kept in a cold environment – otherwise, it will ice up. This meant the company created a nitrogen purge cover set, which blankets the prover in nitrogen to prevent ice build-up and damage.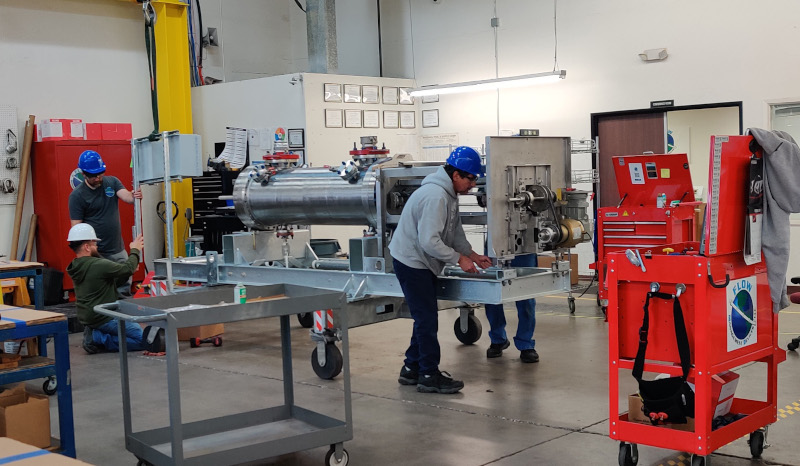 "There are also specific metallurgy and seals, all our own proprietary designs, for the cryogenic prover. These innovative designs are now becoming a big portion of our business moving forward," Lantzy said. "Two years ago, there was little to no activity in regards to cryogenic prover quoting, and now we have multiple in process orders for them, and active quoting on 10 to 15 projects as the USA meets export demands for certain cryogenic liquids."
Other applications for the cryogenic prover would be for the carbon capture industry. Currently, there are many projects globally, looking at pumping liquid carbon dioxide (CO2) through pipelines.
At the moment, FMD has not installed any of its units to these CO2 pipelines, but is actively quoting provers into the application. The CO2 application requires the pipeline to operate at either cold temperatures (negative 50 degrees Fahrenheit) or high pressure (900 ANSI) in order to for it to be maintained as a liquid. Lantzy is confident that FMD can easily operate in these conditions given the history of providing provers into even colder applications and higher pressures.
FMD is pivoting to meet new energy requirements, as that is a sector of the industry with a very high growth potential, while not neglecting the traditional market.  The company will continue developing products that meet the requirements of new applications and always cater to its customers' needs.
With the market shifting toward exporting cryogenics, NGLs, and the petrochemical industry, provers must be fully capable of meeting the extreme temperature ranges of these products.  This can only be accomplished by FMD because they have the existing designs and provers already built in applications down to negative 265 degrees Fahrenheit and pressures up to 1500 ANSI that meet the new requirements in the industry.  With a proven track record and the experience level FMD has, new clients have been referred automatically to FMD.
FMD's business model is ensuring meters' accurate liquid measurement and being obsessed with solving some of its customers' most significant challenges. By virtue, it also means that the company is invested in safety and the environment, as the provers can indicate abnormalities in meters and also be used to assist in leak detection in a system.
"If there is a suspected leak in the line, being able to verify if that's true or not is something our provers can do more quickly and efficiently than other prover technologies," Lantzy said. "This saves the environment and the customer money by offering quick leak detection to our customers."
FMD's headquarters are located in Phoenix, Arizona, with production, assembly, engineering, and senior management working from the property.
The company also has a presence in Houston, Texas, which acts as a field service and sales office.  Just recently FMD moved into a newly built building to be closer to our customer sites in the Houston region.
This new building allows the company to meet clients in person and have their provers serviced on-site rather than making the trip to the headquarters.
FMD is also seeing growth in international clients and the international market in general.
"We're seeing a higher growth rate with our international clients, who are exposing us to new projects we haven't heard of or seen before. FMD is actively gaining international market share," says Lantzy.
This international expansion has led the company to onboard a new International and Middle East Sales Manager who can liaise with people in those regions.
Moving forward, the company is looking to continuously develop new products and use consumer feedback to improve products and efficiencies.  FMD is perfectly poised to continue to lead its competitors and will always be there to support its customers.
AT A GLANCE
Flow Management Devices
What: company specializing in manufacturing Small Volume Provers (SVP) used to measure and calibrate the liquid hydrocarbon industry's meters
Where: Phoenix, Arizona
Website: www.flowmd.com

Gulf Coast Measuring Services Inc. – www.gulfcoastmeasuring.com
Gulf Coast Measuring Services has been a proud partner to Flow Management Devices for over 15 years! They are our top equipment and parts supplier, and our first recommendation for a small volume prover. FMD has been an integral part of our business growth and whenever we are in need, they are always up to the challenge.