Greater Portland Inc
Driving prosperity with future growth on the radar
Known as one of the best places to live on the West Coast, the Greater Portland region spans two states and seven counties and has a diverse collection of unique communities, each with something special to offer. With a mix of big city amenities and peaceful rural experiences, the region has attractive options for every lifestyle, and is a location of choice for businesses, with plenty of opportunity for growth.
As a regional public-private partnership, Greater Portland Inc (GPI) is dedicated to creating and expanding job opportunities and driving prosperity in the region. With a service area that includes Washington's Clark and Skamania Counties, and Oregon's Multnomah, Clackamas, Columbia, Washington, and Yamhill Counties, GPI acts as a one-stop resource for domestic and international companies who are interested in investing and growing within the area. Offering a range of services including project management, connectivity to private sector providers and key assets, access to workforce and education partners, diversity and inclusion resources, data resources, research, and analysis, market visits, assistance in securing government incentives and real estate connectivity, the organization offers a valuable contribution to the Greater Portland region.
With support from both public partnerships, private sector investors, and philanthropists, the organization has two mandates, as President and CEO Monique Claiborne describes, "One is to attract, retain, and expand traded sector businesses in the region. The region is defined by five counties in Oregon, including Portland, and two counties in southwest Washington. The second mandate is to coordinate the regional strategy."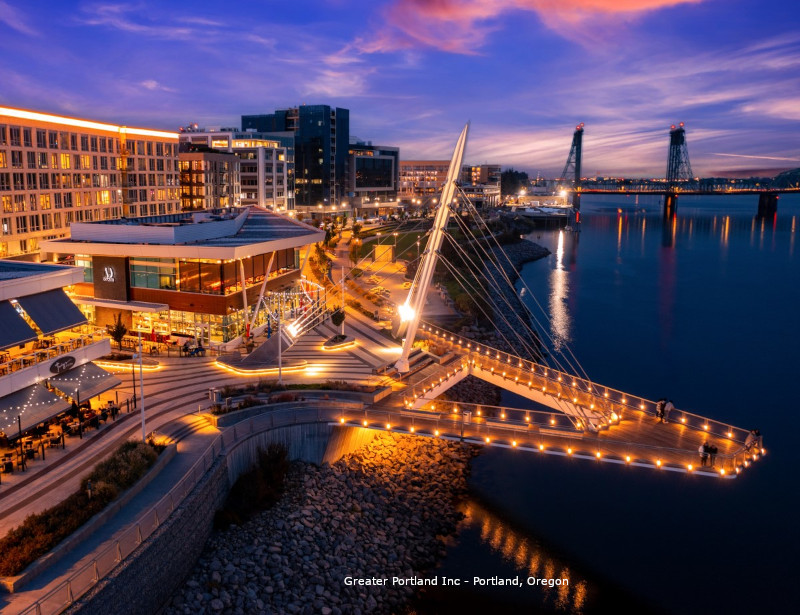 Expressing that the blend of public and private works well for the organization, she adds, "We have a regional mantra. When companies expand, when companies grow, they aren't necessarily tied to jurisdictions. It's a regional approach, and people live in one city, and they travel to another city, county, and in our case state, for work and play. So, it's incumbent upon us to not just recruit private companies, but also work with the public sector to secure land incentives, and workforce development, those are public entities that support the private sector."
While GPI works to attract new business, and support the expansion of existing companies, Claiborne acknowledges that the organization's main role is to "tout the competitiveness of the region."  She elaborates, "We are marketing our region to executives, as well as talent, to come here.
This effort was strengthened during COVID, with enhanced digital marketing opportunities and technology. Noting that Greater Portland Inc adapted quickly to new technologies and working virtually during the pandemic, she emphasizes that technology investments during this time were seen across the board, from small mom-and-pop businesses to larger companies.
"In the past technology investments were for tech, Silicon Valley companies, but we've all had to adapt," says Claiborne. "We have expanded our use of a B2B artificial intelligence platform, and that helps us pinpoint companies that are poised to expand. We have invested in a marketing automation platform tool that allows us to connect with hundreds of leads in a short amount of time and still have a personalized touch. We've invested in a CRM that allows us to keep track of our various projects, and our internal stakeholders within the region. I think those investments, from an internal operation standpoint, allow us to do our jobs better and quicker."
Taking a direct approach, Greater Portland Inc reaches out to potential companies, cutting out the middleman, which Claiborne maintains is not unlike the strategy people employ when buying a house. She recounts, "People use Zillow and they look at Redfin, and they can identify the house that they're interested in, instead of going through a broker. I think it's similar to some sophisticated companies that are on the verge of expansion. I don't have to go through their consultant or their broker, sometimes they come directly to us, and we go directly to them." Partnering with Delta and Alaska Airlines, GPI also travels the globe to connect to potential opportunities, with an upcoming trip to South Korea and Japan planned, to highlight the competitiveness of the Greater Portland region.
"We are in their face, and we are talking to them," says Claiborne, relaying that the organization also partnered with Travel Portland, and Travel Oregon to bring in apparel and outdoor executives from around the world to the World Athletics Championships track and field event in Oregon this summer. "We flew them in via Delta, to showcase our region. That's important in the strategy, as well."
In terms of other partnerships, GPI has an extensive list of regional partners who Claiborne says are invested in the success of the community. Citing banks, law firms, accounting firms, and insurance companies, as some of those valued relationships, she adds that professional soccer teams the Timbers and the Thorns, and the Portland Trail Blazers basketball team are also valued partners. As for what defines partnership, Claiborne remarks, "When I say partners, I'm going to use that term loosely. Some partners are investors, others are in kind for a particular project." Recruiting from a wide range of industries, including food and beverage, bioscience, apparel, and outdoor, metals and machinery, and semiconductor, she expresses that partnering with companies within these industries creates another opportunity to demonstrate the advantages of the region. "I can sell you on coming here, but it's really great if your peers can sell you," she says, adding that public and private partners will accompany GPI staff on trips to Vancouver and San Francisco this year.
Taking a positive approach to workforce challenges, GPI sees it as a chance to promote the positive assets and location advantages of Greater Portland. Claiborne explains, "There is an opportunity, where you have a central organization that understands the private sector workforce needs, and they go out and market to that talent to bring them into the region, just as though we're marketing and bringing competence to the region." As for other issues facing the organization, she reports, "The more pressing challenge is just getting the Portland name out there. We're a large city, but we're one of the smallest large metropolitans in the country. When companies are looking across the country or looking at the West Coast, we're just not top of mind. So, it goes back to that opportunity of us getting in front of as many people and us marketing our region as much as we can."
In the fourth quarter, leading into 2023, Greater Portland Inc will put an added emphasis on all the positives that the region has to offer and improve the image of the community. "I think it is important that we really showcase the region. We will bring in companies, we will generate investment opportunities, we will bring in talent, we will increase net migration for the state and for the region," Claiborne says. In other future plans, there is consideration towards hiring a specialized consultant to look at the organization and its operations and make recommendations.
Summarizing the importance of this work and what it brings to the Greater Portland region, Claiborne says, "If you don't do it, it falls through the cracks. Everyone is focused on their own lane. In your professional career, they say you have to toot your horn a little bit, you have to promote yourself. If you don't feel comfortable doing it you have to get a friend who can do it for you. Sometimes you don't get noticed for promotions if you're just quiet. People have to know who you are, you have to stand out. I think the same goes for regions. Someone has to do it or you get overlooked."
AT A GLANCE
Greater Portland Inc
What: A public-private partnership driving prosperity throughout the Greater Portland region.
Where: Portland, Oregon
Website: www.greaterportlandinc.com