Georgia Community Bank
A heritage of success
Business View Magazine interviews Lucie Beeley, CEO of Georgia Community Bank, for our focus on Best Practices in the Community Banking Industry
It all began back in Sept. 1922, when Citizens State Bank opened for business in downtown Reynolds, Georgia. Almost a century later, the evolution of that banking legacy embraces a multi-branch presence in Taylor County, Terrell County, Lee County, Seminole County, Early County, Dougherty County and Crawford County, under the name of Georgia Community Bank (GCB) since 2019. The bank is an affiliate under the holding company, Georgia Community Bancorp, Inc which is a Sub Chapter S. Much has changed in banking since 1922, but one thing that remains the same are the community-oriented principles upon which that original bank was founded.
Lucie Beeley is CEO / COO Chairman of the Board of Directors at Georgia Community Bank. Her community banking heritage goes back three generations and her family still owns about 92 percent of the stock of the holding company, while outside directors play an important role in advising and making decisions.
Beeley recounts, "My father started me working summers at the bank when I was 16. I worked on the teller line, and I worked in operations, which was more old-fashioned back then than it is now. I loved every aspect of it – waiting on customers, the numbers, it was always in my wheelhouse, even at a young age. After I graduated from college, I moved to Atlanta and worked for a large regional bank in institutional investment sales for almost six years. My father was beginning to consider retirement and if I was not interested in coming back to South Georgia, it might be time to look at selling. My husband and I were looking to make career changes, and we moved to southwest Georgia and have not looked back since. That was in the late '90s, before internet banking, before mobile banking, in fact the newest banking technology popular at that time was actually telephone banking. We have come a long way."
Georgia Community Bank has seven retail banking locations with an asset size of approximately 390,000,000 and 85 employees. All branches are located in southwest Georgia in the cities of Dawson, Leesburg, Reynolds, Roberta, Donalsonville, Blakely and the newest location, Albany. The Albany branch is not only a retail banking location, but also serves as the new corporate office. The operations center in Dawson houses the bank's IT department, and compliance and loan operations, including loan processing.
Beeley notes, "We are located in prime peanut and cotton country, we bank a large number of farmers and other agri-businesses. We also do quite a bit of consumer and small business lending. We are one of the few community banks that will underwrite mortgages in-house. We have definitely seen an uptick in home improvement and home buying and refinance loans in the last year. We are able to be very flexible to meet our customers' needs."
Technology-wise, GCB offers internet banking with bill payment, including Zelle PTP; a mobile app that has deposit capture, bill payment and Zelle PTP; and ATMs at all branch locations. The new Albany location has interactive bank kiosks, with full integration planned by early 2022. These machines also have cash recycling capabilities and the ability to take large cash and check deposits inside the lobby and outside. The bank also offers instant issue debit cards. If a customer needs a replacement card, they can visit any of the branches and walk out with a new card in less than 10 minutes. GCB also sells branded gift cards with the bank's logo and offers branded credit cards through a bank affiliate.
As a community bank, it is imperative to strategically partner with other companies to remain efficient and competitive. GCB's four primary partnerships are FiServ, First National Banker Bank, Blough Tech, and Shazam.  FiServ provides the banking core system, data processing, teller systems, customer on boarding, online banking platforms, mobile application, internal bill payment, and general ledger. First National Bankers Bank (FNBB) is the primary bank correspondent. Through them, GCB originates ACH transfers and deposits, initiates wire transfers and receipts, maintains fed funds line, and processes their federal reserve cash letter. FNBB takes care of bond accounting and safe keeping and investment services. Blough Tech manages the network security and protects the integrity of the servers, while Shazam maintains the ATM and debit card services.
"Our bank feels strongly that we are only as good as the partnerships we make when selecting vendors and professional service providers," Beeley acknowledges. "We feel very fortunate that Mauldin & Jenkins, CPA has a regional office in our market area, so we can receive professional accounting services and guidance from another "local business", while still having access to their extended resources and wealth of knowledge when it comes to servicing community banks. The exceptional level of service we receive from them is why our bank has been with the firm for more than 25 years."
She adds, "GT Solutions is a relatively new company we have partnered with, mainly for renovating some of our branch drive throughs. The first time I reached out to the company to receive a quote on a project, I was surprised to have communication directly from the owner of the company and pleased with the speed at which a proposal was given to me. Not only was it the most competitive of the quotes we received, but the work was also completed in a very timely manner and there was constant communication throughout the project."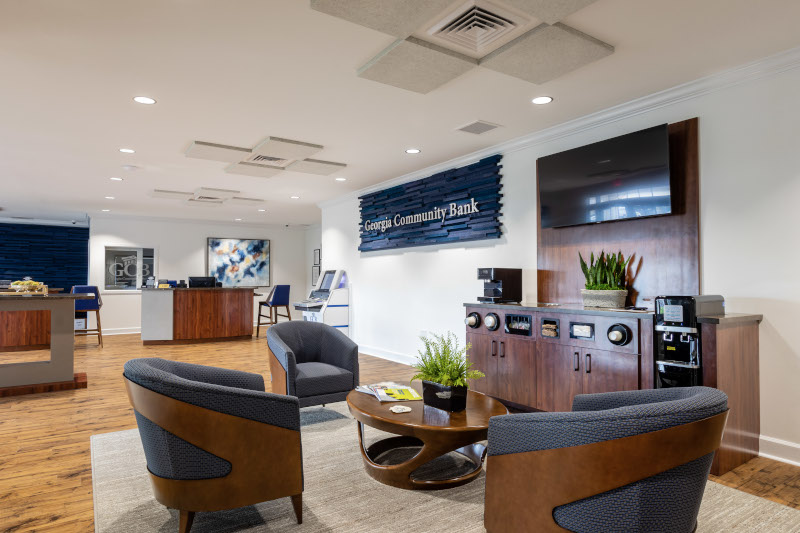 Beeley's philosophy has always been to treat others the way you want to be treated. She shares, "I truly value our employees' opinions. We encourage teamwork and supporting one another across all locations. We also recognize and reward employees that go above and beyond. We offer a very unique retirement benefit – a SEP-IRA – where we take 10% of each employee's salary and place it into a bank IRA that pays over the standard market rate. The employee does not contribute, the bank provides all of the contribution. Employees that have worked for many years with the bank find they have a "very sizeable nest egg" when they decide to retire."
The bank pays for health insurance for each employee and provides paid vacation and paid personal days. As a result of the positive, family-like culture, many employees have been with the bank for at least 10 years and quite a few for over 20 years. "We always prefer to promote from within our bank when opportunities arise," she adds.
In an effort to be good environmental stewards, GCB is endeavoring as part of their strategic plan to become less and less dependent on printed paper. For over 10 years, they have encouraged customers to have electronic bank statements versus printed. They have become paperless when opening new deposit accounts and have paperless board of directors' reports. The bank also has a goal to be paperless on the lending side by 2022. Recycling is encouraged through out the company and break rooms have a water cooler at each branch – no plastic bottles. Beeley adds, "We have LED lights in our buildings to be more energy efficient. We are also investigating the possibility of adding an electric charging station to the parking lot of our Albany location. Currently, there are no electric charging stations within 60 miles of our service area."
Understanding that the long-term success of a community bank requires a thorough knowledge of the marketplaces it serves is integral for establishing realistic marketing objectives that are also pragmatic and cost effective. Beeley elaborates, "As a community bank located in mostly rural markets, we intuitively understand the markets we serve.  In other words, we genuinely know our customers, they are our friends and neighbors!"
One of the many ways that Georgia Community Bank supports their local citizens is by giving special time off to employees that want to better their community with charitable involvement. "We strive to be seen in the markets we serve," says Beeley. "We serve all the customers of our community from those needing a small loan during Christmas, to large farm operating lines, to locally owned and operated businesses, and everyone in between. Because we are a community bank without layers of "corporate red tape", we are able to make decisions quickly and service our customers in a timely fashion."
Looking ahead, GBC will continue exploring ways to reduce overhead expenses and reduce staff expenses through utilizing technology – expanding the use of cash recyclers and interactive bank kiosks.  Beeley adds, "We will continue to seek out expansion opportunities in markets where we believe we can be competitive, and explore products and services that will make our bank more profitable, including seeking new products to increase non-interest income. We will continue to be present and active in our communities through support and involvement. The future of banking will always include employees and face-to-face contact with customers. However if we can use technology to better that relationship then that is the direction we plan to take."
AT A GLANCE
Georgia Community Bank
What: A forward-thinking, family-owned community bank
Where: Corporate HQ in Dawson, Georgia
Website: www.gcb.bank

GT Solutions – www.GTSolutions.org
GT Solutions was founded by Scott Gant and a team of banking equipment professionals. Their goal is to provide the highest quality equipment service/installation work at a cost-effective price. With that founding principle, GTS is quickly earning business for Banking, Pharmacy, and ATM equipment service and installation throughout 9 southeastern states.
SHAZAM – shazam.net
SHAZAM's the only nationwide independent, member-owned debit network, processor and core provider supporting community banks. We ensure our clients have the products and services they expect in a cost-effective way. Founded in 1976, we're a leader in payments and financial technology, with a simple mission: Strengthening community financial institutions.