Garfield Heights, Ohio
Room to grow
Business View Magazine interviews Matt Burke, Mayor of Garfield Heights, Ohio, for our focus on Economic Development in U.S. Towns & Cities
The vibrant City of Garfield Heights in Cuyahoga County, Ohio – just a short 15-minute drive from downtown Cleveland – was founded in 1904 as South Newburgh, although its unofficial history long predates that. When President James A. Garfield was a child in the 1840s, he visited his uncle who lived there. So, in 1919 it made sense to use Garfield's name when real estate developers wanted something more enticing than 'South Newburgh'.
As years went by, Cleveland grew and so did Garfield Heights. It's where many Polish and Italian immigrants raised their families and established a caring community. That still holds true today in this diverse city of approximately 26,000, where citizens are blessed with a full range of services, including the Marymount Hospital and the Garfield Heights City School District public school system. The area also offers a favorable business climate, which consistently attracts a mixture of industrial, commercial, retail, and office developments. The future certainly looks bright for residents, business owners, and visitors alike.
"Garfield Heights is the center of Cuyahoga County and the heart of Northeast Ohio," states Mayor Matt Burke. "We're working hard to bring businesses in. It does help that we're centrally located. We've been successful and we've got a lot of opportunities. Many people living here are looking for jobs so they can work closer to home. Since we're a first-ring suburb of Cleveland, a lot of folks work in one of the outer-ring suburbs, but more manufacturing distribution businesses coming into our city will give residents an opportunity to take jobs closer home."
Two manufacturers relocating to Garfield Heights are Innoplast and Thermoprene. The former produces bollard covers along with other traffic-centric products, and the latter manufactures custom plastic, rubber, and aluminum extrusions. The sister companies are moving into the former City View Center; the local mall until 2009. By then most of the retail stores had moved out leaving it mostly abandoned. The property was purchased in 2017 and rezoned for light industry and is now a thriving industrial hub called Highland Park. "What lured these large companies to our city is there's no other place in the county with 180,000 cars traveling past on Interstate 480," maintains Burke. "Also going east, west, or south within a two-hour radius, you'll hit major cities. If you're manufacturing or distributing a product, we're centrally located."
A new legalized marijuana processing facility under construction is also hoping to gain from the prime location. There's even a real estate company out of California – Craig Realty Group – considering developing land they purchased. Burke predicts it will be mostly commercial with some residential. He suggests, "Possibly retail parcels in front with commercial buildings in behind. That's the future. When it happens, you're going to see growth in our region, not just in Garfield Heights."
Garfield Heights has an impressive and diverse range of employers and economic drivers. One of the largest is OverDrive, Inc., the digital distributor of eBooks, audiobooks, and online magazines – and the main platform for North American libraries. There's also Giant Eagle supermarket and Marc's Stores, a discount drugstore and grocery chain, as well as Switchback Group, a producer of packaging equipment.
Also helping to propel growth is Noreen Kuban, the city's Economic Development Director, who works tirelessly with businesses. "It's a collaborative effort here in Garfield Heights," says Burke. "I've had our Parks & Recreation Director, Paul Birk, send businesses to me, as well as our Building Commissioner, Mark Moro. People contact him and he's sends them to us. It's incredible. I don't think other cities care as much as our team or residents. I can't say enough about our people."
These collaborative efforts, especially on behalf of City Council, assist with the enormous task of reformulating the Garfield Heights Master Plan. The Council has been working on the project since 2019. In the meantime, the city received a $50,000 grant from the Cuyahoga Planning Commission for the upgrade titled Rural Town to First Suburb – Planning for Garfield Heights' Next Century. The plan will allow residents, businesses, and community organizations to discuss local issues, and opportunities with the goal of creating a holistic vision for the city's future. Specific issues include transportation, infrastructure, land use, zoning, and housing. Surveys will soon be sent to residents to find out their overall expectations for Garfield Heights.
An important aspect of the plan is housing, zoning, and land use. Even though the current housing market is "great" with houses selling for approximately $50,000 more than five years ago, Burke believes there's still room for growth. He admits, "We've been through economic downturns, resulting in vacant homes we demolished and causing empty lots. We're working with the county to review zoning codes to ensure they don't prevent the construction of any homes built on those lots." The house designs are slighter higher than what zoning requirements detail. So, they're changing the zoning to make it better for businesses to buy the lots and to build affordable single-family homes. "Currently, it's just an empty lot. That doesn't do anything for us. We're looking at ways to turn that into something positive for our community."
While reviewing zoning, it was clear Garfield Heights doesn't have an official downtown. Regardless, the community chose one for itself. According to Burke, Garfield Park is a very busy gathering spot and is always in use. "In partership with Cleveland Metroparks, we're adding biking and hiking trails. The Garfield Pond Restoration project is also underway. About 40 or 50 years ago, a lake was there, but it was removed. Now it's being restored. Soon there'll be kayaking and fishing there, which is nice. A brand-new pavilion, Iron Springs Shelter, is being built. That's already in use. It's all very positive for the city."
The Dan Kostel Recreation Center and Hockey Rink is another popular meeting place, with a swimming pool open in summer to complement the hockey rink available in winter. There are also parks throughout the community for residents to enjoy like Cranwood Park with a softball and baseball complex, as well as the Frank J. Debelak Recreation Area with tennis courts and a skateboard park.
Maintaining Garfield Height's infrastructure, including the parks, is vital. "We've had all types of projects over the last two years," explains Burke. He details how most of the projects are funded by grants available through Cuyahoga County, noting, "For years the city was in an economically strapped position, paying off debt accumulated by former administrations. Now we're in more of a healthier spot. As we move forward, we're not getting into more debt. We're utilizing every resource we can to fix and resurface the roads. We're on our Multi-Street Reconstruction Phase V, which involves paving and reconstructing many roads within the city. These five phases have helped address lots of roads over the last few years. We're now preparing for Multi-Street Reconstruction Phase VI. We're busy."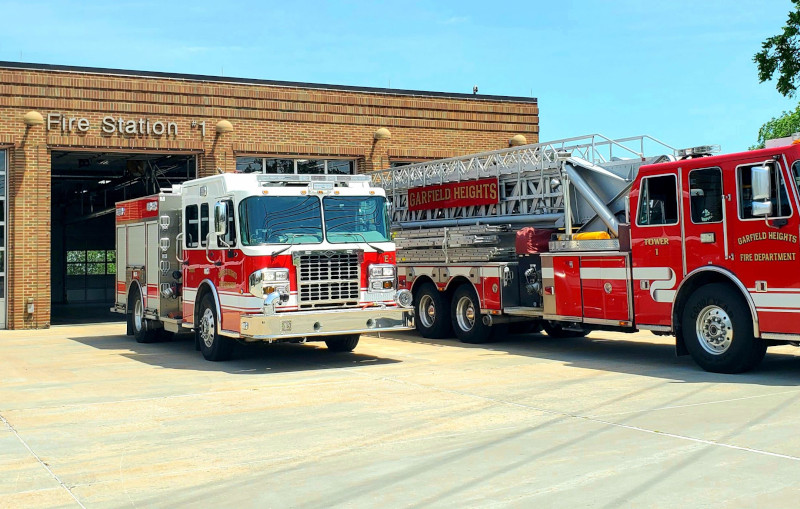 The city is also busy building and maintaining partnerships throughout the community. Burke cites that there are many businesses and associations that help support Garfield Heights but one of the "unsung heroes" is OHM Advisors; a community advancement firm providing architecture, engineering, and planning services. "They are our city engineers. They work the best they can to secure funding for our roads. Another great business partnership over the years is OverDrive. They came to our city when we needed somebody." He also names Industrial Commercial Properties LLC as the community's "very best ally" because as a company they share the vision of what the city ideally could develop into and are helping to achieve. DiGeronimo Companies, a "one-stop shop for real estate development" is also turning that vision into a reality.
Burke has one specific goal in mind to usher Garfield Heights into the future, specifically when it pertains to better serving the community. "On my wish list for the upcoming years, is a brand-new Justice Center. There's been a lot of talk about supporting the police and supporting safety. Our Justice Center, Garfield Heights Municipal Court, was built before the 1950s and is in poor condition. We don't have the financial wherewithal to do it right now, but it's on my radar for the future. I think having a new Justice Center will support the police as well as care for our residents."
AT A GLANCE
Garfield Heights, Ohio
What: A full-service suburb of Cleveland; population 26,000
Where: Cuyahoga County, Ohio
Website: www.garfieldhts.org