Gardner, Massachusetts
Rich in history and potential
Business View Magazine interviews Michael Nicholson, Mayor of Gardner, Massachusetts, for our focus on Growth & Economic Development in U.S. Cities
Situated 30 miles northwest of Worcester and 60 miles northwest of Boston, the City of Gardner shines as the 'diamond of north central Massachusetts'. With a population of 21,000, it's quickly becoming a sought-after location to live and do business.
"Gardner is unique," shares Gardner Mayor Michael Nicholson. "It's a city with a 'town feel' and I think that's one of the best things about it." Gardner's politics are also rare and full of "neat little tidbits." Nicholson was elected as Mayor in July 2020 at the age of 25 – making him the city's third youngest Mayor. Currently, the average age of an elected Gardner official is 35, well below state average, and largely below national average.
Another of the city's many unique aspects is its name. "We were founded as a town in 1785, right after the American Revolutionary War," Nicholson recounts. "If you look at the other towns surrounding Gardner, they are named after places in England where the first settlers were from. Gardner is the only one named after a Revolutionary War Veteran, Colonel Thomas Gardner, who was the first person killed during The Battle of Bunker Hill. Gardner was the first town in the area created after the revolution. They wanted to discontinue the use of naming towns after places in England, so they named it after a Massachusetts war hero."
In the 1920s, Gardner was considered a 'large' town and officially became a city in 1923 during the height of its factory days. Back then, it was known as 'The Chair City' because it produced more chairs than anywhere else in the world. Gardner crafted chairs for Buckingham Palace, the Boston Garden, and the White House. The two remaining chair factories are still in production today. As times changed, so did the city's manufacturing industries. Despite some difficulties during the Great Recession in the late 2000s, the city's economy was fortunate enough to remain steady unlike other cities in the U.S. Nicholson explains, "Gardner's small retail sector, as well as our manufacturing and engineering segments, actually grew during that time. Gardner has the largest cable ties manufacturer in New England and the Northeast. And our manufacturing sector now has a couple biomedical sectors. We have a large biomedical engineering firm called vivitide that has doubled in size over the past ten years, working on different peptide formations for targeted chemotherapy. It is working to create special proteins to put into chemotherapy to target just the cancer cells, so the healthy tissue remains the same, minimizing the negative side effects to the patient."
Also under constant improvement is the city's business development. An example is a project Nicholson describes as one "people seem to be very excited about." It involves the smaller business district, with the movie theatre and several car dealerships, located right off of Route 2, the major highway intersection in Gardner. Currently, a new plaza is under construction there that will house a Ninety Nine Restaurant & Pub, a Starbucks, a cannabis company, a swimming pool company, and a financial investment firm.
Even though the plaza itself is not finished, the Ninety Nine Restaurant & Pub has been open for business since August 2019. Nicholson reports, "When it was first built, it had a wait time of three hours for the first month. I'm not exaggerating, that's the data I have in front of me. We do have other small restaurants, but when the factories started to leave, a lot of the other industries left with it. Most residents aren't used to having a lot of chain options here in the city anymore. While a lot of people are still supporting local businesses, we are seeing a lot of increased traffic from outside the city coming in with this new development."
Supporting Gardner's entrepreneurs is another important focus, as emphasized through the upcoming MakerSpace project. The concept is for retired craftsmen from the city's factories to teach their time-honored woodworking techniques to aspiring artists to incorporate those methods into their own work. The city is working with a local artist group to create a community where people can learn from each other in a shared space for a membership fee. The hope is to secure a space by the end of 2021.
Gardner also makes workforce development a priority and sometimes offers training through the Massachusetts' Workforce Development Board's MassHire program. And the city also has a community partnership with Mount Wachusett Community College, which offers professional development classes. Additionally, Gardner High School (GHS) just launched its first Vocational Trade program with a Manufacturing program. "I started a program with GHS and used City Hall as the starter," Nicholson explains. "We've actually seen many businesses, including Garlock Printing & Converting and Seaman Paper, pick it up as well, creating a new Internship program. Our students will receive credit for getting real world experience as part of their regular curriculum. Even if they don't continue in those sectors, they've at least broadened their network."
All of these flourishing developments in Gardner's economy have had a positive impact on its population growth – along with COVID-19, surprisingly. "As a result of the pandemic, believe it or not, our numbers are growing substantially," says Nicholson. "This is due to the cheaper cost of living here compared to the Greater Boston area. As more companies realized they were able to accommodate their employees remotely rather than in a traditional office, we started seeing a massive amount of people moving out of the Boston area to central Massachusetts." Over the past year it was common for a 2,000-square-foot single-family home with 3 bedrooms and 2 bathrooms to be on the market for 36 hours and sell between $325,000 and $350,000. In the Greater Boston area, an identical home with less land would have sold between $500,000 and $600,000.
In the downtown core, some of the distinctive heritage district buildings are being repurposed and revitalized in creative ways. According to Nicholson, "Gardner's downtown was settled because it was the location between all of the chair factories. And we just signed with a developer to create a large-scale apartment complex with 1,700-units to bring people in to support the businesses downtown. We are using the resources we have to get creative and see where it takes us. We're also working with that developer to build an event plaza to hold festivals downtown to promote economic development."
This creative problem solving also applies to the city's infrastructure. From September to November 2020, the city paved 10 miles of roadway. That's more than been done since 1999, with an additional 26 miles of road repaving planned for 2021. Prior to any actual repaving, new water and sewer lines are first installed and new sidewalks are also constructed alongside every newly paved road. Integrating all these projects is an efficient way to keep the roads in good shape while also ensuring the safety of residents.
There is also a lot happening in the area of sustainability and green initiatives. "All of our public buildings like City Hall and The Department of Police are run by solar power," says Nicholson. "We have a solar field on city property with a net metering agreement with National Grid. Mount Wachusett Community College operates solely on two wind turbines. In the next 6 months, we'll be adding 10 miles of bike trails connecting Mount Wachusett Community College, Heywood Hospital, downtown, and our green spaces. We've also installed new electric car charging stations, we are doing energy audits on all of our buildings, and we applied for the state's Municipal Vulnerability Preparedness (MVP) program. We just broke ground on a new elementary school two months ago, as well – the first new elementary school in 100 years! That is probably going to be the greenest building in the region because of different solar options and green roofs."
Looking ahead, Nicholson would like the city to make the most of its current development and population growth by creating more community gathering spaces over the next three to five years. Communal meeting places have a new importance as a result of COVID-19's impact. Once the new elementary school welcomes students in fall 2022, the existing school will be repurposed into a community center.
Bringing together the city's residents, while simultaneously highlighting Gardner's uniqueness is exactly what Nicholson wants to encourage. He shares, "People outside of Gardner hear about it because it's a dot on the weatherman's map. Most likely because it's the city with the most snow in Massachusetts. We need to build upon the different opportunities we have to maximize the unique aspect that makes our city stand out from everywhere else in north central Massachusetts. I'd like to create different spots that people find special. Especially in a post-pandemic world, once people are out and about again, what did they miss the most, and how can we do that here in Gardner?"
AT A GLANCE
Gardner, Massachusetts
What: A city with a rich history and a town feel; population 21,000
Where: North central Massachusetts, 30 miles northwest of Worcester and 60 miles northwest Boston
Website: www.gardner-ma.gov
Moura's Cleaning Service – mourascleaningservice.com
At Moura's Cleaning Service, our major goal is to develop a productive relationship with our customers. To achieve that, we focus on constant employee training, regular quality control inspections, and account managers that are weekly checking our locations. Providing our employees with the best tools and efficient cleaning supplies ensures high quality service for every client.
With more than 25 years of experience and hundreds of satisfied customers throughout New England, Moura's Cleaning Service is the trusted, go-to company for commercial cleaning. We offer prime janitorial services to banks, industries, offices, retail stores, state buildings, and many other commercial structures in a variety of settings. Our experienced managers are skilled at customizing services to meet your business needs.
We have centralized all our communication through an online management system, starting from our janitors at the customer location, and reaching account managers/supervisors and our higher management team. Supplies requests, schedule changes, task checklists, etc. are instantly available to all employees related to the account. All information is available to managers and supervisors 24/7 in the online portal. The management system allows us to track when our employees arrive at their assigned work location. Our managers are notified if an employee is late or doesn't show up in a specified timeframe. We have a trained special projects crew available for the entire New England area that can provide coverage for an absent employee – that team is also available for emergency requests, disinfections, and special projects.
Our Quality Control Managers regularly visit customers' locations to perform inspections that are directly reported to the account's manager and to the customer. Follow-up visits are scheduled if any issues are reported. Our management team constantly receives training from cleaning experts on providing professional development, site-specific customized training tools, job cards, and hands-on teaching.
We are currently one of the few companies with the ISSA CIMS (Cleaning Industry Management Standard) Green Building Certified with honors in the whole New England area. It certifies Moura's Cleaning Service commitment to quality and customer satisfaction, based on bi-annual inspection on six areas of management best practices: Quality systems; service delivery; Human resources; Health, safety and environmental stewardship; management commitment; and green building practices certification.
Let Moura's Cleaning Service handle all your business cleaning needs, and be your preferred partner maintaining your facilities!
Give us a call at (800)478-5950 or visit our website mourascleaningservice.com and get a detailed quote!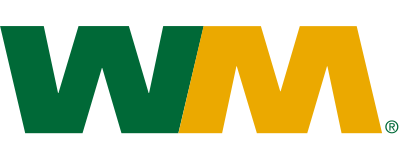 Waste Management – wm.com
Waste Management of Massachusetts has had the privilege of partnering with the City of Gardner for many years, providing solid waste and recycling services for residents, schools and area businesses. Together WM and the City are making Gardner a more sustainable community for the generations to come.