Flippo Construction Company, Inc.
Building strong relationships
Business View Magazine interviews John Morgan, President and CEO of Flippo Construction Company, Inc., for our focus on the U.S. Construction Industry
Flippo Construction Company is a well-regarded, employee-owned General Contractor and heavy construction business that has earned a great reputation for high quality service in the Washington DC, Northern Virginia, and Baltimore MD areas.
Founded in 1971 by B. Earl Flippo, the company has grown substantially from its initial two-crew operation that worked for C&P Telephone (now Verizon). The employees pride themselves on sticking to their motto and work ethic, which is based on delivering safe, productive, quality jobs. On January 1, 2000, the employees of the company purchased Flippo Construction from the founder. Today, the firm has a dedicated and talented team of 185 staff members.
Earl Flippo's rationale for selling the company to his employees is that he didn't want to walk away without giving back to his loyal staff members, many of whom had been with the company since day one. "Long-term employees make up 45 percent of our workforce; these are people who have been with us for over 15 years," says John Morgan, President and CEO of Flippo Construction.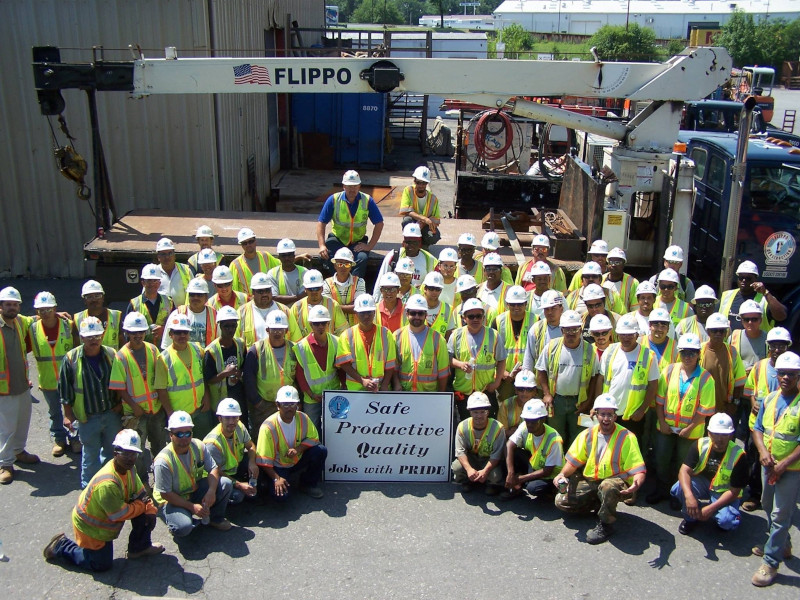 Maintaining long term relationships has been a common theme for the company over five decades in the construction business, not just with staff, but also amongst partners and customers. For instance, Pepco (Potomac Electric Power Company), a subsidiary of Exelon, has been a client of Flippo Construction Company for 50 years. Pepco is a public utility that supplies electric power to clientele in the District of Columbia and Maryland, serving approximately 894,000 customers. Flippo is proud to be a "Contractor of Choice" with Exelon.
Over its 50 years of operation, Flippo has grown from working primarily on underground utility construction to more complex and difficult heavy-duty projects such as highways, bridges, and other utilities. The company currently has two operational divisions: contracts and service. The contract division handles heavy construction work, including bridges, concrete structures, roadways, and specialized heavy utility work. Whereas the service division handles utility installation, repairs, and long-term service and maintenance contracts.
Being classified as an essential service, meant that company employees worked straight through the COVID-19 quarantine period. While there was a slight disruption with workflow, they were able to keep all employee owners working and continued business as usual. "We did have a slightly lower volume of work last year, but it was still a profitable year, and we were actually able to expand some of our business portfolio during the pandemic," says Morgan.
While there might have been a collective assumption that deliveries from other contractors and suppliers would have stopped or severely slowed down, Flippo Construction was grateful to see their business partners step up to the plate throughout the pandemic. As a result, work never halted for the company. Adjusting to the magnitude of the impact from COVID-19 will take time, however, Flippo Construction Company's management believe they have weathered the worst of COVID-19 and expect to continue growing well into the future.
With close proximity to the nation's capital in Washington, DC, Flippo Construction has worked on many high-profile job sites over its 50 years. These include working on the U.S. Capitol Building, the Kennedy Center, and the Pentagon, to name a few. The company's client base can be divided into three main categories: public works projects, quasi-private contracts, and private contracts, respectively. They also work with several major developers and building contractors such as Clark Construction, Clark Builders Group, Balfour Beatty, Whiting-Turner, Hitt, WCS Construction, and Donohoe. Flippo has the expertise to self-perform roughly 70 percent of any work on a given project, and additionally have the capacity to perform heavy demolition and earthwork.
Flippo is currently involved in several local high-profile projects throughout the DC, Maryland and Virginia area including Transforming I-66 and Pepco's Downtown DC Resupply Initiative on L Street.  Flippo's most recent completed high-profile project was Capitol Crossing, which was a private development mega-project in Washington DC. With an urban renewal project in scope, Capitol Crossing is Washington DC's first "Eco-District" and covers a 6-block radius. Flippo's portion of the project included over $16 million of utility relocating and improvements, as well as cast in place concrete tunnels and portals. The success of the project for Flippo was due to the continuing partnering and problem-solving efforts of all of the various project stakeholders and local government agencies.
Flippo Construction Company has been hired to help in emergency construction projects, such as work completed for Reagan National Airport, Fairfax County, and the DC Water and Sewer Authority (DC WASA). The University of Maryland also relies on the company for on-call services, including sanitary and waterline work. Flippo Construction has maintained this valuable relationship for over 20 years. Another long-term relationship is with the city of Alexandria, Virginia, where the company has assisted with multiple projects for more than 35 years, including on-call repairs, emergencies, and snow removal.
Emergency jobs inevitably happen from time to time and Flippo Construction Company is often chosen as the preferred service provider because the company works on retaining, building, and sustaining relationships with its clients. Many of those clients have been referred through word of mouth, because of Flippo's quick response time and quality workmanship being the best marketing tool.
The Flippo Construction team tries to have their hands in all major developments in the surrounding areas and have racked up an impressive portfolio over the years. To achieve such success, the business relies on working with reliable suppliers, including but not limited to Insight, GE Frisco, Ft. Myer Construction, CP & P, DC Materials, ReAgg LLC, and District Concrete, among many others. Great suppliers and partners are vital in any industry, especially construction. And it's for this reason that the business works so closely to build and maintain great relationships with all their suppliers.
While the company has been involved in many public roadwork projects, that sector has seen a slight slowdown. But fortunately, with their excellent reputation in the area, the Flippo Construction crews have kept busy with public-private partnership jobs.
When it comes to employment, finding new educated talent to fill positions can be difficult, as skilled tradespeople are becoming rare in the construction industry. To ease the situation, the company has a top-notch Human Resource Department that plays a vital role in obtaining and recruiting the best. The company has a high retention rate of employees and has a large training budget for staff members. Management at the business is also proud of maintaining a varied workforce with over 70 percent diversity.
Staff at Flippo Construction Company are very well qualified and experienced. As Morgan acknowledges, "You could sum up our culture along with our motto. Safe, productive, quality jobs done with pride." He notes that the employees are driven to deliver quality work because the company is owned via an employee stock ownership plan (ESOP). "We encourage our employees to take ownership in all that they do. We train them to deliver work that is good and at the end of the day they are able to take pride in what they deliver. No job is too small around here for anyone," says Morgan.
As with any industry, keeping up to date with best technology practices is key. Flippo has invested in several pieces of specialized equipment that embrace new technology. The importance of this rapid development and change of tools in the field has not been lost on the team. "I've been around construction for more than 30 years, and I've seen drastic changes," says Gary Christensen, Vice President of Operations at Flippo Construction, "What we once did with paper, taking three days to circulate, is now done instantaneously via iPads."
Flippo understands that safety is a very important part of their business. Their strict safety protocols and initiatives are implemented at every level of the company. The firm employs three full-time safety professionals that regularly visits jobs and provide guidance and oversite to their crews. Flippo's SWAT (Safety, Wellness and Training) van was one of the first in the area and is unique in that it brings the classroom to the field and provides crews with additional education and updates to make the job safer.
Flippo Construction is constantly looking ahead. For the next three to five years the company is eagerly eyeing out the $1.2 trillion Bipartisan Infrastructure Framework bill, which will make significant investments in transportation infrastructure, water infrastructure, universal broadband infrastructure, and power infrastructure. If the bill is passed, Flippo Construction Company envisages many excellent new projects in the coming years.
Overall, this thriving, employee-owned company understands and never loses sight of the fact that you need to keep establishing and building on relationships to ensure that the future is bright.
AT A GLANCE
Flippo Construction Company Inc.
What: An employee-owned general contractor and heavy construction business
Where: Headquarters in Forestville, Maryland
Website: www.flippo.com
ReAgg LLC – www.reagg.com sales@reagg.com
With over 30 years of experience, ReAgg is a leader and pioneer in the aggregate, construction and transportation industries. We proudly serve Maryland, Northern Virginia and the D.C. Baltimore Metro Areas. With a convenient location and quality offerings, ReAgg can provide you what you need when you need it.