Flagstaff, Arizona
Reaching for the stars
Business View Magazine interviews representatives of Flagstaff, AZ, as part of our focus on best practices of American towns and cities.
The City of Flagstaff was established in 1882. Its name originated several years earlier, when a Ponderosa pine tree was stripped of branches and used to fly an American flag in celebration of the 1876 Centennial. This "flag staff" later became a landmark for travellers to the area. Located at the intersection of I-40 and I-17 in the beautiful state of Arizona, Flagstaff is also a favorite stop on the historic Route 66. Hiking through the vast forest, star gazing into the dark night sky, or reaching the top of Humphrey's peak for a view of the Grand Canyon are just a few of the activities that residents and visitors to Flagstaff can enjoy. With four distinct seasons, the surrounding mountains and forests provide a constantly changing backdrop to this innovative city.
Sitting at an elevation of 7,000 feet, Flagstaff is home to the Lowell Observatory, a leading astronomical, non-profit research facility and a popular tourist attraction, with over 100,000 visitors per year. John Saltonstall, Business Retention & Expansion Manager, suggests that this destination offers those with an explorer mentality "a chance to explore the heavens." Originally created by Percival Lowell in 1894, the intention was to study the possibility of life on Mars. Since then, the observatory has been responsible for many significant projects, including the discovery of Pluto and moon mapping for the Apollo program. The United States Geological Survey, a science-based research facility with a campus in Flagstaff, is responsible for a wide range of work, including a recent mapping project for the Mars Rover. "Flagstaff has strong ties to astronomy," says Jack Fitchett, Interim Business Attraction Manager. "NASA has done a variety of testing out here, specifically with their lunar rovers."
W.L. Gore and Associates is one of Flagstaff's largest private employers, with over 2,500 hundred employees locally. The company's unique range of products includes Gore-Tex waterproof, breathable apparel, guitar strings, and lifesaving medical materials. Flagstaff is also home to W.L. Gore's biomedical research and development team, and biomedical manufacturing facilities.
Translational Genomics Research Institute, also known as TGen North, is another highly successful Flagstaff company, researching disease in the human genome. Saltonstall explains, "TGen North has been extremely busy during these days of COVID. In fact, they've doubled their employee count since March, as they have been providing testing for a number of agencies throughout the state, and they're doing all of their regular stuff, as well." Nestle Purina Petcare, another major contributor to the local economy, manufactures 1,000 tons of dry pet food per day. Northern Arizona University brings a student population of 25,000 to Flagstaff, which is another driving force for community development.
Flagstaff Pulliam Airport sits on the outskirts of the city. "For a small community of 72,000 people, we've got a decent-sized airport that has daily flights to Denver, Dallas, and Fort Worth. We also have flights out to Los Angeles. We've got two commercial airlines working out of here. That really helps with those businesses that are located at the business park," says Saltonstall. A few of the companies located in that park include Joy Cone Company, the world's largest ice cream cone manufacturer; Machine Solutions, manufacturer of machines used in stents and balloon technologies; and POBA Medical, a maker of balloon angioplasty products. "This area of the city is constantly growing," Fitchett shares. "We have an exciting new project – we're seeking a master developer for a 32-acre parcel that's right adjacent to the airport. It's going to be mixed use. We're hoping to get some more research and development companies in there, as well as hospitality, restaurants, retail, and additional businesses that will support our growing airport. "
Historic Downtown Flagstaff offers "a beautiful downtown that's very walkable, very human-scaled, and is home to a number of our independent restaurants, which give us a lot of credibility as a foodie community," explains Saltonstall. With a diverse selection of restaurants, shops, galleries, and microbreweries, something is always happening. When school is in session, the city is filled with a vibrant student community, but there are also multiple generations of families who call Flagstaff home. Fitchett notes, "My great-grandmother lived here, my grandmother and mother still live here. I left briefly, and I couldn't stay away." With both the Navajo and Hopi reservations close to the city, the Native American population adds to Flagstaff's diversity.
Schools have found ways to provide an inclusive experience to students whose first language is not English. "The Flagstaff Unified School District has been awarded by Apple, more than once, for their innovative ways of delivering education successfully to the diverse demographics that we have. We have people who live outside of the city limits who come into our school district. That means our teachers are teaching to people who might speak Navajo, Hopi, or some dialect of Spanish, and they do it every time," says Saltonstall. Overall, Flagstaff's schools have a record of high performance, an added benefit for families in the community.
The city is working to meet the demand for housing, a task that has its challenges due to the surrounding forest which is on protected land. With careful planning, Flagstaff intends to meet the needs of its growing population. "Going down our main road that comes into our community, there are cranes in the air with active construction. At one point a couple of years ago, the number was 5,000 units that were being proposed over the next number of years. There is a lot of demand for more housing, and it seems to be on the way," reports Saltonstall.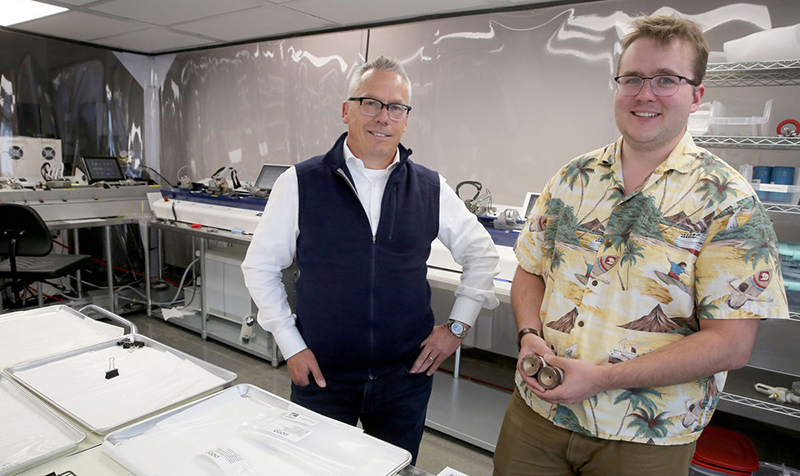 Community development plans also include responsible management of resources. "In the high desert where we are, water is always something that people express concern about. We've got some numbers that indicate that, right now, we are using as much water as we did almost 30 years ago, even though our population has grown immensely. That's primarily due to the sustainability; to the mindset of the community, and of our organization to responsibly manage our water as well as they have," says Saltonstall. Along with water management, the surrounding forest also creates a risk for fire. Proactive planning, along with a 10-million-dollar bond, allowed the community to work at forest thinning and management, making fires that do occur easier to handle. Saltonstall adds, "The values at risk in this community have been managed very well, based on long-term thinking, and the ability of the community to learn how to live in its environment as effectively as we have."
Attracting new businesses to the city is more difficult in the current times. Fitchett admits, "Normally we'd be going out to larger trade shows and having face-to-face meetings with potential businesses that see themselves in this community. Right now, that had to shift. We've had to develop different ways to keep those lines of communication open, but also continue to market Flagstaff as a great place for businesses to come to." The city has introduced five new programs to provide incentives for growth and development within the community. These include financial incentives for existing small businesses to move into vacant space, and incentives to stay and grow in Flagstaff. New businesses that meet the requirements can also take advantage of two new Business Attraction incentives. Additionally, to strengthen the automotive industry, the city has also introduced a Sustainable Automotive Sales Tax Rebate Program.
Working closely with agencies such as Moonshot at NACET, that manage the city's business incubator and accelerator resources, along with the Coconino County Career Centre and Coconino Community College, helps to ensure that fledgling businesses and start ups have the support they need to grow and thrive here. ECoNA, the Economic Collaborative of Northern Arizona also works closely with the City of Flagstaff to help attract new businesses.
With a higher minimum wage than any other city in Arizona, the cost of doing business in Flagstaff is higher than average. This can be a challenge, but "the businesses that are here typically figure out how to manage our cost of living and many of them figure it out just fine – smaller businesses, bigger ones, and the start ups," says Saltonstall, adding, "People want to be here in Flagstaff. There is just a great demand for a community like ours, where we have relative safety, health, education, opportunities to be outside, opportunities to grow and to explore in so many ways. And that often supersedes the cost of being here."
With its diverse range of businesses, resources, education, and experiences, the City of Flagstaff is an inviting community full of beauty, and opportunity. Saltonstall acknowledges, "What the visitors really notice is that quality of place, more than anything. How friendly is it? Are people holding doors and saying hello? And you know, the answer to that is 'yes.'" Flagstaff truly is a remarkable place, for residents and visitors alike.
AT A GLANCE
Flagstaff, Arizona
WHAT: A city of 72,000
WHERE: In Coconino County, northern Arizona
WEBSITE: www.flagstaff.az.gov
Northern Arizona Healthcare – www.NAHealth.com
When moving forward with hip or knee replacement surgery, choose greater precision and leading-edge technology performed by the experts at Northern Arizona Healthcare Medical Group – Orthopedics; the first group to perform robotic arm assisted total knee, partial knee and total hip replacements with Stryker's Mako System in northern Arizona.
With Stryker's remarkable technology, a balanced, perfectly aligned knee functions better in both the short and the long term. The robotic-assisted orthopedic surgery helps to diminish pain and ease the need for painkillers; as well as lead to faster recovery; less physical therapy; and a swifter return to all functional activities for patients. The demand for joint replacements is expected to rise in the next decade. Choose the surgery that is customized to your specific needs based on your specific diagnosis and anatomy at Northern Arizona Healthcare Medical Group – Orthopedics.