FDR Services Corp.
Healthcare laundry specialists
Business View Magazine interviews Keith Luneburg, President of FDR Services Corp., as part of our focus on best practices in the healthcare support sector.
FDR Services Corp., with headquarters in Hempstead, New York, provides a wide range of products and services specifically designed for the healthcare community – hospitals, nursing homes, clinics, and outpatient facilities. From healthcare linen rental and management solutions, to employee uniforms, to resident clothing programs, FDR Services Corp.'s cutting-edge facilities, including state-of-the-art washers and dryers, are second to none.
According to FDR's President, Keith Luneburg, the company was started in 1973 by his father Donald, his uncle, Richard, and their friend, Frank Ferarra – thus the moniker from the initials of their first names: FDR. "They started out by doing resident clothing for nursing homes, in the back of a coin-operated laundry in Bellerose, NY, at night," Luneburg recounts. "Then, they systematically grew the business by taking on the processing of all the linens for the nursing homes and expanding to hospitals. They put up their first plant in Baldwin, NY in 1975. From '75 to '98, they wound up growing the business to be able to service 13 states, up and down the eastern seaboard, with seven plants, and were considered to be one of the largest privately-owned companies in the country at the time."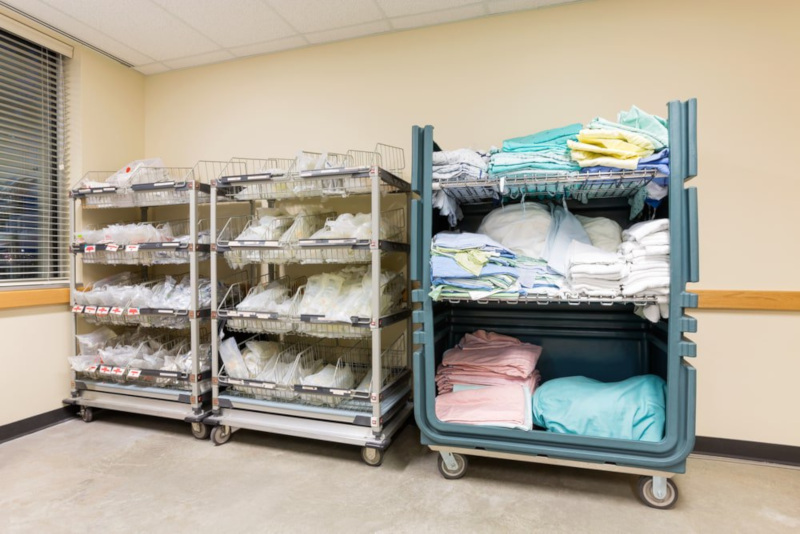 In 1998, the founding trio sold their company to a venture capital firm, but retained some rights to its real estate. In 2005, the younger Luneburg, who had learned the business from the ground up from his father, re-acquired some of the original plants in the northeast, along with his sister Kim and his brother-in-law Jesse McCormack, FDR's current Vice President. "And we've been operating in North Carolina, Virginia, and New York, now, for the last 14 years, with around 500 employees," Luneburg notes. "I kept the name because of the family value it has and the name recognition it has in the marketplace."
"We provide all the healthcare laundry services for nursing homes, hospitals, and clinics," Luneburg continues. "They represent 100 percent of our customers. And then we service some of the offsite locations – outpatient services that are usually affiliated with the acute care hospitals and/or the urgent care facilities you see popping up all over the place."
More specifically, FDR Services' healthcare linen products include: sheets, pillowcases, and underpads; bath and thermal blankets; bath towels and washcloths; all types of hospital gowns; and robes. Its healthcare apparel products include: lab coats, protective wear; culinary apparel; casual and occupational workwear; and outerwear. Its Industrial products include: floor mats, mops, curtains, and linen packs. And its services include: linen rental and processing, uniform rental, linen management, uniform embroidery, and resident clothing.
Regarding the competition, Luneburg says that there are regional competitors in each of its three marketplaces, and a few national competitors that touch one or two of them. "What we feel sets us apart from the competition is our service – knowing how to manage linen," he explains. "That's really what we are – linen managers. We try to help the hospitals find the most economic way to provide the best possible service to their patients and help them manage it. Linen is not something you think about as you go into a nursing home or a hospital, but it's one of the largest expenses that they have on a yearly basis, because it's non-revenue producing; it's one of those expenses that they're always looking to save money on. So, we have to be creative in finding solutions to help them reduce their costs, but without sacrificing patient care. That can include the introduction of new products that replace older ones, or combining different areas of the hospital, or looking at how their distribution points meet their needs and see if we can streamline that so that they don't have an overstock of linen in a given facility. That's really what separates us from the competition."
Alexandra "Ali" Seibert, FDR's Marketing Director explains how the company procures new business: "For any government account, which covers hospitals and nursing homes, what they are usually required to do, by law, is put out an RFP, and they request that any company that wants to bid on their business submit an RFP response. That includes things like our SOPs (Standard Operating Procedures), any of our documentation – things like insurance certificates – and pricing. For private accounts, we have a sales team that goes after any hospital, nursing home, or clinic that's within our service region."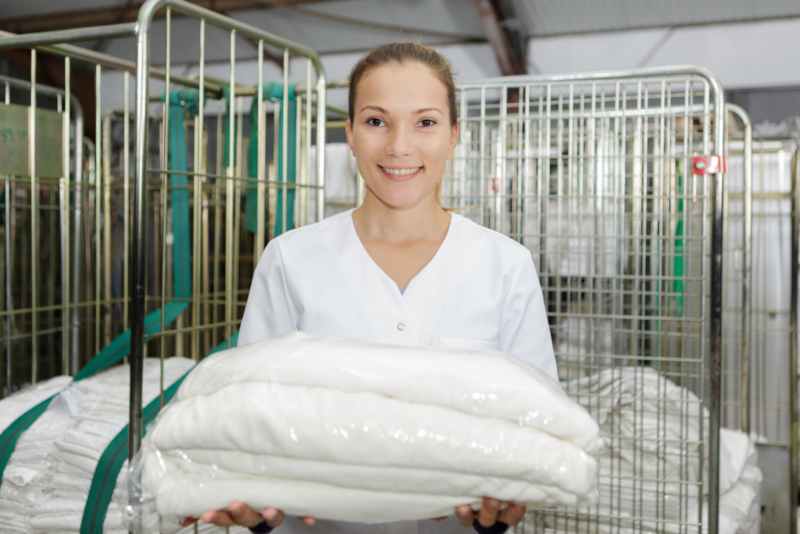 Luneburg adds that FDR also depends heavily upon its network of vendors, some of which the company has been doing business with for 30 years or more. "We've got a lot of linen vendors, because, obviously, linen is one of our largest expenses because we own it and we're continually replacing it as it gets worn out," he relates. "And we have a lot of machinery guys that we've been doing business with for an extended period of time, also." And because business had been good, Luneburg reports that he is currently looking to expand FDR's operations within its three geographic footprints. "We would envision opening up brand new plants, and instead of a three-plant operation, being somewhere between a five-to-seven plant operation."
In conclusion, Luneburg remarks that he would like people to know the lengths to which FDR Services Corp. goes to partner with its customers in helping them manage their linen – "this line-item expense that they have on their books, better than anybody else. But also," he adds, "I'd like to be able to express some of the innovative technological advances that we're trying to bring to an industry, which, sometimes, is still considered to be back in the 20th century, in relation to other manufacturing facilities. Those are the two key areas that we like to focus on."
AT A GLANCE
WHO: FDR Services Corp.
WHAT: A healthcare laundry specialty company
WHERE: Headquarters in Hempstead, NY
WEBSITE: www.fdrcorp.com