Falk Panel
Experts in paneling on both sides of the Atlantic
Business View interviews Mark Munley, VP of Sales & Marketing at Falk Panel, about standing out from its competitors as a relatively new player in the market.
Known for their thermal properties, flexibility, and aesthetic appeal, insulated metal panels (IMPs) have a wide range of uses, encompassing walls, ceilings, and roofs. This versatility was noted some 15 years ago when contractors in the Netherlands decided to launch their own operation in this field, subsequently moving across the Atlantic to set up in North America. The result was Falk Panel.
Settling up operations in the area around Grand Rapids, Michigan, the ownership has worked hard to respect the heritage and cultural beliefs of the Dutch business environment. "The Grand Rapids area has a large Dutch population," Mark Munley, VP of Sales at Falk Panel, explains. "The company owners were able to benefit from the existing relationships they had here. They knew the area and felt it was important for them to start operations in a location where they could enjoy the support of family and friends. For those reasons, Grand Rapids was the obvious choice."
Falk Panel's facility is roughly around 24 acres in total, situated in Walker, which is between seven and 10 miles from Grand Rapids. It remains one of the most sophisticated IMP manufacturing facilities in North America or perhaps even the world.
"Our first line is located in a manufacturing facility that is 900 feet in length and roughly 150 feet wide," Munley continues. "It is fully automated, requiring less than 10 people to run the operation. It is highly mechanized, with some of the equipment monitored by our vendors in Europe so they can look at various systems and make tweaks as needed."
Altogether, Falk Panel boasts around 45 associates. This is made up of around 50% manufacturing personnel with the other half representing back office roles, like administration, logistics, sales, marketing, and executive positions. The last two years have been particularly challenging for manufacturing firms like Falk Panel, with many struggling to recruit the talented personnel they need. Falk Panel has, fortunately, not been overly disrupted by this ongoing labor shortage.
"We are lucky in the sense that we are highly automated," Munley says. "As a result of the efficiency of our operation and the attractive nature of our facility, we have been able to attract employees relatively easily. We have exerted a great deal of effort in making sure our facility is maintained to a high standard. We have a lot of guests at our facility, interested parties from the design and construction sectors. At any time, we have a number of group visits and we are open to that. Even when associates come in for interviews, they are amazed by our hygiene and efficiency."
The IMP industry is still emerging in the US. In essence, Falk Panel is taking a product with high thermal resistance (R-value) and putting it on the exterior of buildings. As a result of recent supply chain issues with some conventional building materials, the company is seeing increased demand for its products. "Our materials are efficiently installed on commercial and industrial facilities," Munley adds. "We do very little residential work."
While the type of technology supplied by Falk Panel is utilized in 90 to 95% of construction projects in Europe this figure falls to just 2-3% in the US. "If, for example, you want to build a new distribution center, conventional methods may mean that you have to go around the building two or three times for a wall application," Munley explains. "With regard to our technology, once the superstructure is erected, we can apply the IMP directly to create a watertight system that can withstand the elements for decades to come. It is very efficient from an installation, thermal performance, and manufacturing perspective."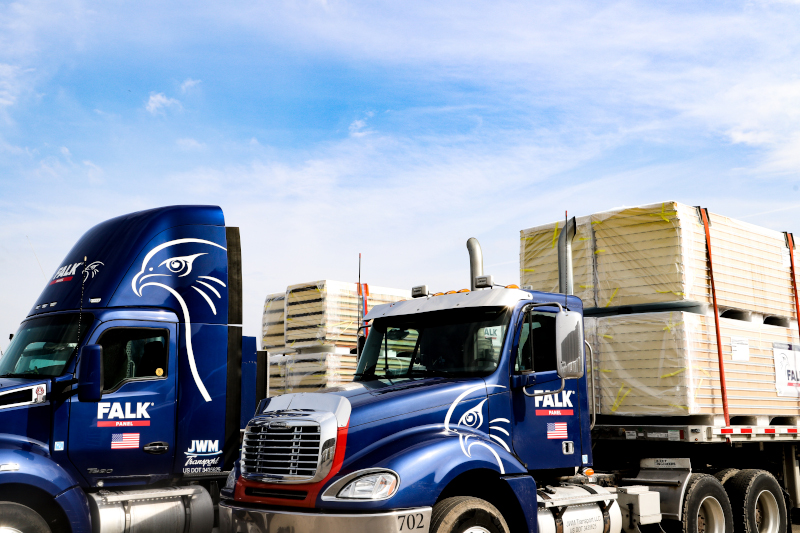 Most of Falk Panel's products are between 45 and 65 feet in length. It is rare that panels over 70 feet are required but manufacturing of this size is a unique capability that the company is able to offer exclusively in North America. "We do have some customers with specific needs for very long panels, for industrial silos or manufacturing elevators," Munley admits. "As such, this requires a very special contractor to meet these requirements as well as specialized cranes and vacuum equipment."
In truth, all of Falk Panel's products appear specialized to those outside the industry. Its insulation product is made of polyisocyanurate (PIR) foam while the coil stock used by the company is a painted steel coil with typical thicknesses of 26, 24, and 22 gauge. "Imagine an Oreo cookie," Munley says. "In essence, that's what we are doing. We have a foam product that's inside a very long metal panel and then we put materials outside this to meet aesthetic needs."
Falk Panel offers a wide selection of coating types, including both standard materials offered through Sherwin-Williams and more bespoke coatings. "We have an exclusive relationship with Tata Steel where we provide HPS coating – a very durable coating with about 7mm of additional coating on top of steel for more discriminating building owners and design professionals. HPS products come in a wide selection of colors and are very durable from a performance standpoint, but offered at a much lower cost than other high-performance coatings."
Falk Panel's products are also extremely weather resistant. "One of the neat things about our products is they can even be installed in inclement weather conditions," Munley continues. "Everything is encapsulated so it doesn't get compromised when wet."
Given the size of the US, these weather conditions vary hugely. Falk Panel's products have been tested in all kinds of climates, boasting customers across the US. Although a lot of the company's work is nearby in the Midwest, many customers that have received the company's products end up taking them further afield. "We are carrying out work in Nova Scotia, Florida, California, and a whole range of other locations in the US and Canada," Munley explains. "Customers are taking us to projects they have in other parts of North America."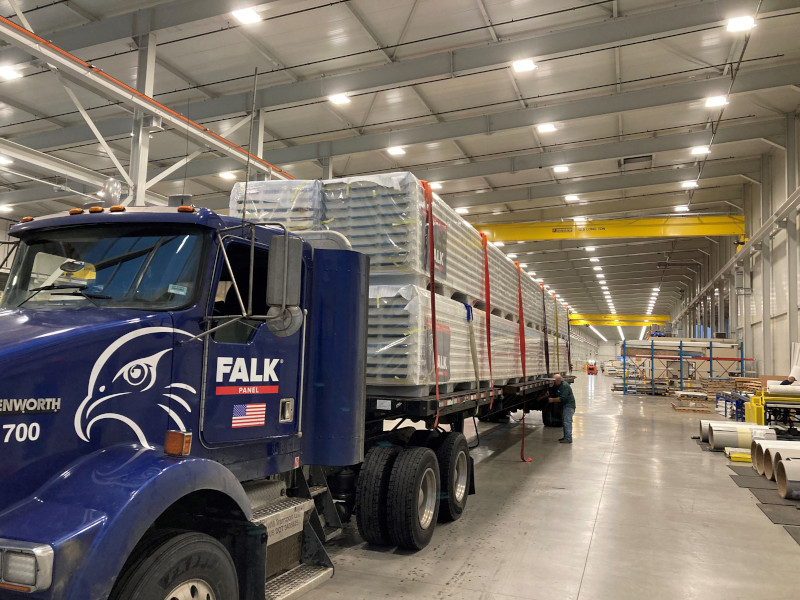 Falk Panel's successes across the entirety of the US are not solely down to its own internal high standards. The company has been ably supported by several excellent partnerships. "We have very strong relationships with our raw material suppliers and Fastener Point," Munley comments. "Fastener Point is a strong advocate of ours both in the Netherlands and the US. The company supplies fasteners that attach panels to superstructures so it's a very natural relationship. Similarly all of our raw material suppliers continue to impress us and support us, even during these challenging supply chain times."
Another reason for Falk Panel's growth has simply been word of mouth. After completing a lot of local work in Michigan, the company has become known by contractors. "As with any industry, people know who is performing and who isn't," Munley says. "Our lead times are very low and we are quick to respond to customer needs. For some applications, we've been able to turn a project around in less than a week."
For Falk Panel, this responsiveness is a key differentiator with the foam technology it deploys being largely the same as that offered by its competitors. In that sense, customer service is essential for the company to stand out from its rivals.
"Much of customer perception comes back to price and availability," Munley admits. "As a relatively new entrant to the market, we have been able to satisfy customer needs rapidly. We are ahead of schedule in activating our second shift and at the end of the day, it's all about responsiveness. Even with recent logistical challenges, we are not reliant on third parties for our freight, so we are very competitive in terms of freight charges."
Its focus on customer service has enabled Falk Panel to enjoy a great deal of repeat business. In fact, the majority of its clientele are repeat customers. "It's easy to grow your business when you have high-quality products, high-quality relationships, and are able to meet customer needs. Challenges are unavoidable – it's about how you react to them."
In the next three to five years, Munley believes Falk Panel will continue meeting these challenges across an ever-expanding market. "We want to keep growing in other parts of the US and Canada," he says. "We are discussing several active plans, from export potential to making our own trim and accessories. There is a lot more to come."
Fastener Point – www.fastenerpoint.nl
Fastener Point, a full-service provider for professional companies in the specialized area of roof and wall cladding is an undisputed expert in the field. Building a reputation that is second to none based firmly on the belief that a solution can always be found for any size project, Fastener Point is in the advantageous position of being able to offer a range of varying-sized screws to fit any job.
Innovation and usability are at the heart of Fastener Point's successful business model and drive the work that it does for its valued clients. Always willing to find new things to improve quality and increase the speed of delivery, Fastener Point adheres to strict professional standards and understands the speed of delivery of high-quality products on time for professional projects of any magnitude.
Cooperation is also at the heart of what Fastener Point stands for and this is reflected in key partnerships to help ease the delivery and technical process. One valued partner is FALK Panel, a top-rated panel manufacturer. We work in tandem to add quality fasteners to the highly durable and exceptionally well-made sandwich panels manufactured by FALK Panel.
Partnerships such as these benefit Fastener Point's many valued clients and provide the perfect springboard to getting the job done the right way, with suitable materials the first time and every time.

Dow – www.dow.com
Dow's best in-class portfolio of panel insulation technology delivers greater energy efficiency and fire performance to meet increased market demand for more sustainable building materials. From metal panels insulated with polyisocyanurate and polyurethane systems to composite panels fortified with halogen-free, flame-retardant core layers, our broad range of insulation product offerings are customizable to your specifications and offer superior levels of efficiency and performance to help you create more sustainable structures.
With a customer-focused mindset, Dow's approach to doing business is efficient and effective, making it easy and enjoyable to do business with. We customize our service, approach and solutions based on your exact needs – not ours. And we partner with leaders, like Falk Panel, who prefer a more collaborative approach focused on generating long-term value through innovation and collaboration.
Contact us today to learn how you can gain a competitive advantage, keep pace with changing market requirements, and meet even the most demanding industry requirements for sustainability, efficiency and performance with innovative insulation technologies for metal panels.

Mill Steel Company – www.millsteel.com
Mill Steel Co. is one of North America's largest flat-rolled steel suppliers. Headquartered in Grand Rapids, MI, it operates five regional processing and distribution facilities across the US. Mill Steel excels at serving some of the world's most demanding industries with its steadfast dedication to superior quality, delivery, and customer experience. The company continues to grow by consistently operating with integrity, putting its customers and associates first.