Dart Transit Company
drives the transport agenda
Standing out from the competition, Dart Transit Company rides the road to continued success
The transport and logistics sector is competitive by nature. With so many companies vying for contracts, the ability to stand out from the competition comes down to putting the customer first.
For Dart Transit Company, a family-owned freight logistics company, the road is smooth sailing as clients remain loyal and drivers hit the road with the highest standards for integrity and putting safety first.
Dart has been a full-service transportation provider for nearly 90 years. To provide its services for such a significant amount of time, the company has evolved many times to address the changing demands of its customers. Today Dart remains committed to its goal of getting products where they need to go when they need to get there throughout the United States.
Owned by the Oren family, Dart is poised to head into its second century of working in the transportation industry with integrity and innovation for customers, owner-operators, employees, and drivers alike. About half of those drivers are employees of the company while the other half are independent contractors. Dart has been a leader in protecting independent contractor status and work and treats those contractors as separate businesses, providing them with support strategies to help them purchase their own trucks and be successful small business owners.
Dart operates upwards of 1,200 trucks. Its main geographic areas of focus include short and long-haul routes in such states as Minnesota, Texas, Georgia, Pennsylvania, Illinois, and more. Main cities include Minneapolis, Dallas, Atlanta, Chicago, and Harrisburg, PA.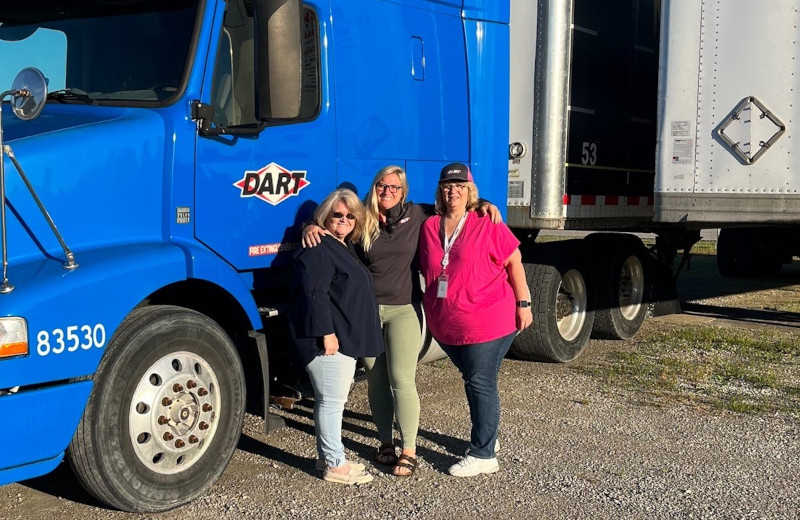 Dart has many different lines of business. It provides customers with irregular, over-the-road delivery and short hauls in urban markets. Regional drivers and dedicated service drivers may travel longer distances. Its truckload services are designed to ensure products arrive at their destinations safely on time and on budget.
The company's logistics business offers customized, single-source solutions to support supply chain needs, even in tough supply chain environments like the current one. Meanwhile intermodal is quickly growing as a method of transport for containers and trailers, routed on trains.
"We're looking to grow in many ways, whether that is by adding new trucks or expanding our services," says President of The Dart Network Mike Cafarelli.
Once the COVID-19 pandemic began, it didn't take long for the supply chain to back up in 2020. Initially, the biggest impact was the sparse supply of new commercial trucks. It is the main reason why Dart's fleet of company-owned trucks fell by 40-50 percent from 2019-2022, says Cafarelli. Yet it's not just a truck shortage but a parts shortage that has challenged Dart and the entire industry in the last two years.
"It was getting easier to find parts for a while, but lag time is becoming an issue again," he says. "There's no easy solution out there."
Rising fuel costs and a shortage of skilled laborers and drivers have added to supply chain complications within the transportation logistics field. While a shortage of trucks and parts is hard to completely overcome, Dart has utilized its strong network connections and OEM and carrier partners like Paccar and Freightliner to identify options. "We couldn't be successful without these partners, and really rely on them to help when times are tough,"Cafarelli says.
What Dart can proactively do is support the labor shortage by recruiting and especially training. In fact, the company started its own driving schools that include full-time staff and comprehensive paid job training so drivers with no experience can obtain their CDL (Commercial driver's license) The new training course takes about seven weeks to complete and is designed to be "no cost" to the trainees.
These courses were first established in September 2022, meaning the first few classes of drivers were beginning their employment with Dart by December. Finding maintenance staff is slightly more difficult, but Dart has been working to improve pay for these skilled professionals as a recruiting tool.
"Our drivers and other employees are really our most important partners, whether they are employed or contracted," Cafarelli relays. "We invest a lot of time and money to help them be successful." Cafarelli credits the Dart team that oversees driver relations with helping the entire company be more responsive in supporting driver needs.
New trucks and additional in-cab technologies will help make the job of its drivers easier in the coming years. These efforts also help in recruiting drivers, along with other facility upgrades in Dart's Chicago Service Center and in hubs in Eagan, MN., and Lancaster, TX.
"We have a good network of terminals and service centers to really help our team," Cafarelli notes.
Dart's commitment to investing in the business and excellent service continues to pay back-Dart was recently named "2021 Provider of the Year " by Andersen Windows. Dart also has gained recognition for having the ability to haul more weight than other carriers, reducing the company's carbon footprint.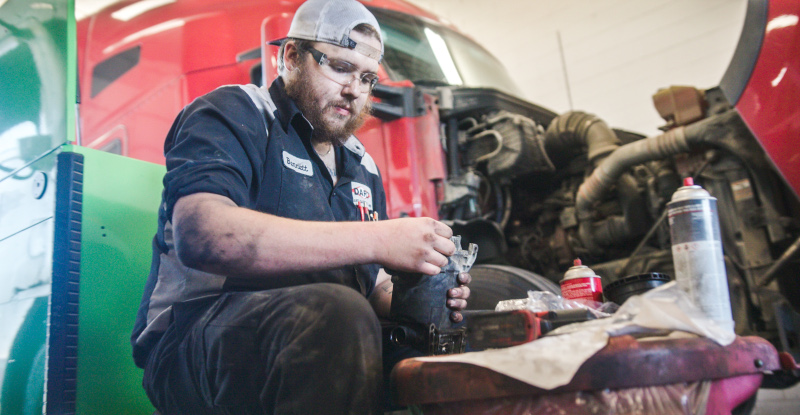 Together, these investments and awards have led to improvements in safety that are recognized by peers, Cafarelli says. Dart has one of the industry's best safety records based on Department of Transportation accident rates per million miles. According to Cafarelli, it has allowed over 10 percent of the company's drivers and contractors to drive 1 million miles or more with zero safety issues.
He adds, "We focus on safety every day and often start every meeting with a discussion about it. There's a big culture push to not only ensure the safety of our drivers and others on the road, but to create this sense of accountability throughout the entire company."
While about eight percent of Dart's drivers are women, Cafarelli expects that number to rise based on the company's proactive recruiting efforts. Several Dart executives and directors are women, including Stephanie Williamson, the company's only senior vice president, who manages a large portion of Dart's corporate operations.
The company sent several female employees to the Women in Trucking Conference in late 2022 and is looking to establish a Women in Trucking Taskforce led by Williamson that will interact with leaders at other companies and within the industry. Dart is hoping to grow its female driver base while still allowing those employees to address their own family and personal needs. "We want to build a culture of inclusiveness and opportunity, where all of our employees feel safe," Cafarelli says.
That inclusiveness extends to people of color and employees from other diverse backgrounds as well, he adds. A substantial population of the company's drivers were originally from Africa and immigrated to the U.S. By growing that diversity and strengthening its environment of diversity, equity, and inclusion, Dart will become a stronger organization seen as a progressive subject matter expert, Cafarelli says.
One thing that Dart is encouraged about is that demand for high-quality freight delivery services has increased since the summer of 2020. Cafarelli says that trend is likely to continue, even as a driver shortage continues. Dart understands the necessity of investing in its employed and contract drivers to help manage its own business. That includes creating an environment for higher-margin work.
A key message that Cafarelli wants to market is the opportunity that drivers have to make a good living in the coming years. Dart drivers who are willing to take unique routes have financially thrived and will have no shortage of work in the months and years ahead. Cafarelli calls it a "fine line" because there's still a need to balance quality of life with the amount of work.
"Those drivers who have taken on (new routes) and delivered (client products) successfully are doing extremely well," Cafarelli says. "That's one of our messages. There's an opportunity to build a great career with us now and in the future."
AT A GLANCE
Dart Transit Company
What: A transport, trucking, and logistics company providing top-tier service for decades
Where: Eagan, Minnesota
Website: https://dart.net/

Luber-finer® – www.luberfiner.com
For more than 80 years, Luber-finer® has been providing filtration excellence for heavy-duty on-highway vehicles, vocational and off-road equipment. Recognized as a global brand leader of dependable heavy-duty filter product lines, Luber-finer combines product value with a commitment to reliable customer service. For more information, visit luberfiner.com