Elwood, Indiana
a friendly community in the heart of the Midwest
With unparalleled outdoor assets and with its residents at heart, Elwood, Indiana welcomes continued growth
Elwood, Indiana is a dynamic community of 8000, located in the heart of the Midwest. Known for its friendly residents, affordable cost of living, and historic uptown district, the city is ideally located 30 miles northeast of Indianapolis, making it a convenient location for both work and leisure. Recently, Elwood itself has undergone significant improvements, investing in infrastructure, beautification, and quality-of-life amenities to attract growth and development.
Additionally, Elwood is home to several parks, recreational opportunities, and annual events that bring the community together.
Mayor Todd Jones highlights, "The biggest asset of the City of Elwood is, first and foremost, its people. We have extraordinary people in this community."
Rich with history, it was in Elwood's Callaway Park that Wendell Willkie gave his 1940 presidential nomination speech, solidifying a legacy that is still celebrated in the community today, while the park remains a popular gathering place for residents and visitors to the city. The Elwood Golf Links, a municipally owned 18-hole course is another community hotspot, which was reopened in 2017 with the help of the Elwood Community Development Corporation (ECDC).
As for other recreational amenities, Michael Farrer, of the City of Elwood Legal Department, and member of the Elwood Community Development Corporation portrays, "Sports is a big thing in the Midwest. If you grew up in a small town in the Midwest, you grew up playing sports, I guarantee you that. We have lots of neighborhood basketball courts, and tennis courts, and I believe that is an overlooked asset of this community. I lived in Indianapolis, but it could be five miles to the local park, if you I lived downtown. Here, it is probably five blocks to your closest park."
A 50,000-square-foot indoor sports complex is also in the planning stages and is expected to boost economic development and tourism in the city. "The current feasibility study for that complex is estimated to bring $9 million annually in revenue to the Madison County area. Bringing an influx of people to Elwood on the weekends is not only going to help our mom-and-pop businesses and our uptown business district, but it's also going to be a demand driver for future development, whether it be retail, residential, or restaurants," says the mayor.
As with many smaller communities, uptown Elwood has seen a decline over the last several decades, as easier access and big-box establishments were brought into the city. Farrer maintains that there is now an effort to revitalize the heart of the community, noting that the key to a thriving commercial district is having the people utilize it. "In terms of planning in the uptown area, the first thing that we attacked was new housing. All the studies showed that we had a huge number of old houses that had become substandard," he reports.
"The city has been incredibly aggressive in tearing down old houses, and there are now three new apartment buildings uptown. That's going to bring 100 families into the uptown area within one block of the commercial district. When people live uptown, they have to have breakfast uptown, they have to buy toothpaste uptown, they'd like to maybe have a glass of wine and have dinner uptown and buy a pair of shoes. But you can't sell the shoes until you have the people."
The next step was to revitalize the uptown, making it attractive to potential residents, and as a shopping destination. "Image counts. We knew we needed people, and one of the things that we had to do is make it look better," conveys Farrer. "We were able to get a facade grant, and that allowed us to go to the individual business owners uptown. That grant, in my opinion, was one of the most important sparks we did, and it wasn't the most money we ever spent."
This building improvement incentive provided funds to owners to upgrade their facades on a percentage basis, making the main street area more appealing to visitors. A free public parking lot was also introduced, along with the beautification of an alleyway, including the addition of lights and chairs to make the area safer and more welcoming.
Farrer goes on to say that all of these improvements are thanks to the current administration, adding, "In the last seven years, we have increased the amount of money available by the government to spend on these projects by over $1 million dollars per year, in addition to whatever money we had. There's a specific sum of money of over $1 million being added to our expenditure every year from this administration."
Elwood is currently working on several development projects including a new hotel and restaurant, which will replace an old motel that was recently acquired by the ERC. This project will be a complement to the new sports complex, and Mayor Jones notes that the city is in the process of negotiating with two interested hotel developers. With a focus on vibrant neighborhoods, Elwood has demolished over 130 properties since 2016.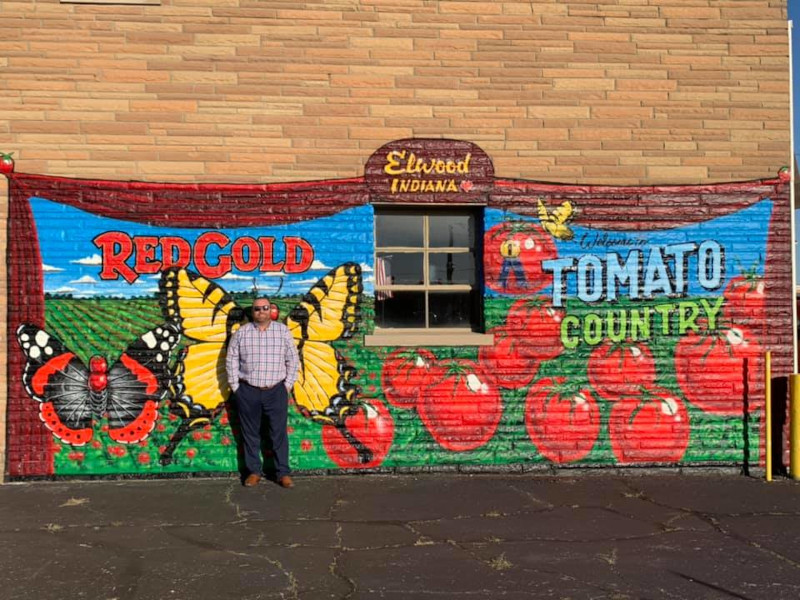 In terms of building, the newest housing complex Tin Plate Square will offer 72 units in the uptown area, while Bison Ridge Estates, a $25 million housing development located near the golf course, has reached full occupancy, and is now considering its second phase. In addition, the city is working with a housing developer to build 243 houses just outside the city limits, with the understanding that they will be voluntarily annexed as part of the city.
Mayor Jones recounts, "The perception prior to 2016 was this community was dying. There was a closed car dealership, there were vacant buildings. Now, when you travel the 37 corridors to take 13 North, the corner of State Road 13 is completely occupied. The golf course is revitalized and open, in addition to the housing development of Bison Ridge Estates. Elwood is alive and doing well." He asserts that despite the city's growth, the community remains a priority, and Elwood wants to maintain its friendly welcoming atmosphere.
As recipients of a Community Crossing Grant, Elwood will be able to invest a total of $1 million in road infrastructure in 2023, paving the way to a strong and healthy city. Jones relays, "The way the Community Crossings works is the state of Indiana pledges 75%, and the local municipality would pledge 25%. We were awarded $750,000 to our $250,000 match in paving and roads for the 2023 season, and we've been able to invest $1 million in paving for the past six years."
The city is also directing ARPA funds towards water infrastructure, including the excavation of a new well, and upgrades to the wastewater treatment plant to increase capacity for future development. A scheduled construction project on State Road 28 will see a separation of a combined sewer system, "allowing for more efficient treatment of wastewater while diverting stormwater to a creek, thus creating opportunities for future development," the mayor details.
In terms of valued partnerships and collaborations, Tom Austin, President of the Redevelopment Commission, discussed the Hinds Career Center, a treasured community resource known throughout the state for its diverse programming.
As a retired school superintendent, Austin can attest to the center's importance in the city, and shares that there are ongoing discussions to renovate or relocate the facility while expanding the program offerings. "It is truly a community asset," he says, "The ECDC, which Mike and I serve on, has a robotics program that is less than two years old. We're going to be visiting that program before the end of the school year, while students are there. I'm excited to see the program in operation firsthand."
The city also values the contributions of other key community partners, including prominent employers like Red Gold, a family-owned company known for its tomato-based products, Elsa, a manufacturer of automotive parts for Subaru, and Ascension St. Vincent Hospital. According to Mayor Jones, these three major employers rank among the top 10 in Madison County. Warner Bodies, Kadet Products, Progressive Plastics, Dunn-Rite Products, Depco Products, and Steel Mart are also significant contributors to Elwood's economy, with the latter taking over the last vacant factory building in the area to expand their operations. A brilliant example of the collaboration between local entrepreneurs and community organizations is Gypsy Soul, a coffee bar and boutique located in Elwood's uptown area.
The business operates in a building owned by the ECDC, and Austin suggests, "That business is probably the biggest shining light we have uptown. I hope it's an encouragement for other businesses to take a chance and locate uptown."
With continued growth on the horizon, the city is committed to investing in infrastructure, stabilizing neighborhoods, and revitalizing blighted areas by replacing them with new residential properties. In summary, Mayor Jones says "We are continuing to focus on quality of life projects, not only for our residents, but also for our visitors, and those who could potentially want to call Elwood home."
AT A GLANCE
Elwood, Indiana
What: A city of 8000, 30 miles Northeast of Indianapolis
Where: Madison County, Indiana
Website: www.elwood-in.com
Elwood Community Development Corporation