Clemson, South Carolina
an educational hub and so much more
Boasting enviable natural assets and an unparalleled lifestyle, the residents of Clemson, SC are 'smart' to call this town home
There is little question that Clemson, South Carolina is a college town. But there is so much more the city offers residents, business travelers, and tourists. While Saturdays in the fall at Memorial Stadium may be a lasting memory many have of the city, Clemson also offers natural beauty, an array of outdoor activities, a traditional and festive downtown atmosphere, and family values. It is less than an hour from Greenville and only two hours by car to Atlanta.
Nestled in the foothills of the Blue Ridge Mountains, the Clemson area and surrounding Pickens County offer visitors a unique opportunity to explore the great outdoors and reconnect with Appalachian heritage. Its residents enjoy a high quality of life. Lake Hartwell is ever present as a natural attraction, especially given that warm weather permeates the community up to 10 months out of the year.
Between the city's mission statement and values, it is clear that Clemson stands for quality and honesty. In addition to its quality of life and attention to values, Clemson provides modern core city services from transportation to infrastructure to walkable features. It is extremely inclusive with a cultural balance that is inviting to people of all ages, races, and backgrounds.
There is a thirst for both personal and environmental health that is evident wherever you go – whether you see residents power walking, jogging, or bike riding. The city engages in studies on the number of trees it has and is careful about overdeveloping at the expense of environmental chaos. It is also working with Duke Energy to install electric vehicle charging stations in strategic locations around the city.
"We're fortunate because we have great weather but even better people," says Clemson Mayor Robert Halfacre. "It's a city focused on (having) a better quality of life."
Clemson was ranked the fourth-best college town in the region by Southern Living in 2022 based on much more than campus life. The city's newer slogan is "See you here"," and chances are neighbors will bump into people they know well at many of Clemson's well-known stops.
Given how well-known the university is, it might surprise some that the city covers only eight square miles and includes nearly 18,500 full-time residents, around 8,000 fewer than the number of undergraduate students at Clemson University. Yet other colleges are a short drive from downtown Clemson as well, including Southern Wesleyan University and Tri-County Technical College, both 10 minutes away, and Anderson College which is a 30-minute drive.
Residential and commercial developments are carefully planned
Given the comparatively small size of the actual city, growth corridors are limited because  Clemson is hemmed in by the Blue Ridge Mountains, Clemson University, Lake Hartwell, and neighboring communities. It needs to plan new developments carefully as a result, selecting plans that support the needs of residents and provide additional tax revenue to support city services, says Assistant City Administrator Allison Gantte. Sustainable growth is a critical element of these plans.
One such development is Patrick Square, a mixed-use development that includes single-family homes, and commercial entities including restaurants, healthcare, senior living facilities, and more. The Patrick Square Town Center serves as a destination point complete with best-in-class restaurants, shops, and businesses situated in a safe, vibrant, and walkable setting. Everything at Patrick Square is connected to its central point — Village Green. That serves as a main gathering spot for the greater Clemson community.
Businesses located within the Town Center do much more than simply serve the community—they are part of the community. This is the place for impromptu visits with neighbors, lunch with longtime friends, outdoor activities for the whole family, local farmers markets, and concerts under the glimmer of summer stars.
Another highly regarded development is Kadera which completed its initial master plan in 2015. Covering over 300 acres with 1,600-plus homes, this neighborhood includes mixed housing from estate lots and townhouses to rental apartments.
According to Gantte, "Offering housing is very important. Our boundaries are limited so we must be smart and efficient.
Halfacre refers to the "smart measurable growth" for Clemson that includes the necessary residential infrastructure to support the needs of residents at various stages of their lives. For example, a slight uptick in the population likely arose from the pandemic as more professionals with the ability to work remotely moved away from larger cities.
"We always want to do better, and we need to be very strategic in our approach," Halfacre says.
Infrastructure is always top of mind
Infrastructure improvements are always a priority for city leadership. Clemson underwent a major wastewater treatment plant upgrade in 2019 at the Cochran Road WWTP.
Other utilities are being handled or targeted for upgrades in the next year, including water, sewer, and stormwater lines and systems. Clemson has also filed a community block grant application for $600 thousand  to replace water lines in a portion of the city with the greatest need.  Other important projects include upgrading pump stations and wastewater transmission lines in areas experiencing growth.
Of course, there is also technological infrastructure which Gantte says remains as important as ever. While it is not finalized yet, Clemson leadership is working with Blue Ridge Electric to provide broadband support and extension through grant funding.
Commercial and business support is always available
Despite its small size, Clemson has awarded more than 950 business licenses within its borders, and Halfacre said more than 2,600 local businesses conduct business within the city, regardless of their mailing address. While Clemson city officials do not directly review in-depth marketing strategies with entrepreneurs, they provide data points and information like demographics and location studies for support.
Downtown offers restaurants and bars of all tastes from upscale to college dive. According to Halfacre, "We try to be intentional in our efforts to drive business throughout the City of Clemson." That includes regular summer plans to include live performances on the street, and closing down those streets to support outdoor dining. Halfacre says the city could always use more locally owned businesses to provide additional variety and uniqueness for residents and guests. The City is strategic in how they drive business, not only downtown, but throughout the entire City.
Have you ridden CAT? Clemson Area Transit  is a-fare-free bus system known locally as CAT or "CATBus", is one of the most frequently used transit systems in South Carolina and according to Halfacre is one of the largest fare-free transportation systems in the U.S. City leadership has used grants to support a shift toward electric business, furthering the city's sterling reputation in sustainability. More than 600,000 people rode CAT in 2022.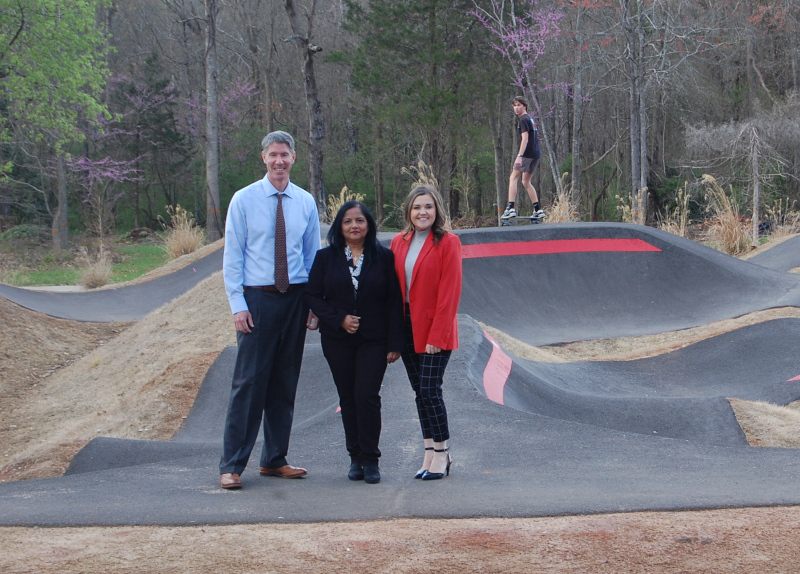 The Clemson Area African American Museum was established to collect and showcase the historical and contemporary achievements and culture of African Americans throughout the region. It is working to finalize a $3.4 million heritage trail, funded by the Mellon Foundation, celebrating the history of Clemson, the City of Seneca, Clemson University, and other important partners in the area.
Meanwhile, the Arts Center of Clemson offers an array of classes and workshops for people of all ages throughout the year. Whether you want to paint, mold clay, participate in a summer youth camp, or just want a "cool" place to hang out and be creative, the arts center can help.
Clemson's bucolic charm is on display  everywhere you look. The great outdoors can be experienced  in more than 15 parks that offer such facilities as lakefront access, tennis courts, baseball/softball fields, picnic tables, hiking trails, and more. "The point of these and other activities is to bring families and people together," Halfacre says.
Immediate initiatives
Halfacre and Gantte are confident that Clemson will be able to continue its journey toward smart, strategic growth, and that small improvements will lead to a big impact on the city's infrastructure, business climate, and reputation.
Both highlighted some immediate initiatives including ongoing investments in transit, expanding opportunities for outdoor recreational activities, the continued support of small business creation, further focus on affordable housing, and further investment in neighborhood preservation.
"We want to foster collaborative efforts for all of our residents and opportunities for those new to our city," Halfacre says.
AT A GLANCE
Clemson, South Carolina
What: Famed college-town that offers residents top amenities and high standard of living
Where: Located in Pickens and Anderson Counties, South Carolina
Website: https://discoversouthcarolina.com/