Easthampton, Massachusetts
Space making and place making
Business View Magazine interviews Nicole LaChapelle, Mayor of Easthampton, Massachusetts, for our focus on Economic Development in U.S. Cities
We all need a little space sometimes. Space that provides unfettered freedom to think and to tinker. The small city of Easthampton, Massachusetts, prides itself on providing those spaces for its residents. Space to live. Space to grow. Space to create.
Easthampton is a former mill town. When the mills closed in the mid-20th century, a new industry emerged here: tool and die, along with small precision machines. This made Easthampton a hub for manufacturing. It also made it a mecca for artists, taking advantage of both the old mill spaces and the scrap metal for art.
"It's a great combination of natural resources and innovation, as far as small machine and precision machining go," Mayor Nicole LaChapelle explains. "There's a long tradition here of that, as well as making space… it's uncanny how many different people are involved, whether their family has been here for four generations or they've been here for four weeks. A wide variety of backgrounds can make space in Easthampton and feel like it is a home and feel like it is a place where folks will listen and take notice of what you're doing in your space. It really brings a perspective, a continuum of voices and creativity and industry together in a very small space. We're just 13 square miles."
Easthampton is located in the Connecticut River Valley, surrounded by larger cities like Holyoke, Springfield, Chicopee, and Northampton. "We're plum in the middle," says LaChapelle. "We have easy access to I-91 and the Mass Turnpike. You can get to Boston and Albany in maybe an hour and a half. It becomes a place where people can make things possible for themselves, whether they're a visitor, a business or a resident."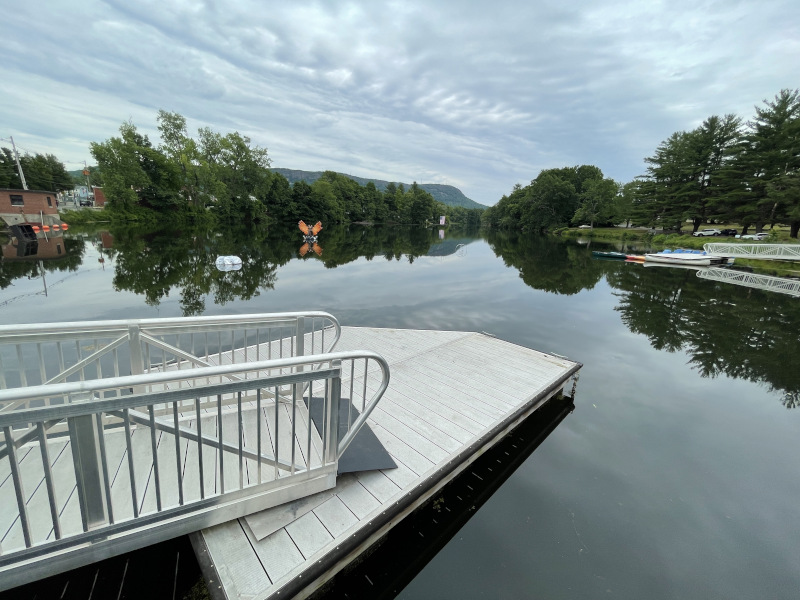 Now home to 16,000 residents, Easthampton is a thriving cultural center, with the old mills serving as reinvented spaces for artisans and business owners. LaChapelle acknowledges, "Business wise, we know who we are. We are upfront with folks who want to do business or expand their business, or even move their business to Easthampton. We are cheaper per square foot for Class B office space than Northampton. And when it comes down to it, that's certainly a factor in a company's decision. But we're offering something more. We're offering a space where people can come, with eclectic office space and build-out machining space. You ask somebody why they are here and you might hear, 'Well, I'm an educator, but the quality of scrap metal from our machine shops in Easthampton is excellent.' And we're being upfront with folks, this is the location and the quality of life we can offer."
It's that quality of life and the foresight to sustain it that makes Easthampton such a special place.
Mayor LaChapelle recounts, "When I became the mayor in 2018, I really looked at that kind of entrepreneurial spirit and those kinds of informal businesses as a strong wealth building tool. I don't think it's the answer to the wealth gap, but I think it's something that is sustainable. People who have an idea, can grow with that idea as much as  they want or don't want. They have control to make that business successful. They know what they want to do and they should have the tools to guide it, to make it bigger."
LaChapelle worked with the National League of Cities and their Community Innovation Ecosystem Program, as well as the Kaufman Foundation, to tease those businesses out. She adds, "The hope is that it would be a real income generator for them. It also would allow them to go out for capital, whether it's to buy a building or to buy a second oven. Hopefully, from there, the capital leads to equity in business employees, and that starts to generate real wealth, not just for yourself, but for your employees, too."
When COVID hit, the City of Easthampton worked with some of these informal businesses to bring them into the formal economy. A kind of rapid boot camp to get people aligned with what they needed and to get them set up correctly. As a result, the downtown district saw the creation of seven businesses – five of which are owned by women. In addition, three other businesses expanded.
Housing is expanding in the city now, too. "It's the focus of my administration from now until 2025," LaChapelle notes. "We literally need housing across all sectors. We have a lot of families who want to move here. It's a beautiful place. And so to get those folks a great place to live in Easthampton is really economic development. We have about a hundred housing units coming in the mill district. We have 19 apartments coming in the middle of downtown. We have another development that is starting that looks to be about 150 units in one of our opportunity zones."
But housing isn't the only type of development. A recently renovated mill offers a campus of seven acres, with five buildings of mixed use for businesses and rentals. LaChapelle states, "The priority was to stimulate the true local economy with things that were genuine and sustainable that already existed but were in need of help. Then, once that was helped and we had somewhat of a structure, to take a look at municipal operation and efficiency modernization, and then go to housing."
School space has been a priority, too. A new high school opened up in 2013 and a new pre-K through 8th grade was just finished on a 10-acre campus. This means that the three smaller elementary schools are available and open for renovation opportunities. According to LaChapelle, "The schools are basically bookends for our downtown district… if somebody made a bid for all three schools, or just one, we would welcome that." The other benefit is that all students in Easthampton attend a newer school. That's also attractive for families looking to locate in the city.
LaChapelle's aggressive approach has been successful in other areas, as well. She went after trail projects early on. "Mount Tom is one of the biggest environmental resources we have. The view of it just overshadows – in a beautiful way – the whole city." With increasing traffic, by way of population growth and visitors, there wasn't one clean access to the state park and the national trail system from Easthampton. So the city bought 11 acres and just finished a fully ADA accessible switchback trail that goes to a vantage point that looks over the whole Connecticut River Valley. Bike trails are another important project.
LaChapelle acknowledges, "I think inflation is coming. My term has always been smart growth minded, long term sustainable. And when you look at the ups and downs of the economy, those natural resources that also protect the environment are resilient in a recession or a boom economy. People want to do those things. So it was a natural focus and we are incorporating them into infrastructure projects." Those projects include securing the sewer and water infrastructure under the roads. LaChapelle adds, "We wanted to pick a certain thing: we wanted to protect our water supply and protect it from extremes – from drought but also from flooding."
The mayor hasn't done all this alone, obviously. She is quick to call attention to the professionals that Easthampton has partnered with to build up and help sustain their city. "I can't say enough about Mike Michon, with One Ferry Project, for working with the city, really listening and respecting what the residents wanted. He's a great partner. We worked together to do an entire site plan. He said he'd get the first building open in a year. He did it in 11 months," LaChapelle boasts.
Jonathan Wright at Wright Builders teamed up with Rochelle Putney, GM of River Valley Coop, for a project that's a "game changer for the city," LaChapelle says. "River Valley Market has 80+ union jobs, sources natural food, and is all net zero. It all runs off of massive solar."
The City of Easthampton also worked with Congressman Richard Neal to secure 15 million in new market tax credits. "There are so many things to be excited about," LaChapelle says. "If you go back to the 1800s or the early 1900s, everyone had a side hustle. Maybe you had a farm that supplied potatoes to area restaurants or colleges, but your side hustle was fixing tractors for those farms or making machine parts. Or maybe you worked at Rock Valley Machines and you knew where to get pierogies made from fruit cakes. That's not new. The informal business – that sector, that community – has always been robust and vibrant."
The entrepreneurial spirit is alive and well in Easthampton and, because of that, it's a place – and space – where people want to be.
AT A GLANCE
Easthampton, Massachusetts
What: An entrepreneurial small city; population approx. 16,000
Where: Hampshire County, Massachusetts
Website: www.easthamptonma.gov