Dash Delivery
expedited, experienced, and top-tier delivery services
With the targeted experience and knowledge to deliver on time and always one step beyond the competition
On February 1st, 1998, in Oregon, a man entered the world of deliveries armed with a cell phone and voice pager. That man was the Owner and President of Dash Delivery, Zach Woody.
"When I was about 20, I saw a little company called Dash Delivery going out of business. I contacted the owner and reviewed their books which were terrible, but they sounded fun. That's when I decided to spend my college funds to buy it," says Woody.
Starting with only one man, the company now actively employs well over a hundred staff drivers with established contract relationships throughout Oregon. On average, the company does 45,000 deliveries a month, with roughly 200,000 packages going out throughout the state.
Initially, the company's main focus was medical deliveries, which is still a significant part of Dash Delivery's business. This has consisted of moving lab specimens, pharmaceuticals, organs, and surgical equipment.
Establishing a business at such a young, inexperienced age meant that Woody needed to acquire an enormous volume of knowledge. Over the next seven years, Woody would focus on learning the ins and outs of the industry.
He rode around Los Angeles with the owner of a company doing deliveries, meeting other delivery enterprises in Portland, and eventually he joined the Express Couriers Association (ECA) and the Customized Logistics and Delivery Association (CLDA).
"I kept on going to trade shows and business events, but it was my time with the ECA and CLDA that proved to be invaluable. These companies had the best tutors who took me under their wings and taught me everything I needed to know," says Woody.
Currently, the company focuses its delivery network within its state lines; an estimated 98% of all its deliveries take place in Oregon and they focus on the aforementioned pharmaceutical deliveries from suppliers to patients.
Some of these deliveries, especially if they are lab specimens or from clinics, need to be refrigerated or frozen. This means thorough training and proper equipment.
Another part of the business is distribution and more extensive home goods movies coming from Portland and going primarily to four larger metropolitan hubs within Oregan. The company has distribution centers in Oregon and Washington. This part of the business has expanded, and now the medical delivery side of the company makes up only 60% of business dealings.
The company has also widened its service reach, including deliveries for e-commerce sites and other consumer-centric needs.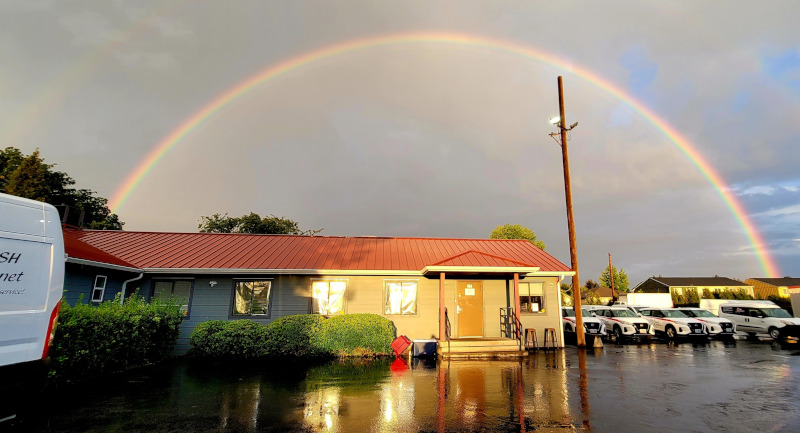 In late 2019, Dash Delivery partnered with StatimRX, a pharmaceutical benefit manager providing daily deliveries throughout the US to help expand their network through ongoing relationships within the industry. Woody points out that partnerships such as this create a mutually beneficial relationship while helping to create more operational efficiencies.
Although some industries slowed down during the pandemic, Dash Delivery experienced increased delivery demand which made the last few years quite challenging to meet the increased activity.
"When COVID-19 hit, the ordering habits of many Americans changed. Since the lockdown, online purchases and e-commerce have become an official American consumer habit. Keeping up with these new demands was extremely demanding. Dash Delivery had to limit what it got involved with," says Woody.
Controlling this growth was a challenge, with existing clients needing more deliveries than ever. Some consumers' needs grew by 30%-40%. But with this surge period tempering down, the company's demand is leveling-off.
While it's not the usual principle of conducting business, the management at Dash Delivery is happy that the surge is over.
Other factors plaguing other industries also affected the courier sector. With a workforce pivoting away from their professions and supply chain issues, this created a problem for Dash Delivery.
"I'd say that COVID was one of the most challenging business environments I've worked in over the last 25 years – no doubt. And it was down to the worker shortage," says Woody.
However, with delivery service now more reflective of pre-pandemic levels, since late summer 2022, there's been an uptick in interest in jobs at the company.
The company has procedures in place to train drivers, and this takes five days. The training entails learning about apps and systems, as well as how to deal with certain complexities of some of the specialized medical deliveries.
Each day through the training process, the new drivers focus on one new skill. So, for instance, one day they will focus on utilizing the apps and scanning systems.
If everything goes according to the program, the new drivers will be sent out on their own the following week. This process was never fast-tracked and new employees had to take every single step according to the training plan.
"It's the strict training plan that allowed us to be so successful during the last year and a half. With so many people switching roles during the worker shortage period, Dash Delivery was able to produce new, well-trained employees quickly. You have to be willing to invest in the person, otherwise, they become stressed out and leave the position," says Woody.
Other challenges during COVID included rolling assets, like vehicles, being a huge issue.
A larger national supplier bought out certain ranges of delivery vehicles for the entire country. This had a massive knock-on effect on the entire sector, but luckily Dash Delivery already had an agreement in place to flip vehicles every three years, buying directly from the factory.
The company was also selling off stock that had hit 100,000 miles. But again, with fortunate timings, the entire fleet of trucks was only on 50,000 miles when the pandemic hit. While shortages of vehicles and parts were an issue, the company had integrated a fleet management system.
eFleets was ahead of the game and were able to guide the company through the shortages and kept the vehicles in a good shape. This helped Dash Delivery to carry on conducting business.
Other than vehicle issues, the company's equipment didn't experience problems as cell phones only needed access to data plans.
While the company is interested in alternative fuel sources for its fleet, management has crunched the numbers and the infrastructure isn't in place yet for the transition. This includes sourcing stock, repairs, and refilling.
No company can operate in complete isolation. For Dash Delivery, working with eFleets has made processes far simpler and easier to manage, and Dash Delivery was able to keep their fleet running when it mattered.
"When COVID hit, working with eFleets made things so much easier. Other competitors were scrambling to look for used vans, and paying a premium for them due to the demand, but we were already set," says Woody.
Another key relationship for the company during its early years was Barrett Business Services, Inc (BBSI). BBSI was not a company that Woody thought he'd be contacting for help, but when worker's comp issues and runaway rates became an issue the company brought them on board.
When onboarding the company, Woody identified the programs within the company, including consultant services, that he could take advantage of. Here he met other entrepreneurs from various businesses who were experiencing the same problems he was.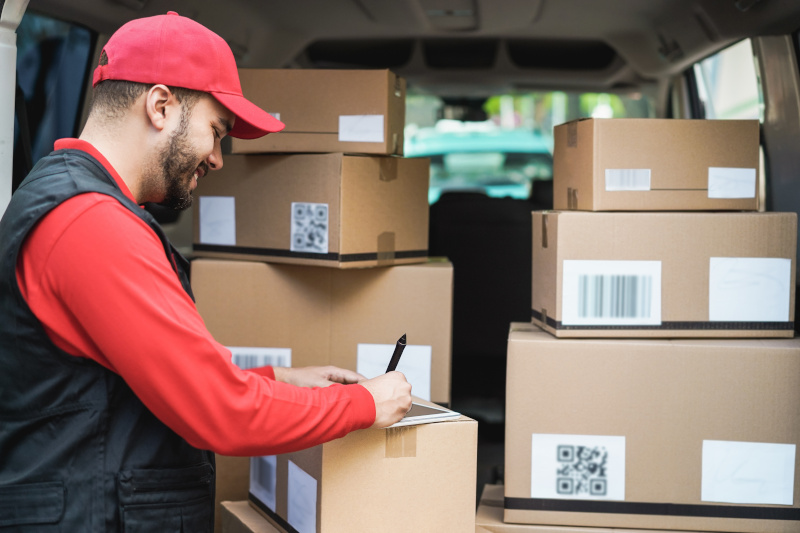 "It was wonderful meeting other business owners who were sharing insights and talking business. These conversations transcended industries, and what I learned through the BBSI program helped to really accelerate growth," says Woody.
The program started in 2014, and by 2016 the company had completely changed its infrastructure and growth plan, as a result of the lessons learned. Dash Delivery experienced a breakaway year in 2016, which was confirmed by growth trajectory numbers. Since then the company has doubled in size.
The training allowed the company to set up strategic paths to grow in a controlled and manageable way, so, since 2016 the company has gone from strength to strength.
While the majority of deliveries occur within the state, the company does need to abide by Department of Transport legislation for state and federal purposes. However, due to the smaller sizes of the vehicles, they operate (under 26,000 pounds), complying isn't an issue.
But due to Oregon's human resources policies, managing staff is the issue, and as Woody puts it, "Makes Oregon very business unfriendly."
Dash Delivery's business model is employee drivers, and not the usual independent contracts model like other players in the sector, which roughly makes up 85% to 90% of the market. This means that drivers are not paid by stop and are not required to maintain their own vehicles.
The state requires that employers pay for health benefits, and while this is a great draw card for the company, it's also a financial weight. But thanks to working with Revolution Benefits Group, the company has been able to affordably offer a comprehensive range of products.
Moving into 2023 and the future, Dash Delivery is focused on supporting and nurturing its staff, retaining them, and cultivating a healthy corporate culture. Labor shortages may still be an issue moving into the future, even if there's a recession.
Another area of focus for the company is to maintain strong business-to-business relationships. This is both for business, and just to learn more important lessons, and how to implement new best practices in an ever-changing environment.
"While we'd love the constant change aspect to slow down, it's not going to. We need to be able to adapt quickly and stay ahead of the game."
"It can be scary to overhaul, but adapting to change has paid off," says Woody.
With a willingness to learn and onboard the right partners, Dash Delivery is a company to watch.
AT A GLANCE
Dash Delivery
What: A leading predominantly medical supply-directed delivery service
Where: Central Point headquarters in Oregon State
Website:  dashdelivery.net