Cypress County, Alberta
The Future is Bright
Business View Magazine interviews representatives of Cypress County, Alberta for our focus on Growth & Economic Development in Canadian Communities
Known as Southeast Alberta's Playground, Cypress County is an ever-evolving rural municipality in one of Canada's most beautiful provinces. Displaying serene landscapes and four beautiful seasons, the county offers a wide range of living environments, from rural acreage to residential subdivisions. Home to 7,524 residents spread over 13,160 km², agriculture is a mainstay of Cypress County – one they are proud of, while still attracting a diverse collection of commercial and industrial businesses, creating a thriving setting to live work and play.
In the first part of 2022, Cypress County council met to create a strategic plan, guided by input from residents and businesses. Cypress County CAO Tarolyn Aaserud recounts, "Cypress County in the past couple of years has very much identified programs and services that would benefit ratepayers, visitors, and the business community. Sometimes plans get made, and you hire consultants, but in Cypress County we act and we implement those changes. Cypress County is currently strong, but has a brilliant future, and the council strategic plan really identifies that and showcases that."
County Reeve, Dan Hamilton asserts, "This year the strategic planning team has been the best one that I've been involved with. The group really came together. Everybody had a lot of input between staff and council. It was a great three days of team effort and building a vision for the county." The resulting vision states, "Cypress County offers a highly desirable rural experience with diverse industrial and agricultural industries. Cypress County is fiscally strong and growing, with supportive communities and families to bring the municipality through the next decade and beyond."
Land use bylaw changes in 2022 have contributed to current growth in the region. As Hamilton notes, "We've really got things streamlined and working a lot more efficiently for developers to come in and do what they need to do to get things on the go in this county." Following the province's lead in red tape reduction, Cypress County reduced the number of districts in the land use bylaw.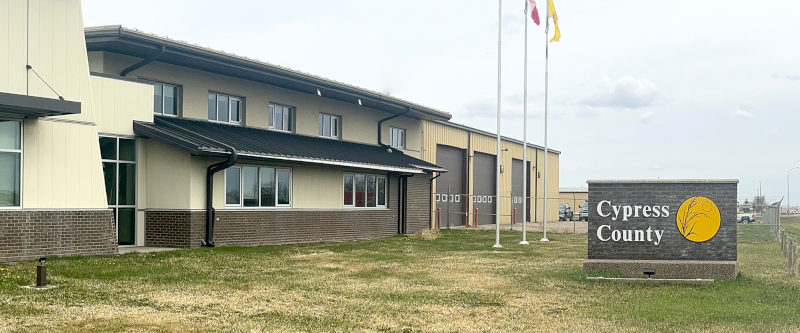 Aaserud expands, "It was becoming very cumbersome. When a developer came to town to look at lands for spec housing, for example, the development that he or she may wish to proceed with would be only discretionary and would have to go to the municipal planning commission for approval. Now there are not as many districts, and the development officer has the authority to approve them as a permitted use. So, if you're coming to town to look at land, you know what your proposed development is going to be and you can buy those lands with certainty."
On the housing side, developer Wilde Possibilities is currently working on the Eagle Ridge subdivision on the southern side of Dunmore, which is one of the larger communities in Cypress County. With large country lots, only minutes away from urban amenities, this development is a desirable location within the county. Currently in the planning stages is Dunmore Junction, a 220-acre mixed use development on land purchased by Cypress County. Aaserud relays, "On the south side, where the developer Wilde Possibilities is, it's going to be an extension of that residential-type development. Moving to the north there will be a commercial and industrial type of development."
This land sits at the intersection of the Highway 1 and Township Road 120 corridor. Aaserud adds, "The Highway 1 corridor has 25-30,000 vehicles a day. We want to take advantage of that and expand our commercial/industrial base. It's an excellent opportunity to partner with the residential developments in the south." Hoping to complete the design phase of the Dunmore Junction development in the fall, the project will be completed in three phases, with lots on the market by fall of 2023.
Currently, Cypress County is home to a large number of home-based businesses, many of them located in the rural residential areas. Implying that these are not traditional work-from-home situations, Aaserud explains that many of them are businesses with an unattached building, used by builders, developers, and welders to name a few. Citing a new agro centre, a tractor repair company, and a large riding arena as some of the newest commercial growth in the county, Aaserud maintains that business attraction is an area of focus. She states, "Cypress County is open for business. Of course, we need to ensure we're following the rules and all the legislative responsibilities we have. But we want development to be easy, carefree and welcoming."
Increased broadband in the county is another area of focus, to support current residents and businesses and attract future development. "We are working with local vendors," says Aaserud. "Also, there are other municipalities in the province that are looking at partnering with cooperatives. We've done preliminary investigation and broadband is identified in council's strategic plan. It is of the utmost importance. Even though we haven't solved it, it's not far from our minds at any time because we constantly use technology."
EDF Canada, a clean and renewable energy development company is working on their first wind energy conversion system project in Cypress County. Aaserud reports, "On the wings of that, we have seven other wind energy convergence system projects that are pushing ahead. I don't know about timelines, because it's regulated by the Alberta Utilities Commission. Their timelines are very aggressive, but they have a lot of public consultation to do. We have one in construction right now. I would say in 2023 we will have another three under construction."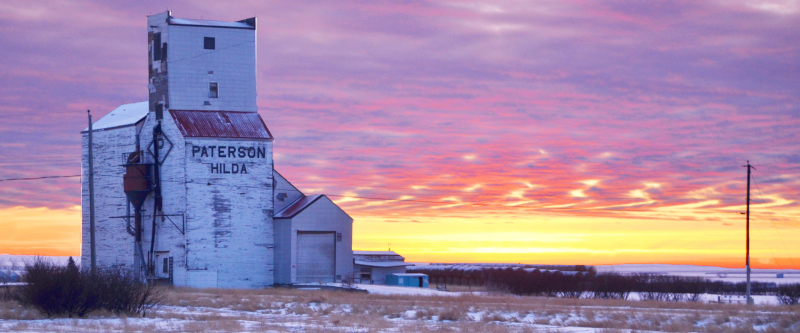 In other infrastructure projects, the recently completed Township Road 120 provides a connective corridor between busy Highways 1 and 3 in the county. Cypress County has also been awarded 75% of the funding to update an area of the old Trans Canada Highway, leading to an area with significant commercial and industrial development. "We have an excellent working relationship with Alberta Transportation. They see tremendous merit in our projects, and we get funded quite generously," asserts Aaserud, adding that changing three sewer lift stations is another project underway. She suggests that this type of infrastructure is particularly important for residential development. With funding in place for several bridge projects, Aaserud emphasizes the necessity of the county's many bridges, for access to the agricultural community.
A recent investment of $800,000 into walking trails in the Hamlet of Dunmore and the Dunmore community is evidence of Cypress County's commitment to recreation options in the municipality. The county has also updated a walking path in the community of Suffield, leading into the Canadian Forces base CFB Suffield. Aaserud explains, "There was a walking path there, but the infrastructure had deteriorated over time. Cypress County and CFB Suffield have an exceptional working relationship, it's mutually beneficial. So, the path needed to be done and Cypress County council agreed for us to manage the project and to pay for it."
In 2021 the county opened a Welcome Centre, with the purpose of providing visitors with information on tourism and businesses in Cypress County, as well as the rest of Alberta. The centre, which is located in the community of Walsh, was originally run by the province, with the county taking over after it closed in 2019. "Cypress County council saw the importance of reopening the Welcome Centre. If people don't stop in Walsh, the next visitor information centre that they have is in Medicine Hat and we've lost them," says Aaserud. Hamilton adds, "Since we took over last year our visitor numbers have doubled for the Visitor Centre. It's an effective way to bring people in and show them what is in Cypress County."
Sharing his thoughts on what the future holds for Cypress County, Hamilton offers, "We recognize the value of agriculture industry. So, we'd like to see some more of that in the county, and some more irrigation, possibly. There have been quite a few industries around, potato manufacturer plants and things like that, and we feel that we have the lands and enough irrigation here that we could possibly take something like that on if we got the chance. That's one of the things we are looking forward to in the future."
As a final thought, Hamilton adds, "Cypress County is a hidden gem in this province. If you want to discover opportunity, you need to come down to Cypress County. The opportunities for your family, and for your business, are endless. We see a very bright, viable, and sustainable future with many wonderful things to happen."
AT A GLANCE
Cypress County, Alberta
What: A rural community ideal for businesses and families; population 7,524
Where: Southeastern Alberta, Canada
Website: www.cypress.ab.ca