Core Progression
Revolutionizing the personal training industry
Business View Magazine interviews Jonathan Cerf, Founder & CEO of Core Progression, for our focus on Franchise Growth and Innovation in North America.
Is franchising in your future? Core Progression invites you to achieve greater financial health by partnering with an elite franchise that is revolutionizing the personal training industry. Definitely not your typical gym, Core Progression is a total body wellness, boutique-style studio, combining customized personal and semi-private training with group classes, wellness providers, and retail products.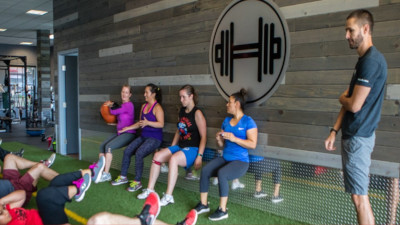 At Colorado-based Core Progression, personal training is the core of the business, not an "add-on" service. Clients receive unparalleled, results-driven training, nutritional education, and preventative services from chiropractors and physical and massage therapists at an affordable price, so everyone can experience a healthier, more fulfilling lifestyle and "Never Plateau."
Colorado native, Jonathan Cerf, Founder and CEO of Core Progression, grew up in a suburb of Denver, went to Baylor University, and came back intending to go to medical school, but was put on a waiting list. In a fortuitous turn of events, Cerf found a job, in the meantime, working as a trainer at 24-Hour Fitness. There, he quickly realized that "changing people's lives through health and wellness is a very rewarding experience. I developed a passion for using my science background in a preventative manner, implementing exercise and diet versus a prescriptive manner," he recounts. "My family was shocked when I walked away from the medical route, but I realized that personal training was the path for me."
An entrepreneur since childhood, Cerf started Core Progression in 2008, at the "ripe, old age" of 23. The mantra in the beginning was a different approach on personal training. Giving people a great experience at an affordable price. It was about building a business by mitigating overhead and expenses, so they could pay their trainers better and charge clients less – filling a niche in a market where there was no dominant personal training company or player in the industry.
Cerf admits to having lofty aspirations. "From the get-go, my goal was to open 500 locations, nationally. I didn't have a clue how, but I figured if you don't have a big scary goal, why start?" Core Progression rented space from other facilities for the first two years then, in 2010, opened its own tiny, 1,500-sq.-ft. studio. It was a live/work space with retail on the main floor and apartments on the second and third. Cerf lived above the studio and was there 24/7, in the beginning. After three months, the business was doing well enough to expand into the building next door, followed by relocation to a 5,000-sq.-ft. space a year later.
In 2012, the West Arvada location was opened and continued to expand, as the business models and systems were honed and refined. In 2016, Cerf purchased his first commercial building – an old bank building in Northglenn. After a massive renovation, it's now the state-of-the-art Core Progression headquarters. Another commercial spot was recently purchased in Olde Town Arvada. This third corporate store was a substantial financial undertaking and is poised to excel as a truly amazing facility.
The model for the franchise business is based on trainer-centric wellness, primarily focused on personal training, semi-private training, and group classes. Core Progression also partners with physical therapy, chiropractic, and massage services. Cerf reports, "The franchise model was launched in November 2017, and we're very excited to give the gift of health and fitness to cities across the country. Coming from a medical background, for me, taking the total body approach is the best methodology for us to use; meaning that if your biomechanics or alignment are off, you need to see a chiropractor and have structural work done before trying to hit squats; or seeing a physical therapist for issues like a torn rotator cuff. Having those services, in-house, has been a great value-add for the model, as opposed to just being another gym that has personal training."
Core Progression doesn't offer traditional memberships, per se. It's a private atmosphere – people can't work out without a trainer or a group class instructor. Typical personal training clients are 60 percent female, 40 percent male, with an average age of 43. Everyone is welcome. The company trains over 200 youth athletes per week and is contracted to train high school football teams over the summer. They have been the official trainer for many sports teams, cheerleaders, beauty pageants, and bodybuilding competitions. Not being pigeon-holed to one type of demographic allows flexibility if market or economic conditions change.
With such a wide client base, personal trainers are hired to fit different niches, such as youth sports, professional athletes, and even brides. Cerf explains, "We tell them: don't just look great on your wedding day, but on the honeymoon and after. What's been cool is we get a lot of people who want to train for their wedding, then we work with them post-wedding, and often when they get pregnant and post-pregnancy. It ends up building a pretty long client cycle – as their life evolves, we help them on that fitness journey."
The average client spends $350 per month for personal training and group classes. Core Progression offers month-to-month, three-month, six-month, nine-month, 12-month, and 18-month payment options. The longer the commitment, the lower the price. Cerf believes that with today's retail landscaping changing, people are interested in experiences. "That's where we want to give them the best customer service. At Core Progression, you're not walking into a crowded gym where you feel self-conscious. People like to come to our facility because everything is tailored to you. We have nutrition software that will learn your eating habits, and you work with a coach that's there to help you. It's a very custom approach to fitness. And our group classes have only 8 to 10 people per instructor, whereas big name facilities have 30 to 50 in a group."
The massage therapists and personal trainers are independent contractors; clients pay Core Progression and the service is contracted out. Physical therapists and chiropractors operate under a lease arrangement, having their own business and treatment rooms within the Core Progression business, while being able to build collaborative in-house networks and referral systems with the overall goal of making clients healthy.
"The only employees are the managers," says Cerf. "Rather than hiring 15 people to start, you hire a manager, who can even be the owner/operator. That's how I started. Then you just contract out the training sessions and services. You don't really need an administration staff, the amazing new software we have allows one manager to run the entire business from their I-Pad – track all the memberships, the billing, the waiver forms – you can keep tabs on everything pretty simply. Also, we just finished a proprietary app that is a huge value-add to our clients; it's available in the app store for Android and Apple. They can get information on nutrition, and their online workouts across gym challenges; it pairs with their tracker devices such as Apple watch or Fitbit."
Rep Fitness, a local Denver company, is a newer partnership that Cerf is pleased about. They supply all the equipment, mirrors, and flooring that really pull the studios together. Merritt Aluminum and Alpine Lumber provide the interior finishes, creating a "cool reclaimed wood look that doesn't feel like a sterile fish bowl like a lot of fitness facilities." Heartland credit card processing and Fast Signs are other valued partners.
Cerf shares details of particular interest to prospective franchisees: "Our cost of entry is one of the lowest. The initial start-up cost is around $150,000 for everything, significantly less than most other brands. Also, we don't need as many clients. With 75 to 100 clients, you can break even or be cash-flow positive on your facility. Those are the two biggest things we're excited about in the franchising space; and all of our software and customization for clients. With our marketing initiatives, we look to have 50 to 100 clients in place before the doors even open.
"For me, taking the decades to refine the model with a 360-degree view of the potential pitfalls really made a difference. I see it as creating and fostering a partnership with franchisees, not a dictatorship. We're looking for like-minded individuals who want to change people's lives through health and wellness. I'm excited about opening more corporate in Colorado. We are also opening our first franchise in Boulder in the next few months and just got the lease signed, and for franchises, Texas, California, Arizona, and Florida are good states to develop."
Check out this handpicked feature on Iron Tribe Fitness – Fun Fast and Fit.