Collingwood, Ontario
Good things on the horizon
Business View Magazine interviews Brian Saunderson, Mayor of Collingwood, Ontario, for our focus on Economic Development in Canadian Towns and Cities
Collingwood, Ontario is known as one of the province's premiere travel destinations for outdoor recreation, rest, and relaxation. The town has something for everyone, from a plethora of boutique-style shops in its charming heritage preserved downtown, to luxurious spas, to hiking, mountain biking, zip lining, and of course those fabulous beaches.
Mayor Brian Saunderson calls the town the "Oreo cookie" of Simcoe County because it's nestled between The Blue Mountains, home to some of Ontario's most popular ski slopes and resorts, and Wasaga Beach, which has the world's longest freshwater beach. According to Saunderson, "Collingwood is in a unique position, as we don't actually have any ski hills in Collingwood proper. We have ski hills to the west and Wasaga Beach to the east… we're kind of the cream in the middle of the Oreo. So certainly there's a very big component to our economy that is tourism driven, as well as our restaurants, coffee houses, and retail sector."
The town sits on the harbour of Nottawasaga Bay, the southern part of vast Georgian Bay. The center of town is the historic beaux arts-style Collingwood Federal Building. Before the pandemic thousands of travelers from all over Canada and the U.S. would visit annually to enjoy the unique amenities the town has to offer. In addition to those visitors, Collingwood has a population of 24,000 and is also home to about 6,000 seasonal home owners – many of these 'cottages' are actually built as four-season accommodations, but enjoyed as vacation homes.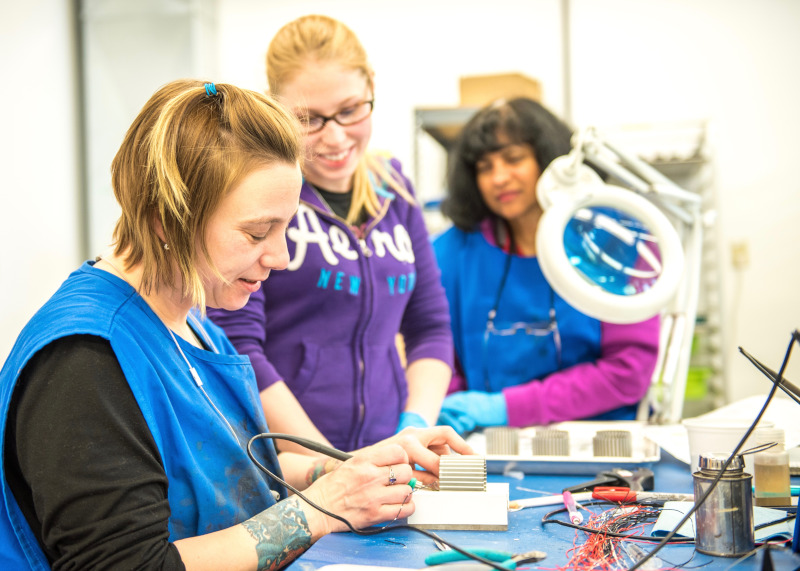 Through the COVID-19 pandemic, 2,500 of the town's residents who are employed at the local ski hills have been out of work, but Saunderson is fighting for those people and the owners of those ski hills. He attended a national Zoom conference organized by mayors in proximity to those outdoor recreation centers that have been left behind by government stimulus. He reports, "It's difficult for our residents. While a number of federal programs have targeted the employees, I think a blind spot in the pandemic assistance programs, Federal and Provincial, has been the tourism sector. In the ski industry, in particular, there are a vast amount of operating dollars that go into preparing the ski hills and making snow and running and maintaining the lift line and the lifts. The sudden closure caught that sector by surprise and they had invested considerable amounts of money. So, I think both levels of government need to look hard at creating programs directed at the tourism sector to help offset these losses."
During a lull in the pandemic last fall, the town's tourism and retail sector perked up. And now that a province-wide post-Christmas lockdown has lifted, Saunderson is hopeful businesses and people can get back to work. Meanwhile, the municipal government hasn't stopped trying to make improvements for local businesses and for full-time residents. They completed their economic action plan that spans from 2020 to 2025 and got ahead of crisis planning with a task force on economic support and recovery last April. Saunderson believes that task force was a large benefit to the community because "it gave us some immediate action items to help our economy as we emerged from the first wave of COVID-19. We had that committee in place in a very short space of time with business leaders from each of our local economic sectors. They came up with 35 recommendations that were extremely helpful in jumpstarting our economy."
Through June to late November the town enjoyed a fairly strong economic boom for retail outlets, restaurants, and tourism even made a comeback. Saunderson was proud of how the task force helped town officials, noting, "When it came to finalizing the larger economic action plan, we found that those recommendations from our economic support and recovery task force really dovetailed and highlighted some of the issues that were identified by the economic development task force."
That report was passed in November and will guide the municipality to focus on three areas of improvement: Making Collingwood a hub for sustainability and innovation, promoting Collingwood as a great place to live and work, and, thirdly, to ensure that Collingwood is investment ready. Saunderson admits, "Implementing the plan won't be easy, moving forward we have a number of action items which have been really focused on or heightened by the fact of the COVID-19 pandemic in terms of our local impacts."
That being said, Collingwood has experienced some positive outcomes, as well. The town was under "significant pressure" to grow before the pandemic, but as people who work in the corporate setting realize they are no longer shackled to Toronto and the Greater Toronto Area for work, they have started to focus on their quality of life. "We're now seeing that people are making lifestyle a priority," says Saunderson. "They're understanding that offices aren't necessarily the nerve center of the business world and we've seen people telecommuting and working out of Collingwood."
The town makes that easy by being one of the few municipalities in the county and surrounding area north of the GTA with an exceptionally strong broadband internet network and very accessible connections. People who already had vacation homes in Collingwood have decided to stay and enrolled their children in the local school system. And droves of others have purchased homes and driven up the housing market considerably. Saunderson believes, "It's been a blessing and a curse as it has exacerbated some of the issues we identified in our planning process, in terms of attainable housing and affordability of our real estate market. It was already very active and has gone off the charts; homes are selling for considerably more than they were a year ago."
Although that drives property taxes for the town, which in turn helps give more amenities to residents, it also makes it difficult for year-round residents who are employed in the tourism industry or service sector to buy homes or find affordable housing. The municipality has a growing need for affordable and subsidized housing and most of the funding for social programs comes from the regional government, Simcoe County, through provincial programs. Recently, the County built a new affordable housing option with 147 units and contributes significantly to the funding of a youth shelter, the Barbara Weider House, with seven beds that will soon be 10. There is also an increasing need for diverse housing stock like apartments, townhomes, small homes, and semidetached homes. In that regard, the town is creating an Affordable Housing Task Force and is working with other stakeholders, such as the Canadian Mortgage and Housing Corporation, to generate some positive changes and results.
As far as economic development, the Town's Business and Economic Development Centre has created the South Georgian Bay area technology hub, known as 'Tech Hub North', which has attracted numerous companies to the Collingwood area. The Town Council recently voted to partner with the private sector to fund the creation of an accelerator to actively assist local small businesses and start up companies to grow their business. In addition, numerous companies have spawned because of the pandemic, including one that has developed a more efficient and comfortable alternative to the N95 mask. Greenland Engineering is a local company that specializes in water mapping and flood mapping but also developing better storm water management practices including innovative micro-grid systems.
After declaring a climate emergency in 2019, the town developed two new positions and now have a climate change specialist and grant writer to help fund climate projects. They have also been given $500,000 over five years for tree planting initiatives in the community by a private donor. Saunderson says these positions are "to help make sure that we, at the town, are reducing our carbon footprint. We start by benchmarking our greenhouse gas emissions and looking at ways we can reduce that. We've also done a forest management study and found that we have approximately 32 percent tree canopy coverage, which is a very good starting point."
Saunderson knows with hard work, more good things are on the horizon. He shares, "Collingwood continues to grow and we continue to punch above our weight class in terms of our economic development and our opportunities. I think we're seen as a viable and attractive alternative to the GTA, where you can get the benefits of a larger community's amenities and support, but at the same time enjoy the small town lifestyle."
*Top photo courtesy of Jeff S.
Crozier Consulting Engineers – thecrozierway.ca
Crozier is a leading consulting engineering firm in Canada committed to growing careers and building communities by delivering multidisciplinary engineering services in private sector land development. With offices in Toronto, Collingwood, Milton, and Bradford, Crozier's growing team of nearly 200 professionals work collaboratively with developers, builders, planners, architects, landowners, and stakeholder groups to advance residential, industrial, commercial, institutional, and recreational resort projects from concept through to construction completion. For more information visit www.cfcrozier.ca.