The Charleston Coliseum & Convention Center
Meeting the client's needs
Business View Magazine interviews John Robertson, ED of the Charleston Coliseum & Convention Center, as part of our series on best practices of event venues.
Located in West Virginia's capital city, the Charleston Coliseum & Convention Center is a municipal complex, comprised of three main components: the Civic Center Coliseum, the Little Theater, and the Charleston Convention Center, also referred to as the Grand Hall. The Center hosts concerts and other types of entertainment, conferences and meetings, sporting events, exhibits and banquets, and, of course, conventions.
Some of those events include the Annual West Virginia Hunting and Fishing Show, the West Virginia Association of Fairs & Festivals Conference, the West Virginia International Auto Show, the West Virginia Sports Show, the Taste of Charleston, and the Capital City Art & Craft Show. Several local high schools also hold their proms and graduation ceremonies at the Civic Center.
The Coliseum also hosts the quarterfinals, semifinals, and finals of the annual Mountain East Conference postseason tournament, the West Virginia State High School Boys and Girls Basketball tournaments, music concerts, professional wrestling, and it hosted basketball games between in-state rivals West Virginia University and Marshall University until that series ended in 2016. The West Virginia State University also holds its commencement ceremonies in the Coliseum, and the Charleston Light Opera Guild conducts performances in the Little Theater throughout the year.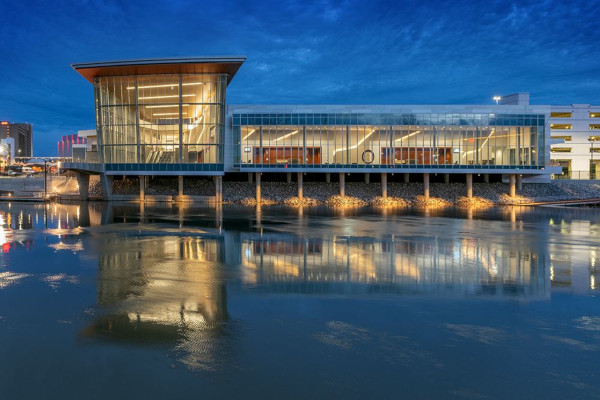 The facility has been renovated and expanded multiple times since its debut, including a $100 million project, completed in 2018, that's placed the eye-catching complex on equal footing with those found in much larger cities. Thus, according to John Robertson, the Center's Executive Director for the past 42 years, the facility possesses an abundance of what's needed to compete for business with the major-market competitors in its part of the country.
"We have a facility here that is competitive with other facilities within our region," says Robertson. "That would be from Charlotte, to Pittsburgh, to Cleveland, to Columbus, to Louisville. Now, some of those major markets may have more square footage than we have, but every event that happens in those facilities isn't using all of that square footage. So, we will be very competitive for meetings with those communities. We do about 400 unique events annually in this facility."
The original portion of Charleston Civic Center opened in 1959 with a 6,000-seat Main Arena, a 750-seat Little Theater and three meeting rooms, a kitchen, and administrative offices. It was the scene of several historic events, including hosting a John F. Kennedy 1960 campaign stop and being the scene of the 1966 NBA game that saw Wilt Chamberlain break the league's all-time career scoring record of 20,884 points.
Robertson says there have been several distinctive additions to the building over the years. "In 1980, a new spectator arena seating 13,000 people was erected, and attached to old facility," he explains. "When that was completed, the old facility was converted more into convention space. The next event that happened that was rather significant was in 2000. We had a recreational ice rink in the building and we discontinued the use of that. It was contiguous to our exhibit spaces and we incorporated that into our exhibit hall."
Those improvements were augmented by the recent, $100 million renovation and expansion project, which was completed last October. "It's really going to open up just a whole different market for us, because it is a fabulous convention center that is on par with facilities in major markets" says Robertson.
What was for years known as the Charleston Civic Center also underwent a name change with the completion of the renovation and expansion project, becoming the Charleston Coliseum and Convention Center to reflect its new identity. Today, its three components are all under one roof: a 13,000-seat arena, a 738-seat performing arts theater, and an exhibit hall with 51,000 square feet of unobstructed floor space, along with 31 meeting rooms and a 25,000 square-foot ballroom. "We have vast expanses of public areas, lots of transparency, light, windows, great views of the river, and common areas for collaboration," boasts Robertson.
Another huge asset is the advanced technology that is etched into the Charleston Coliseum and Convention Center's DNA. "Technology is very important in the meeting business now," says Robertson. "When we started design and construction for our new facility, the thing we said is, 'We can have a cardboard box and it can have adequate technology, and we can make it work and we can sell it. But if we don't have technology, we can have a Taj Mahal, but we've wasted our money.' So, we really invested in technology in the facility. We have the capacity to go from 1 Gigabyte and burst it to 10 Gigabytes. We have licenses that allow us to accommodate 7,500 unique individual users, simultaneously, and we can expand that if we need to. We have had as many as 3,500 individual users on our Wi-Fi at one time."
"And the integration of technology is not restricted to our internet and Wi-Fi capabilities," he adds. "The building is completely automated. In terms of heating, air conditioning, all lighting and so forth, they can all be scheduled and operated automatically. So it's a very high-tech, up-to-date facility."
Where marketing is concerned, the Coliseum and Convention Center casts a wide net in soliciting clients, rather than concentrating only on corporations, consumer shows, associations, and the like. "It really is a mix," says Robertson. "We're really strong here, obviously, in state business – the city is the capital, a kind of a focal point – and all roads lead here. However, we also work with the Visitors and Convention Bureau, and we really seek out regional and national groups and we're really strong in the religious market. What we would like to do is to really grow into the association market and expand that more."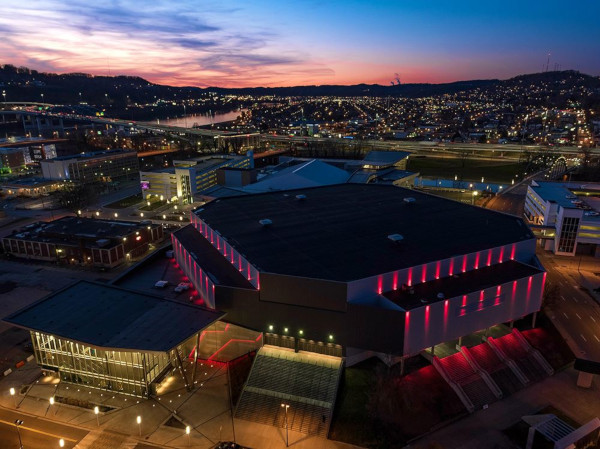 Sustainability and green practices have also become a focal point for the facility, as Robertson believes that sound environmental policy is something meeting planners consider in their decision making when looking for a venue. The Center has LED lighting throughout and automated building controls, which boost energy efficiency. Only green cleaning supplies and recycled paper products are used. Cardboard, aluminum, metal, cooking oil, and more are all recycled, and a dehydrator is used for kitchen waste. "Anything that can be recycled, we do it," Robertson avers.
"Through the inclusion of a complete re-do of our mechanical plant, the engineers that designed the facility have indicated that even though we have expanded our footprint by 146,000 square feet, they expect that our energy consumption is going to go down by about one-third," he adds. "We have an application in for LEED Certification. We are expecting it will receive a LEED Silver designation."
Robertson notes that the Coliseum and Convention Center is blessed with other highly valued qualities, aside from being a state-of-the-art, modern, technologically advanced convention facility. "I think one of our chief attributes is our accessibility because we're located right at the intersection of three interstate highways," he points out. "That opens up the entire region to excellent access, particularly vehicular, and 66 percent of the population of the United States is within a 500 mile trip of our city.
"I think affordability is also an important aspect, not only of our facility, but also of our community," he adds. "We have parking, on premises, for 2,000 vehicles in parking structures. We're in a downtown area in an urban setting, even though it's a more homey kind of community in the mountains here. We also have five hotels that flank us and there's another one that's getting ready to be built."
Finally, another plus the Coliseum and Convention offer is flexibility in meeting a client's needs. "In a community like ours, we can treat each client with some individual attention and we have the flexibility to do different things for folks," Robertson explains. "In fact, if we want to close the street adjacent to the building, we close the street.  We don't have to go through 50 layers of bureaucracy to do not only that, but also to do other things that might be individual to one client, versus another, in terms of using the facility."
AT A GLANCE
WHO: The Charleston Coliseum & Convention Center
WHAT: A municipally-owned event complex
WHERE: Charleston, West Virginia
WEBSITE: www.chaswvccc.com