Champion Chevrolet
On a solid footing
Business View Magazine interviews Jack Stanko, Sr., Owner of Champion Chevrolet, for our focus on Top Nevada Auto Dealers
Champion Chevrolet is an award-winning auto dealership based in Reno, Nevada. One particular reason to celebrate – the company was recently named to the WardsAuto 2021 Dealer 500, a list of top-performing auto dealerships in the United States selected from thousands of entrants.
Jack Stanko Sr., proud owner of Champion Chevrolet, boasts, "Over 18,000 dealerships were ranked based on sales for all departments such new and used vehicles, parts department, service department, body shop, finance and more. Champion was ranked in the top 500, which is amazing considering how many car dealerships there are."
The award exemplifies the company's pedigree, establishing it among the top car dealerships in the country. However, this level of success is hardly surprising, considering the company has been ranked A-Plus by the Better Business Bureau for many years, again demonstrating its commitment to quality of service.
Champion Chevrolet's history speaks volumes; a story of tenacity and unwavering devotion to serving customers the right way. These values reflect those that founder, Stanko Sr., picked up while working in the auto dealership industry for decades. He recounts, "I was born and raised in Youngstown, Ohio and when I graduated high school at age 17, I got a job at a dealership right next door. I was paid a dollar an hour to do various things like sweep floors and jockey cars." He ended up being a service advisor and shortly became the dealership's service manager.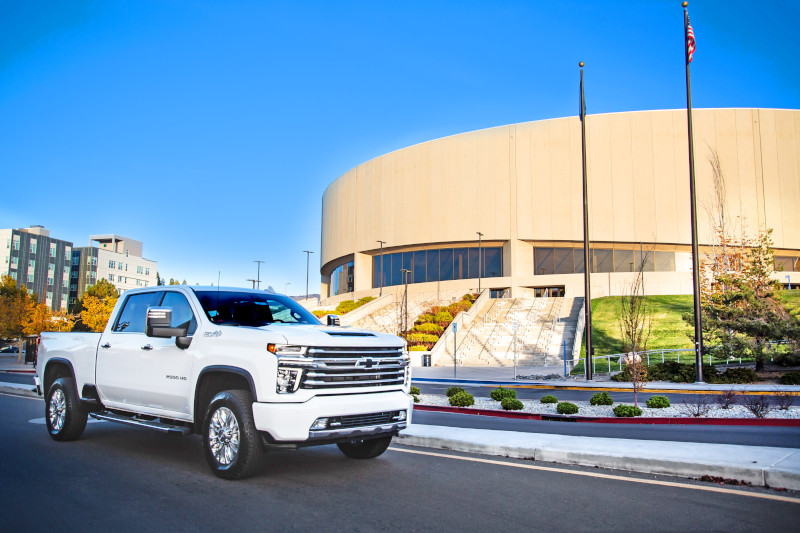 After working there for nine years, he went to a Buick dealership as a new car salesperson and worked there for about three years. "They owned the Chevrolet dealership up the street," says Stanko Sr., "and I set up there as general manager in 1970 and stayed for 12 years. After that, I went to Albuquerque, New Mexico as general manager of a large Chevrolet store and spent six years there. We had a gentleman there whose brother-in-law owned this dealership in Reno and was looking to retire, and at the time, I was also scouting for a dealership to buy. I bought 25 percent of the business and paid the remaining 75 percent in 48 months."
Although the journey to owning his own dealership went as planned, Stanko, Sr. quickly points out that things have changed a lot these days, and the path to owning a dealership is not easily accessible anymore. "Back then, I was able to use my savings to purchase this dealership," he says. "Today, with real estate prices at an all-time high, it is nearly impossible for the average person to pull off what I did."
Champion Chevrolet currently has 135 employees who work out of its 80,000 sq ft facility in Reno. Among this number is Jack Stanko Jr. who, much like his father, has worked in the dealership since the age of 16, working his way up from washing and moving cars around to becoming the general manager today.
One thing that stands out about the company, especially being a family-owned business, is its culture. Kristie Bradley, Executive Assistant to Jack Stanko Sr., explains, "We are very family-oriented. For instance, during the COVID shutdown, the company retained all employees when other companies were laying people off, which demonstrated its commitment to taking care of its employees. That is what a family does for its own."
This commitment to its people has been a long-standing ideal Champion Chevrolet has practiced over the years, even in uncertain economic times. For instance, during the 2008/09 economic downturn, the company did not lay off anyone. And the COVID crisis was no different.
Stanko Sr. recalls, "When COVID hit, the state started shutting down everything, including car dealerships, but we managed to explain that we were an essential business. We argued that we had highway patrol cars on order for state troopers, and maybe a nurse or a doctor needed a car. We got them to let us open all the dealerships on a limited basis where we did curbside delivery and didn't have any of the customers in the offices. We sold over the internet and delivered to the home, and it worked out fine. Most businesses in town laid everybody off when that hit, but we committed to keeping everyone on payroll to meet their obligations like paying a mortgage and buying groceries."
Although the company has managed to retain its employees through such initiatives, finding new people is a challenge, especially for entry-level positions, which Stanko Sr. says has a lot to do with shifting market dynamics. "We have massive warehouses coming up in the area paying up to $25 per hour, which is hard to compete with when the level of skills we are looking for are similar."
To counter this, the company has adopted an up-skilling approach to reducing employee churn, which it accomplishes through personnel training programs. Stanko Sr. notes, "We conduct training sessions all the time. For example, every month, Chevrolet Motor Division provides product training online for the salespeople, while service technicians fly to California or Arizona to attend a General Motors training school. There's a lot of training throughout the whole dealership all year round."
Besides selling cars, Champion Chevrolet is one of a handful of dealerships in the area with a full-service body shop. Built in 1996, the company is expanding the body shop by an additional 6,000 square feet at the cost of $1 million. This investment might have come when there are fewer new cars to sell due to global chip shortages, but the company has made significant complementary investments in used-car inventory to bridge this gap.
According to Stanko Sr., "In January of 2021, I sat down with our management team and said, it looks like this chip shortage is going to last. We need to find a stop-gap measure. We invested $5 million in our used car inventory and went out and purchased all the 2019, '20, and '21 late model, low mileage trucks and SUVs we could find. The wholesale prices are quite high, and we are paying almost what they sold for retail before, but it helped add inventory to the lots so we could keep selling."
Although Stanko Sr. and his team have built a lean, mean selling machine, the company also participates in philanthropic ventures, which further sets it apart as one of a few unique dealerships that go down this path. "About 20 years ago, I attended a Boys and Girls Club of Truckee Meadows dinner and decided to start donating a vehicle every year that they could put up for auction to raise funds," Stanko Sr. shares. "Twenty years later, we still donate vehicles, and last year we gave them a Silverado pickup which fetched around $60,000 at auction. The Silverado this year fetched $75,000. That was pretty exciting to have it go for that amount! These funds plus other donations help pay the charity's expenses. Besides donating a vehicle, we also partner with them to provide scholarships to deserving kids, which stands at around $300,000 that we have given over our 20-year partnership."
Champion is a major sponsor for UNR (University Nevada Reno) Athletics. As a testament to that commitment, Champion Chevrolet's name is engraved at the University of Nevada, Reno Honor Court, as a permanent expression of the University's appreciation and tribute to Champion Chevrolet for their continuous support for Wolf Pack Athletics through generous gifts since 1996. This support helps Student-Athletes excel in both academics and athletics.
Electric vehicles (EVs) are a significant discussion point for car dealerships, mainly because they are the leading edge of the rapidly unfolding EV renaissance. For Stanko Sr., EVs are a no brainer. "As a dealer, we are naturally willing to sell anything with wheels," he quips. "However, EVs must solve three critical challenges before realistically starting to replace the 275 million vehicles on American roads. First, here in Reno, the altitude and environment mean more must be done to roll out EV infrastructure before people are comfortable switching to EV trucks. Second, is the time it takes to charge an EV. If manufacturers can lower that time to around 15 minutes, which is closer to the time it takes to fill up a gas tank, that will make a compelling case for EVs."
He adds, "Lastly, EVs must surmount distance, especially in large countries and states like Nevada. It's 450 miles from Reno to Las Vegas, which means if you are driving an EV, you will need to stop somewhere to charge, which can be a hard sell, especially for people on a tight schedule.
While the industry works at solving these challenges, Stanko Sr. hopes that new-car inventory levels will rise and plug the current deficit in the short term. He acknowledges, "During the economic crisis of 08/09, many car manufacturers reduced their production capacity, which has had a knock-on effect on the current inventory shortages we are seeing today in the wake of the pandemic. We hope that these inventory levels will rise alongside a rise in EV market share, which would place the car dealership industry on a very solid footing."
AT A GLANCE
Champion Chevrolet
What: An award-winning, full-service auto dealership
Where: Headquartered in Reno, Nevada
Website: www.championchevrolet.com
The Boys & Girls Club of Truckee Meadows – www.BGCTM.org
The Boys & Girls Club of Truckee Meadows is a place for over 13,000 youth in 30+ locations across Reno, Sparks, Fernley, Ely, and Winnemucca. We help kids and teens achieve great futures by providing a safe and fun space, an engaging Club experience, and caring professionals to guide them.