CH Four Biogas
Top client performance with the environment in mind
CH Four Biogas is a leading process engineering and design firm specializing in biogas systems ranging in feedstock from agricultural, municipal, and co-digestion of various inputs. Based in Manotick, ON, the company designs biogas production facilities that match the client's specifications and requirements, drawing on its rich history in the industry, dating back to 2008.
"I brought the technology over from Europe and formed a new company in Ottawa, Ontario," says Benjamin Strehler, Chief Executive Officer at CH Four Biogas.
"I saw Canada had the right conditions, so we completed the technology transfer and built the first couple of plants in Ottawa Valley. We started replacing European components with North American ones as we built additional plants. Within a brief time, we had an entirely North American supply chain except for very few European components."
As biogas technology matures, CH Four Biogas utilizes a Kaizen-like incremental improvement approach, implementing 5% technology improvements in every new project, resulting in entirely new technology in every twenty projects. "Today, our technology is very different from what it once was, placing us at the leading edge of biogas technology in North America."
CH Four has customers in Ontario, the Atlantic provinces, and the Eastern seaboard of the United States, including New York, Maine, and Massachusetts. "Our services now reach California and Georgia, and we're now in Latin America, too," Strehler says.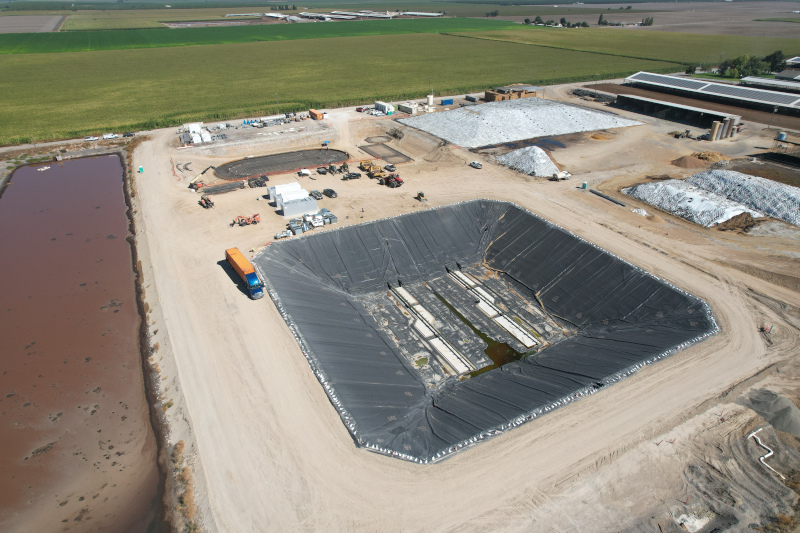 The company recently gained institutional validation when BlackRock picked up one of its projects in the United States, pivoting the company into the mainstream financial industry by offering investment-grade products.
CH Four Biogas does not provide equipment or construction services but can help customers complete the construction process if required.
"Our core product is process engineering in anaerobic digestion," explains Strehler.
"A client tells us they need a solution for biogas production, and we design a biogas plant for them. We then deliver the design to the client, and the client builds it themselves with our support, or we team up with a general contractor and deliver a design-build."
"We can work with either model," Strehler adds.
In this regard, the company can provide services that include Owner-Built and DBFOO (Design, Build, Finance, Own, and Operate) solutions, besides complementary services like feedstock sourcing and project financing through its trusted partner companies.
In designing solutions for clients, CH Four Biogas takes a long-term outlook due to the nature of the projects and the infrastructure built.
"A biogas installation is similar to building a house," Strehler explains. "After five years or so, it's still the house that you originally designed." "When designing biogas plants, we consider the client's growth horizon and incorporate it during the design phase. After completion, we often stay with the clients, typically on a support basis, providing additional design work as needed" he elaborates.
Despite the company having designed dozens of biogas plants over the years, the biogas industry's relatively new and fragmented nature means that each project requires a bespoke design. Dave Lapointe, VP of Engineering at CH Four Biogas, explains.
"Sometimes you collaborate with a client, and after building the first plant, they want another similar one, which is a straightforward process for us."
"Other times, they want something novel, so we put our heads together and figure out how to solve a problem that has not been solved before, and one for which there are no manuals."
"For example, in the last few years, we have moved into warmer climates with possibilities that were not available up north. These warmer environments can support extremely large digesters on farms with massive quantities of manure."
"Some questions arise: How do you heat such a large volume? How do you mix such a volume? How do you handle a thousand tons a day of manure?"
"These questions present new challenges, and while a client may know they want to produce biogas, getting from point A to point B is where the challenge lies."
Lapointe and the CH Four Biogas team are no strangers to these challenges, which constitute a typical day at the office.
"When we face these challenges, we generate unique ideas that probably no one else in the industry is developing right now. We innovate with support from our R&D team, constantly looking for the next best thing and how to improve our product and tap into new energy sources that nobody else has so far. All this happens on a project-by-project basis."
CH Four Biogas can undertake projects of all sizes, from those handling less than ten tons a day of feedstock to those processing over a thousand.
"Some of the farms in eastern Ontario have a few hundred cows and maybe a thousand-meter digester," Lapointe says.
"In contrast, a project in Salisbury, Vermont commissioned last year is the largest digester east of the Mississippi with a seven thousand cubic meter digester. It processes thirty thousand tons of dairy manure and sixty-five thousand tons of food waste annually to generate 1200 cubic meters an hour of biogas."
"As the industry progresses, the projects are getting bigger because we're able to go into areas where there are larger farms with more feedstock plus the climate is more welcoming to these larger types of designs," says Lapointe
The company has completed several larger projects in New Mexico, Georgia, and California.
The COVID-19 pandemic put some brakes on CH Four Biogas's business, occasioning the adoption of smart working methods, including smart devices.
"At the height of the pandemic, we could not travel, yet we needed to make site visits and, in some cases, commission projects as part of our contractual obligations," says Lapointe.
"We circumvented this challenge by working with a company called Vuzix, which sells AR glasses that you can mount as glasses or on your hard hat and give someone else full access to the device to zoom in, zoom out, record, pan, switch on a flashlight, and so on. We used that to make site visits during Covid, besides using other common remote working tools like Zoom, Teams, and Slack."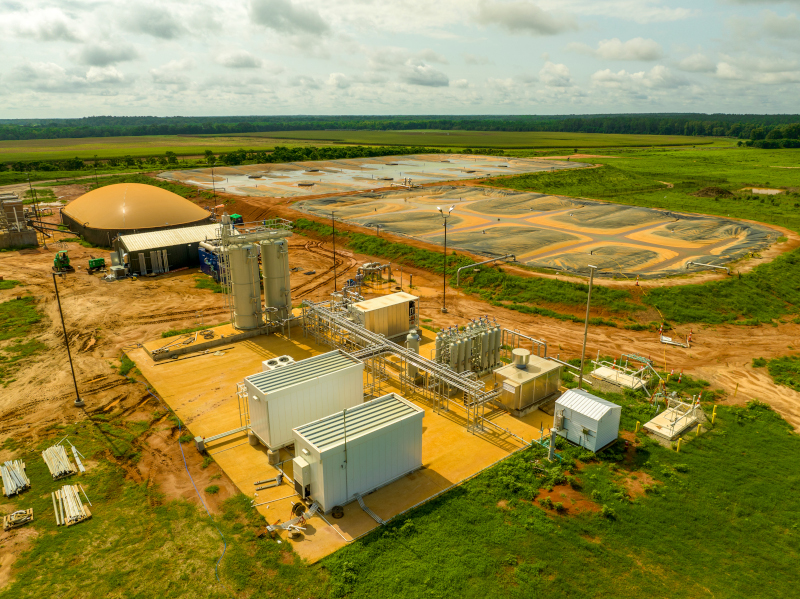 Aside from the Covid-19 pandemic that affected multiple industries, the biogas industry has its own idiosyncratic challenges.
Strehler sees two significant challenges in the biogas industry: lagging regulations and technologies that cannot (yet) process all the organic residue available.
"Currently, we are using industrial organic residue like municipal, curbside organics, and agricultural waste," he says.
"For the industry to grow, the next step, currently in its infancy, is assimilating crop residues. For example, after harvesting corn, you do not leave the corn stalks on the field, but harvest that too, put it in a biogas plant, and make renewable natural gas."
"Further down the road, maybe five years down, we can tap into the forest industry and convert forestry biomass into renewable natural gas.
"Once we achieve those two milestones, we may realize the potential to replace roughly half of the Canadian natural gas consumption with renewable natural gas."
CH Four Biogas is working on technologies that can take advantage of these and other opportunities in the biogas industry.
"First, our research team is actively working on technology adaptations that can effectively go into crop residue processing and, later on, forestry products."
The second area CH Four Biogas is working on is a better utilization of biogas byproducts.
"Biogas is about 60% methane and 40% CO2, which after processing, is mostly vented into the atmosphere. We are working on how to commercialize this CO2 so we do not have this emission anymore.
The third is nutrient recovery.
"After we produce biogas, what comes out of the digester is a sludge, which is difficult to transport efficiently."
"We are working on technologies that can allow the effective concentration of these nutrients so they can easily reach fields further away."
Beyond these exciting developments, Strehler is bullish on biogas for its multifaceted benefits.
"Compared to other renewables like wind or solar that you plug into the grid and that is about it, with biogas, the applications are broad, encompassing agricultural, energy, organics, and waste recovery aspects.
"Biogas is an exciting path, and I have to say, I'm very optimistic about what lies ahead."
AT A GLANCE
CH Four Biogas
What: leading process engineering and design firm specializing in biogas systems
Where: Ottawa, Canada
Website: http://www.chfour.ca/
Komax Systems – www.komax.com
An industry leader in creating world-class solutions for a range of valued clients across diverse industries, Komax Systems raises the industry bar by supplying top-tier advanced inline static mixing and direct injection heating technologies.
Utilizing cutting-edge technology specially designed to solve the most complicated mixing and heat transfer issues that provide energy-efficient, cost-saving, and highly resilient options, Komax Systems puts its clients' needs front and center.
Established in 1973, Komax Systems have led the competition, pioneering technologies that truly work and stand the test of time while constantly meeting increasingly rigorous industry demands and standards.
Innovation is at the very heart of every project that Komax systems undertake allowing the company to pivot with each new requirement and challenge. This dedicated and focused approach has led to the development of over 40 static mixing and heat transfer patents along with patents that are in the pipeline.
Offering a complex range of inline static mixers in diverse materials including FRP, stainless steel, carbon steel, Teflon-Kynar, and PVC, the durability of Komax Systems products is infallible. Mixing in technological innovation and technical expertise, Komax Systems products are second-to-none and have become the industry standard to follow.
Industry applications of Komax Systems products are far-reaching and have been utilized for streaming farming needs, machine applications, and other specific industry requirements. One such example involves the installation of the Sludge Heat Exchanger to provide a more efficient and non-clogging solution for dairy cow waste. The client, Threemile Canyon Farms in Boardman, Oregon was able to reach its goal of meeting green practices and sustainable farming techniques by incorporating Komax Systems products.
The sludge heat exchanger can specifically be used to heat sludge using hot water OR to reclaim heat from hot outgoing digested sludge to heat the cold incoming sludge, enhancing biogas production and assisting in producing Class A biosolids. Heating sludge to harness energy by capturing the biogas is a green practice utilized around the world in sustainable farming to capture methane gases. The biogas can be used to recover energy and generate power using a generator, and this energy can be used to power the other plant operations.
While continuously striving to maintain meticulous standards forms the backbone of Komax Systems' business model, the company carves out valuable time to give back to the community with a host of community-focused initiatives that benefit those who most need it.
Along with its valued clients, Komax Systems works closely with partners and sees the value in working collaboratively. CH Biogas is one such valued partner that has been utilizing heat exchangers with its engineering projects on an ongoing basis.
With leading clients and partners, Komax Systems continues to provide the products that the industry demands, while staying one step ahead of the competition with an approach that is tailor-made for today's industry needs.
Thruster Technologies LLC – www.thrustertech.com
A supplier of advanced emissions technologies for the Oil, Gas, and Biogas Industries, Thruster Technologies is committed to leading the oil and gas and biogas industries to a safer and environmentally responsible future. We provide superior products, timely support and reliable solutions.
Perennial Energy – www.perennialenergy.com
Perennial Energy, LLC is a system design, manufacturer, and supplier of biogas handling, processing and destruction systems.  All of PEI's flare products, biogas dehydration systems, compression systems and delivery systems are specifically built to exceed your specific agricultural/ dairy site requirements.